Boohle (born on February 20, 1999; Age: 24 years old) is a South African singer and songwriter best known for her hit songs "Yini Na," "Slala," "Amalunde," and "Siyathandana."
Boohle is known for her unique style of music, which incorporates elements of amapiano, afro-house, afro-soul, and gospel. This is why she stands out in the industry and is currently one of the best amapiano female singers.
Summary of Boohle's Biography

Full name: Buhlebevangeli Hlengiwe Manyathi
Nickname: Boohle
Gender: Female
Date of birth: 20 February 1999
Boohle's Age: 24 years old
Ethnicity: Black
Nationality: South African
Zodiac Sign: Pisces
Sexual Orientation: Straight
Religion: Christianity
Marital Status: Single
Boohle's Children: 1

Siblings: Nomtee Manyathi and Zinhle Bri Manyathi
Boohle's Height in Inches: 5 feet 7 inches
Boohle's Height in Centimetres: 167cm
Boohle's Weight: 60 kilograms
Boohle's Net worth: $50,000
Famous for: Her smashing hit track Yini Na
Boohle's Instagram: boohle_sa
Twitter: @BoohleSA
Facebook: Boohle S.A
How Old Is Boohle?
Boohle is currently 24 years old. The South African singer was born on the 20th day of February 1999 in Vosloorus, Gauteng province, South Africa. She was raised alongside her siblings by their parents.
The names of Boohle's sisters are Nomtee Manyathi and Zinhle Bri Manyathi. They all grew up in a Christian home and had great times singing together while growing up. They sang in the choir and were popular for their melodic voices.
The Yini Na crooner attended the Lethulwazi Comprehensive Secondary School in Gauteng. She had her matriculation in the year 2016 but is yet to further her education.
Where is Boohle From?
She hails from Vosloorus (the home of amapiano) in Gauteng province, South Africa. Some prominent DJs from the township are TV presenter Sol Phenduka and house music producer DJ Cleo.
She lived with her family in the township until she moved to Johannesburg to pursue greener pastures. Though professionally known as Boohle, the singer's birth name is Buhlebevangeli Hlengiwe Manyathi.
She Launched Her Career as a Gospel Singer in 2016
Boohle emerged in the music industry as a gospel singer. She started out as part of a three-member group that consisted of her two sisters as well. The Tshwane Gospel Choir discovered her as a young girl.
She was able to hone her singing talent and songwriting skills while with the choir. She particularly loves writing songs about love. The Vosloorus native earned her career breakthrough in the year 2020 when released her first album titled: Izibongo, which became one of South Africa's most-streamed albums in a short while.
The 8-track album also featured her long-time producers, Tee-Jay and Elastic. She dropped her second album titled Umbuso Wabam'nyama in the year 2020.
She collaborated with popular singer Josiah De Disciple and other musicians such as Le Sax, Chelete, and Mogomotsi Chosen on the 10-track album. Boohle released her third studio album captioned iSlomo in 2022.
The Hit 'Yini Na' is One of Her Most Prominent Songs
Boohle single titled "Yini Na" was a hit shortly after its release. It resonated with most young people and was a street anthem for many months. Owing to its likeability, it quickly rose to the number one spot on YFM's Hot 99 chart with DJ Candii.
Her other songs, such as "Slala Amalunde," also earned massive playtime on radio stations such as Jozi FM, Capricorn FM, and Kasie FM after their respective releases.
Boohle's single "Ngixolele" is known to have also done so well, pulling in over 778 200 streams across the platforms Deezer, Apple Music, and Spotify. The project produced by amapiano record producer Busta 929 also made it to the top spot on The Official South African Charts.
Her song "Pillow Talk" currently has over one million views on YouTube.
Boohle's Albums
Izibonga
Umbuso Wabam'nyama
iSlomo
Bohle's Songs
Pillow Talk (released in November 2021 ft Ntokzin)
Mama (ft Josiah De Disciple)
She Has Collaborated with Numerous Artists in the Country Since Her Emergence
Boohle may have worked extensively with Josiah De Disciple (rumoured to be her boyfriend some time ago), but he is not the only talent she has banded together. Other popular names she has shared studio time with include JazziQ, Semi Tee, the legendary Cassper Nyovest, Lady Du, JD Stokie, Skye Wanda, Q twins, and numerous others.
She reportedly played a big role in making Cassper's chart-topping single, Siyathandana. For her, working with Nyovest was a dream come true. It is difficult not like her music because she creatively infuses amapiano, afro-house, afro-soul, and gospel together while making music.
Some of the tracks she has been featured in are:
C'buda M & Sdida – Will You Be Mine (feat. Boohle, Tee Jay, DJ Stoks & MD Le Sax)
Wanna Give It All (feat. Josiah De Disciple)
Ntokzin – Kanti Yini (feat. Boohle & Ta Skipper)
Zulu Mkhathini – Asambe (feat. Boohle & Mahotella Queens)
Kabza De Small – Yapheli'Mali Yam (feat. Boohle)
Major League – Piano City (feat. Boohle)
Cassper Nyovest – siyathandana (ft Boohle)
Ntokzin – Inombolo (feat. Boohle)
Soa Mattrix – Abafana Bomdantso (Vocal Mix) (feat. Lamcrary & Boohle)
ThackzinDJ – Izwelonke (feat. Boohle & Teejay)
Boohle Has Won Multiple Awards for her Talent
The music industry has recognized Buhlebevangeli Hlengiwe Manyathi's talent on several occasions. In 2021, she bagged two awards – Best amapiano female vocalist and Best amapiano newcomer at the South African Amapiano Awards.
On August 9, 2021, the Yini Na crooner was nominated for Best New Artist of the Year at the African Social Entertainment Awards for her amazing performances.
Is Boohle in a Relationship?
Boohle has kept the public in the dark about her personal life over the years, which makes it difficult to tell if she is seeing anybody or is single. She could probably be in a secret relationship or single, but we are not sure.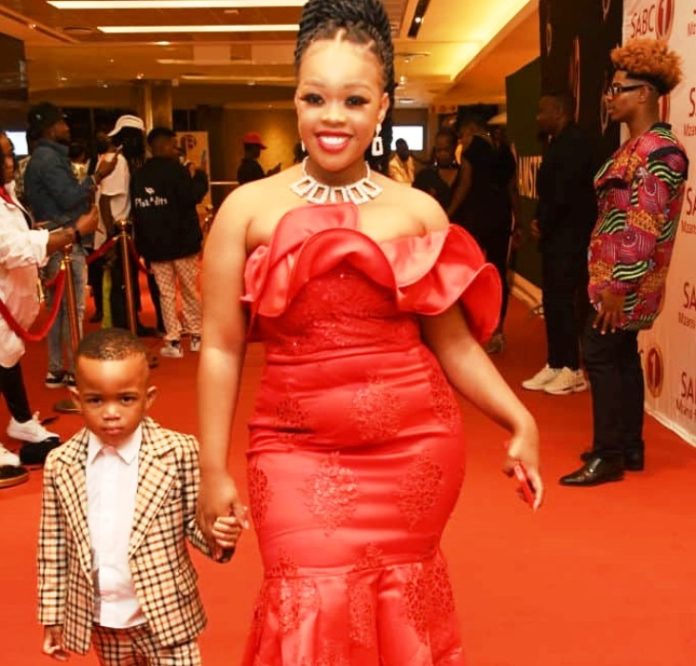 In early 2022, she was linked to the renowned DJ and record producer Josiah De Disciple. She vehemently denied the relationship, insisting that they were just friends and that Josiah was already married.
Until the singer publicly shares her love life, we will assume she is single. Boohle, however, has a son who accompanied her to a public event for the first time at the Annual South African Amapiano Music Awards on October 23, 2021, in Sandton.