Cassper Nyovest has been in several relationships in the past. From TV presenter Amanda Du Pont to the ever-charming Boity Thulo to Lizelle Tabane and his other rumored girlfriends, the South African rapper's search for true love really brought him close to so many women. Going by what his love life looks like right now, it appears he has finally found love, even though his fans are not sure when the wedding bells will ring. Her name is Thobeka Majozi, and she is the mother of his son.
Nyovest and his partner have come a long way. They've known each other for years, and there are no signs they are leaving each other's side any time soon.
It Is Believed That Thobeka Majozi And Cassper Nyovest Started Dating In 2017
News about Majozi and the South African rapper seeing each other began circulating back in the year 2017. Their friendship kicked off shortly after the Gusheshe crooner broke up with his ex-girlfriend – socialite Lizelle Tabane.
However, the exact year, time, and place the two met is still a mystery as none of them was willing to open up about their relationship at that time. However, we understood that Majozi was not a total stranger to the spotlight then – she previously dated rapper Maggz and was best of friends with actress Omuhle Gela.
Being the daughter of an influential Durban-based woman, Thobeka was also known in the league of South African 'classy' ladies. Some unverified sources claim that Majozi was Nyovest's crush for a long time before they eventually got connected. Still, neither the rapper nor his partner has confirmed nor denied the claim.
Cassper's Comment On Her Instagram Posts Led To People Believing They Were More Than Friends
It's no news that Nyovest is quite secretive about his personal life. But, it was not so in the past years. Before things got very much serious between him and his son's mother, he used to have fun and leave messages on her Instagram pictures, starting sometime in 2019. In fact, through his comments on her old social media posts, people got to connect the dots and became convinced that something is going on between them.
Although the rapper didn't confirm or deny the rumor, his decision to still stick to Majozi and continued showing her love on her page made it even easier for people to believe that he truly cared about her.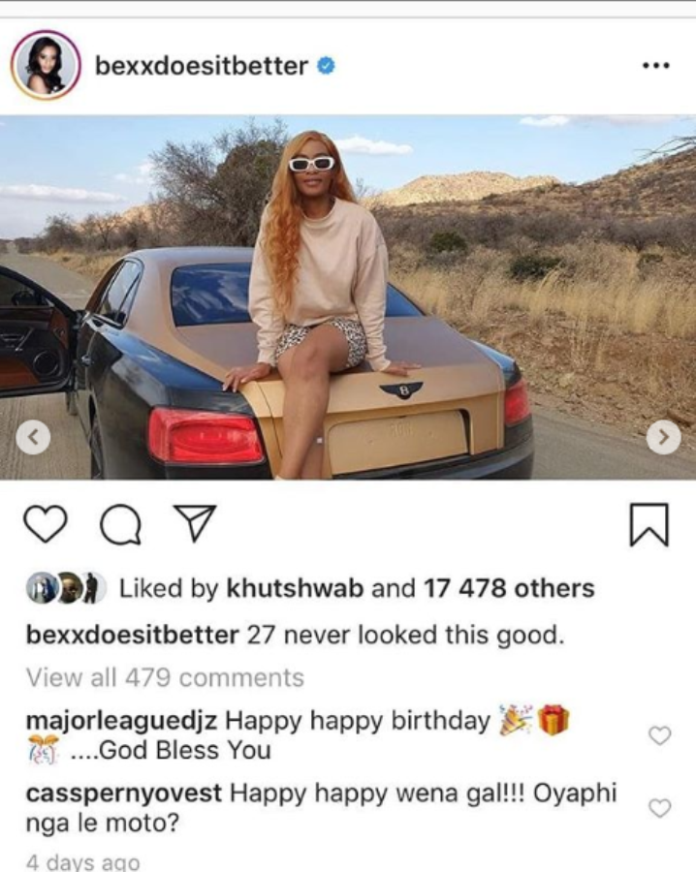 The couple kept their relationship under wraps for a couple of years until sometime in 2020, when they eventually made it public while talking about their son's arrival. No one knows exactly why the pair decided to keep a low profile on their relationship to date. Still, we believe that they did so to protect themselves from the public's curious eyes and unwanted media attention.
Thobeka Majozi Kept Her Relationship With Cassper A Secret For Years
Thobeka's pregnancy announcement apparently confirmed her relationship status with rapper Nyovest after keeping a low profile on their friendship for many years. It is unknown why she didn't want to introduce him to the world all the while, but everything is in the past now. All that matters is they are in love and happy with each other.
Majozi seems to have made a wonderful decision about her involvement with the sensational singer. At least, she saved herself a whole lot from trolls and critics who enjoy trash-talking celebrity relationships.
Her Relationship Became Known In 2020
Like her father's child, Majozi couldn't contain her excitement over the seed growing in her womb; hence, the reason she announced her pregnancy and even went ahead to share Cassper's cover album, which doubled as their son's scan.
Simba's arrival has also strengthened the bond that exists between Cassper and his child's mother. Their relationship has continued to grow ever since they found out that they will be parents for the first time.
Was Thobeka Majozi's Pregnancy Unplanned For?
Cassper and his partner may have shocked their fans with their pregnancy announcement, but the idea of having a son together was actually planned way before now. Many people would have doubted this if the rapper had not posted a screenshot of an old chat with his child's mother years back.
How it started. Where we at now #BongiNkosi pic.twitter.com/HeRtCwJYCu

— Don Billiato (@casspernyovest) October 8, 2020
Cassper shared the chat while participating in the viral "How It Started and How It Is Going" challenge on social media. The pair discussed having a kid together when Nyovest is ready to become a dad. In one of his responses to a fan, the Mahikeng native also disclosed that his son has rich parents because he and Thobeka planned their lives.
Thobeka Majozi Became A Mom In Late 2020
Cassper Nyovest and Thobeka Majozi's son was born in September 2020, precisely on the 13. He was named Khotso Izwe Simba Phoolo. Ever since he arrived, the rapper's life has taken a new shape, and his joy knows no bounds. Nyovest usually spends quality time with his son whenever he is not busy with work. He once shared that he loves singing for Khotso.
Majozi, on her part, is enjoying every bit of motherhood. She is grateful to be a mother now. In fact, she absolutely finds the journey amazing.
Thobeka Majozi & Cassper Nyovest baby shower. pic.twitter.com/wYr1STDRC0

— &faanaa ' (@whoistroniiq) August 16, 2020
Becoming Parents Has Been Their Greatest Joy Ever
Nothing beats the joy of bringing another soul into the world and watching them grow. For first-time parents, the joy is usually unspeakable. In the case of Cassper and Majozi, the case was not different. After keeping his fans in the dark about his son's arrival for many months, the rapper eventually decided to share the good news with them in June 2020.
A private life is the best life. You don't have to put your business out there. Do nuts and live your best life in private and let them think you're struggling kante that time!!!! Sereng!!!!

— Don Billiato (@casspernyovest) May 22, 2019
He also announced the release of his album, Any Minute Now, which his son inspired. The celebrity hip-hop star admitted that he was excited about his album but more excited that he would be a father soon.
I'm going to be a father Any Minute Now so I decided 2 name my album #AMN (Any Minute Now). The album cover is an actual scan of my son in his beautiful mother's womb. Excited about dis album but I'm more excited bout being a dad 2 a beautiful baby boy. #AMN drops September 11th. pic.twitter.com/QKazPQ98ty

— Don Billiato (@casspernyovest) June 22, 2020
Shortly after his post went viral, the announcement was met with great excitement both from the music world and other quarters. Majozi also confirmed the pregnancy by sharing her partner's album cover with the sonogram too.
Wow. This is dope. Congratulations King.

— Dj Dimplez (@DjDimplez) June 22, 2020
She captioned it with a Lion King movie reference, and it was so heart-melting. Again, the announcement earned best wishes and cheers from their fans.