Cyril Ramaphosa has a total of five children- two sons and three daughters. His first two children, Andile Ramaphosa and Tulisa Ramaphosa, are products of his first and second marriages while the last three, Tumelo, Mashudu and Keneilwe Ramaphosa, were born through his marriage to his third wife, Dr. Tshepo Motsepe-Ramaphosa.
Cyril Ramaphosa's children have always maintained a low profile in the country's polity that one may believe that the South African president does not have any kids. On the contrary, he is blessed with two sons and three daughters from his marriages.
Since he has always tried to keep his private life away from the public's prying eyes, there is no luxury for a public individual like him. With so many people in South Africa and even beyond wanting to know about the kids of Ramaphosa, here is a quick look at all the children that make up the first family.
All His Children Were Born Out Of His Three Marriages
Cyril Ramaphosa has been married three times thus far, and from these marriages, he has five children. His first marriage was to Hope Ramaphosa, whom he tied the knot to in 1978. They remained together for more than 10 years before they parted ways in divorce. Before then, they were blessed with a son. Since the union ended, Hope Ramaphosa has continued to maintain a low profile.
Nomazizi Mtshotshisa was the next woman that Cyril Ramaphosa would get married to, and he would go on to have another child, a daughter this time around. The couple got hitched in 1991, but only after two years, the marriage developed cracks and ended in divorce in 1993. Unfortunately, Nomazizi died in 2008.
The president got married to his present wife, Tshepo Motsepe, in 1996, three years after the demise of his 2nd marriage. Not only has this become the longest of his marriages, but it has also given him more children than the two previous ones combined; 3.
Cyril Ramaphosa's Children Are Five in Number
The South African president is, as stated, a father of five kids. He fathered one each from his first two marriages, and then his last and current marriage is the one that produced the bulk of his kids; 3.
Andile Ramaphosa Is the Presidents First Child
Date of birth: 1981
Mother: Hope Ramaphosa
Education: University of Cape Town, Fudan University, Hong Kong University of Science and Technology
Career: Businessman
Andile is the oldest member of the first family, and although he is not the most vocal, he is very much known in the country. He was born to the president in 1981 from his marriage to Hope Ramaphosa, which lasted from 1978 to 1989 when it ended in divorce.
The younger Ramaphosa is a well-educated individual who attended the University of Cape Town from 2001 to 2005. Then he proceeded to obtain a degree in Accounting and Statistics before he moved to Fudan University in 2007. By 2009, he had already obtained a Master's in economics from the university, and then from 2010 to 2011, he obtained a Masters degree in Science Global finance. He got this degree from the Hong Kong University of Science and Technology. The president's son also went to the NYU Stern School of Business.
Today, he is a businessman who is now working in Johannesburg for Blue Crane Capital, a company that he founded. He became known in the country mostly for his much-publicized marriage to a Ugandan beauty, Bridget Birungi, whom he met 10 years before they got married in a fairytale ceremony in 2018, and for the corruption scandal that his name was dragged into in 2019 when he was accused of receiving R1.3 million and then R3 million from the company, Bossa which was accused of corruption. Although he did not deny receiving the money, he insisted he was not corrupt but only naïve.
Tulisa Ramaphosa
Mother: Nomazizi Mtshotshinana
The second daughter of the South African president, Tulisa Ramaphosa, is one person that has kept the whole of South Africa interested in wanting to know about her. She maintains a very private life so much that almost all information about her, from her birth date to education, and what she does today are hidden from the public.
The only thing that seems to be known with certainty about Tulisa is that she was born to the president by Nomazizi Mtshotshinana.
Tumelo Ramaphosa Is the Most Vocal Member of The First Family
Date of birth: Unknown
Mother: Dr. Tshepo Motsepe-Ramaphosa
Education: Hult International Business School
Career: Entrepreneur
Not a stranger to public life, Tumelo Ramaphosa is the one that is almost every South African knows. He is the second son and third child of Cyril Ramaphosa, and he was born to the president by his third wife, Dr. Tshepo Motsepe. He went to Hult International Business School, from where he got a Masters of Science qualification.
Based in San Francisco, he is a businessman recognized as the founder of StudEx Wildlife, a cryptocurrency investment company registered in a few countries, including the United States, South Africa, and the United Arab Emirates. It is designed to serve farmers and wildlife conservation.
Tumelo is to Cyril Ramaphosa's children what Duduzane Zuma is to Jacob Zuma's children, a social media sensation who is active on various social media platforms and is also well followed and loved.
The Last Two of Cyril Ramaphosa's children Are Mashudu and Keneilwe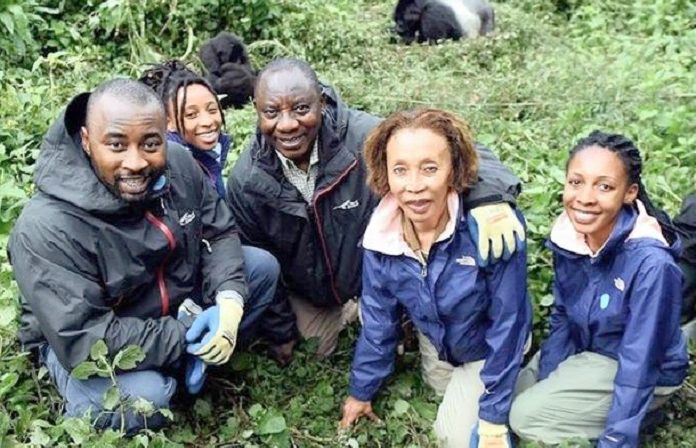 Date of birth: Unknown
Mother: Dr. Tshepo Motsepe-Ramaphosa
Education: University of Cape Town
Career: Students
Mashudu and Keneilwe, who is better known as Kiki, are both the youngest and the least known members of the first family of South Africa, but that is not probably unconnected to the fact that they are still yet to finish their education.
Both born to the president from his third marriage, Mashudu and Kiki were reported in 2018 still to be students of the University of Cape Town. Before attending the university, they had their high school education at Roedean College in Parktown, Johannesburg.
Other details, including what they are studying and when they are expected to be through with their university education, remain unknown. In fact, because of how private they have kept their lives, it is also unknown whether they are still students at the university.
None of Cyril Ramaphosa's Children Are Attracted To Politics
Considering the number of years that Ramaphosa has spent in politics and how high he has risen, one would expect that at least one amongst his children would tow his path. On the contrary, none of them seems to be interested, for now, in wearing the big shoes of the president.
While the two sons of Ramaphosa seem to be cut out for the world of business and technology in which they are both excelling well, the paths taken by his three daughters are something that is still unclear to the public.
With the name of Andile always making it to the political news for various reasons, even though he keeps his distance, it is not known if he will later want to be involved in politics at any level.
The Kids Maintain A Good Relationship with Their Father
Although they are not a vocal family, the Ramaphosa kids are believed to be a loving family, and they give their father all the necessary support. The low profile they maintain is believed to help make their father's work easier since detractors cannot get anything against him from his home.
When Julius Malema accused the president of domestic abuse, it was not only Hope Ramaphosa who was named the victim that came out to refute the claims but also Andile Ramaphosa, who stated that the report was entirely false. In a tweet, he described the report as entirely fake news and wondered how someone could start spreading lies on someone.
In the same way that his family is defending him, the South African president also offered his son the needed support when the latter was accused of corruption. Ramaphosa, through his spokesperson, stated that there was no wrongdoing on the part of Andile concerning the African Global Operations deal. He stated that the money in question was going to be returned.
There Are No Signs That Ramaphosa Has Any Grandchildren
For now, it remains unclear if any of Cyril Ramaphosa's children has produced offspring to gift the president a grandchild. Andile is known to have been married for several years now, but it is not known if the union has produced any child yet.
More so, the life of Tulisi is a mystery of its own; hence it is not known if she is married or if she has any kids yet.