Vanna White does not have a husband currently, however, she was previously married to George Santo Pietro from 1990 to 2002. Through their union, she has a son named Nicholas San Pietro and a daughter named Giovanna San Pietro.
Vanna White is an American actress who was born on 18th February 1957. She is best known for hosting the Wheel of Fortune TV show since 1982. Vanna, who's 5 feet 6 inches tall has been known to have been involved in a number of high profile relationships, engagements, and marriages. The big question everyone is asking right now is; is she currently married or just in a loving relationship? Details below.
Is Vanna White Still Married?
Vanna White was engaged to John Gibson in the 80's. John was an actor on the soap opera 'The Young And The Restless' and 'One Life To Live'. Unfortunately, he died in a small plane crash at age 37. It was such a devastating time for Vanna as she described, but she was able to pull through with the outpouring of fan mail she got. She realized she was not alone.
Marriage With George San Pietro
Four years after John's passing, Vanna married George San Pietro, a restaurant owner. George had good looks and was charming. His wealth was also noticeable. In September 1992, Vanna announced she was expecting her first child with George on her show using Vanna's pregnancy as the answer to one of the puzzles on her show – Wheel of Fortune. Unfortunately, she miscarried a little while after the announcement was made on her show.
Meet Her Children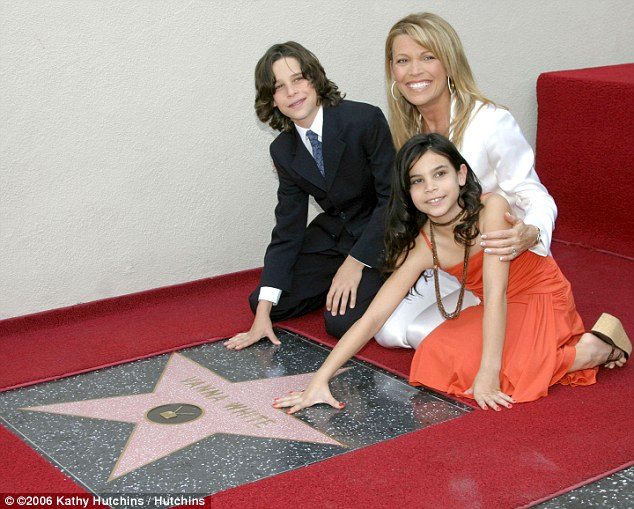 In 1994, she later gave birth to a son with George named Nicholas San Pietro and went on to have a daughter in 1997, called Giovanna San Pietro with her husband, George as well. However, she and George had different interests and had to split in November 2002 but maintained a civil relationship for their children's sake.
Vanna keeps her family quite private. She sometimes shares pictures of her children occasionally on her Instagram page. The National Enquirer claimed in September 2013, that Vanna's son, Nicholas was living with a 34-year-old Hare Krishna monk named Jaycee Akinsanya while he was attending the University of Arizona. Nicholas eventually took Jaycee to meet his parents in Los Angeles as he later shared with the tabloid.
His mother thought Nicholas was actually being brainwashed by the monk (twice his age) and that he was after her money. It was later revealed that the two were in a serious gay relationship. This was brought to light when Nicholas eventually brought Jaycee home to meet her.
Engagement With Michael Kaye
After divorcing George, Vanna announced again on her show- Wheel of Fortune that she was engaged to a California-based businessman, Michael Kaye. He was described by a friend of Vanna as low-key and a homebody and exactly what Vanna needed at the time. However, the relationship did not go further than the engagement as she called off the engagement a few years after.
Relationship With John Donaldson
In 2012, she met John Donaldson, introduced to her by her friends. John Donaldson worked as a contractor and is 4 years younger than Vanna. Vanna confessed he was understanding and lets her be. She has been with John since then as seen from her Instagram page that shows pictures of them together. However, she has not said anything about being married to him.
There were speculations in 2015, by the National Enquirer that Vanna was ready to get married. They also stated according to a source, until John came along, Vanna has been quite unlucky with love. The source also revealed considering the fact he has had eyes only for her since they met it has made her fall deeply for him and she expected a proposal and a small family – only destination wedding.
What Is Vanna White's Net worth?
Vanna earns $8 million annually from the wheel of fortune show. Her net worth is estimated to be $40 million dollars and her total net worth is $140 million dollars. The figures she pulls in is not surprising considering how long the show has been in existence and the fame it carries.
In 1993, Vanna White sued Samsung Electronics Corporation for airing a commercial with a parody of her. The ad had a robot in place of her rolling over letters like she does on her show. She stated it was done without her consent and was an infringement on her personal rights. She won the lawsuit which earned $403,000.
Her interest in knitting and crochet led to her having a line of yarns through Lion Brand Yarns called "Vanna's Choice". This also serves as a source of extra income for her and contributes to her total net worth.
Considering her fame in the industry, she also makes money from sponsorships, ads, endorsements, and features.