Buhle Samuels (born September 6, 1990) is a 32-year-old South African actress popularly known for the role she played on the SABC2 flagship soap opera, Muvhango – where she was cast as Matshidiso.
South Africa boasts of a plethora of A-list celebs who have achieved fame and popularity through their talents and sheer hard work, and TV actress, Buhle Samuels, is one of them. The multi-talented beauty, who is arguably one of the country's most beautiful actresses, is best recognized for her role in Muvhango. She has also recorded noticeable successes in several aspects of her life – not just as an actress but also as a TV host and internet personality.
Buhle Samuels' Looks Makes Her Younger Than She Really Is
One thing that the South African beauty has got going for her is not just her beauty but her charming looks, well-sculpted trim body, and "forever young" physique. This fact has constantly left fans confused as to what her age really is. However, unlike most celebrities who prefer to keep their age profile away from public reach, the former TV host has shown she is not shy to do so. Buhle Samuels' date of birth is officially recorded as May 25, 1990, which means the actress is currently 33 years old.
Her stunning looks are a direct opposite of the numbers her real age reveals because she has remained ever young. And as such, it is no surprise that her fans are constantly left bewildered at this realization. Kudos to the Muvhango star for paying extra attention to her fitness and general wellbeing. Interestingly, Buhle Samuels' age is not the only stimulating fact about her. Let's see other facts about this diva that may also come as a surprise.
1. She Comes From a Small Family
Buhle Samuels was born in Pretoria North, a residential area on the outskirts of Pretoria, Gauteng, in South Africa. Although it is reported that hers is a family of four, comprising her parents, herself, and the older sister, nothing is known about her father. However, her mother is a medical practitioner whose job has taken her from South Africa to Saudi Arabia, where she works as a nurse. Buhle revealed in an interview with Youth Village that her mother is always looking out for her through constant calls and messages.
Her sister is known as Mbali Samuels, and a search through the internet failed to reveal anything else. Buhle has revealed that her adventure with acting was born out of a pure passion for the craft. This can be confirmed by the fact that she has a Bachelor of Science degree in Somatology (from a yet-to-be-identified university) and never studied acting – her current profession – at any university.
2. Buhle Samuels is Well Known For Her TV Career
Even though the well-endowed actress is popularly known today as an actress, she did not begin her TV career as one. It is reported that she owned a mobile beauty salon before she picked up a gig as a breakfast show host on Africa Magic in 2014. Later that year, she clinched her career-defining role as Matshidiso Mofokeng in the TV series, Muvhango. Muvhango is a Mzansi soap opera that airs on SABC2, and it was Buhle Samuels debut on television as an actress. Perhaps the fascinating fact about this role is that she was chosen ahead of other more prominent actresses, including Lerato Kganyago and Bonang Matheba, for the role.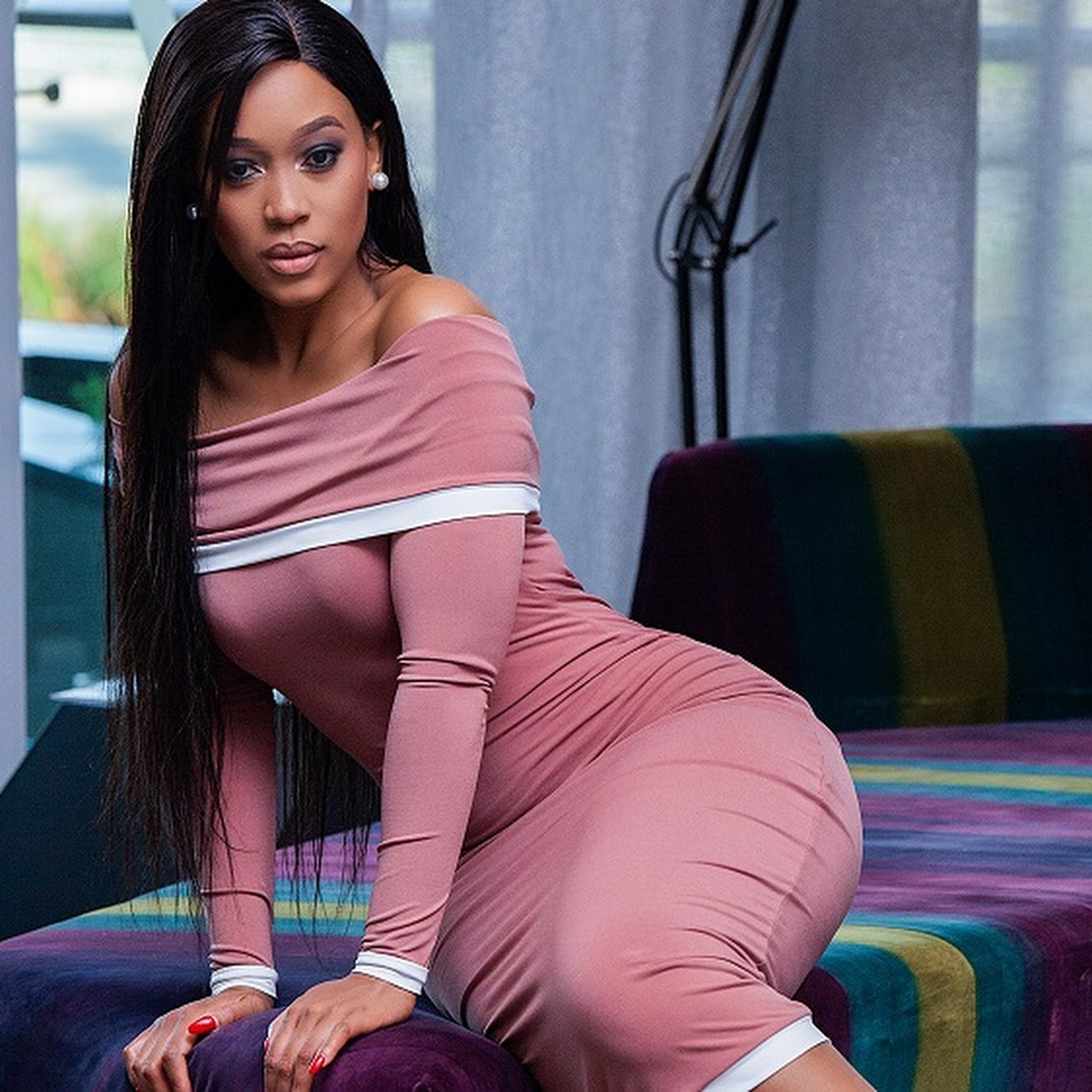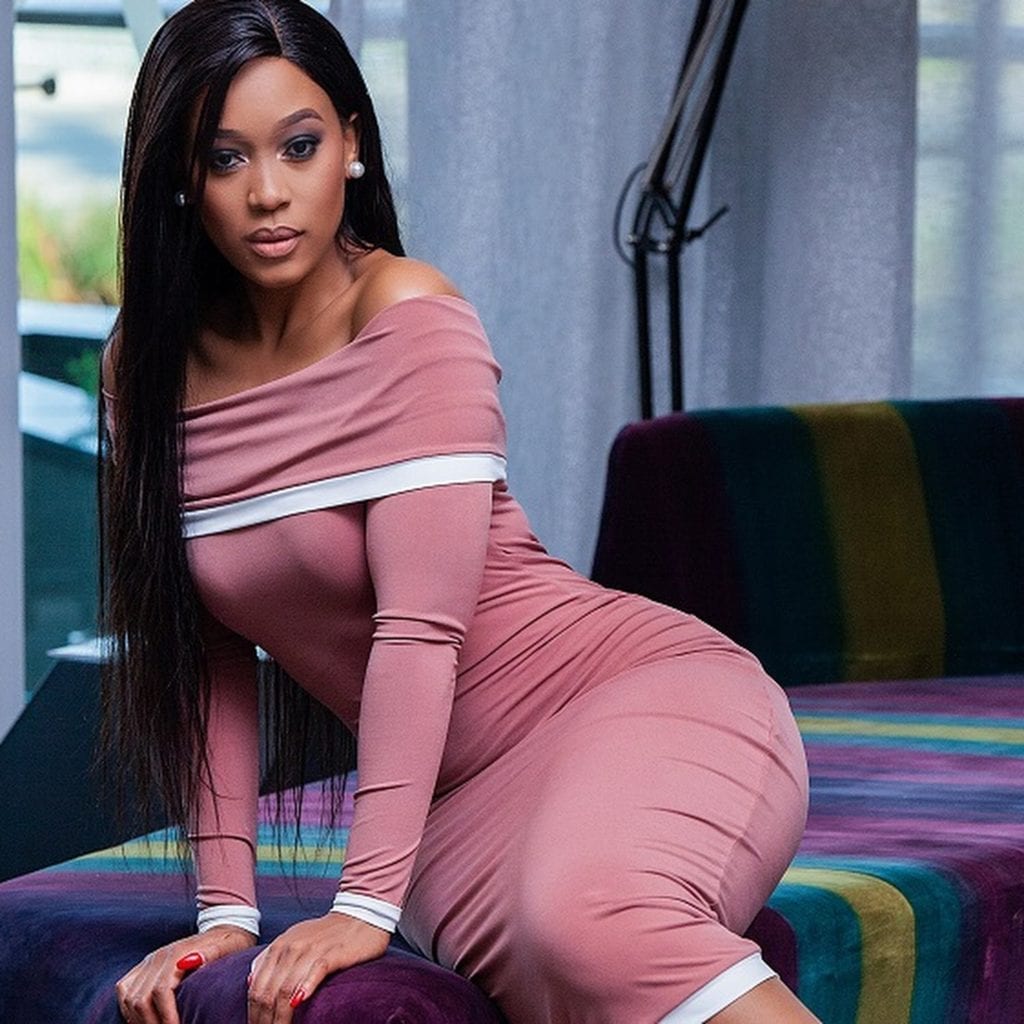 This was largely possible because she had already been spotted by the soapie producers when she auditioned for a role in another production – Lion King – which she failed to land. Her performance at the audition (for Lion King) convinced the producers of Muvhango to call her for their production as they believed she had the skillset to execute the character of Matshidiso on their show – and they were not wrong.
3. She Almost Clinched an Award For Her Debut Performance on Muvhango 
Her debut performance on the show earned her a nomination in 2015 at the 2nd Annual Royalty Soapie Awards in the 'Best Newcomer' category. She would eventually fall short of clinching an award at the first attempt as she lost to fellow newcomer Izak Davel, who had also made his debut on SABC3's TV show, Isidingo.
Describing her adaptation to the character, the actress revealed that it wasn't an entirely easy process. Speaking at Metro FM show Morning Fixx, she explained that her challenge with the character stemmed from the fact that it was the opposite of her real-life personality. While her character as Matshidiso Mofokeng was mean, unkind, and vindictive, Buhle insists that that is not what she is in real life, hence the challenge of making the character believable.
4. Muvhango is Not the Only TV Show Buhle Has Appeared In
Even though Samuels claimed she loves her job on Muvhango, she called it quits after four years on the show in 2018 – much to her fans' disappointment. She gave several reasons why she has come to that decision, including the fact that she hoped for a fresh challenge and new adventure. The 'new adventure' came in 2019 in the form of a role on e.tv's Imbewu: The Seed, created by Duma Ndlovu.
She played the role of Zandile, a young woman involved in the life of the lead character, Zimele Bhengu, as his super-independent sidepiece. Buhle Samuels has also appeared in the Netflix African series Kings Of Jo'burg, where she portrayed Angela Masire, a feisty but loving and very supportive wife.
In January 2020, the screen goddess shocked many fans when she announced on her Instagram handle that she is making a comeback on the SABC2 soapie, Muvhango. She told Daily Sun that she was happy about the comeback primarily because it was the show that launched her acting career. However, the comeback never lasted for so long as by December 2020, she left the show again.
5. Buhle Samuels is Also a Singer
One of the reasons Buhle Samuels gave when she left Muvhango in 2018 is that she wanted to focus on her music career. Her work on the set of the SABC2 sudser occupied her time with nothing left to develop other career areas. She is signed under Arthur Mafokate's 999 and is described fondly as arguably one of the best dancers Mzansi has produced. Some of her songs include Every Woman, Cheater (I'm done), Dim the lights, among others.
6. The Drop-dead Beauty is Not in Any Known Relationship
To date, Buhle Samuels has held the cards regarding her relationship life so close to her chest, leaving the public with all-to-do in terms of figuring out who the man in her life might be. She has not given out any hint nor confirmed any relationship so far. She has also refuted rumors linking her to fellow celebrities and industry players.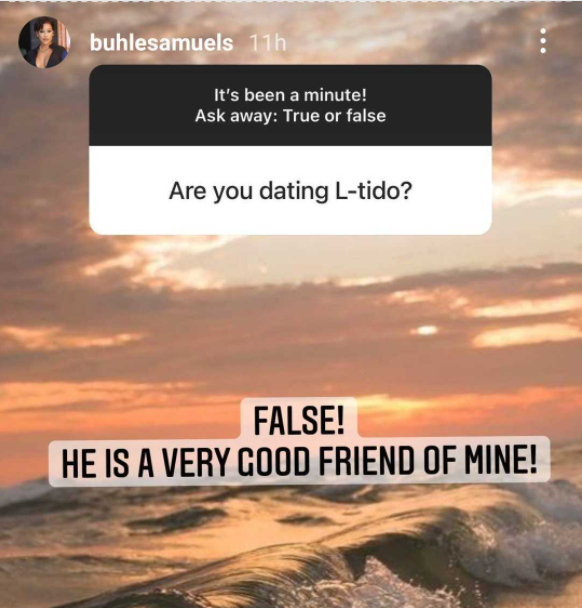 The voluptuous screen-star believes that her private and personal life is hers and so will not indulge in sharing it with the public due to pressure. She says not everyone would understand, and so she keeps her matters to herself. Furthermore, the Every Woman crooner believes that her style is the best way to handle private matters as a celebrity. When asked what she wants in a man, she revealed that her ideal man must be principled, humble, kind, and very respectful.
7. Despite Public Opinion, Buhle Samuels' Curves Are Natural
Buhle Samuels is a dancer. She enjoys attending dance fitness classes as she attributes them to be one of the major secrets of the neck-turning physique. However, the rumor mill has it that she did some surgical enhancements to improve her body shape. Despite these rumors, the Muvhango actress has constantly insisted that her curves are natural and has never been put through any surgical procedure. She once replied a troll who insisted she has gone under the knife, saying;
"You wish! I was born this way, but like everything I maintain my body and make sure everything stays in shape and the meso (Mesotherapy) slim injection helps me do that!"
Buhle claims she has had to deal with body shaming since she was a kid. People who are just envious of your body because they can't have what you have would rather resort to body-shaming instead of appreciating the effort you put in building a great body shape. She has encouraged ladies to shun certain foods and regular exercise to achieve what she has achieved with her body.