Almost everybody is familiar with the name Robert Mugabe. Many know him as the former president of Zimbabwe who held onto his presidential seat for almost four decades while others mostly remember him for his funny quotes that usually bring smiles to people's faces. There are still those who easily remember him for fighting tirelessly against racism, black relegation, and for the total liberation of the people of Zimbabwe. In addition to all these facts, there's a lot to know about former president Mugabe's children and his family.
Besides being a sit-tight president, Robert Mugabe was a father to four children and a husband to two wives. His first wife, Sally Mugabe, died from the complications of a Kidney problem after giving him one child who died at the age of three. Mugabe's second marriage to Grace Mugabe, however, yielded three children who are now taking care of everything the former president left behind.
How Did Mugabe Meet His Wives – Sally and Grace?
We are not clear as to how the late Zimbabwean president met his first wife Sally Hayfron. But from what we gathered, she was the late president's only true friend, confidant, and one of the few people who could challenge him without sparking an offence. Before her death, Sally was a teacher, a political activist, as well as a campaigner. Prior to his death, Mugabe shared his photos with sally on Instagram.
The former president's surviving wife, Grace Mugabe, was working as Mugabe's secretary when they commenced a secret affair behind his wife's back (Sally was still alive as at that time). Grace was even still tied in marriage to her former husband Stanley Goreraza. However, they waited to tie the nuptials after Sally's death.
Meet Robert Mugabe's Children
When he was alive, Mugabe openly admitted to having so many issues with his children whom according to the late president were crazy about parties. He made this statement at the official opening of Africa Chrome Fields (ACF) – a Zimbabwean chrome smelting company. Mugabe's children are three in number Nyepudzai Bona Chikore (nee Mugabe), Robert Mugabe Jn., and Chatunga Bellarmine Mugabe. There is a fourth child Russell Goreraza, whom the late president inherited from his wife, Grace's first marriage to air force pilot Stanley Goreraza who is now a diplomat. We must not fail to mention that the late president's first child Nhamodzenyika (born 1963) with his first wife Sally died in 1966 at the age of three from cerebral malaria.
Nyepudzai Bona Mugabe is Robert's Only Daughter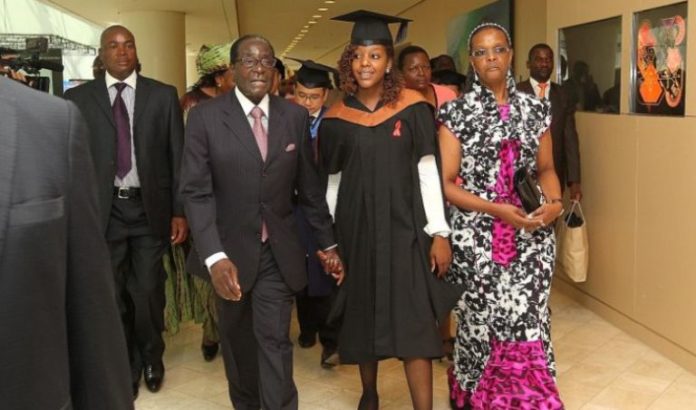 Born on the 18th of April 1988, Nyepudzai Bona Mugabe is the only girl among Mugabe's children and his first child with his second wife Grace. Bona is named after her grandmother from her paternal side. She achieved her early education at Dominican Convent Primary School before proceeding to Dominican Convent High School. The quest for further academic qualifications took her to China where she bagged a B.A in accountancy from the City University of Hong Kong in 2011. Bona did not stop at first degree; she went on to Management Development Institute of Singapore where she earned a Masters in Banking.
The only daughter of Mugabe is a member of the Board of Censors in Zimbabwe – a position which she assumed on May 23rd, 2017. She is also part of Gushungo Dairy which is her family business and has taken over the management of her father's assets since the former president died without a will. Bona exchanged marriage vows with Simba Chikore on March 1st, 2014 after their customary marriage which took place on the 4th of August 2013 in Zvimba her rural home.
Mugabe's daughter and her spouse got 150 head of cattle plus US$150,000 gift from her dad as well as US$3 million from other guests who graced their wedding. The couple is parents to a son named Simbanashe.
Robert Mugabe Jnr. Is Late President Mugabe's First Son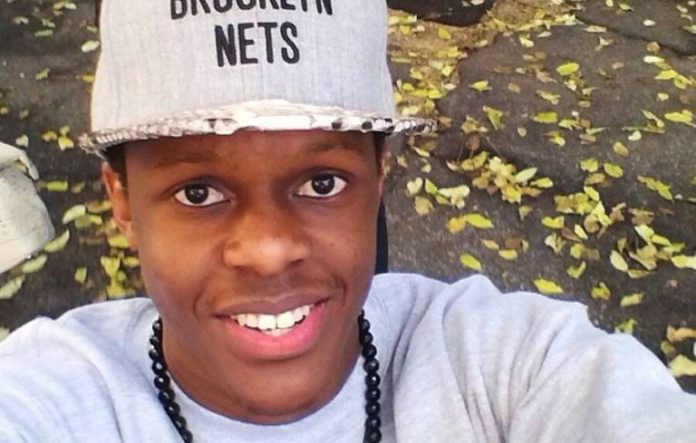 Robert Mugabe Jnr. is the second child of the late Zimbabwean president and Grace, and the first boy among Mugabe's children. Robert was born on the 4th of February 1992 and is often referred to as Tino by family and friends. Though he is presently running an entertainment business alongside his brother, the first son of Mugabe had no known occupation for several years which led the records to capture his profession as a socialite; however, he displayed an interest in basketball and went as far as playing for the under-18 team of the Zimbabwe National Basketball, but that dream was nipped in the bud.
The first son of Mugabe had to attend several academic institutions perhaps because he is academically deficient. Firstly, he joined St Michael's Presentation Primary School Borrowdale and later proceeded to Hartman House Prep School. From there, the younger Robert Mugabe studied at St George's College before moving to Kutama College in Zvimba and later continued his academic journey in Harare precisely at Speciss College. That was not all, Robert had to go to St John's College Harare for the completion of his A-levels which according to his father was a dismal performance; Mugabe senior even made a jest of his son, calling him an "undertaker"
Bellarmine Chatunga Mugabe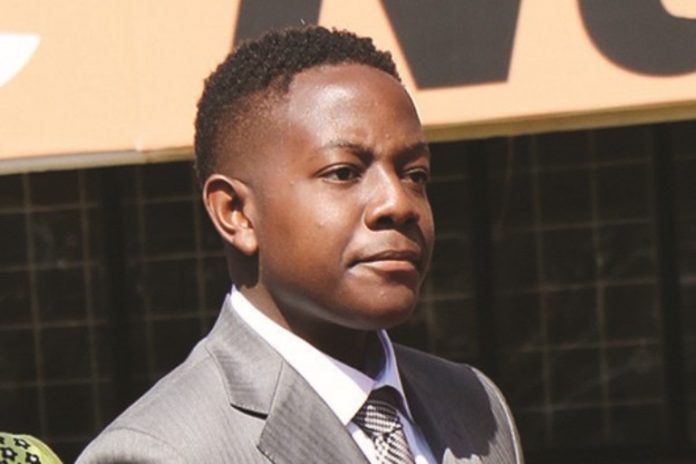 Bellarmine Chatunga Mugabe is the last of Mugabe's children and his third child with Grace. His date of birth is given as 1997 which puts him in twenties. Just like his older brother, Chatunga had to move from one school to the other. He started his elementary education at Michael's Presentation Primary School where he did grade one to three, grade four to seven was achieved at Hartmann House Prep School between 2006 and 2009.
With his primary education concluded, Mugabe's second son joined St. George's College but was unable to complete his high school education as the young Mugabe was expelled in 2013 by the school's headmaster Kevin Atkinson. Chatunga ended up being home-schooled to complete his secondary education.
From what is obvious, Chatunga is among Mugabe's children that have not ventured into a profession yet as the records still capture his occupation as a student. However, he is presently helping his brother out in their entertainment business.
Chatunga is very active in the relationship front with his Instagram model girlfriend Mimi Charasa with whom he had a recent nasty fallout. According to reports, the duo took to social media to hurl unprintable insults at each other. Mimi was unrepentantly brutal with her abuses as she divulged their sexcapades. On her own part, Chatunga laughed off her claims, calling her a bitter golddigger and a prostitute who sleeps with men for money.
Russell Goreraza
Though he is not a biological child of the former president, Russell Goreraza is still counted among Mugabe's children. Born in 1984, Russell is the first son of Grace and her first husband Stanley Goreraza. He became Mugabe's step-son after his marriage to Grace. Russell attended Zvimba's Kutama College for his secondary education. He is married to Gladys Chiedza Chiwaya with whom he shares a child.
In 2017, Russell squandered the sum of R70 million on two Rolls-Royces cars for which he faced criticism from Zimbabweans who were battling with a high level of poverty at that time.
How Has The Mugabe Family Been Coping After His Demise?
Since Mugabe's death and Mr. Emmerson Mnangagwa succeeded him as the president of Zimbabwe, his family members were given a generous pension in grant with the promise of immunity from any possible prosecution. However, as the death of the former dictator was announced, people began to wonder whether that promise of immunity will still hold water.
Mugabe's children have suffered the effect of their father's demise in more than one way. Even before his ultimate death, Bona had her wheat farm burnt down by some angry protesters and her dad's death led her to withdraw from the Harare social scene and only surfaced in town when Davido – a Nigerian artist – was having a show. Bona is involved in extravagant projects which may be why she is not popular among the masses; a good example is a multi-million dollar mansion she put up in Harare.
As for the two "black sheep" of the Mugabe family, Robert, and Chatunga; they are always sticking out with their champagne lifestyle which has led to so many commotions. The duo went as far as sparking a diplomatic controversy with their mum when she used an electrical cord to beat up Gabriella Engels upon walking into her sons' party and finding her in their Sandton apartment. However, the notorious duo has decided to go into business and currently run Triplife Entertainment – an entertainment business that is said to be promising.
Reports have it that youths from Mashonaland West – his home province are earmarking Robert Mugabe Jnr. for a political career; however, the outcome is yet to be seen.
As for Russell, he moved to Sandton, Johannesburg upon Mugabe's demise. The infamous step-son didn't go alone, he took along some of his friends who ruled the social scene in Harare when the late president was still in power.
His Widow, Grace, Seems To Have Had The Worst Hit
So far, nothing has happened to any of Mugabe's children. His surviving wife who has continued to remain unpopular had the ruling Zanu-PF party build and fund a £26million palace for her. The woman is known for her luxurious lifestyle and violence. She once gave orders to have a Sunday Times photographer beaten up by her bodyguards in Hong Kong and even joined in giving the poor man the beating of his life which earned her the moniker "Dis-Grace" as a nickname, though her status came to her rescue as she was granted immunity.
As the remaining support for the late president continues to dwindle with time and Grace's public image in complete tatters, there may be no further justification for that generous pension and immunity. As mentioned above, the late wife of Mugabe carried out another shameful act in Johannesburg involving model Gabriella Engels whom she allegedly attacked; this led the arrest warrant issued by South Africa for her arrest in December 2018 and a prolonged diplomatic debate over the assault.
Reportedly, there is already an agreement for her extradition pending when Mnangagwa addresses the issue; this keeps her immunity uncontested for now. However, the woman's diplomatic recklessness and unpopularity may herald unpalatable consequences.
President Mugabe Left A Mixed Legacy
With the passing of former president Mugabe announced by his successor Emmerson Mnangagwa on the 6th of September 2019, people began to wonder at the sort of legacy a dictator would leave. Mnangagwa, however, had a positive word about Mugabe calling him "an icon of liberation…who dedicated his life to the emancipation and empowerment of his people."
The words of the sitting president are quite undebatable when one considers how Mugabe dedicated his life to securing his people's independence, fought a war, and came out victorious in the ensuing election that saw the complete liberation of Zimbabwean's from imperialism. Even his early reign was well-received by his people as he prioritized education coming from a teaching background.
It is with the utmost sadness that I announce the passing on of Zimbabwe's founding father and former President, Cde Robert Mugabe (1/2)

— President of Zimbabwe (@edmnangagwa) September 6, 2019
However, as he began to assume the role of a "sit-tight" ruler who refused to relinquish power, Mugabe slowly drifted into dictatorship, torturing and killing off any offender as well as those who dared to challenge his rule. Upon his demise after holding down his country for almost four decades, many have come out to describe his legacy.
According to Time Magazone, Mugabe left a legacy of "broken souls" as the late dictator lead the annihilation of millions of lives; while he roasted some slowly, others were killed in cold blood, and there are still many that suffered a silent death.
Quartz Africa describes Mugabe's legacy as complicated and tainted. According to the media outfit, the world will remember the late president for a plethora of actions from one extreme to the next as there will always be confusion about his legacy.
Mugabe was a one-time liberation hero of his people who degenerated into a tyrannical autocrat, holding on to power with a seemingly iron-grip. Even the press who dared to voice out was stifled and the citizens received the worst hit. In fact, Mugabe's government was fraught with human rights abuses for which accusers were severely dealt with. Even the heads of state of sister African countries came out in their numbers to condemn the goings-on in Zimbabwe.
What about Mugabe's children, they are supposed to be part of his legacy, but sad to say that the late president's surviving children and his widow are living a lavish life, squandering the fortune that their father has amassed. Mugabe left a tidy sum in his account but died intestate which leaves one wondering what will become of that fortune with the kind of beneficiaries he left behind.