Sjava is a talented South African songwriter, singer, rapper, and actor who started doing music at a very young age and has grown to become very successful in his craft. The rapper who started writing music at the age of 10, has several successful albums including Isina Muva, Umqhele, among others, with over 20,000 copies of his 'Isina Muva' album sold. As an actor, Sjava was featured in the drama series, Zone 14. A Grammy Award nominee and two-time BET Award winner, he has built a very successful career in the South African entertainment industry, also winning a variety of South African-based awards since he arrived on the scene in 2005.
He also seems to be very different from other celebrities in the sense that while others always try to stand out in their outfit, Sjava has refused to put himself under such pressure, saying he doesn't need to wear new cloth every day just to be in the headlines for looking good. However, in the past couple of years, the award-winning rapper has been in the news for so many controversies surrounding his private life. Just like Sjava's success is obvious to everyone, so has the drama in his private life been, although he is good at keeping his relationships secret, the singer hasn't been successful in avoiding the scandal that comes with keeping a relationship in the dark.
He Had A Secret Relationship With Lady Zamar for Two Years
The Umana crooner secretly dated award-winning singer Yamikani Janet Banda, popularly known as Lady Zamar. She is a multi-talented singer and songwriter, who has been active in the music industry since 2014. Lady Zamar served as a guest judge on the South African talent hunt show Idols SA in 2019. For two years, both singers maintained a tight lip over their relationship until a month after their breakup. While it lasted, it was obvious something was going on between the couple as they displayed their affection for each other in public.
Sjava took out time to openly congratulate her for her debut album which was making waves at the time. This further heightened the suspicion and sparked rumors among their fans who suspected they were in a relationship. At another time, Sjava posted a video of himself and Lady Zamar in a rehearsal which again got the attention of fans.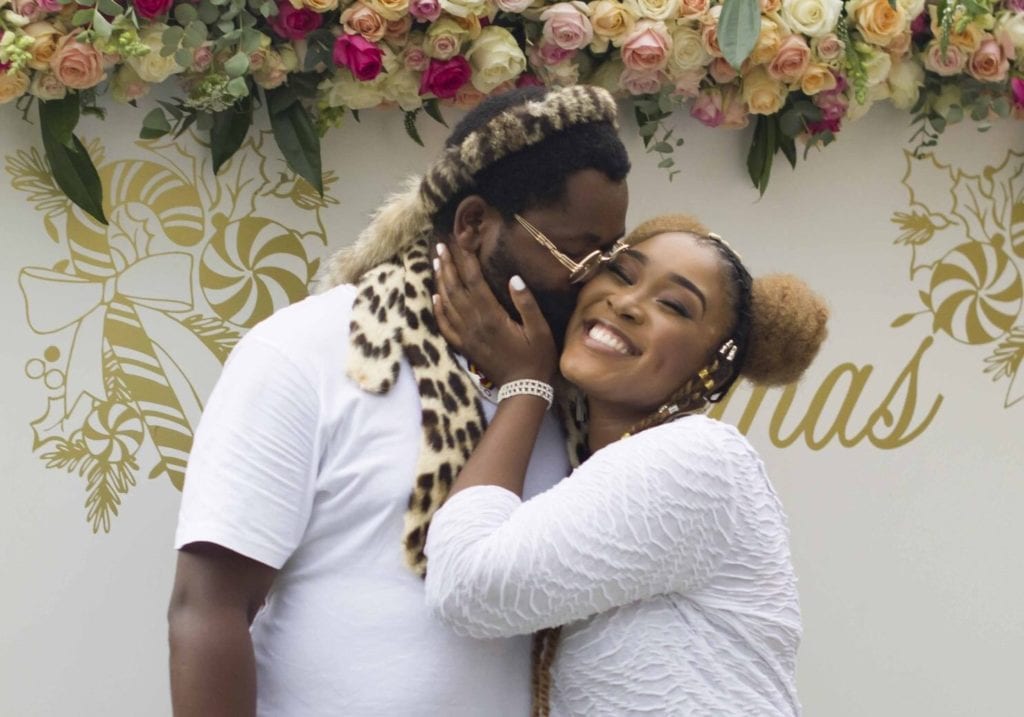 Coupled with speculations on social media, Move magazine also received information that the two singers were in a relationship but Sjava responded by saying he doesn't know the source of the information. He denied being married and said he wishes he was actually dating Lady Zamar. The Sharp Shooter hitmaker on her part, also denied being in a relationship with Sjava when Phat Joe questioned her about the speculations on his Moja Love TV Show.
Since both of them came out to publicly deny the rumor that anything was going on between them, the public remained in the dark as regards their secret affair. However, when in 2019, Sjava posted a picture on Twitter of Lady Zamar and himself looking like an item and fans began to congratulate them in the post's comment section, Lady Zamar broke the ice by revealing in a comment that they were actually in a relationship that lasted for two years between June 2017 and March 2019.
Thandi Nkabinde Reveals Her Son is a Married Man
Sjava, who is good at keeping his relationships discrete surprised people during his one-man show in October 2019 at Pretoria dubbed One Night With Sjava. Just before the award-winning songwriter started performing, two women were introduced on stage as the women who were very dear to his heart.
First up was his mother, Thandi Nkabinde, who walked to the stage in the company of another woman who was dressed in traditional Zulu attire. The unknown woman was introduced to the audience as Sjava's 'makoti' i.e. his wife and that piece of information had tongues wagging. The introduction was made by radio presenter, Dudu 'Lady D' Khoza and as if to answer the questions from the confused audience, Nkabinde went on to say:
I don't want anyone asking me who Sjava is dating. Here she is. This is Sjava's partner.
She went on to thank her mystery daughter-in-law for the care she has shown to their family. Despite the shocking introduction, Sjava went on to perform in such a sensational way that thrilled fans. It would be an understatement to say that this announcement came as a rude shock to fans and especially, the audience in attendance as no one knew the rapper was married before the show. At that point, South Africans were just coming to terms with his secret 2-year relationship with Lady Zamar which had just come to light.
As expected, fans turned to Lady Zamar, accusing her of dating a married man and trying to break up the rapper's marriage while others berated Sjava for cheating on his makoti with the songstress. Lady Zamar came out to set the records straight in a series of tweets (some of which have since been deleted) that Sjava never mentioned to her that he was married. However, this would only be the beginning of a scandal that would rock the foundation of Sjava's career.
I'm only responding coz I'm exhausted.. I've moved on Loooong ago and yerrr I'm still dragged into that messy mans life. What must I do to get you guys to stop with the tags and mentions? … If I was a normal girl who no one knew I'd be left alone but coz I'm in the public?

— Lady Zamar (@Lady_Zamar) October 29, 2019
Some people won't believe me.. I already know it's life and I'm not asking for anyone to believe me.. I just want it to end.. the articles, the speculation, the dragging me into stories that don't concern me.. you guys can criticize me for all these other things

— Lady Zamar (@Lady_Zamar) October 29, 2019
Lady Zamar Claimed Sjava Raped Her
The revelation of the relationship between Sjava and Lady Zamar and the introduction of the former's wife on his One Night with Sjava show opened up a can of worms that would have remained covered otherwise. Firstly, we learned that the award-winning singer cheated on his wife with Lady Zamar after they both denied being together, and then the My Baby hitmaker, on a live video on her Instagram handle openly accused Sjava, her ex-boyfriend, of raping her.
In the live video, Lady Zamar narrated how she and Sjava were both invited in 2017 to perform at a concert at Thohoyandou, Limpopo, and had their individual rooms booked at the Porsche Villa Hotel and Conference Center in Thohoyandou. While at the event, she said Sjava invited her to his room even though at the time, they were not in any form of a romantic relationship. Also, she had just done a breast reduction operation and was told by her doctor to avoid any form of sexual intimacy for at least six weeks.
Lady Zamar speaks on her relation with Sjava (Jabulani)

Thread pic.twitter.com/f4qJu53MbP

— LIVE YOUR PEACE (@MondliSkosana) August 27, 2020
Part 3 pic.twitter.com/bhsYE1io3M

— LIVE YOUR PEACE (@MondliSkosana) August 27, 2020
The next morning after the event, Lady Zamar honored Sjava's invitation to his room, which happened to be the first time they were both alone together in a room. That morning, things got a little intense between them and they made out, but she was not willing to let it go beyond kissing. But before she knew it, he started taking off her clothes and raped her. She went ahead to narrate how helpless and terrified she felt as a result of the abuse.
Part 4 pic.twitter.com/15FVaqlwcN

— LIVE YOUR PEACE (@MondliSkosana) August 27, 2020
She noted that in the course of their relationship, whenever she mentioned the fact that he violated her to him, Sjava would respond by saying she is lucky and doesn't know what it means to be violated. The Sunshine crooner pointed out that she had gotten over the rape ordeal and was not trying to smear Sjava's name, instead, she wanted justice to take its full course and her ex-boyfriend held accountable for his actions.
The Rapper Denied The Rape Allegation
In the wake of the rape accusation, Sjava remained silent and did not release any public statement or tweet in a bid to either deny or confirm the accusation by Lady Zamar. This led to a backlash by the public as brands and promoters started dissociating themselves from the musician, even as social media users berated him for the dastardly act.
In response, Sjava denied Lady Zamar's accusation, saying he never raped her. He took to his Twitter account where he posted a timeline of the steps he has taken to address the issue since the scandal broke while questioning some of the actions and statements of Lady Zamar. To also maintain his innocence, he released a video on his Instagram page in August the same year (2020), saying he is not a rapist, neither did he rape the songstress. He said he is someone who advocates for women's and children's rights. He apologized to Zamar for making her feel disrespected and embarrassed.
However, the case found its way to a local police station in November 2019 as Lady Zamar lodged a complaint to that effect. The case was later moved to the South African National Prosecution Authority (NPA) where it was struck out on the basis that there were no facts to support the prosecution. As would be expected, the decision to drop the case sparked an outburst on social media as people had different opinions. While some accused Sjava of bribing his way out of the case, others felt he was vindicated. There were those who felt pity for Lady Zamar and others who bashed her for trying to ruin Sjava's career.
I don't even want to enter lendaba ka Sjava no Lady Zamar. There's too many unknowns..

Rape is such an emotive topic.

Only they know what happened 3 years ago. Some sh!t doesn't make sense but speculating is a waste of time.

Hope Sjava and Lady Zamar move on with their lives..

— A Black Woman 🇿🇦 🇿🇦 (@SneKhumaloSA) November 17, 2020
I doubt that's possible for any of them.
If she realy was raped, how do you move on from that.
If he realy didn't rape her, he is never going to get rid of that stench of a rape allegation.
There's no moving forward here

— Lol'popu (@LollyMkunqwana) November 18, 2020
Sjava Was Also Accused of Fathering a Child By a Jozi Woman
Just a few months after Lady Zamar's rape allegation surfaced, Sjava, who was trying to salvage his damaged reputation was hit with yet another controversy, this time with an alleged baby mama. In an interview with Drum, a Jozi woman named Mandisa Mtubu revealed that she and Sjava had a child together. According to the woman, after she got pregnant, the Uzalo star tried to pay her R10,000 to keep the child secret.
The child was later born on May 25, 2019, and for almost a year, the lady claimed Sjava took responsibility and consistently sent her money for the child's support. But suddenly he started having doubts about being the actual father of the child and stopped sending money for their son's support. Mandisa Mtubu also revealed that Sjava was with her, Lady Zamar, and his 'wife' at the same time.
The saga dragged to the point of conducting a paternity test to determine if Sjava was indeed the father of the child. After the first set of tests revealed that the rapper was not the father of the child, Mandisa contested the results and asked for another test to be done at another hospital. When the second results came in, it confirmed that indeed that the Zone 14 star is not the father of her child. It is not known at the moment if Sjava will pursue any legal action against Mandisa Mtubu, however, what has been revealed shows the darker side of the rapper's love life.
Sjava is Currently Linked to Sho Madjozi and Fans Don't Believe They Are Not Dating
Sjava who is good at sparking relationship rumors and denying it afterward was at it again when he posted a picture of himself and BET award-winning singer Sho Madjozi. On Heritage Day in 2019, the Uthando crooner posted a picture of both of them, and after wishing her 'happy heritage day' called her 'a special soul'. Madjozi responded to the post by saying she loved the picture and it made her day, she even went ahead to call him her 'protector'. Sounds familiar? Of course, it does!
This sparked rumors among fans of both celebrities who suspect that they are in a relationship, but even though Madjozi has denied being in a relationship with the Grammy award nominee, the internet does not forget. Sjava's fans seem to know that public denial for him does not mean the relationship is not happening so they are not letting him off that easily. Besides, he is known to have a penchant for keeping his affairs very close to his heart. Again, the internationally-acclaimed singer has not said anything so far to deny the rumors which have only added more to the belief by fans that something romantic is in the works.
And again, if news about Sjava and Sho Madjozi as an item comes out anytime soon, not many fans would be very surprised at the news because of the rapper precedents and especially because it will not be the first time he will deny a rumor about being involved with someone which later turned out to be true.