Palesa Madisakwane is a South African actress and television personality who previously worked with the defunct ANN7 as a news anchor. Her acting profile includes Isibaya, Generations, Mfolozi Street, Ashes to Ashes, Baby Cele, Descent, among others, but she is mostly known for the controversial relationships she has been involved in. She was involved with the controversial businessman, Nico Matlala, who is 10 years younger than her, and she also dated gay radio and television personality, Somizi Mhlongo, with whom she had a daughter, Bahumi Madisakwane, who is also a rising TV star.
Palesa Madisakwane and Somizi Were Never Married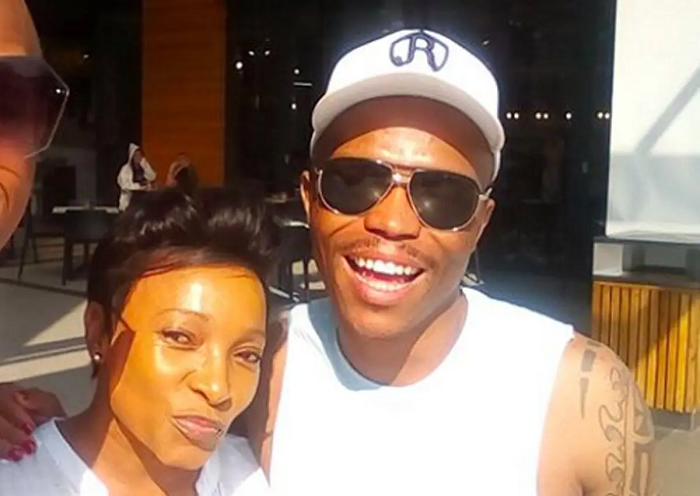 The question of how he was able to father a child with a woman even though he is gay, is one that has been asked a lot. When many fans, especially, the new ones, learn about the fact that Somizi Mhlongo is a proud father of an adorable daughter, they get a little confused as to how that is possible seeing that the Idols SA judge is openly gay and is happily married to his husband, Mohale Motaung.
Be that as it may, it is important to note that, even though Somgaga (as he is fondly called by friends and fans) admits that he realized he was not straight as a child and was embarrassed by it because he could hide his mannerisms. He initially had both male and female relationships – which would explain how he got involved with Palesa Madisakwane – the mother of his child.
Palesa and Somizi never got married to each other at any point but were involved romantically for a couple of years – long enough for a child to be conceived. Madisakwane did carry the pregnancy and gave birth to a beautiful daughter who they are both proud of today. Even though their relationship did not end up in a marriage between the duo, Palesa Madisakwane would later get married to Jakes Mocuminyane with their union producing two children – Khumo and Mohumi – while Somizi, on his part has since gotten married to his gay partner, Mohale Motaung.
Palesa was in Another Relationship when She Started Dating Somizi
It is a known fact that Palesa Madisakwane and Somizi Mhlongo have a child together. The duo is said to have met sometime in 1993. Where and how exactly they met remains a mystery at the moment, but according to Somgaga, Palesa was the one who approached him. However, Somizi knowing he was not straight at the time accepted to date the Descent star because according to him, he thought he was bisexual.
The celebrated TV personality told Madisakwane about his sexual orientation (the fact that he was bisexual) from the get-go. He also told her that he was in a relationship with another man at the time, but it seems the actress either didn't take him seriously or thought he would come around once he fell in love with her – which was never the case.
It has also been speculated that the South African beauty was in another relationship when she hit it off with Somizi. They agreed to continue dating because for Palesa, being bisexual meant Somizi could date both sexes – male and female alike. The problem came when Palesa realized Somizi was actually seeing another man.
The revelation was too much for her to handle and also when Somizi discovered he was gay and not bisexual as was previously assumed by him, Palesa would have none of it – and so the relationship fell apart with the duo each going their separate ways.
She Gave Birth to Their Daughter, Bahumi Madisakwane After She Ended Her Affair With Somizi
After the breakup, Palesa Madisakwane discovered she was pregnant, and on reaching out to Somizi, the Cry, the Beloved Country actor told her he was ready to be a father to their unborn child, even though they were not together anymore. They agreed to co-parent the child, albeit Somizi agreed she would do the bulk of the work. He promised to be there for mother and child.
The young parents welcome their daughter, Buhumi Madisakwane, in February 1995. Palesa was only 20 years old while Somizi was 23 at the time of her birth. Both parents were still at the early stage of their career development, and despite the toll it took on them, they gave the job of co-parenting and raising their daughter their best shot.
Bahumi Madisakwane Was Born With A Health Condition
Bahumi Madisakwane was born on February 9, 1995, which puts her current age at 28. In what is considered as not the fault of both parents, the upcoming TV star was born with a cancerous dysfunction known as lymphoedema – a condition that is caused by the malfunctioning of the lymphatic system, which is marked by swelling in the arm or leg. The condition has not stopped the Palesa Madisakwane look-alike from pressing forward in her chosen career. She has dived into the entertainment industry, intending to become a star in her own rights – outside the shadows of her celebrity parents.
Having appeared in TV shows such as SABC's Keeping Score and her father's reality TV show, Living The Dream With Somizi, only time will tell what the future holds in store for the beautiful Bahumi.
Palesa Madisakwane and Somizi Are Still Very Good Friends
Even though Palesa Madisakwane and Somizi Mhlongo's relationship ended on a controversial note, it is rather surprising to see the bond they have gone on to build as friends. Somizi's sexuality, being the reason for their split, has not in any way hampered their friendship even as they continue to co-parent their only child together.
She has since moved on from Somizi and dated other men – including her marriage to her estranged husband, Jakes Mocuminyane, with whom she had two kids. Somizi, on his part, has continued to explore his sexuality and eventually tying the knots with a South African model, Mohale Motaung. Their other relationships have not stopped them from being friends and looking out for each other.
A good example of how their relationship has evolved can be seen after her accident on Witkoppen Road, Johannesburg North, in 2019 alongside her daughter. The horrible crash, which was caused by a drunk driver, left Palesa's face terribly scarred, and being an OAP, a face like that would definitely keep her out of a job. She was treated at a government hospital where her face was stitched up, leaving ugly lines across her face. However, Somizi referred her to an aesthetic doctor and paid for reconstructive surgery to be done on her face, showing how high they still value each other.