Aubrey Tau is a South African multimedia TV content specialist and advisor for media operations. His net worth ranges between $1 million and $10 million.
Tau has always had a deep affinity for the entertainment business and black South Africans. His burning desire to convey their stories as they actually are is what inspired him to start Moja Love, the first black-owned TV network.
Summary of Aubrey Tau's Biography

Full name: Aubrey Tau
Gender: Male
Ethnicity: Black
Nationality: South African
Sexual Orientation: Straight
Religion: Christianity
Marital Status: Married
Siblings: 3
Aubrey Tau's Net worth: Ranges between $1 million – $10 million
Famous for: The owner of the TV Channel Moja Love.
Twitter: @aubrey_tau
Aubrey Tau was Born in Carletonville, Gauteng
Aubrey Tau was born many years ago in Carletonville, a rural community in Gauteng. Unfortunately, nobody is aware of his actual age and date of birth because he has not mentioned them publicly.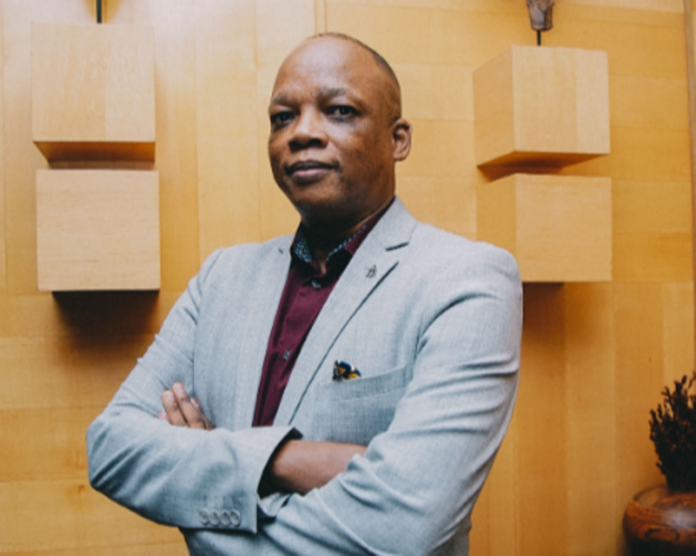 The media mogul and his three siblings were brought up by his parents in Carletonville. He was inspired to start modest businesses as a young boy because it appears that he was born into a low-income family.
It was because of this enthusiasm that he decided to pursue a business career years later in life. In addition to his family history, Tau has been secretive about his parents, siblings, early years, and the schools he attended.
Aubrey Tau is a Veteran Multimedia Mogul 
Aubrey Tau is a media powerhouse, precisely a multi-platform TV content expert. He started his long road to success many years ago, but nothing is known about the numerous businesses or organizations he worked for prior to becoming well-known.
The first black-owned TV channel, Moja Love, was established by the South African media tycoon in February 2018, which marked a crucial turning point in his career and the growth of his popularity.
He founded Moja Love under Siyaya Media Network, which he founded and owns. The channel is known for shows like Zodwa Wabantus's reality show Uncensored and Uyajola 9/9. The owner claims that Moja Love's main objective is to expose country life in its most unadulterated and honest state.
Tau achieved another milestone on June 16, 2021, when Moja 9.9, a sister channel to Moja Love, debuted on DStv channel 158.
In addition, he serves as Mzansi Tycoons' host. Through the program, the CEO of Moja Love spotlights South African entrepreneurs who have found success and engages in meaningful one-on-one conversations with them about how they were able to achieve such exceptional success in their individual fields of effort.
List of Aubrey Tau's Businesses
These are the names of the known businesses Tau owns in the media and entertainment industry.
Moja Love
Moja 9.9
Mzansi Tycoons
What is Aubrey Tau's Net Worth?
Aubrey Tau's net worth is estimated to be between $1 million and $10 million. He reportedly gained a significant portion of his wealth through his work as a media expert as well as from other ventures he has undertaken.
Though the precise annual revenue of his media outlets is not available for public inspection, it was revealed some time ago that Siyaya TV generates more than R320 million in revenue each year.
Aubrey Tau is an excellent and prolific investor, but his current salary is unknown.
A Look at the Controversies the Businessman Has Been Involved in
Since starting his company, Aubrey Tau, CEO of Moja Love, has experienced his fair share of scandals and controversies.
In January 2023, South African TV host and musician Jub Jub filed a lawsuit against Tau in January 2023 after claiming that he hadn't received his salary. It was later revealed that the Ujayola 9/9 host violated Moja Love's anti-gender-based violence policy.
Both parties later resolved the issue and Jub Jub continued his hosting gig on the channel. In June 2023, the Carletonville-born media guru was also called out by Third Strand Media producers for owing them over R1 million.
Though Moja Love claims its primary goal is to showcase African stories in an authentic manner, some detractors have repeatedly criticized the channel for portraying black people as cheaters, fighters, and members of broken families.
In their view, the channel should highlight more of black achievements and brilliance.