Dineo Ranaka and Manaka Ranaka are related. They are full biological sisters with Dineo being the younger one. Her other siblings are Mpumi Ranaka (sister) and brothers Mzingisi "Ziggy" Ranaka and Ranaka Ranaka. Other members of the Ranaka family include Ntate Kgotlaesele (father) Nonceba Ranaka (mother), and Michelle Ranaka, Dineo's sister-in-law.
Dineo Ranaka is one of South Africa's most revered celebrities. She began her career in 2005 as a radio personality and quickly established herself as one not to be ignored. Her excellence at co-hosting the show, Essential Rush, on YFM led the radio station to give her the right to host her own show which was titled Dineo Live on Drive.
Since then, Dineo has taken many other hosting gigs both on the radio and on TV. She co-hosted the music show Club 808 on e.TV before serving as a presenter on All Access. The Soweto native further pioneered the new trend of Mzanzi celebrities having their own reality television show as she launched her own show tilted Dineo's Diary back in 2012.
The show proved to be a huge success as it is one of the country's most successful and longest-running TV shows. It further led to the creation of another show that features Dineo Ranaka and her entire family.
Who is Dineo Ranaka?
Dineo Ranaka was born on the 16th of December, 1983, in the township of Soweto, Johannesburg. Her mother, Nonceba Ranaka, welcomed her to the world at Diepkloof's Chris Hani Baragwanath Hospital which is renowned for being the largest hospital in Africa with over three thousand four hundred beds and six thousand seven hundred staff.
Dineo, whose name means Gifts, was educated at the prestigious University of South Africa (UNISA). After graduating, she launched her career in radio in 2005 at the age of 22 when she took a trainee position at 5FM. The young lady later joined YFM where she was a producer before she landed an on-air role. Alongside Chilli M, Dineo hosted Essential Rush and became quite famous. Her popularity grew even further after she got the chance to host her very own show, Dineo Live on Drive – a 3-hour show that airs weekdays from 3 pm to 6 pm. The show made her SA radio's first lady and the only female to have her own afternoon drive time show. Consequently, YFM's advertising and sponsorship increased which resulted in her own earnings to rise.
Having somewhat conquered radio, Dineo Ranaka opted to take a break and focus on other things. This saw her launch her TV presenting career, first on e.tv's Club 808 music show and then as a host of SABC1's Sunlight Game Show. The highlight of her TV success is her reality TV show titled Dineo's Diary; which as mentioned above, is one of the longest-running reality shows in South Africa. The show is basically about her life as she aims to teach the world a few things regarding staying true to oneself, personal finance, romance, and lots more. A shrewd businesswoman as well, Ranaka produced a spin-off to the show titled The Ranakas featuring every member of her family.
Amidst these roles, Dineo made brief returns to radio, first on Highveld Stereo (now 947) where she hosted a weekend show and then on the internet radio station, Cliff Central. She also tried her hands at acting, appearing in projects like the SA series Hustle and the movie Baby Mamas.
In 2018, the radio presenter made her comeback to radio as she joined Metro FM. Alongside Somizi and Lerato Kganyagohe, she currently hosts a mid-morning show called The Bridge.
What is the Relationship Between Dineo Ranaka and Manaka Ranaka?
Usually, when we come across two people in the public sphere who have similar last names, they often do not share any blood ties. That is, however, not the case for Dineo Ranaka and Manaka Ranaka who are full siblings.
Dineo is Manaka's younger sister. The Ranaka family does have a flair for the entertainment industry as Dineo's older sister has a thriving career as an actress. She was born on the 6th of April, 1979 making her four years older than her on-air personality sister. D
Manaka Ranaka began her career in 1999. She is best known for her role in the second most-watched television show in South Africa, the soap opera Generations: The Legacy. On it, she plays the role of Lucy Diale – the mother of Namhla Diale (a character portrayed by actress Thulisile Phongolo). Manaka has also starred in the SABC2 sitcom, Stokvel, where she played the role of Lerato Khumalo.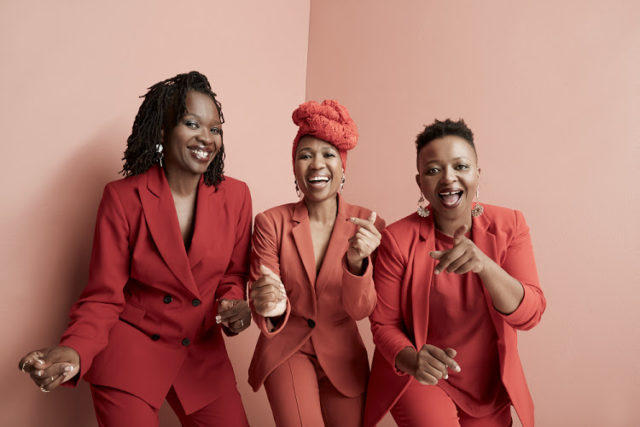 Read Also: Kelly Khumalo – Scandals, Controversies, and Relationship with Senzo Meyiwa
Other Members of Dineo Ranaka's Family
As mentioned above, Dineo Ranaka produces a reality television series that features her entire family. Thanks to this, we have been able to find out more about the other members of her family.
Ntate Kgotlaesele
Ntate Kgotlaesele is the father of Dineo Ranaka and the head of the family. A writer and publisher, Ntate worked as a journalist and photographer during apartheid. He is said to have started many publications but was labeled a sell-out and treated badly. One of the reasons the family reality show was started and all members of the family agreed to be a part of with was so that Ntate's contribution to the media industry back in the day can be put in the spotlight.
https://www.instagram.com/p/BxMiXUzl29D/?utm_source=ig_web_copy_link
Nonceba Ranaka
Nonceba Ranaka, or Mama Siba as she is fondly referred to, is the wise family matriarch. Not much is known about Dineo's mother who is in her sixties other than that she is an owner of a catering business. From her appearance on the family reality show, Siba has been described as the voice of calm in the storm although she has at times been regarded as an enabler for bad behavior.
Mpumi Ranaka
Mpumi Ranaka is the third and lesser-known of the Ranaka sisters. She was born in between Manaka and Dineo in 1981. While not much is known about her, she makes a living as a writer, motivational speaker, and businesswoman. She is the co-owner of Lalala bedding company. In the 1990s, Mpumi had worked as a backing vocalist. She further got a chance to tour with musicians like Brenda Fassie and King Rap before he was known as Joe Nina.
Mpumi is currently married. She wedded her husband in 2006 in a ceremony that was held in Abu Dhabi. The pair are said to have met at work just six months earlier in 2005. Together, she and her husband are parents to three children; Lwazi, Thando, and Lerato.
Mzingisi "Ziggy" Ranaka
Mzingisi Ranaka, also known as Ziggy, is one of Dineo's brothers and her parents' eldest son. He is an entrepreneur, or hustler as his siblings like to put it, of the family.
Michelle Ranaka
Michelle is Dineo Ranaka's sister-in-law through her marriage to Mzingisi. From her social media profile, we have been able to find out that she is a SETA Accreditation Consultant and a skills development specialist. She has also had a main role in the Ranaka family reality show.
Ranaka Ranaka
Ranaka Ranaka is the youngest child in the family. As one would expect, he fully embraces a youthful lifestyle, unlike his siblings. Other than his work as a reality TV star, Ranaka makes a living as a DJ and event organizer. Dineo Ranaka has famously described him as the one who will be the most successful of all her siblings, including herself.