Litlhonolofatso Litlhakanyane has been a mainstay of the e.tv soapie Scandal! ever since he broke out onto the scene of the popular South African television series with his stellar performance. He stands out as one of the few South African child actors who rapidly rose to immense popularity as a result of their on-screen performance. Despite being new in the industry, the young man has won both the attention and praises of filmmakers and viewers to himself in a short time.
Litlhakanyane portrays a young character called Tebello in the TV series Scandal!. He's been doing a great job working alongside notable South African actors such as Andile Sithole-(Ndumiso), Ayanda Daweti-(Chumani), Brighton Ngoma-(Quinton), and Cindy Mahlangu-(Violet) in the project. The young boy is already on his way to greatness, and he has no plans of slowing down.
Litlhonolofatso Litlhakanyane Got To Know About Scandal! Advert Through His Sister 
Litlhakanya's sister was the one who told him that Scandal!'s production crew was looking for a child actor. She was also the person who encouraged him to give it a try. His sister is said to have come across the advert on Facebook some time ago.
When Litlhonolofatso eventually got to the audition venue, he performed incredibly well that the organizers fell in love with his acting skills and confidence. Even though he did not know about acting, he was able to impress the judges and eventually made the final list.
Taking up a role in the TV series is one of the best decisions the teenager has ever made in his life as it allowed him to meet great personalities in the industry. Now, he wants to spend more years on the job and also get himself involved in other local and international roles in the nearest future.
His Role In The Soapie Ended His Several Attempts Of Trying To Break Into The TV Industry
Litlhonolofatso Litlhakanyane made several attempts in the past to win a role as an actor before taking a part in Scandal!'s audition. Although the names of the particular television programs he auditioned for previously are not known, he didn't give up on himself during those periods being someone who knows what he wanted.
Scandal! is Litlhakanyane's first acting job and also the project that announced him to the world. He hasn't enrolled at an acting school yet, even though we are not ruling out the possibility of him doing so soonest because he has a deep passion for acting.
The child actor has indeed won the praises and admiration of viewers to himself through his performance in the TV series. He has a huge fan base, even within the industry who look forward to working with him on new projects.
Litlhonolofatso Litlhakanyane Is One Of The Finest Talents On The Show
Litlhonolofatso's role is one of the challenging roles in Scandal! yet he makes a top-notch delivery whenever he appears on the screen. From his fluency in Tswana to the effortless portrayal of his character Tebello, the child actor is just amazing to watch.
His character, Tebello, is an abandoned child who was later adopted by a family in Johannesburg, where he eventually started living large. He lived with Yvonne's mother until she passed on. Although his character is a 12-year-old, Litlhonolofasto was actually 10-years-old when he took up the role.
The young man once shared in an interview that although the set is a new environment for him as a first-time actor, he doesn't feel all that new at all. He also expressed delight that he is surrounded by people who make him feel so welcome on stage. The whole experience and journey for Litlhonolofasto has been quite exciting, refreshing, and fulfilling as well.
As for his character, he added that he challenges him to be better than he is, even though they do not have many things in common. For instance, Litlhakanyane is a shy person in real life, but he portrays a confident personality in front of the camera. His mother confirmed this as well.
The Scandal! up-and-coming actor stars in the popular soapie alongside popular South African thespians, including but not limited to Patrick Mofokeng-(Mlungisi), Simo Magwaza-(Mamba), Sandile Mahlangu-(Simo), Thulani Hlatshwayo-(CeeJay), Sive Mabuya-(Xolile), Tshepo Howza Mosese-(Lerumo), Wayne Van Rooyen-(Stokkies), and Zanes Meas-(Wesly).
As mentioned earlier, the talented child star would love to collaborate with local entertainment bigshots and also explore the international acting scene in the future. Litlhakanyane's childhood dream is to be a lawyer but with the way the young man's acting career is blooming, he could end up building a fantastic acting career for himself.
The Child Star Looks Forward To Showcasing His Talent In More Local Productions
Within less than two years on the show, he has already become a fan favorite, and of course, a household name within and beyond the entertainment circle. So far, Litlhonolofatso Litlhakanyane has only one acting gig under his belt, which is his Scandal! job.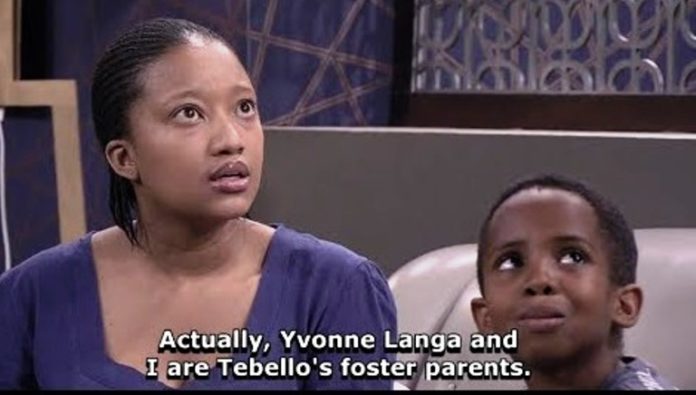 Regardless of this, his time on the show has bettered his career in numerous ways. Apart from exposure and acquiring additional knowledge on acting, he is enjoying the fame and fortunes his career has brought his way.
His Family Has Been Supportive And Super Proud Of His Fast-Growing Career
Litlhonolofatso Litlhakanyane comes from a family with interest and history in acting. He owes his exploits in the acting world to his sister who became interested in Scandal! after she saw the TV show's advert for a child star on Facebook. She ended up convincing Litlhakanyane to attend their audition and fortunately, it worked out for him.
Besides the child actor, another member of his family is also an actor. His name is Tlonolofatso Litlhakanyane, and he currently plays the role of Thabo in Scandal!. Just like his younger brother, Tlonolofasto is a talented actor with a fast-growing career. Not much is known about his personal life and professional career, including his bio, the year he started acting, and other projects he's been part of in the South African TV industry.