Ayanda Borotho (born: 31 January 1981, Age: 42 years old) is a South African actress, writer, activist, and former model. She is best known for playing the title role in SABC 1's sitcom Nomzamo, from 2007-2010 and also as Phumelele Zungu on Mzansi Magic's telenovela Isibaya .
Ayanda Borotho is one of those celebrities who always seem to be there, yet not much is known about her personal life. The actress has been a popular and favorite face on the screens of Mzansi since the 1990s and has come to appear in some popular productions, including Generations, IsiBaya, and Nomzamo.
Also a former model who can't be unloved, Ayanda has attracted so much attention because of her overwhelming career. Interestingly, she has mostly replicated the success of her career in her family life with her husband, Filike. Although there have been rumors in the past that her marriage was heading for the divorce doors, on the contrary, her marriage is doing just fine.
Summary of Ayanda Borotho's Biography
Full name: Ayanda Ngubane Borotho
Gender: Female
Date of birth: 31 January 1981
Place of Birth: Ntuzuma, Durban, KwaZulu-Natal, South Africa
Ayanda Borotho's Age: 42 Years old
Ethnicity: African
Nationality: South African
Zodiac Sign: Aquarius
Sexual Orientation: Straight
Marital Status: Married
Ayanda Borotho's Husband: Dr. Filike Ngubane
Ayanda Borotho's Children: 4 (Ayaphiwa Ngubane, Amina, Khaya, and Mpilo)
Education: Brettonwood High School, AAA School Of Advertising
Career: Actress, Writer, Activist, Former model
Famous for: Generations, IsiBaya, and Nomzamo
Ayanda Borotho's Instagram: ayandaborotho
Ayanda Borotho And Filike Met On a Movie Set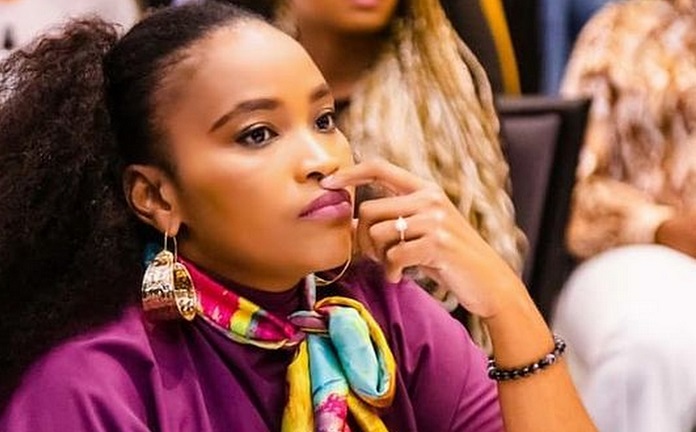 It was only supposed to be another day for the beautiful Ayanda in office when her paths crossed with a medical doctor known as Filike in 2012 while she was on a movie set. Details surrounding how everything progressed between them were never revealed, but it became apparent that they soon started dating afterward.
By 2013, they decided that they wanted to spend the rest of their lives together. They got married in a private event with hardly any leaks to the public. Apart from her husband's name, the actress and former model has kept almost all other details about her better half away from the public.
Nonetheless, it is known that Ayande's husband is a medical doctor who is well accomplished in his field. He is also a very wealthy man who is comfortable remaining off the spotlight even though he is married to someone who lives in the spotlight.
Many Thought They Would Not Last
Not a few people believed the marriage of the actress was not going to last long. First, the fact that she is a celebrity and the happenings in Mzansi has made it easy for people to bet more on marriages failing than surviving.
Secondly, she stated that because of the stands she has taken on polygamy and her comments on social media and other public spaces about women empowerment and other gender-related matters, people would want to believe that her marriage would not work. On the contrary, she indicated that her husband has no issue with her.
More so, she added that her husband has no problem with her stance on issues, which is why he will be happy to give out her book to friends because her light does not threaten him. She made the assertion when speculations started making the rounds that she was probably divorced. The claims that she was divorced were also championed because she ensures to keep all details about her husband away from the public domain.
Ayanda Had Her First Daughter At 22
As stated, Ayaphiwa Ngubane is the older daughter of the actress, and the two have developed a rather strong bond. According to Ayanda, her daughter is a rebel queen who knows the power she possesses.
But that is not all to their story. The actress revealed that she had her daughter out of wedlock at the age of 22. She indicated that even though it was, he was the first and only man she knew, but her community rejected her because of the pregnancy, but nothing happened to the man even though he had other women. This event birthed her into the woman she is today, who is strong in voicing out issues relating to gender.
Ayanda and her daughter have an Instagram series, Conversations With Our Daughters, where the two raise issues that women face in society. In one episode, she revealed that she once had to eat grass to get a man to think she was mentally unstable and leave her alone as he kept chasing her to get her number.
Their Marriage Is Blessed With Two Sons
The marriage of the actress to her husband is now blessed with two kids, both sons. Her older son is  Khaya, while the younger is Mpilo. Although she is very private about all that concerns her family, she revealed that at home, she doesn't allow them to speak the English language, just Sesotho and isiZulu. She lamented in 2020 that they failed their exams in Afrikaans, and she needed help with that.
She stated that although she went to model c schools, she could never remember when she spoke English at home. Because of how serious she was about the language her sons speak, she delayed nursery education for one of her sons to ensure English doesn't erode his learning. The kid was said to be 5 years old in 2020.
Ayanda got a white swimming teacher for her sons, and when the teacher noted that the kids do not understand the English language, she pointed that it was because they were Sotho boys birthed by a Zulu mother.
Ayanda Borotho Also Has Another Daughter
In all, Ayanda Borotho and Filike have four kids in total; the first from a previous relationship Ayanda had when she was much younger, two sons from her marriage, and a daughter which she adopted named Amina.
Amina is also an actress who appeared in Isibaya with Ayanda, where the latter appeared as her mother. Amina, who is originally from Newcastle, came to Joburg when she was a girl of 9 in 2009. She started education the next year, but things didn't go as expected, and at the end of 2017, Ayanda stepped in and adopted her as her daughter.
It was revealed that the biological mother of Amina is still alive, but details about the relationship with her daughter have not been revealed.
She Has Handled Her Busy Career And Family Life Well
Although it is easy to only see Ayanda as a former model and actress, she is much more. She is also an entrepreneur, writer, and activist, among other things. Despite all her engagements, she still finds the time to be a great mother for her kids and a good wife.
She invests time in bringing up both her sons and daughters because she believes girls must know the power they possess and boys must learn to treat women right. In addition, she invests in the learning process of her children, which is why she makes sure only their traditional languages are spoken at home. She limits the cartoons her sons are allowed to watch because she found out that it influences their language.
As regards her resume, she is an accomplished actress whose works include Generations (1999), Mr. Bones (2000), Nomzamo (2007), Home Affairs (2009), IsiBaya (2013), and Ambitions (2017), among many others. She published her autobiography, Unbecoming to Become, in 2019.