People generally love to know how expensive things are. Regarding spirits in general and Whiskey in particular, there are very salient yardsticks that determine the pricing of a bottle of Whiskey. Originally, Whiskey is of Italian origin as it holds traces of the earliest traces of distillation records and processes. However, the Scottish and the Irish took over whiskey making, refining the traditional Italian distillation processes with more effective and better resulting indigenous distillation methods and procedures. This birthed some of the most popular, widely consumed, and expensive Whiskey brands available in today's market.
In Africa, South Africa is already setting the pace as far as whiskey production is concerned, and these efforts have not gone unnoticed. The receipt of the awards of 'World's Best Blended Whiskey' awarded to three indigenous South African Whiskies in London in 2012 proves that South Africa is fast becoming a significant player in the world of Whiskey, and the world is taking note. To this end, we will be exploring the most expensive whiskey brands in South Africa. You can purchase them either by going to retail stores, procuring them at open auction events, or even ordering them online from equally reputable retailers.
Here Are The Most Expensive Whiskeys in South Africa Right Now
1. Macallan 60-year-old
Price: R16 million
Year: 1926
Quantity: 40 bottles
Other Facts: It is referred to as the '

Holy Grail of Whiskey.'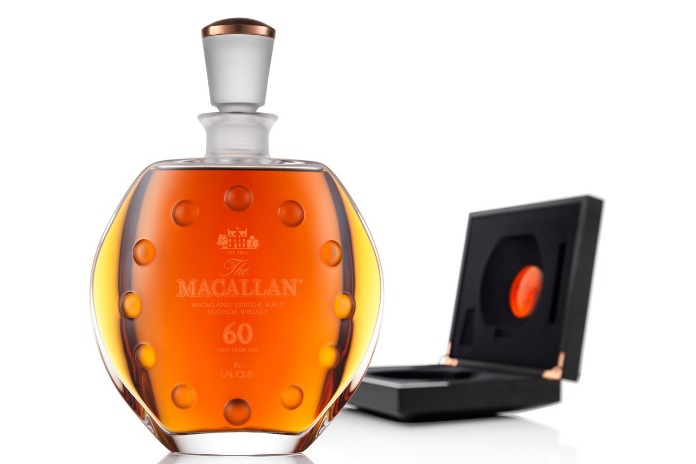 Initially, The Macallan was matured in oak sherry casks alone. These casks were purchased from Spain and then brought directly to the distillery. However, a new product was introduced in 2004; this series saw the Whiskey steeped in sherry oak casks and bourbon oak casks and was named the fine oak series. The Fine Oak series was renamed again in 2018 to the Triple Cask Matured range, and by 2019, Macallan had once again outdone themselves.
A member of the Triple Cask Matured collection – the Macallan Valerio Adami – was purchased at an auction in Edinburgh for over a million dollars, approximately R16 million. This made it the most expensive Whiskey ever sold and gave it the legendary status and the apt alias, 'the Holy Grail of Whiskey.'  
2. The Royal Salute 1953
Price: R2 million
Produced By: Chivas Brothers
Year: 1953
Quantity: N/A
Other Facts: The Royal Salute was created in 1953 to mark the coronation of Queen Elizabeth II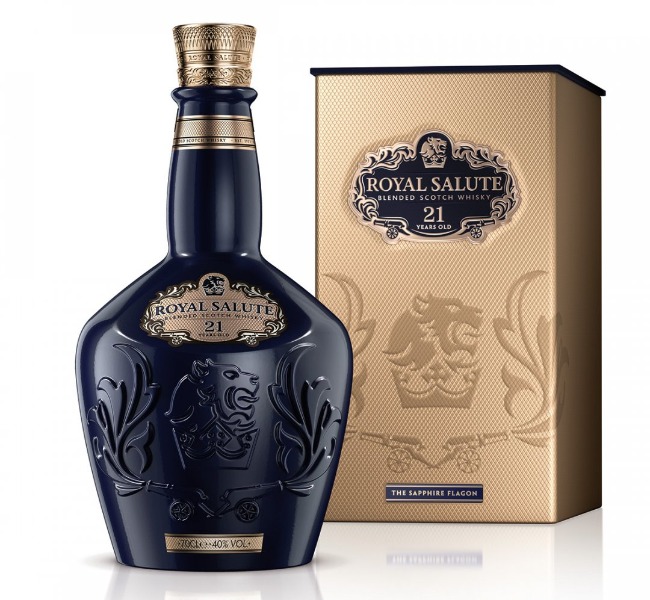 Produced by Chivas Regal in 1953 in honor of the coronation ceremony of Queen Elizabeth II, The Royal Salute is regarded as one of the most expensive whiskies in the world by a vast majority of people. The bottle was artfully crafted with about 22 carats of white and black diamonds by the legendary jeweler and the Creative Director of Garrard, Webber Stephen. The Royal Salute was officially launched by the Chivas Brothers on the 2nd of June in 1953, on the same day of Queen Elizabeth's royal coronation and ascension to the throne of Britain.
3. Balvenie 50-year-old Speyside Single Malt Whiskey
Price: R560,669
Produced By: David C. Stewart (for William Grant & Sons)
Year: 1962 (Bottled in 2012)
Quantity: 88 bottles
Other Facts: Produced in honor of David Stewart's 50th year with William Grant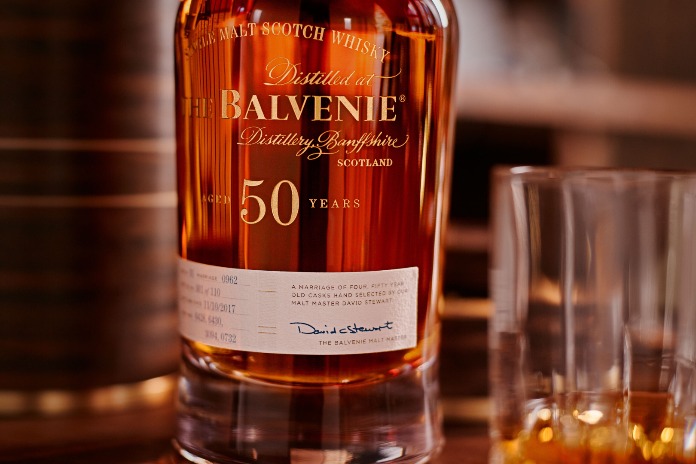 The Balvenie distillery in Scotland is renowned for maintaining its traditional production process in making its single malt. The distillery uses homegrown barley and still sticks to the practice of all five of the rare craft processes in producing single malt. The 50-year-old Speyside single malt whiskey is one of its masterpieces. Bottled after half a century of maturing on an oak sherry from Europe, there are only 88 units of this flawlessly crafted Whiskey in the market. 
4. Glenfiddich 50-year-old
Price: R485,000
Produced By: William Grant & Sons
Year: N/A
Quantity:

500 bottles

Other Facts: To be released in batched of 50 over ten years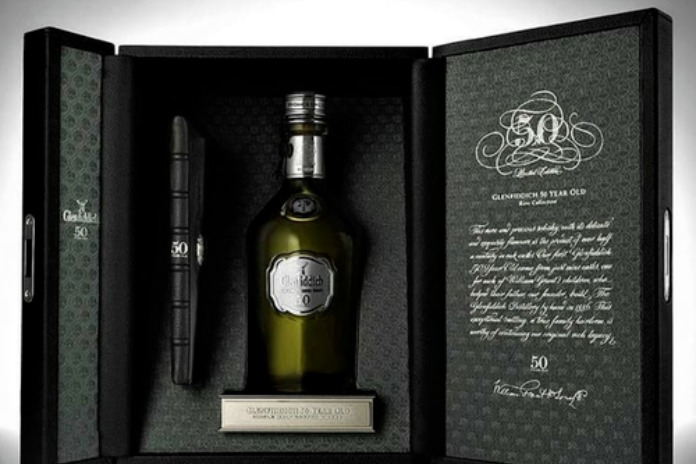 With several awards to its name, Glenfiddich is the world's best-selling and most awarded single malt whiskey. They have performed amazingly well at many rating competitions for spirits at a national and international level. Whiskies from the 12, 15, 18, and 21 collections have all picked up awards and high ratings in time past, but it's clear that the real diamond of the Glenfiddich collection across the different years is the 50-year-old whiskey brand. A total of 500 bottles was created, but to maintain its exclusivity and appeal to its top-tier target consumers, only 50 are released yearly for the next ten years.
5. Glenlivet 50-year-old Winchester Collection Speyside Single Malt Scotch Whiskey 
Price: R430,000
Produced By: Gordon & Macphail
Year: 1967
Quantity: N/A
Other Facts: Originated from Scotland
While Glenlivet's collection of whiskies have generally gained high praises at international competitions and wine and spirit reviews (with the Glenlivet 18-year-old brand winning double gold five times from 2005 to 2012), the real pearl of the Glenlivet collection is the 50-year-old Winchester collection single malt whiskey. With an exquisite blend of fruity, rich tastes combining notes of toasted almonds, ripe peaches, and apricot jam, the Glenlivet 50-year-old whiskey brand is the third from the Winchester collection to be released into the wine market.
6. Glenfarclas 60-year-old
Price: R343,260
Produced By: J. & G. Grant
Year: 1959 (Bottled in 2019)
Quantity:

360 bottles

Other Facts: A

vailable at just a handful of retailers around the world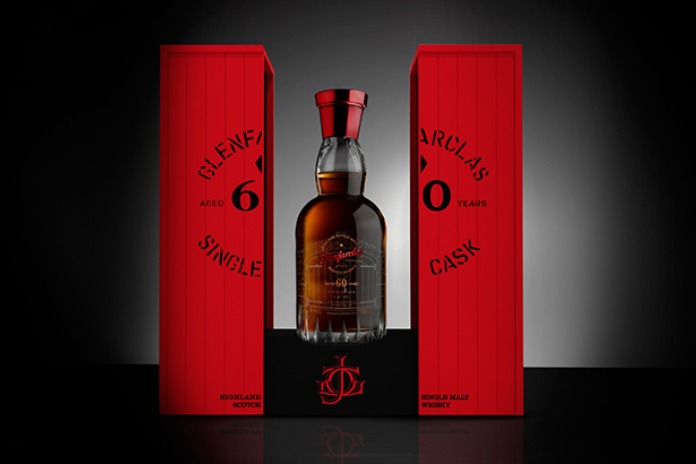 In the launch of rare older whiskies overseas last year, one of the most ancient of all came from the independently run Glenfarclas distillery out of Scotland. Its owners had recently unveiled a bottling laid down in barrel in 1966. Still, it is easily out-shadowed by a 60-year-old expression drawn from one of their last 1953 casks is a limited edition release of just 360 bottles globally. It is available at just a handful of retailers around the world.
7. Glenlivet 1940 70-year-old
Price: R323,000
Produced By: Gordon & Macphail
Year: 1940
Quantity: Limited bottles
At 70 years, The Glenlivet Whiskey is among the world's most renowned bottles of Whiskey and one of the oldest. Flecked with brown lights and possessing an amber-like color, 1940 distilled whiskey only has a limited number of bottles available for sale in the wine market. 
8. Glen Grant 50-year-old
Price: R152,800
Produced By: Dennis Malcolm
Year: 1963
Quantity:

100 bottles

Other Facts:

55% alcohol volume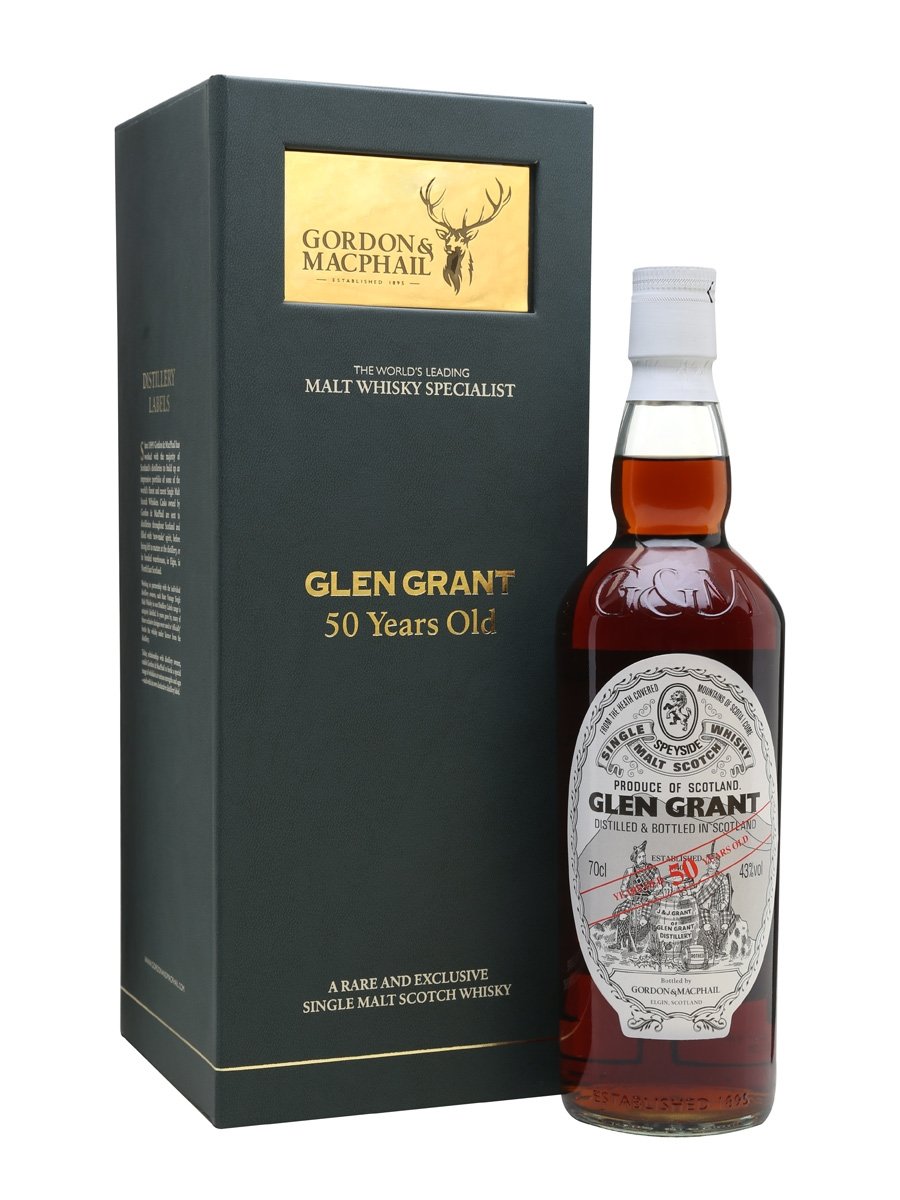 The Glen Grant distillery was founded by John and James Grant in 1840 in Speyside. The Grant distillery, which became a household name as far as the production of single malt whiskies was concerned, was bought over by the Chivas Brothers before being purchased again in December of 2005 by the Campari Group, an Italian-based company. The pride of the Glen Grant collection is the 50-year-old Glen Grant which reached full maturity in a single sherry butt, where it rested for about 50 years. The alcohol concentration is less than 55% striking a deft balance of richness, smoothness, and robustness. About 100 bottles of this collection were released to the market.
9. Glenfiddich 40-year-old
Price: R52,600
Produced By: William Grant & Sons
Year: N/A
Quantity:

600 bottles

Other Facts: 46.2 % alcohol volume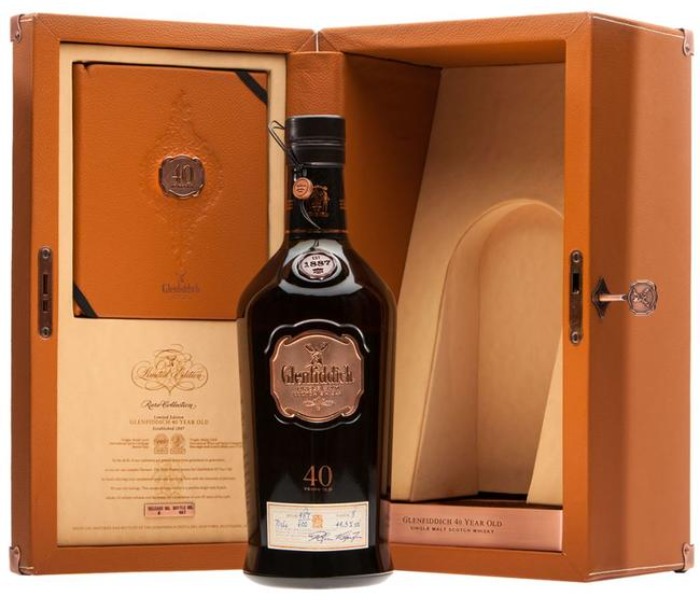 The 40-year Gleinfiddich brand is a highly limited and very exclusive brand collection of scotch whiskies. With just 600 bottles released into the market, this Whiskey, which emanates manuka honey and a rich oak nose and floral scent, is one of the prime treasured collections of the Glenfiddich distillery.
10. Johnnie Walker Blue Label Baccarat
Price: R47,800
Produced By: Johnnie Walker
Year: 2010
Quantity: N/A
Other Facts: Coloring Added
The Johnnie Walker Blue Label Baccarat, simply put, is the distillery's most premium Whiskey yet, and most likely the most popular and widely acknowledged top-tier blend. The Johnnie Walker Blue Label is made from the most premium of aged grain whiskies and malts. Undoubtedly the gem of the world of blended Whiskey, the packaging of the Blue Label secures its unopposed position above the rest of the Johnnie Walker collection. This Johnnie Walker brand was manufactured from some of history's oldest whiskies, with the packaging for the special edition designed as a tribute to Johnnie Walker on the occasion of his birthday.

Recap Of the10 Most Expensive Whiskeys in South Africa
Macallan 60-year-old  (R16 Million)
The Royal Salute 1953 (R2 Million)
Balvenie 50-year-old Speyside Single Malt Whisky  (R560,669)
Glenfiddich 50-year-old (R485,000)
Glenlivet 50-year-old Winchester Collection (R430,000)
Glenfarclas 60-year-old (R343,260)
Glenlivet 1940 70-year-old (R323,000)
Glen Grant, 50-year-old (R152,800)
Glenfiddich 40-year-old (R52,600)
Johnnie Walker Blue Label Baccarat (R47,800)