Zola Mhlongo is a 27 year-old South African actress, event host, TV & radio presenter, and businesswoman born on October 6th, 1995. 
South Africa is blessed with a wealth of talented actresses and TV personalities and Mhlongo is one of them. She began her journey to greatness with Gagasi FM as a radio presenter. In the course of her vibrant career, she has distinguished herself as a viewer's favorite, having made any program she features on a compelling and gripping watch. Like most celebrities in the industry, Zola has had her fair share of public drama.
Summary of Zola Mhlongo's Biography

Full name: Zola Ayabulela Mhlongo
Nickname: Zola Zeelovin
Gender: Female
Date of birth: October 9, 1995
Zola Mhlongo's Age: 27 years old
Ethnicity: Zulu
Nationality: South African
Zodiac Sign: Libra
Sexual Orientation: Straight
Religion: Christianity
Marital Status: Unmarried
Zola Mhlongo's Boyfriend: Kabelo Mostsamai, a.k.a Prince Kaybee
Zola Mhlongo's Child: 1
Zola Mhlongo's Net worth: Ranges between $500,000 and $1 million
Famous for: Her role in the TV series Uzalo
Zola Mhlongo's Instagram: zolazeelovin
Twitter: @ZolaZeelovin
Facebook: Zola Ayabulela Mhlongo
Zola Mhlongo was Born in Durban, KwaZulu-Natal 
South African actress Zola Mhlongo was born on 6th October 1995 in Durban, KwaZulu-Natal province. She is currently 27 years old. She has Zulu heritage and is a citizen of South Africa by birth. 
Information about Mhlongo's background, family relatives, upbringing, and early life has remained undisclosed. She attended Danville Park Girls' High School, North Durban, and the University of Cape Town, where she majored in Art.
Zola also attended the private tertiary higher institution of learning, Vega School. She graduated with Honours in Strategic Brand Communications from the school.
What Does Zola Mhlongo Do for a Living?
Mhlongo wears various hats; she is an actress, event host, TV & radio presenter, and businesswoman. She launched her career many years ago and first tasted fame when she joined Gagasi FM as a radio presenter.
Her stint at the radio outfit was productive and also paved the way for her to develop herself and boost her career generally. While there, she anchored many shows with The Friday Hangout being the most popular and favourite of them all.
Zola parted ways with Gagasi FM in 2021 for unknown reasons. A phenomenal actress, the Durban-born screen star gained immense popularity when she joined the popular television soap opera Uzalo as the character Hleziphi.
Besides Uzalo, she has also had a role in several other local projects including How to Manifest a Man and the mini-series, 365 Days. Zola is the founder and CEO of the fast-rising clothing brand, Undefined Shapes.
The line, founded in mid-pandemic in 2020, deals in innovative Shapewears specially designed for women and their comfort.
Zola Mhlongo's Net worth
Zola Mhlongo's net worth ranges between $500,000 and $1 million. The actress could be wealthier than that because she has been making waves in her career lately. Her current net worth is yet to be ascertained, though.
The actress built her financial empire through her various jobs in both the business and entertainment worlds.
Who is Zola Mhlongo's Baby Daddy?
Zola Mhlongo's baby daddy is Kabelo Motsamai, professionally known as Prince Kaybee. He is a sensational musician and DJ famed for his electrifying shows, energetic performances, and popular hits such as Yonkinto, Charlotte, Friend Zone, and Wajellwa.
Born in Senekal near Welkom in the Free State on June 15, 1989, he is the youngest of 36 children and the only child of his mother. He comes from a humble beginning and eventually saw the light at the end of the tunnel after taking part in a SABC1 DJ competition.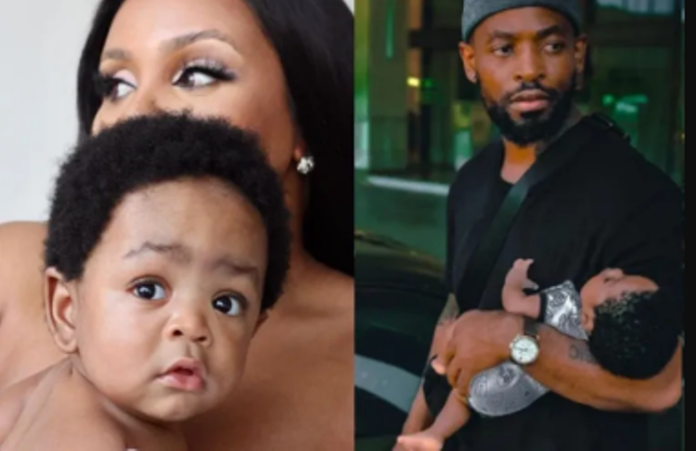 Kaybee has released over 10 studio albums and more than 100 songs to his name. He has also performed on major stages both locally and internationally with top artists including Cassper Nyovest, Kwesta, and Sjava.
Zola and Kaybee Welcomed Their First Child in 2021
Mhlongo and Prince Kaybee are parents to a baby boy she fondly calls Mmino Milani. He was born on the 20th of October 2021 in South Africa. The actress' son was preterm and born at seven months.
MMM 20/10/2021 ❤️

— Zola Ayabulela Mhlongo (@ZolaZeelovin) October 20, 2021
Although it has not been an entirely smooth journey, Zola has been doing great as a first-time mother. She has been quite open about her motherhood journey. Two months after she had her baby, she disclosed that she had embarked on a self-care journey as a result of her experience with exhaustion and postpartum depression.
Prince Kaybee is a hands-on dad. He has shown great support and care to his baby mama since Milani was born.
On one occasion, he shared a photo of him feeding their son. It's not clear if the DJ and his baby mama live under the same roof or not.
Is The Actress Dating or Married?
Zola Mhlongo is not married presently. She is believed to be in a relationship with the father of her child even though the two have kept their love off social media for a long time.
There is no indication that the two have ended their relationship or are making any serious plans to tie the knot any time soon. None of the love birds have publicly shared their love journey – when and where they met, how long they've been together, and if they have plans of taking their relationship to the next level.
Prince Kaybee and Zola's relationship received wide media coverage in 2021 when it emerged that the DJ had a side chick named Hazel who he had been with for almost five years.
The DJ got implicated when she shared screenshots of their private conversations and meet-ups alongside pictures of Kaybee's private parts. While everyone expected Zola to comment on the issue, she remained tight-lipped till the end of the whole drama.
However, she and Kaybee went low-key on their relationship by practically taking their love off social media, leaving their fans wondering if they had separated or not. Surprisingly, the actress announced her pregnancy a few months after the drama and it turned out that Kaybee was the father of her child.
Although the DJ initially denied it, he later admitted being Zola's baby daddy after much pressure.
Zola Mhlongo Cars
The former Uzalo star has a soft spot for Mercedes-Benz automobiles. She has quite a good number of luxury cars in her car collection including a Mercedez Benz G-class and a Mercedes Benz V-class.
However, the exact number of cars she owns, their worths, and all their brands are not accessible to the public.
Zola Mhlongo House
Actress Zola Mhlongo currently lives in Durban in a palatial apartment. She hardly shares pictures of the corners of her house online which makes it difficult to ascertain its features, accessories, and add-ons.
FAQs
Who is Zola Mhlongo's baby Daddy?
The father of Mhlongo's baby is Prince Kaybee, a South African musician and DJ. The two welcomed their baby in 2021 following a messy public drama that implicated the DJ.
His nude pictures were released by a woman who claimed to be his side chick. Regardless, Zola did not abandon him rather the duo decided to keep their relationship off the curious eyes of the public and away from social media.
How Old is Zola Mhlongo?
The businesswoman is 27 years old. She was born on 6th October 1995 in Durban, KwaZulu-Natal province. She has kept her fans in the dark about the kind of family she was born into, her family relatives, and her upbringing.
Does Zola Mhlongo have a child?
Yes. Zola Mhlongo has given birth to one child – a baby boy she fondly calls Mmino Milani. He was born on 20th October 2021. Milani shares the same birth month with his mother.
Is Zola Mhlongo Hleziphi in Uzalo?
Yes. Mhlongo portrayed the character Hleziphi in the TV series Uzalo. She has, however, left the show. Her character was a favorite during her time on the same – thanks to her incredible acting skills and brilliant on-screen delivery.
What is Zola Mhlongo's Net worth?
Zola Mhlongo's net worth ranges between $500,000 and $1 million. She amassed her wealth from her acting career, clothing business, and other engagements in the entertainment industry.