Mosebjadi from Skeem Saam is a fast-rising South African actress whose real name is Zizo Sobutyu. She is currently 17 years old, as she was born in 2006.
Zizo is one of the top young actors in the industry right now. She has demonstrated since her first TV appearance that she has a special talent, passion, and charm that innately captivates viewers of the show. With her motivating personality and undeniable talent, Skeem Saam's Mosebjadi is a force to be reckoned with. Besides acting, this young celebrity has one of the largest social media followings among young actors.
Summary of Zizo Sobutyu's Biography

Full name: Zizo Sobutyu
Gender: Female
Zizo Sobutyu's Age: 17 years old
Ethnicity: Black
Nationality: South African
Sexual Orientation: Straight
Religion: Christianity
Marital Status: Unmarried
Zizo Sobutyu's Net worth: Ranges between $100,000 to $300,00
Famous for: Playing Mosebjadi in Skeem Saam
Zizo Sobutyu's Instagram: zizo_sobhutyu
Who Is Zizo Sobutyu, Mosebjadi from Skeem Saam?
Zizo Sobutyu is a South African budding actress best known for playing the role of Mosebjadi in the popular TV series, Skeem Saam. She rose to prominence in 2022 after she was unveiled as one of the cast of the educational show.
Sobutyu is also an internet darling with over 80,000 followers on Instagram, where she is most active. She is a fan favorite, thanks to her incredible acting skills and stellar on-screen delivery right from when she debuted.
Mosebjadi from Skeem Saam's Real Name
The birthname of Mosebjadi from Skeem Saam is Zizo Sobutyu. However, she is easily recognized by the name of her Skeem Saam character.
How Old Is Mosebjadi from Skeem Saam?
Zizo Sobutyu is 17 years old. The actress has, however, not publicly disclosed the exact date and month her parents gave birth to her. She hails from Midrand, Pretoria, South Africa.
There is no available information on her parents and relatives, upbringing, and the kind of family she was born. Zizo is currently a high school student at Midrand High School. She is in grade 12. She started acting as a grade 11 student.
She Began Her Acting Career in 2022
Zizo Mosebjadi launched her acting career in January 2022. She debuted on the popular TV series Skeem Saam on January 12th, 2022, alongside fellow actors Phillip Thobejane (played the character Mahlatse), Mahlatse Moropo (played the character Letetswe), Mosa Nkwashu (played the character Lewatle) and Thabiso Molokomme (played the character Paxton Kgomo).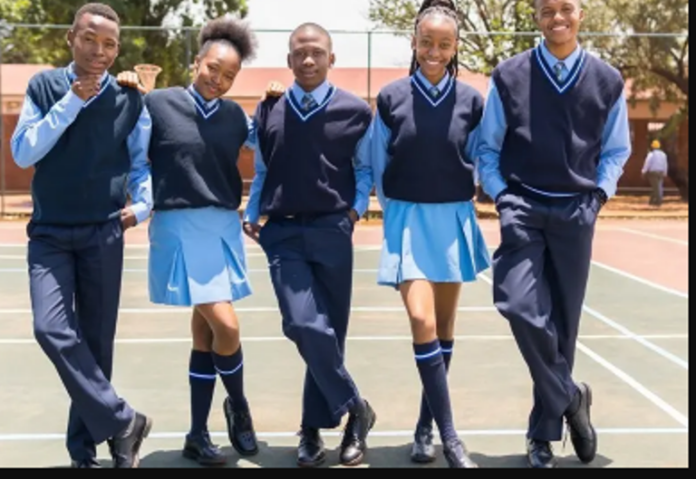 Before joining Skeem Saam, Zizo Sobutyu studied at the renowned Modrand-based Baobab Drama Academy, after which she joined the Dramatised Poetry Group at Brynston Parallel Medium during the National Eisteddfod of South Africa.
This earned her a Diploma and a place at the National Young Performer Awards in 2017, where she and her team presented a dramatized poem entitled "Come with Us," written and directed by M.B Jokozela.
The Pretoria-born star was part of those who participated in the Johannesburg Theatre Arts and Culture Festival in 2018, where she and Anele Ngwane presented a classical duet, "The Brighton Beach Memoirs".
Zizo portrayed the character Mosebjadi in Skeem Saam. She's been on the show since 2022, having won the admiration and praises of viewers of the show. Her character is an interesting person who keeps getting bullied.
According to the teen actress, playing her character has taught her how dangerous bullying is as well as how to handle it outside the filming set. Skeem Saam is Zizo's only professional credit presently. However, she is working on landing more acting gigs in the future.
She intends to major in drama at the university to hone her acting skills and become a better version of herself as an actress.
Zizo Sobutyu's Work
Is Zizo Sobutyu Married or Single?
Zizo is single and has no record of romantic relationships with men. She is still young and concentrated on her academics and growing acting career.