Jeannie D is a 41 year-old South African television show host, model, actress, and radio presenter born on April 13, 1982. She is not married, however, she is in a relationship with her partner Brennan Wright and lives in Cape Town presently.
The South African TV presenter developed a keen interest in performance in her early years. She began her ascent to fame at the young age of 12 and hasn't looked back since then. She is one of the media industry's brightest minds, having a noteworthy career background.
Summary of Jeannie D's Biography

Full name: Jeanie De Gouveia
Nickname: Jeannie D
Gender: Female
Date of birth: April 13, 1982
Jeannie D's Age: 41 years old
Ethnicity: Caucasian
Nationality: South Africa
Zodiac Sign: Aries
Sexual Orientation: Straight
Religion: Christianity
Marital Status: Engaged
Jeannie D's Boyfriend: Brennan Wright
Jeannie D's Parents: Antonio De Gouveia and Linda Mendes
Siblings: 2
Jeannie D's Height in Inches: 5 feet 6 inches
Jeannie D's Height in Centimetres: 170 cm
Jeannie D's Weight: 58 kilograms
Body measurements in centimeters: 33-25-35
Jeannie D's Net Worth: $650,000
Famous for: Being a top presenter at the Travel Africa Network
Jeannie D's Instagram: iamjeannied
Twitter: @Jeannieous
Facebook: Jeannie D
Jeannie D Hails from Johannesburg, South Africa
Jeanie De Gouveia was born to Antonio De Gouveia and his beautiful wife Linda Mendes on the 13th of April 1982 in Johannesburg, South Africa. She is Caucasian and holds South African nationality.
The top-notch news presenter hasn't shared much information about the kind of family she was born into. However, her parents, two siblings, grandmother, and aunts have been supportive right from day one.
In fact, it was her aunts and grandmothers who inspired her to develop a deep, genuine, and supportive spirit for other women.
Jeannie D received her elementary education at the renowned Colin Mann Primary School in Johannesburg. She successfully auditioned at the National School of the Arts at the age of 12, where she was trained in speech, drama, dance, and physical theatre.
She subsequently enrolled at the Rand Afrikaans University (now known as the University of Johannesburg) to study Communications. It was when she began her studies at the institution that she discovered the thrill of radio.
De Gouveia's love for radio saw her joining the campus radio station while also focusing on her coursework and winning university beauty pageants. Jeannie D couldn't complete her studies at Rand Afrikaans University as she dropped out to fully begin a radio career after having a clearer idea of what she needed to do.
She relocated to Cape Town at the age of 18 and subsequently landed a job at Good Hope FM. She earned her own show just two months after her employment.
She Currently Works as a Travel Presenter 
Jeannie D currently works for a Cape Town-based international broadcast travel TV channel called Travel Africa Network. The channel combines the power of satellite programming with streaming and social media marketing to reach a niche audience and also covers African culinary, conservation, art, culture, luxury, adventure travel, hotels, lodges, destinations, and much more.
As mentioned earlier, she began her career as a radio presenter at Good Hope FM. She later left the outfit in 2006 in search of work at a television station. Her next stop was at SABC3, where she was hired as a host.
She had a robust career at the station, and in the course of her job, she hosted the hugely popular Top Billing show, which soon led to hosting Top Travel and Afternoon Express. Keanu Reeves, Kevin Spacey, Laurence Fishburne, Sandra Bullock, and Jimmy Choo are some of the big names she interviewed during her stint as the show's host.
Jeannie's work on Top Billing did not only see her rise into one of the most prominent television show hosts in South Africa but also paved the way for her in the media sector in general.
She parted ways with SABC3 in late 2021, and since then, she has been with Travel Africa Network. Jeannie D finds her new job so fulfilling because travel has always been such an integral part of her growth as a person. She believes she was born to explore and adventure as many parts of the world as possible, which was why she was ecstatically happy to be joining the outfit.
Jeannie D's foray into acting has seen her take on film roles in films like Mercenary for Justice, a Steven Seagal film shot in Cape Town as well as a couple of other shoots.
Does Jeannie D Have a Husband?
Jeannie D and Janez Vermeiren are not married, nor are they in a romantic relationship. The two have been rumored to be dating over the years, but the truth is that they were nothing more than presenters for Top Billing.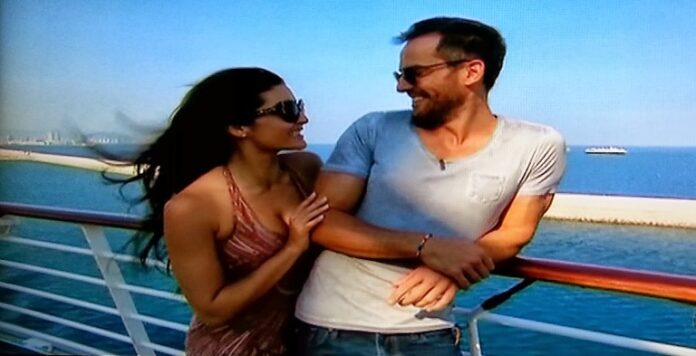 Jeannie has since left Top Billing, and it's not known how close she is to Vermeiren currently. However, they've been friends for over two decades and counting. While the duo was working for Top Billing together as presenters, they were South African television's most lovey-dovey on-screen colleagues.
Jeannie D was Previously Engaged to Jon Firth 
Jeannie D is not married at the moment, nor was she married in the past. However, she was previously engaged to be married to a British man called Jon Firth. Their engagement party took place in 2011, and the following year, they began preparations for their wedding.
Sadly, the former Top Billing presenter called off the wedding six months before the occasion. It was one of the toughest decisions Jeannie D had taken all her life. But then, she maintained that she had the feeling that she and Firth would make it in marriage.
Who is Jeannie D Dating Now?
The top-notch TV presenter is reportedly in a romantic relationship with a man called Brennan Wright. The two met at a nightclub when Jeannie was still dating Jon Firth. The exact year their paths crossed and how long they've been together is not public knowledge.
Wright is a model, web developer, and CEO of the website Diggit. Information about his background and current whereabouts are under the radar. It is said that the two share an apartment in Bantry Bay, an affluent suburb of Cape Town.
It's not known if Jeannie D has been in other relationships with men apart from the two mentioned above.