The viewers of the South African television series Unmarried were really excited to know that Vuyo Ngcukana was joining the cast of the show. Apart from the viewers, one of the major cast, Renate Stuurman, was also really excited. She was happy because the love of her life was now a co-cast in a production she is currently working in.
Stuurman, one of the major cast of Unmarried, has been in a relationship with Vuyo Ngcukana for over three years. These two do not fail to share their happy moments and couple goals with fans after hiding the truth about their relationship for a while before coming out with it. Stuurman always tries to keep her private life discrete; hence, little or nothing is known about her age and childhood. She is very active on social media but ensures that her fans know only what she wants them to know.
Vuyo Ngcukana Made the First Move on Renate Stuurman
Like so many other intimate details of her life, the exact place and time Renate Stuurman and Vuyo Ngcukana met are unknown. However, the latter gave fans a little idea of how their relationship started on his Twitter handle. In a 2019 tweet, Vuyo Ngcukana posted a short video clip that was supposed to depict how he slid into Renate Stuurman's DM. This suggests that their romance started with a conversation on the bird app.
A long time ago I slid into @RenateStuurman's DMs like 😁 pic.twitter.com/vINjxYH2LE

— Vuyolwethu Ngcukana (@vuyomse) February 21, 2019
Although fans already had their suspicions, Renate and Vuyo initially refused to make their relationship open. Even when they were asked for a confirmation or denial, both actors found a way to avoid the question. Finally, on the 10th of June 2018, Vuyo decided to clear the air as he tweeted pictures of him with the beautiful actress. Since then, the couple has not failed to keep their fans updated on their relationship's happy moments and getaways.
Neither Renate nor her actor boo has given any reason why they decided to keep their relationship a secret for a while. The duo certainly had a good reason to do so and also had the handle on when the time was right to let the cat out of the bag.
Their Relationship is Becoming Everyone's Relationship Goal
Fans who actively follow either Renate Stuurman or Vuyo Ngcukana on social media can't help but notice the love they shower on each other. Amid the COVID-19 pandemic in 2020, while everyone was worried about staying alive and away from the deadly coronavirus, Vuyo had an extra thought on his mind – how to make his girlfriend Renate Stuurman feel more loved. 
So, at one time while the actress was on a movie shoot, her 'Mr. Lover Boy' surprised her with a beautiful rose flower bouquet. And as expected, a super excited Renate went on Twitter to express her joy and gratitude to her man for the beautiful surprise.
Similarly, Vuyo Ngcukana made a good deal of his girlfriend's message to him on his 38th birthday on February 3, 2021. Although his fans on social media celebrated him, he retweeted her own post in his usual way of showing special appreciation to Renate and letting her know how much he appreciated it.
Thank you so much ♥️ https://t.co/YNJbq8Ht7T

— Vuyolwethu Ngcukana (@vuyomse) February 3, 2021
On their 3rd anniversary, they also shared pictures of each other with perfectly romantic captions. However, birthdays and anniversaries are not the only times they show off their relationship, as the actor lovebirds take to social media at intervals to share their happy moments via pictures and video posts.
The Wedding Bells Might Not be Ringing Anytime Soon
Considering the love and care these two have for each other, their fans expect wedding bells to be ringing soon. However, neither of these two has spoken about getting married or even implied it on their social media platforms. But if they could keep their relationship a secret at the start, you shouldn't be surprised if their wedding is also done on a low key. After all, Renate Stuurman is known for keeping a low-key and discrete life as her Instagram and Twitter handles are full of pictures and videos related only to her work.
The Actress is Not the Only Lady in Vuyo Ngcukana's Life
It may come as a surprise to know that Vuyo Ngcukana has three other beautiful ladies in his life besides Renate Stuurman. They are the three beautiful daughters he got from his previous relationships. The names of Ngcukana's children are Taylor, Cassidy, and Milani. The Queen star loves his children so much that he is so passionate about everything that concerns their upbringing, even the hairstyles they make as little girls.
Vuyo Ngcukana is certainly doing a good job with his children considering that he is a male single parent. On the other hand, the relationship between Renate Stuurman and the girls is unknown at this time. However, judging from the love Renate and Vuyo have for each other, it is expected that she has an ongoing relationship with his children after three years of being with their father. Also, considering how much the actor loves his children, it doesn't seem likely that he would date any woman who doesn't love and accept his kids.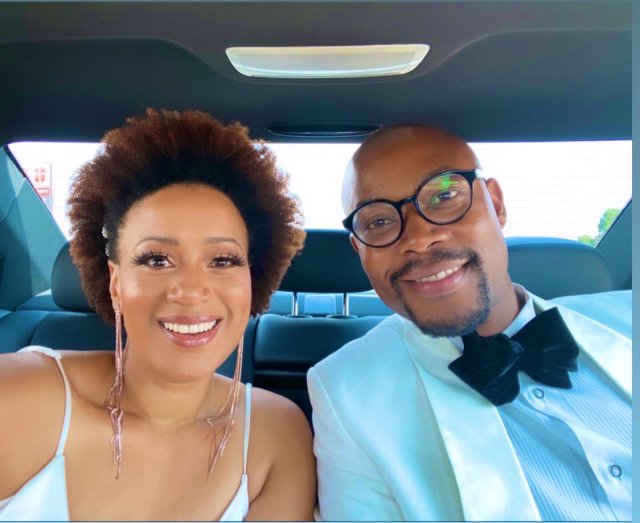 It is not clear whether or not Renate Stuurman has her own children, as she has never made a reference or posted a picture of any child she called her own. This means the duo have not yet had any kids together. Vuyo's three children are all a product of his previous relationships, and the names of his baby mamas are not known.
Before Vuyo, Renate Stuurman Had a Long-term Relationship with Isaac Chokwe
Before she started dating Vuyo Ngcukana, Renate Stuurman was in a long-term relationship with Isaac Chokwe, and it lasted for over 14 years. Isaac Chokwe is a director and television personality. While they were dating, the couple won their fans' hearts as the duo happened to be one of the fans' most favorite celebrity couple.
After over 14 years of dating, sadly, Renate and Isaac had to go their separate ways. Being a couple that does not always bring their relationship to the open, the exact cause of their breakup is yet to be disclosed.