Siba Mtongana is a South African celebrity chef and TV presenter primarily popular as the host of the cooking show Siba's Table which airs on Cooking Channel.
With there being so much diversity in the people that inhabit South Africa, the country boasts of having a very diverse cuisine that is made up of both indigenous foods and those inherited from colonization and immigration from Europe and Asia.
Foods like the popular bobotie to the bunny chow, braai, chakalaka, and biltong, are only but a few examples of the very best foods the country has to offer. Thanks to this, people like Siba Mtongana have been able to make a living out of fashioning out specific recipes to make these same dishes in a more appealing and mouthwatering manner. Here is a look at the life of the celebrity chef as well as a few details about her culinary skills.
Summary of Siba Mtongana's Biograpby
Full name: Sibahle Mtongana
Nickname: Siba Mtongana
Gender: Female
Date of birth: 10 December 1984
Siba Mtongana's Age: 38 years old
Ethnicity: Black
Nationality: South African
Zodiac Sign: Sagittarius
Sexual Orientation: Straight
Marital Status: Married
Siba Mtongana's Husband: Brian Mtongana
Siba Mtongana's Children: Lonwabo, Lindamandla, BuhleNkosi, and Ntandoye Nkosi
Siba Mtongana's Parents:  Noliza (mother) and Mncedisi Mnwana (father)
Siblings: 5
Famous for: Being the host of the cooking show Siba's Table which airs on Cooking Channel
Siba Mtongana's Instagram: sibamtongana
Twitter: @SibaMtongana
Unlike Most, Siba Mtongana Knew From The Start She Would Be A Chef
Sibahle Mtongana was welcomed to the world on the 10th of December 1984. She is the youngest of six children to her parents; her mother, Noliza, is a retired teacher and her father, Mncedisi Mnwana, a now-retired leather goods manufacturer worker.
Siba, who was raised in the town of Mdantsane, East London, South Africa, was said to have been very interested in cooking from a very young age when she began spending time in the kitchen as her mother was preparing food. By the time she came of age, she wasted no time starting to cook dinner for the family.
Another factor that influenced her love for cooking was her mother's health condition. Noliza was diagnosed with diabetes and as it is with patients of such illness, healthy food is mandatory. This spurred young Siba to pay extra attention to details in the kitchen, especially as regards to food choices, best ingredients combinations, kitchen hygiene, etc.
After having completed her basic education, Siba Mtongana decided to pursue her interests in the culinary world by enrolling into Cape Peninsula University of Technology, Cape Town where she studied for a degree in Food and Consumer Sciences, specializing in Food Science and Nutrition.
Here's How She Earned International Recognition
Siba continued to hone her talent in the years after leaving school, working as a food editor for Drum Magazine. By 2010, things began to take shape as she landed a show called Cooking with Siba which aired on the Africa Channel. She used her own original recipes on the show to cook meals that offered traditional taste but with an international twist. She chose this approach in order to attract a foreign audience that could also replicate the cooking in their own countries.
This formula proved to be working as Siba Mtongana would soon grab the attention of the Food Network who quickly signed her up and debuted the show Siba's Table in 2013. With viewers in over one hundred and fifty countries around the world, particularly in the United States of America where it was the first South African show on US TV, the chef became an instant sensation as her show enjoyed huge success.
Awards and Achievements
Siba Mtongana has taken home three prestigious Galliova Awards. She has also won a South African Film and Television Award (SAFTA) in the category of Best Variety Lifestyle for her former cooking show Cooking with Siba in 2013. In the same year, she was honored by different newspapers and magazines, including the Mail and Guardian Newspaper, Cosmopolitan SA Magazine, and Destiny Magazine, for being exceptional.
In 2014, she was honored by O Magazine and City press as one of the most influential African women of the year and for putting South Africa on the global map through her work respectively. The popular South African chef is the patron of Foodbank South Africa. The organization aims to fight hunger and malnutrition as well as helping those affected with HIV/AIDS.
Unveiling Siba Mtongana's Recipes
According to Siba, her kitchen never runs out of onions, garlic, and ginger which all provide rich flavor and is beneficial to the health.
Over the years, she has come up with over 200 recipes that these ingredients have contributed to their rich flavor, including for dishes like Pesto chicken penne, Chakalaka, Cape Town Tarts, as well as Ginger and Coriander Corn Salad.
Having created so many different recipes, the celebrity chef has been able to publish a number of recipe books. Her first recipe book featured a combination of one hundred and twenty recipes from the first two seasons of her famous Food Network series. She further has multiple recipes for chicken and salad that would never allow you to lose interest in any of these foods.
Read Also: Trending South African Foods: History, Recipes, And Preparation
Meet The Celebrity Chef's Lovely Family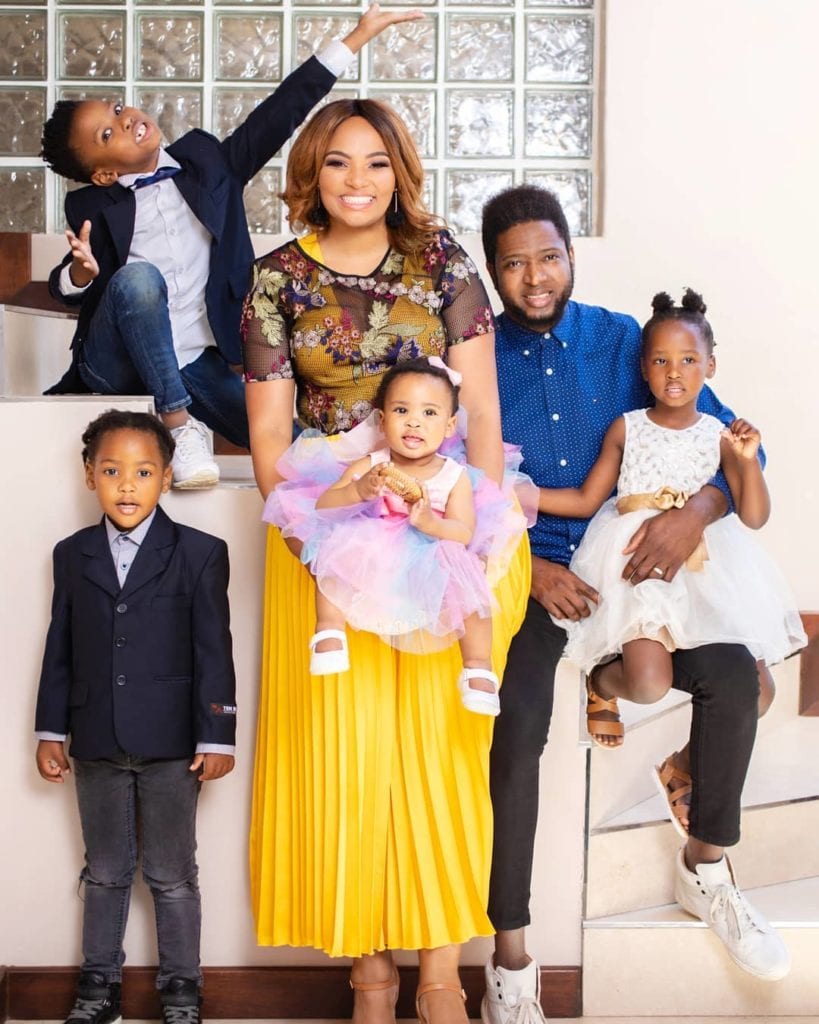 Siba Mtongana is married to Brian Mtongana. Her husband is a graphics designer who graduated from Durban University of Technology with a degree in graphics design in 2001 and has worked as the marketing head of design at the Woolworths Food Company. He also makes regular appearances on her food show – Siba Table – along with their kids.
They Dated For Eight Years Before Walking Down The Aisle
Though details of the couples' relationship are almost a top-secret as Siba is popularly known for her career success rather than her family life, she, however, opened the lid on how she met her husband, Brian Mtongana, in an interview with TrueLove. The beautiful celebrity chef revealed that she and Brian met when she went to Cape Town for holidays in 2002 – she was 16 years old at the time. Brian lived in the complex she stayed during her visit and that was how they met and started dating.
They would go on to date for eight years before taking their marital vows in 2010. The union has been a blissful one and Siba attributes it to the respect she accords her husband in their marital relationship. Presently, Siba and Brian have four lovely kids – 2 boys and two girls – named Lonwabo, Lindamandla, BuhleNkosi, and Ntandoye Nkosi.