Rolene Strauss is a South African beauty queen who was crowned Miss World 2014 in London. After winning Miss South Africa 2014 earlier that year (March 2014), Rolene Strauss became the second South African woman to bag the prestigious Miss World pageant.
Rolene Strauss bagged the Miss World 2014 crown on Dec 14, 2014, a competition that had over 122 very pretty girls from various countries of the world. The ceremony was held in London at the Excel Arena. It was an emotional moment for South Africans when Rolene was crowned Miss World 2014 by Megan Young of Philippines (Miss world 2013), as Edina Kulczar of Hungary and Elizabeth Safrit of the U.S who came in second and third respectively watched while she dedicated the crown to her beloved country – South Africa.
Lots of prominent people around the world expected her to win the Miss World beauty pageant 2014. Ladbrokes, Tintanbet, and Betfred had Rolene as their favourite contestant followed by Miss Australia, Courtney Thorpe, and Miss India Koyal Rana.
Here is all you need to know about the South African Beauty queen.
Early Life
She was born on 22 April 1992 in Volksrust, Mpumalanga South Africa to Hennie Strauss a doctor and Theresa a nurse.
Rolene Strauss was a test tube baby that was born on 22 April 1992. In fact, she was the first test-tube baby that was successfully conceived in Bloemfontein after the parents found it hard to conceive. A year after her birth, she had a younger brother.
When she was only 8 years of age, Strauss witnessed someone with the same family name (though unrelated): Jo-Ann Strauss being crowned as Miss South Africa and since then, she started dreaming of winning the title too.
She won her first beauty title at the tender age of 15 when she won the Elite Model Look, South Africa, irrespective of the fact that she was the youngest contestant in the competition. Rolene was also among the top 5 African beauty queens of the Miss Africa Pageant in 2011.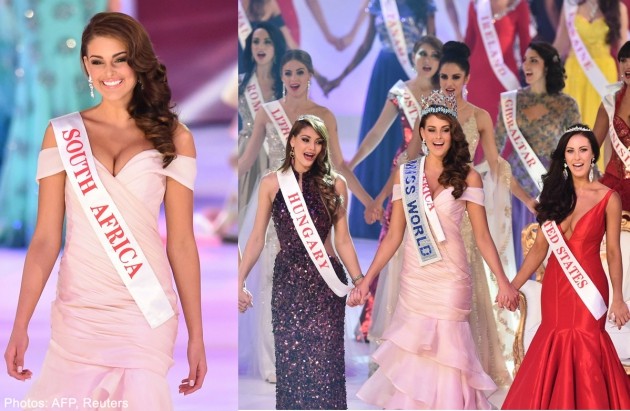 Medical Profession
Rolene said in one of her interviews that being a test tube baby played a role in her passion for the medical profession. Mrs Strauss studied Medicine her dream course at the University of Free State, taking after her father who is also a doctor. We guess it was a matter of destiny because growing up, her life revolved around medicine starting from being born with a test tube to having a nurse mother and a doctor dad. As a little girl, she would always tag along when her dad had calls from the hospital.
In some of her interviews, she said that everyone in her town called her Little Dr Strauss because she was always the little curly-headed girl running behind her dad in the hospital. Winning Miss World in 2014 did not stop the beauty from chasing her dreams. She immediately went back to study after her reign and completed her medical degree.
Husband & Kids
Considering her status and busy schedule, Rolene had challenges with public relationships as she was never inclined towards any man. However, she found love in a businessman, D'Niel Strauss who coincidentally share the same last name with her.
The coincidence became sweeter when they got engaged in December 2014. After a 2 year engagement, the beautiful pair got married in 2016. The Strauss' were blessed one year later in 2017 with a son.
Rolene was a heartbreaker in her single days. The beauty queen agreed to have had and dumped 3 boyfriends in an interview with TVSA; though their names were never mentioned. During the Miss World contest when she was asked about her love life she said, "I definitely do not have a public relationship." She had continued that as Miss South Africa, people would look up to you and would want to see an independent, strong woman. This she inferred, made it difficult for her to stay in a relationship.
Height and Body Measurements
The beauty queen and doctor towers up to 5'9″, and weighs 60kg. Earlier in 2014, various magazines and TV stations criticized her for being overweight. However, a health club and supplement giant was ready to rescue and assist her to remain in shape and fit.
Quick Facts about Rolene Strauss
1. Rolene Strauss loves driving a lot and this inspired her to buy a Volvo which she drives around when she is free. She says she usually feels like a princess whenever she is zooming around in the Volvo.
2. She also likes playing golf.
3. The beauty has a complete hold over both Afrikaans and English which she speaks fluently;
4. Throughout her journey from being Miss Africa to Miss World, former Miss South Africa, Melinda Bam whom she lost to in 2011 constantly supported her. Melinda was also present at the Miss World ceremony and was seated next to Strauss' parents.
5. Her favourite meal is oxtail with stamp-mielies made by her mother.