All the zoos located around Johannesburg are unique in their own different ways, but one thing most of them have in common is the conservation of species. The Rietvlei Zoo Farm, which also has its unique features, is a home for different species of birds, land, and water animals. The zoo farm which is located at 101 Swartkoppies Road, R554, South of Johannesburg is not just a home to animals, but also offers a lot of fun activities as well.
If you are anywhere around Johannesburg and wish to have a nice picnic with your friends or family at a place with fun activities for everyone, then you need to visit the Rietvlei Zoo Farm. However, when visiting the zoo farm, go with enough money in your pocket, because having fun there comes with a little price, starting with the entrance fee you will have to pay before gaining access to the facility.
Rietvlei Zoo Farm Is Booming With Fun Activities For Everyone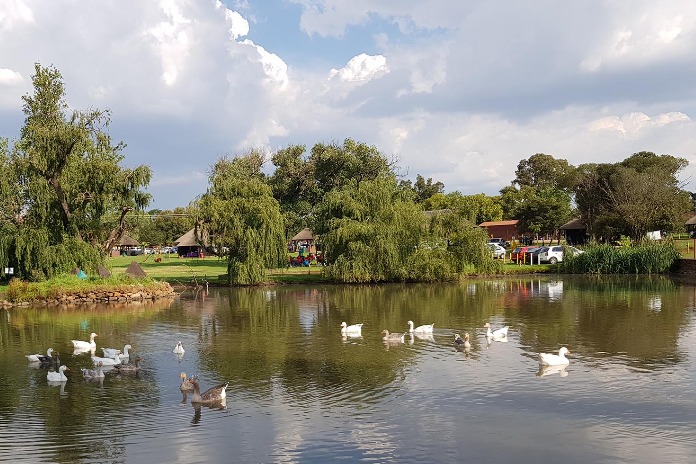 Rietvlei Zoo Farm is more like that awesome combination of a zoo, a picnic spot, and a playground. It is one place that has different activities to match the interest of different types of visitors. If you are a lover of animals then you would find playing and feeding the animals really fascinating. Most of the animals are friendly, so you do not need to worry about safety.
There is also a lake at Rietvlei Zoo Farm where visitors are allowed to fish and there are nice hooks around, but you will have to throw the fish back into the water because the fishing is just for sport.
And the most interesting part about the lake and the fishes is that visitors who are interested in fishing are allowed to fish catfish, tilapia, and yellowfish. There is also something for hikers and those who love the idea of having a horse ride. The zoo is also a place where you can be reminded about the South African war as it was the location where British soldiers built a stone rampart. It is also where a cannon was installed during the second occupation of Pretoria.
Even if you don't intend to visit the zoo for all the wonderful activities they have to offer, it is still a nice place to just chill out in the cool of the day. There are restaurants there, specially selected to serve some of the tastiest dishes which you can eat while enjoying the beauty of nature.
How Much Is Rietvlei Zoo Farm Entrance Fee?
One of the major complaints that most people who visit the Rietvlei Zoo Farm have is the cost of having fun there. Aside from the entrance fee, to take part in most of the other fun activities like horse riding and swinging, you will have to pay.
So to avoid the event of going to the park without enough money, it is important that you know the prices of different activities on the zoo farm. Here is a detailed list of the prices.
Entrance fee: R40 per person (free for children under 24 months)
Parking your car inside the picnic park: R50
Tractor rides: R20
Electric scooters: R100
Pony rides: R20
Paddle boats: R25
Swings: R20
Train Rides: R20
Veggie park: R15
Mini Zipline: R20
Jumping castle: R20
560 Zipline: R100 (13 years and above), R50 (12 years and below).
Rietvlei Zoo Farm is usually open from 8 am to 5 pm from Mondays to Sundays. It is an ideal place to take your family to on a Sunday evening for a fun picnic.
What Animals Does The Farm Have?
Rietvlei Zoo Farm is not like other zoos in Johannesburg. It is a zoo farm because most of the animals there are not wild animals, but the regular domestic and friendly animals you already know. Some of the animals you can find there are:
Sheep
Horses
Fish
Parrots
Peacocks
Pigeons
You can also bring your dog along with you, as long as you remember to come with its poop bag as well.
How To Get To Rietvlei Zoo Park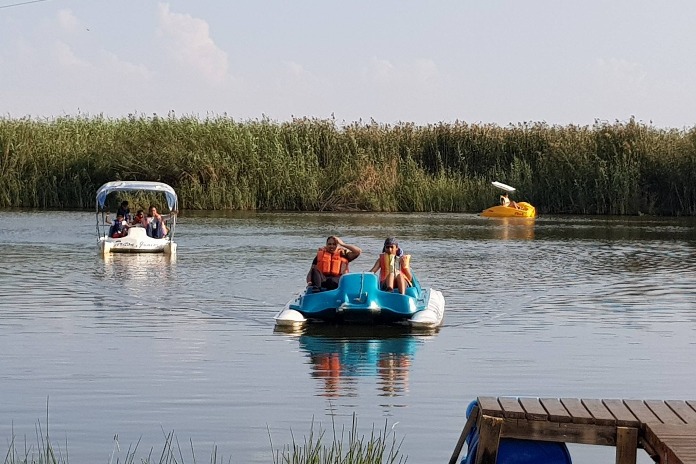 If you are anywhere around From the N12 – Comaro Off-Ramp, here is how to get to Rietvlei Zoo Farm:
Drive towards Comaro Off-Ramp.
Turn left to Comaro Road.
Turn left into Michelle Avenue at 4th robot.
When you get to the first robot, turn right.
Drive to Swartkoppies Road Robot.
Turn right to Swartkoppies Road.
Continue moving until you get to the Rietvlei zoo farm which is about 1.5km into Swartkoppies Road.
Those coming from West N12 – Klipriver can easily get to the Rietvlei zoo farm by following the direction below:
Drive from Klipriver Off-Ramp.
At 2nd Robot, turn right into Klipriver Road.
When you get to the 7th robot, turn left into Swartkoppies Rd.
Continue to move until you get to Rietvlei Zoo Farm.
Better still, you can make use of the Google Map mobile app on your phone.
Activities You Can Enjoy At Rietvlei Zoo Farm
Aside from feeding, playing with the animals and riding tractors, ponies, horses, paddle boats, and other paid-for activities that the prices have been listed above, Rietvlei Zoo Farm has other fun activities that you can choose to do in a group or alone.
The Rietvlei Trails located in the zoo is a perfect place for individuals and family members to hike, take a walk, run or walk their dog. All trails are carefully marked for the safety of the trailers. And the trails for mountain biking differ from that of those who are hiking, running, or taking a walk.
Trail tickets cost R150 for a group of 10 and R40 per person, family members can share one access card that will be clipped at the entrance.
There are also restaurants and shops like Ola Ice Cream and Tuck Shop, Jennabelle Coffee Cake and Bake, Gathering of The Beans Coffee Shop, and lots more. So while having fun, you can also allow your taste buds to take part in the fun as well, seeing that these restaurants sell both international and local dishes.
The Rietvlei Zoo Farm is also home to the Rietvlei Soccer School, Duke's Academy for Dogs, Grace Trinity School for Girls, St. Declans School for Boys, Masterdrive School, and The Gathering Church.
You can also rent some of the play equipment as well at the picnic park for events. You can check out their price list and contact the zoo farm office for inquiries by sending a mail to [email protected] or calling 079 041 1488 or you can simply visit them at 101 Swartkoppies Rd, Jhb South – R554.