Rudo Ndaba (born August 19, 1990) is a 33-year-old South African woman best known as the daughter of actress Sophie Ndaba.
Rudo Ndaba is not a big name in the South African entertainment circle, at least not yet. In fact, she is only recognized because of her mother, Sophie Ndaba who is a veteran actress, former model, and businesswoman among many things. While many would have expected that she would take from the genes of both her parents, Themba and Sophie, who are both actors, Rudo has remained very much away from the limelight.
The little that has come to be known about Rudo is how much she has transformed into a replica of her mother physically. She has always been by her mother's side through all the tough times they faced as a family.
Summary of Rudo Ndaba's Profile and Bio
Full name: Rudo Mphasane
Gender: Female
Date of birth: August 19, 1990
Place of birth: South Africa
Rudo Ndaba's Age: 33 Years Old
Ethnicity: African
Nationality: South Africa
Zodiac Sign: Leo
Rudo Ndaba's Parents: Sophie and Themba Ndaba
Siblings: Shallon Mphasane and Lwandle Ndaba
Education: Inanda Seminary School, University of Cape Town
Hair Colour: Black
Eye Colour: Brown
Famous for: Being the daughter of celebrity parents
Rudo Ndaba Was Born By Sophie Ndaba When She Was Much Younger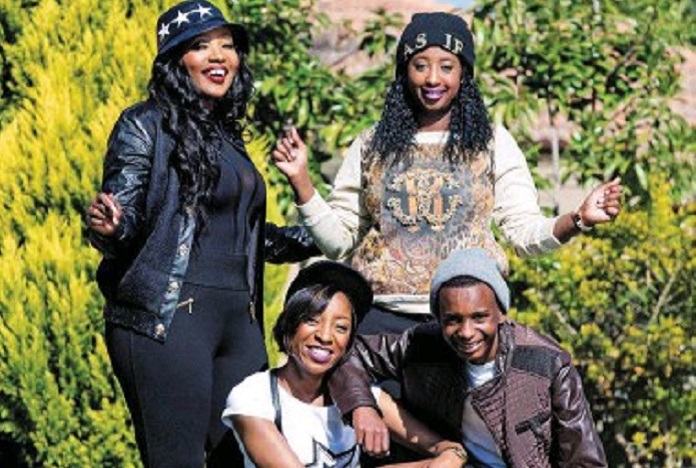 It was on August 19, 1990, that Rudo Ndaba who is also referred to as Rudo Mphasane was born to Sophie Ndaba when the latter was only 18 years old. Although it has most often been reported that Rudo is Sophie's daughter with Themba, there is no proof that he is her biological father.
She was brought up by her single mother who, apart from being very young and still a teenager when she had her, was also yet to have a big break as an actress. Although she was raised in Johannesburg, it was in Durban that Rudo got her education from the Inanda Seminary and she matriculated in 2008.
Leaving the all-girls secondary school, Rudo continued with her education to the university level as suggested by Sophie, but details about the institution and also the course she studied have all remained very sketchy. In the same manner, details about her career at the moment are not available to the public.
She Has Been With Her Mother Through Two Failed Marriages And Other Troubling Times
https://www.instagram.com/p/CBsCgGNHZ4m/
Rudo has become one of the strongest pillars her mother has had through all the difficult times she has been through, including her first two failed marriages, and she is still with her in the third.
Sophie got married for the first time in 1998 to Themba Ndaba who is also referred to as the father of Rudo. By that time, she had already had her daughter more than 8 years earlier. Hence, when the marriage ended in divorce in 2007, after only 9 years, Rudo was close to 18, so she was able to provide a shoulder for her mother to lean on.
The next time that Sophie got married was in 2011 and it was to the controversial Bishop Keith Harrington. This marriage did not last a long time and by 2012, it ended and the two former lovers were on each other's necks as they dumped their dirty linen on the public. The marriage which started as one that would last the brutal test of time, ended in a brutal fashion as both the actress and the pastor attacked each other on media before going on to get a protection order. By this time, Rudo was already an adult, and so she was more equipped to help her mother ride through another difficult tide. It was after this failed marriage that Sophie walked down the aisle for a third time with Max Lichaba in 2017.
Apart from being by her mother's side through the failed marriages, Rudo has also not left her side in all the attacks she has continuously received from trolls since her weight loss as a result of health challenges.
Rudo's Relationship With Her Father Is Not Known
As stated, the identity of the real father of Rudo is not known, but in the public space, she is referred to as Rudo Ndaba while she is referred to by her mother's maiden name, Rudo Mphasane, professionally.
Before the marriage between Sophie and the man, Themba Ndaba, who is believed by many to be Rudo's father came to an end, there was no indication that the two did not have a good relationship, although details about this were never revealed.
Years after her parents got divorced, she is still referred to as the daughter of Themba, although there is still no indication of them talking about each other in any public space. That said, their relationship is still unknown for now.
Rudo Ndaba Is Not Sophie's Only Child
Rudo has been in the life of her mother for a very long time and according to the actress, they almost grew up together. However, she is not the only daughter she has. In 1999, the former Generations actress was blessed with a second child, a son named Lwandle Ndaba.
The young man who is now in his twenties and the apple of his mother's eyes was born during the marriage of Sophie and Themba. Even though Rudo has not shown any interest in making a career in the entertainment industry, her younger brother is very much interested in becoming a rapper and singer, although his career is still in its early stage. He also works as a TV and radio presenter.
Lwandle, just like Rudo, has also been a strong support system for his mother. In 2018 when a hoax was made, claiming that Sophie Ndaba had died, it left the young man traumatized and affected him for a number of days even though he knew it was not true.
She Grew Up Together With Her Cousin
For a better part of her life, Rudo has always had someone she referred to as a sister, Shallon Mphasane. Shallom is actually a daughter to Sophie's sister, Tiny, who died many years ago. Following the loss, Sophie decided to adopt her sister's daughter more than 25 years ago and since then, Shallom has become a member of the family and a sister to Rudo.
Just as one would expect, Shallom has also not held back in throwing her support behind her mother in all she has been through.
In the same way as Rudo, Shallom doesn't seem to be interested in having an entertainment career and she has maintained a life away from the public domain. All the three siblings are now grown and they are said to be living their lives away from their parents.
Details About What Rudo Does For A Living Are Not Known
Unlike most other kids of celebrities who strive and find a way of remaining in the spotlight, Rudo has stood away from the glitz and glam. Often referred to as her mother's second version, there are some suggestions that she went to the University of Cape Town from where she studied Business Science, Economics and that she was an A. student.
From then onwards, there has not been anything of significance either about her personal life or even her career. What is more interesting is that she doesn't seem to be on social media.