Markus Jooste's net worth was estimated at $400 million (about 7,078,790,400.00 ZAR) as of 2015 but his current worth is not known as it is yet to be publicized by authoritative financial bodies. Markus started his accounting career as a financial director of a publicly listed company and eventually rose to become the CEO of Steinhoff International in the year 2000. Unfortunately, his career came crashing after he was charged balance sheet fraud carried out between July 2011 and January 2015.
Markus Jooste is a South African business tycoon who began his career at a very young age. The son of an avid horse race punter and a postal worker, he was born on the 22nd of January 1961, in Pretoria, South Africa. Like his father, Jooste is a lover of horses. He holds the record of the second largest horse breeder in the whole of Africa, a lucrative business he does through Mayfair Holdings.
He graduated from the Pretoria-based public Afrikaans medium high school for boys – Afrikaanse Hoer Seunskool, Stellenbosch University, as well as the University of Cape Town. He is married to Ingrid Jooste and they share three children together.
Markus Jooste's Career Profile And Journey To Steinhoff's Top Rank
Markus Johannes Jooste trained as a chartered accountant when he was in his 20s, after which he was appointed as a financial director of a publicly listed company. At the age of 27, he became the financial director of the popular company GommaGomma, where he met an entrepreneur called Class Daun who became his coach and mentor.
Jooste would convince Daun in 1998 to merge his business with Bruno Steinhoff's in Europe. Following a successful proposal, Daun and Jooste became non-executive directors of the merged company which later became Steinhoff International, beginning in 1998.
Markus became the CEO of Steinhoff in the year 2000 and in his capacity, he helped build the company through many lucrative acquisitions. He entered into partnerships with various business bodies and also won the hearts of investors, a move that contributed immensely towards building Steinhoff and raising its financial level.
Some of the company's acquisitions include Pepkor (which was bought from South African businessman Wiese in 2015 and worth about 4.8 billion Euros), Conforama (which was bought in 2011 at the cost of about 1, 207 million Euros), Poundland (which was acquired with about 597 million Euros), as well as Mattress Firm (which his company bought with about $2.4 billion), among many others.
The acquisition of the aforementioned companies helped to boost Steinhoff's financial value as the company kept recording great financial gains while raising criticism and scrutiny in the South African business circle and beyond.
Steinhoff, no doubt, attained great heights during Markus' 15 years tenure. The company's share price rose to about R90 and was the 15th largest company in 2016 that was listed on the Johannesburg Stock Exchange (JSE) with over 130,000 employees on about 5 continents, witnessing 36% growth in 2014/2015.
Everything was moving well for the company until things started to go downhill at some point.
A Look At Markus Jooste's Insider Trading Saga
Trouble began in his business empire and things started getting suspicious when Markus Jooste decided to treat his friends and business associates to a semi-finals Rugby game at the Twickenham Stadium, a trip that was estimated to have cost about R84 million.
Later on, Steinhoff was said to transfer its primary listings from Johannesburg to Frankfurt with the explanation that the majorities of their stores and revenues are in Europe. Surprisingly, Markus didn't show up, claiming he couldn't travel because of 'neck pain'.
Shortly after, Steinhoff's shares started to plunge and in March of 2017 accounts showed about 3.1 billion Euros of exposure to creditors. In the same 2017, Markus was listed alongside several other company managers who were being investigated in Germany following suspected disparities in the balance sheets of subsidiaries.
It was also alleged that Markus secretly has stakes in some smaller companies before he joined the Stellenbosch-headquartered retailer. Unable to handle the heat and pressure, he dramatically resigned on the 4th of December amid allegations of corruption and fraud. This follows Steinhoff Holdings's statement detailing its intention to release unaudited annual statements.
Not only that, but Mr. Jooste also resigned from other leadership posts to save his face from public shame. He later admitted to accounting irregularities and apologized for making 'big mistakes'.
What's Markus Jooste's Net Worth Now?
Markus has been through a lot since news about his inappropriate acts went viral. He has also spent so much in court battles and appearing before different boards and panels to answer for his actions. He might not be wealthy as he was but he still makes substantial money from his horse business and other business channels.
As of November 2015, the value of his assets was estimated at $400 million but currently, his net worth is not known as it is yet to be publicized by authoritative financial bodies. In 2016, Markus was named the 40th Richest African and he also donated the sum of R10 million to his former high school for the development of the school.
Unfortunately, there is information about how his net worth accrued from the time he started his business career. In addition, the different endeavors he's involved in that contributed to his worth are not known to the public.
Nevertheless, there is no gainsaying the fact that Joose grew through the ranks to the top by a dint of hard work, competence, and expertise in the business field.
Outcome Of The Allegations Against The Former CEO
Markus Jooste is currently facing charges and allegations of financial misconduct after he failed to reveal significant proof in Steinhoff's yearly financial statements and also falsified statements about the company. He also lied to Steinhoff's audit committee and Parliament about the charges of errors made in the yearly financial statements.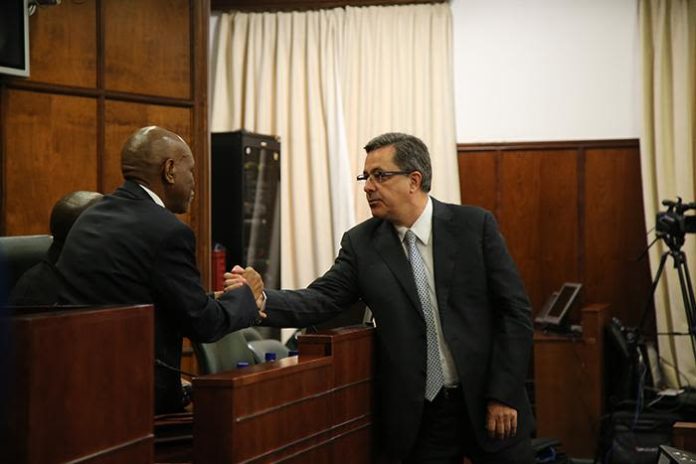 With regards to the numerous charges brought against him, he failed to respond to non-compliance with the Financial Market Act 19 of 2012. He is found to have acted in a manner that is discreditable, dishonorable, dishonest, irregular, and unworthy which is not in line with the value of the South African Institute of Chartered Accountants (SAICA).
On the 4th of March 2021, German prosecutors revealed that Markus has been secretly charged with first indictments from investigations carried out alongside three others. The battle is not over yet for the former Steinhoff CEO as it appears the court proceedings will go on for some time.
The Insider Trading saga has apparently affected Joost's public image as well as his net worth and business. His actions also affected Steinhoff and the company is yet to recover from the scandal.
Key Facts To Know About The Court Case Against Markus Jooste
The trustees of a group known as the Le Toit Trust, which includes Jaap du Toit – a founding member of the PSG Group – are claiming damages of R740m in two actions.
He is being sued for allegedly coercing a trust to swap its shares in the PSG Group for the company shares in the month of June 2015.
Jooste and La Grange were implicated at a Parliamentary committee meeting in the month of June 2019 after Steinhoff viewed PwC's 3 000 page investigation report.
Steinhoff lost shares of over 90% of their value during the period.
Jooste was subsequently suspended by the indigenous accounting body SAICA – South African Institute of Chartered Accountants.