Madam and Mercy is the reality TV show of the moment in South Africa. With a real-life mother and daughter cast featuring the then breakout star of the "Real Housewives of Johannesburg" and Mzansi socialite, Evodia Mogase, who plays the role of Madam – a rich single mother – with her beautiful daughter played by none other than her own real-life daughter, Mercy Mogase.
The show sees the mother-daughter duo explore their everyday lives; exotic trips and shopping, the affluence they have found with on-screen success, their journey through poverty to becoming rich and powerful, their close relationship, and their struggles with life and societal pressures as they navigate the successes of their lives both as individuals, friends, and family. Together, Madam and Mercy light up screens across SA, and with more episodes to come, their fans can't just wait.
Madam's Actual Age Has Remained a Mystery
Evodia "Madam" Mogase had an interesting and challenging life before she came to fame through her career as an actress. Born in Diepkloof, Soweto, to Reuben and Louisa, who worked as salesman and factory worker, respectively, she celebrates her birthday on November 17 every year (even though the exact year she was born has remained unknown).
A graduate of business administration from the University of Limpopo, Madam first taught Biology before venturing into her catering business, which has grown so much and achieved remarkable success over the years. She also works as a vegetarian manager and dietician being herself a vegan and a health and wellness enthusiast.
There is no telling how rich she was before she went into the show business, but what we know is that joining the cast of the Real Housewives of Johannesburg (RWOJ) really increased her value and brand, which in turn motivated her to greater heights – both in the movie world and in her real-life businesses. She has gone on from the relative obscurity of a biology teacher and from the ashes of her failed marriage to become a TV producer, entrepreneur, motivational speaker, and social media sensation – all with relative success.
She also never shies away from reminding her fans and viewers that she had to knuckle down and work her socks off to get to where she is. Despite all the information available about the early life and success of Madam, there's precious little information about her actual age. Speculators suggest she is a quinquagenarian – someone in their 50s. It is said she would be either in her early or late 50s as nobody is quite certain about her age. The delectable madam has along with all her success, managed to keep her real age a puzzle.
Mercy Mogase's Real Age is Also Not Known
Mercy Mogase is a model and motivational speaker, who also starred alongside her mother in the series the Real Housewives of Johannesburg (RHOJ). The TV personality has also enjoyed fame as a health/fitness enthusiast and also as an entrepreneur. The multi-talented TV producer was born in Soweto, Gauteng, but her year of birth has remained a mystery.
Her mother, Evodia Mogase, was married to her father (name unknown) who owned a thriving panel beating company in Limpopo. Her parents got divorced in 2009 on the account of infidelity on the part of her father – who is now deceased – and so she was raised by her mother. As a graduate of Mechanical Engineering, she has acknowledged that part of what formed a solid base for her enlightened mind is the fact that she traveled a lot as a child, touring about 60 cities and islands. Being a very private person, her eventual advent into the public sphere was occasioned by her mother's TV career.
Her work on TV saw her appear on The Real Housewives of Johannesburg (RHOJ) series alongside her mother before they left to create their own show – Madam and Mercy. Before featuring in the cast of RHOJ, Mercy worked with Disney Magic Cruise Ship between 2005 and 2007. She currently works as a wellness coach with Mercy Mogase Herbalife Nutrition – a company she founded in 2015 – where she helps her very rich clients improve their lives by providing them with tips and health-related products to improve their overall lifestyle.
The TV star has strategically managed to sell her name as a business brand and is now also doing that in the media world. She also owns several other businesses, including Mercy Mogase Health – a luxurious health-based company for her growing clientele that deals in healthy products and services for health-conscious people – Mercy Mogase Beauty, and the sprawling Lifestyle Bar in Sandton, Gauteng.
Mercy is also a model and an ambassador for Herbalife products. She seems to have taken after her mother as a vegan, a health and wellness enthusiast, and a TV personality with an apparent interest in women empowerment with her girl child development initiatives. She had often claimed that growing up under her hardworking mother was all she needed to have strong values and shape her future and dreams, often referring to her mom as her mentor, friend, and coach.
Is Mercy Really Evodia Mogase's Biological Daughter?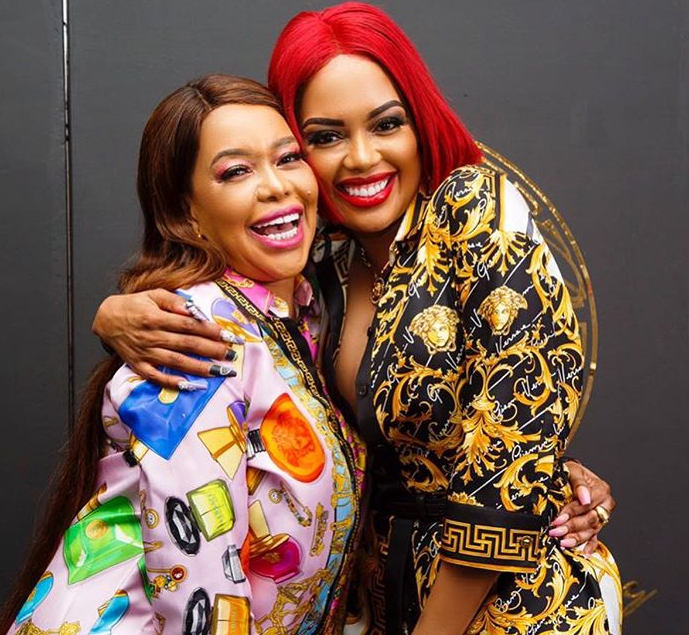 Mercy Mogase is the eldest daughter of Evodia "Madam" Mogase. A health and fitness enthusiast and a mechanical engineering university graduate, the screen diva, who had acting engagements in the past, also featured along with her mother on the Real Housewives of Johannesburg (RHOJ).
She is a product of Madam's failed marriage to her ex-husband, which ended in a divorce. Talking about her marriage to Mercy's father, Madam explained that she left the union over her ex-husband's infidelity and that she had nothing to her name after getting a divorce in 2009 because she chose her sanity and peace of mind over properties.
Evodia Mogase also has a younger daughter, who is also Mercy's half-sister – named Princess Mogase, who came after many years of Madam struggling to conceive again amidst underlying health conditions. It is often rumored in some quarters that Princess was adopted, but the reality of that seems vague as her biological father is often very much involved in her life.
Madam and Mercy Have Undergone Body Transformations
Madam and Mercy were not left out of the popular social media frenzy in SA popularly known as the "decade glow up challenge," which saw many South African celebrities and socialites post pictures of their remarkable transformations between 2010 and 2020. The pictures are replete with evidence of remarkable transformation both in body features and the living conditions of the mother and daughter. While money and success have played a big role in their transformations in the last decade, some drastic bodily enhancements also come to the fore as evidence of plastic surgery.
Madam had previously opened up to undergoing breast enhancement procedures and even went ahead to acknowledge that she has no problem with further bodily enhancements and sees nothing wrong with it. It is rather evident from their throwback photos that before their reality TV debut, both women underwent some cosmetic procedures to enhance their on-screen appearance as celebrities and nouveau riche socialites.
It is noteworthy that both mother and daughter are strict vegans and fruitarians, which has done a lot in changing their skin texture and complexion. Mercy especially holds her vegan view so religiously that she even asked for a vegan menu at a traditional wedding – a request which stunned the hosts.