MacDonald Ndou is a popular South African actor who is easily recognized for starring in the South African television soap opera, Muvhango. He has been on the show for many years, and the reason is quite obvious – he is creative, talented, and flows well with other actors on the filming set.
Ndou, like some celebrities, is not a fan of paparazzi or constant media attention. He keeps a low profile on his personal life. He is one man who doesn't really have so much interest in public attention or being followed by the media as it is common with most celebrities. Regardless of this, he has a huge fan base both in real life and on social media.
Summary of MacDonald Ndou's Personal Profile
Name: MacDonald Ndou
Date of Birth: March 14, 1984
Place of Birth: South Africa
Tribe: Venda
Education: University of Venda
Occupation: Actor
Most Notable as: KK in the SABC 2 soap Muvhango
Marital Status: Married with a son
MacDonald Ndou Is A Proud Venda Man
Actor MacDonald Ndou was born in South Africa on March 14, 1984. The exact city he was born is not known. The Muvhango star, as mentioned earlier, is not a man of words in real life. He cherishes his privacy a lot and seems to be enjoying the way he has kept the public in the dark about his life.
Ndou hails from the Venda clan, who live mainly in Limpopo province. His people originally emerged from the Great Lakes of Central Africa. They existed as the Republic of Venda from 1979 to 1994 when they were dissolved.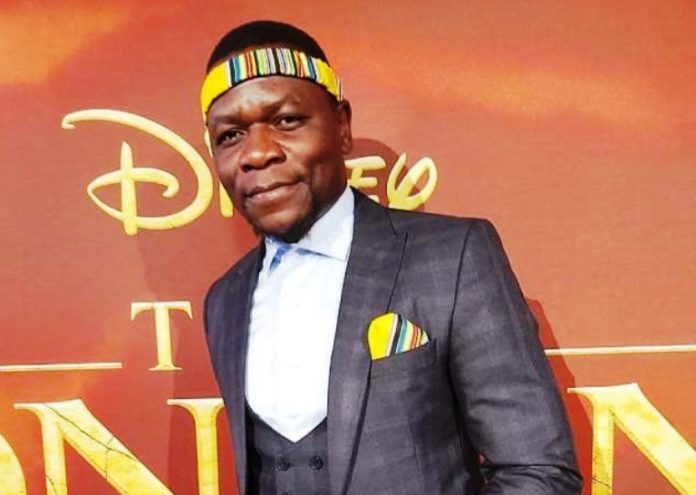 Not much is known about the actor's background as there's no information on where he was raised, who his parents are; if he has siblings, and what his childhood looks like. Ndou was trained at the University of Venda to be an actor. He later enrolled at State Theater, where he majored in stage performance.
He Is Very Passionate About His Culture
MacDonald may not be vocal about his family and personal life, but he certainly doesn't hold back when it comes to his people, their heritage, and culture. He is among Venda actors who love and pay homage to their homeland in every possible way.
The actor doesn't hide his love for his native home. On several occasions, he has encouraged African parents to stop teaching their kids English and focus on raising them using their native language.
He acknowledged that one of the reasons Muvhango is still relevant despite running for so many years is because the show has helped a lot of people to learn the Venda language and also reconnect them to their roots. Ndou added that a lot of people who used to ridicule Tshivenda language now strives to learn and know more about it due to the soap opera.
The Venda people's native language is called Venda or Tshivenda or Luvenda. It is a Bantu language and an official language of South Africa. Besides South Africa, the language is also native to Zimbabwe.
MacDonald Ndou Rose To Stardom Through His Role In Muvhango
KK has always wanted to be an actor right from his young age. He briefly worked at Wimpy as a griller and later abandoned the job because he didn't find it satisfying. Things took a turn for the good after he completed his acting studies, and since then, he has been making most of his time on the screen.
It is not known exactly how MacDonald won his role on Muvhango as he is yet to share this aspect of his professional career with the public. KK has been on the show for a long time, and it appears it is the only role he has had since he launched his career. There are no records of other works he has been part of in the South African film, theatre, and television industries.
— macdonald ndou (@macdonald_ndou) March 24, 2019
That notwithstanding, MacDonald enjoys a huge fan base, which he built through his impressive on-screen performances. The Venda man has not been nominated for any award yet, neither has he had any international role.
The Actor Has Nothing In Common With His Muvhango Character
Ndou may have perfectly portrayed his character Khakhathi "KK" Mulaudzi on Muvhango, but he is not in any way like his character in real life. In the soap opera, KK is the father of Kgosi, as well as Matdishiso's fiance. He is equally a proud man who always finds it difficult to apologize for his wrongs no matter who is involved. Of late, Mulaudzi became vulnerable as a result of a fatal disease that knocked him down, forcing him to make amends with those he wronged.
MacDonald is nothing close to his character in real life. Though KK's condition left many of the telenovela's fans thinking that would be the end of his character, Ndou stated that his character will surely bounce back. The actor likened the scenario to a powerful man who falls from grace and later gets back to his feet. SABC2's Muvhango, which was created by Duma Ndlovu, has been airing since April 7, 1997.
He Was Once Caught In A Web Of Scandal
Public figures and celebrities are no strangers to controversy, and sometimes it ends up ruining their reputation, affecting their career, or even costing them their job. MacDonald was caught up in a messy scandal in July 2019 for attempting to extort money from a Gauteng businessman.
The actor and two of his friends are said to have impersonated police officers and tried to take bribe from the businessman for illegal trading. The trio was arrested at South Gate Mall, south of Johannesburg by South Africa's Directorate for Priority Crime Investigation (DPCI), mostly known as the Hawks, during an operation. They were slapped with seven charges of corruption, impersonating police officials, kidnapping, defeating the ends of justice, extortion, aiding a criminal, and theft.
Ndou's case was, however, provisionally withdrawn after some days while his accomplices remained in police custody. Ndivhuwo Mulamu, Hawks spokesperson who confirmed the report that year, also stated that the actor is "a person of interest" and that "investigations will continue." Since then, MacDonald has never tried to clear his name by commenting on the incident neither has much been heard about the case since then.
MacDonald Ndou Hasn't Retired From The Industry Yet
Despite his case with the Hawks, Ndou is still going strong in his acting career. The actor is still active in the industry, making appearances in the show Muvhango. The actor was spotted in Johannesburg, precisely at the Johannesburg Country Club, on July 18, 2019, during the Premiere of Disney's musical drama film, The Lion King.
#sama25 #recognise pic.twitter.com/famlXV5eSu

— macdonald ndou (@macdonald_ndou) June 3, 2019
Recently, MacDonald Ndou and his wife celebrated their second wedding anniversary. The actor shared the news on his Instagram page and also showered so much love on his wife. The Muvhango star had a private wedding with his wife in 2008. They are blessed with one lovely son.