Lerato Moloi is a 41-year-old model and actress who was born on May 6th, 1982, and rose to fame as the first black face for the cosmetics brand Elizabeth Arden.
Following motivation from her mother, godmother, and younger sister, Lerato Moloi began her modeling career as a teenager. She has been active in the industry for more than two decades and has walked the runway for many fashion designers at Fashion Week shows across the globe. She has also appeared on the cover of several magazines, including Elle Magazine, and was an editorial feature for Bloss Africa Magazine.
Lerato Moloi's Biography Summary
Full name: Lerato Mpho Moloi
Gender: Female
Date of birth: May 6th, 1982
Lerato Moloi's Age: 41 years old
Ethnicity: Black
Nationality: South African
Zodiac Sign: Taurus
Sexual Orientation: Straight
Religion: Christian
Marital Status: Divorced
Lerato Moloi's Ex-husband: Sibusiso Hlatshwayo
Lerato Moloi's Children: 2; Keoratile and Muhle
Siblings: 1
Lerato Moloi's Net worth: $150,000+
Famous for: Becoming the first black face for Elizabeth Arden
Lerato Moloi's Instagram: @leratommoloi
Twitter: @leratommoloi
Facebook: @LeratoMMoloi
How Old is Lerato Moloi?
Lerato Mpho Moloi is 41 years old. She was born in South Africa on May 6th, 1982, and grew up in Sharpeville township in Gauteng. Though she kicked off her modeling career in her teen years, Moloi emerged as a global star when she became the first blackface for Elizabeth Arden at the age of 26.
Lerato Moloi Kicked off Her Modeling Career at the Age of 17
In the year 1999, Lerato Moloi's professional modeling career took off after she visited a modeling agency with her mother and younger sister, and they encouraged her to try out the profession. Her mother, being convinced that she would thrive in the career field, registered Lerato Moloi for the Face of Africa competition in 1999. The modeling competition was held in Swaziland, and Lerato emerged as a semi-finalist.
In the same year, she had her first professional shoot, and it was for Elle Magazine. Since then, she has appeared in many editions of the magazine. Soon after her first shoot, Lerato Moloi walked the runway for top SA designer Julian at a fashion show. She then moved on to participate in SA Fashion Week for several years and worked for a number of South Africa's top labels.
They included Sun Goddess, Stoned Cherrie, Julian, Hip Hop, and Clive Rundle. The South African model, however, made the international news in 2000 when she was asked by a New York modeling agency to lose weight if she wants to be a model in the cut-throat American industry. Moloi wasn't fazed about her figure as she believed that the choice of girls to use for modeling is the designers' prerogative.
In 2002, she was a finalist in the M-Net Face of Africa pageant. She then had an editorial shoot for Bloss Africa Magazine in 2021. As a top model, Lerato Moloi has had modeling gigs across the globe, visiting countries like China, India, Cameroon, the United States, Nigeria, Australia, and the United Kingdom.
At 26, Lerato Moloi Emerged as Elizabeth Arden's Ambassador
Lerato Moloi's career hit a major milestone in February 2009, when she was 26 years old, as she was announced the first blackface for the renowned cosmetic brand Elizabeth Arden. As the new face of the brand, the 41-year-old represented Elizabeth Arden in South Africa. She appeared in advertising campaigns and magazine covers.
She also used her role as the ambassador of Arden's new line of products, manufactured specifically for black women, to dispel the myth that black skin is immune to skin cancer and aging. Moloi encouraged black women to look after their skin, enhancing the importance of UV protection for the skin in a harsh climate zone.
Lerato Moloi's Acting Roles
In addition to her modeling work, Lerato Moloi is famous for her appearances in TV series. She joined the cast of Generations in season one and played the role of Scarlet, a businesswoman. She also had a cameo role as a model in iNkaba. Furthermore, Moloi featured in the first season of Rhythm City as Madikgetla, as well as in the fourth season of The Queen as a Fertility Doctor.
In 2015, she participated in the M-Net reality Competition Celebrity MasterChef South Africa and was one of the celebrity contestants.
List of Lerato Moloi's TV Roles
Generation as Scarlet
Rhythm City as Madikgetla
The Queen as Fertility Doctor
iNkaba as a Model
Celebrity MasterChef South Africa as a celebrity contestant
Who was Lerato Moloi Married to?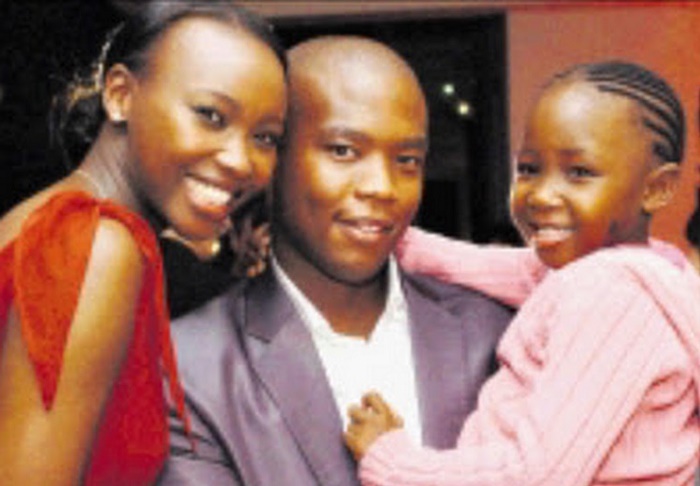 Lerato Moloi was married to her high school boyfriend, Sibusiso Hlatshwayo. The former couple were long-time friends and began dating while in high school. Though it's uncertain the year the two got married, they announced their separation in January 2011. Moloi and Sibusiso decided to end their marriage due to irreconcilable differences.
The model cum actress explained that she and her ex-husband realized that they had grown apart and don't want the same things any longer. Thus, they separated amicably, and there is no bad blood between them, having said they would remain friends.
How Many Kids Does Lerato Moloi Have?
Lerato Moloi is a mother of two children. She reportedly had her first child, Keoratile, from a previous relationship. In 2010, she welcomed a child named Muhle together with her former husband. Although their marriage didn't work out, Moloi attested that Sibusiso had been a wonderful father to their two children.
Why was Lerato Moloi Arrested?
Moloi was arrested in June 2020 for contempt of court after she was asked to delete her tweets about her being raped by comedian, Mongezi "TollAssMo" Mahlangu in 2014 while shooting for Celebrity MasterChef in Paarl, Western Cape. At the height of the MeToo movement in mid-2020, the model spoke out about being sexually assaulted by Mahlangu.
:For immediate release#TW GBV, rape#EndGBV #EndTheSilenceBreakTheCycleOfAbuse #SueUsAll #WeAreDoneTalking
1/2 pic.twitter.com/nPjJDh4MK4

— 🌈🇾🇪🇸🇩🇺🇦#ShamelessSurvivor💜#MissMoloi⚡🐼 (@leratommoloi) August 4, 2020
She shared the post about her violent experiences on social media in early June and on June 15th, 2020, the retired comedian applied for a protection order against Lerato Moloi and an interim court order demanding that she delete her tweets. The 41-year-old actress insisted that she cannot be silenced from speaking her truth and thus refused to remove the tweets.
Consequently, she was arrested and spent the night in the holding cell. After regaining her freedom, she subsequently appeared in the Vereeniging Magistrate court. Bent on finding justice, Lerato Moloi opened a rape case against the reality TV star on July 10th, 2020, at Vereeniging cop shop.
The Outcome of Lerato Moloi's Assault Case Against Mongezi Mahlangu
For two years, the former Generations actress was in court with Mongezi Mahlangu. During such time, many women in the entertainment industry rallied behind her and initiated the IbelieveLeratoMoloi hashtag. However, in August 2022, the legal representative of the retired comedian released a statement saying that Mongezi Mahlangu was acquitted of the rape charges against him and has been vindicated.
Shortly after, Toll Ass Mo blasted Moloi on social media platforms and his interview with MacG on Podcast and Chill. He said that the model ought to be jailed for falsely accusing him of rape and further disclosed that he would be taking legal action against her for defamation of character. And he would also pursue civil charges against her to cover the total legal cost incurred and the comprehensive loss of income he suffered for two years.
Despite Mahlangu being found innocent of rape by a court, the issue has been contentious as social media users had been divided about it. Although the retired comedian also said that he would pursue charges against actresses—Penny Lebyane, Samkelo Ndlovu, and Ntsiki Mazwai if they refuse to apologize to him for supporting Moloi, Mazwai, and Ndlovu asserted that they cannot be harassed for providing sisterly support to their colleague.