Penny Lebyane is a South African media personality, broadcaster, TV host, radio show anchor, and DJ. She also owns her own media outfit and is often seen involved in charity and voluntary work across South Africa.
Despite being one of the oldest black female radio broadcasters in South Africa, Penny has managed to stay relevant in the industry for almost three decades. However, contrary to popular opinion, it has not been all rosy for the radio personality. She has had to go through various challenges in her health, career, and love life, but be that as it may, Penny Lebyane has always conquered her challenges, coming out of them stronger.
According to her, she may not have up to a million followers but she knows that she is good at her job, and with more than 25 years of experience, you can tell she is truly competent. While she seems to have her career demands under control, her personal life has not been full of good news. The Queen of Radio, as she is widely known, has had to deal with getting separated from the father of her children, being in a toxic relationship, and making headlines for being in debt. But at this point in her life, she seems to be getting her act together and focusing on living a happy life with her children.
Penny Lebyane's Life In 10 Facts
She is a media personality best known for her disc jockey skills which have earned her the nickname 'The Queen of Radio'. Also known as 'Phly One', the South African radio presenter is a DJ for Metro FM. She is also a TV presenter, and host, with a net worth of about $200,000. The Queen of South African radio has a career that spans almost three decades and in the course of these years, she has given us insight into a good number of things to know about her career and personal life.
1. Penny Lebyane Was Born On Christmas Day
The beautiful actress feels really privileged to have been born on the same day widely regarded as the day Jesus (the author of the Christian faith – which she professes) was born. Although she always jokes that Jesus usurps her birthday because people always forget that it is her day too as they are always focused on celebrating Christmas.
She was born on the 25th of December 1976 in Kwazulu-Natal where she was also raised during the apartheid rule in South Africa but despite the challenges of black South Africans at the time of her birth and childhood, her parents still tried to ensure that they – Penny and her siblings – had a modest life, as well as a good education.
2. She Attended The University Of South Africa (UNISA)
Despite being born and raised during the time of racial segregation – when certain privileges, including quality education, were the exclusive reserve of the white –  Penny Lebyane was still able to get a decent education. There is currently no information as regards the names of the school where she had her primary and high school education, but we know that she had her basic education in Kwazulu-Natal.
After matriculating from high school, she went on to further her education at the University of South Africa (UNISA) where she graduated with a National Diploma in Public Relations, Media/Communications. Aside from being naturally talented, studying something related in school must have helped polish the skill.
3. The Queen of Radio Started Her Career With Voice of Soweto Community Radio Station
While in Grade 12, Penny Lebyane's talents as a media personality were already being showcased. She began on radio and has also played several roles on television. It is not a wonder that she is relevant today in the industry. It is worthy to note that Penny has been actively involved in the entertainment industry for almost three decades.
She began her career in radio broadcasting as early as the age of 21 in 1997 with the Voice of Soweto community radio station now known as Jozi FM. In a tribute she wrote about Bob Mabena, the late veteran radio broadcaster, she gave him and his ex-wife, Zandile Nzalo the credit for being her role models in the industry. According to Penny, she learned a lot about radio presentation while working at the Voice of Soweto and it helped to polish her skills.
4. Penny Lebyane Has Had A Successful Career As A DJ, TV Presenter, And Event Host
She also takes the credit as one of the first black female radio DJs in South Africa and she is best known for being a disc jockey for Metro FM. In 2002, she was featured as a judge for the M-Net Idol talent show and in 2007, she hosted the 8th Annual Metro FM Music Awards.
Her career continued to climb and by 2010, she joined SABC1 as a co-host on the Motswako lifestyle show and by 2014, she joined e.tv to host the breakfast show dubbed, Sunrise.
Since she joined the media industry in 1997, Penny Lebyane's career has continued to experience an upward progression and aside from her radio gig, she has landed several TV and event hosting gigs as well. She appeared in the second season of City Ses'la, playing the role of Noxi. The show is a South African TV series that follows the daily lives and experiences of six young adults who come from different backgrounds. Lebyane was also part of the contestants for the first season of the reality TV series, Love South Africa.
Penny was featured on the second season of Idols as a judge and in the first season of It's OK We're Family. She made an appearance as a guest judge in the first season of The Search: E! Host South Africa and was a presenter for the 9th season of the South African Film and Television Award (SAFTA).
5. She Suffered Mental Health Problems
Following the dismissal of DJ Fresh from Metro FM and the suspension of Phat Joe from Radio 2000 in 2019 as a result of allegations of homophobic insults on the radio by both on-air personalities, Twitter users went ranting against a perceived agenda by what they termed 'black radio' and Penny Lebyane also took the opportunity to share her black radio experience as well.
According to her, she has had to spend 10 days in a psychiatric ward as a result of the attacks she faced from the industry, especially those associated with black radio. But owing to the fact that she is not a beauty queen or an influencer, she does not believe that she has to impress anyone, neither does she need the approval of anybody to validate her place in the industry as one of the best.
She goes on to add that broadcasting for her is not about popularity, on the contrary, it's her life, her journey, and her truth. In the industry, she has learned how to stay alone even when she is rejected. Coming from someone who has spent over two decades in the industry and watched the evolution of radio broadcasting, you can tell that she meant every bit of her words.
Read her tweets here:
I've buried too many ppl to keep quiet & personally I spent 10days in a psychiatric ward cos of Entertainment Industry bs especially #BlackRadio to suck my thumbbury my head. I'm not a beautyqueen don't have to impress u or a wife or influencer. I am broadcaster for Social Impact

— PennyLebyane💚PennyLebyaneDotAfrica (@PennyLebyane) July 11, 2019
It was never a popularity contest & it won't start today. It's my life,my journey, my walk,my work, my truth. I don't need your approval of me. I accepted myself when u believed the lies about me, when I was marginalized I mastered to stand alone. When I was rejected I loved me.

— PennyLebyane💚PennyLebyaneDotAfrica (@PennyLebyane) July 11, 2019
Money won't fix the unconsciousness of the mind. Intentional conscious content will fix us and Media is at the center of it. Fame us toxic and u"ll are laping it up like water🤯🤯

— PennyLebyane💚PennyLebyaneDotAfrica (@PennyLebyane) July 11, 2019
And I am not Alone! Never. #IAm a Force of Nature.

— PennyLebyane💚PennyLebyaneDotAfrica (@PennyLebyane) July 11, 2019
6. The Father Of Penny Lebyane's Children Is A Zimbabwean Named Ali Naka
Penny Lebyane is a proud mother of a boy and a girl called Takunda who was born around 2002 and Tamuka who was born four years later. The popular radio personality was in a romantic relationship with a Zimbabwean businessman known as Ali Naka. There is currently no information regarding when they started dating. However, what we can tell you for certain is that Ali Maka is the father of Penny Lebyane's two kids, and judging from the fact that they had two children together, we can deduce that although the relationship ended in 2008, it was on for a considerable length of time – even though the details is kept under wraps and not available in public.
Though she has two children for Ali, she has made it clear that she was never married to him. According to her, paying damages after impregnating a woman is not marriage neither is paying lobola, marriage. This may imply that he did those things after getting her pregnant, but there is no way to know for certain.
7. She Allows Her Children Bear Their Father's Name
Though she was never married to their father, she told Move that she allows them to bear their father's name. According to her, she let her children use his name so that things would be easier for them. In 2017, Penny and the father of her children were in a court battle after his refusal to sign papers allowing the children to spend Christmas with her in Swaziland. She felt his refusal to sign was a violation of her rights, considering the fact that they were not married.
8. In 2016, She Made Headlines For Being In Debt
No one wants to be in debt and worse still, no one wants their indebtedness to be out in the public domain and up for public debate, however, Penny Lebyane had to eat the humble pie at some point. In 2016, she was in the news for having to sell her furniture in order to pay off a debt of R65,830 after defaulting on rental agreements. When she was asked by Drum what truly transpired, she admitted that she was in debt but what was reported by blogs and newspapers was different from what happened.
She went on to add that she likes being realistic and does not see reasons why she should make headlines for being in debt when most people also get into debt but never make it to the news. She continues by saying she has refused to live in a bubble, like everyone else.
9. Penny Lebyane Uses Her Platform To Speak Against Sexual Abuse
The media personality may not have experienced sexual abuse at any point in her life, but she has been a victim of various emotional abuses and one of the most prominent ones that seem to remain evergreen in her heart was an incident that happened with her ex-boyfriend who she refused to mention his name.
According to her, in the course of using his laptop to complete a task she bumped into a picture of an underaged girl with the bottle of a particular drink (that she has stopped drinking ever since the incident occurred) in her private part, and to cap it all up, the picture was taken with her boyfriend's camera.
Though she said she deleted the picture and all other pictures of naked ladies on his PC immediately, she admits that she was traumatized by what she saw and will never forget.
I stopped drinking this drink because of pictures I found in his computer of an under aged girl wt the bottle in here private parts which he took wt his camera. I was so shocked, hurt and traumatized l deleted all the naked girls pictures he kept in the files. I will never forget pic.twitter.com/PQdIUQLHUB

— PennyLebyane💚PennyLebyaneDotAfrica (@PennyLebyane) September 6, 2019
Although she has revealed her intention to get married someday, she has refused to date just for the sake of it as many celebrities do. She believes that marriage is cultural, spiritual, and legal. And instead of rushing into the union, she has decided to give herself to serving God.
The former Sunrise host is a Christian and worships at Assemblies of God Church, Sandton. Growing in church, she has learned that Christians are to serve God with their abilities and the DJ is fulfilling her end. She is a Sunday school teacher and an usher in her church.
10. She Was Once In An Unhealthy Relationship With Thato Sikwane Also Known As DJ Fresh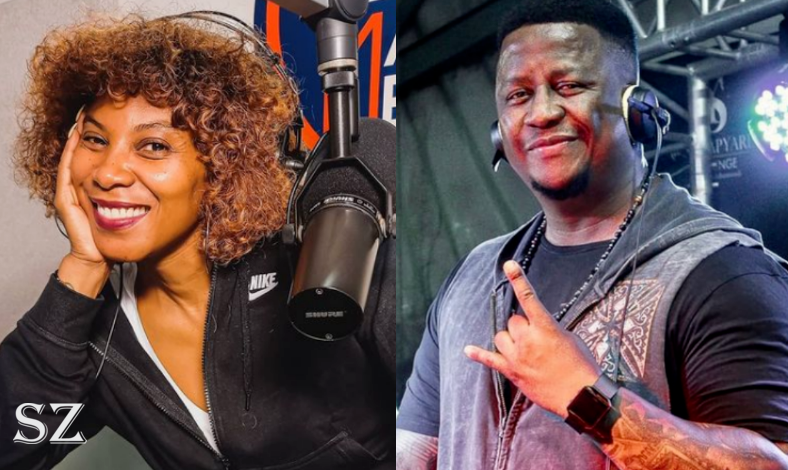 In 2020, DJ Fresh and Penny Lebyane were locked in a fierce legal battle following the mention of Penny's name in a court affidavit deposed by DJ Fresh and his legal team in a case against South African poet and activist, Ntsiki Mazwai. According to DJ Fresh, Penny Lebyane originally posted a tweet that insinuated he was a rapist and that post was shared by Mazwai.
In the affidavit, DJ Fresh revealed that he was in a toxic relationship with Penny Lebyane sometime in 2001 and after their breakup, she tried to run his friend off the road which led him to obtain a restraining order against her from a court.
On learning of the fact that her name was mentioned in a case that was not directly against her, Penny Lebyane engaged the services of her legal team to see what it could mean for her in the future – if there would be a fallout or hidden consequences. However, not without opening the old wounds she and DJ Fresh shared based on their past relationship.