Khanyi Mbau is a South African actress, musician, TV presenter, social media star, and socialite with a net worth that is currently estimated at $10 million.
The South African celebrity amassed her fortune from all her involvement in the aforementioned career paths, as well as through her books, and much more.
In 2006, she got married to a former South African millionaire, Mandla Mthembu. Because of the massive age difference between them, and the fact that the then-millionaire was previously married and divorced, some believed the young Khanyi only married the much older man for his money.
Interestingly, the marriage later came to an end, and while Mandla would go on to lose his riches and even go homeless, she became much richer so much that today, she is much richer than many celebrities in the country.
A Closer Look At Khanyi Mbau's Net Worth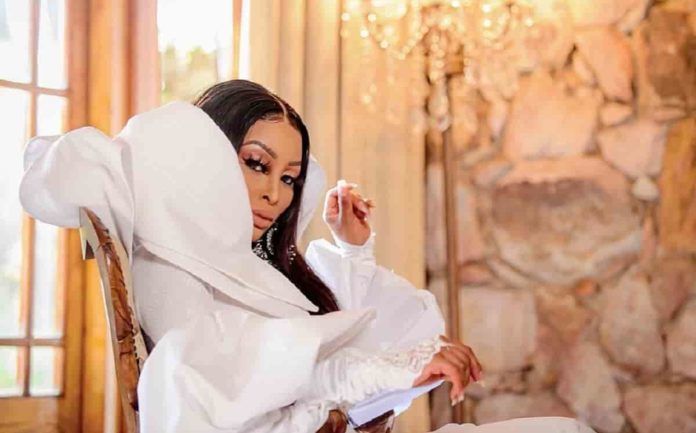 Khanyi Mbau has worked very hard all through the years and has made some very wise and important investments, all of which have brought her estimated net worth to $10 million, as indicated by various online sources. This places her to have a fortune of over R164 million based on today's conversion rate.
Although the stated net worth is what many South African and international platforms have estimated to be what she has, the veracity of this cannot be confirmed as no independent source has confirmed it, neither has she. Mostly a self-made millionaire, she once married a very wealthy South African businessman, as already stated, but there is no indication that she got any settlement from the marriage when they were getting divorced because, at the time, Mandla Mthembu was already heading towards the broke lane.
Rumors have it that despite claiming that her ex-husband was abusing and cheating on her with dancer, Zodwa Wabantu, she still stuck with him enjoying the yellow Lamborghinis and other good things that came with his fortune until the empire started falling apart before she decided to leave.
Here are all her sources of income:
TV and Film Projects
TV Hosting and Reality Shows
Radio Talkshows
Musical Career
Business- Gin production
Endorsement Deals
She Started Seriously Building Her Fortune Through Her Career On TV
In 2004, Khanyi Mbau's career on TV began when she got her role on Muvhango, but this did not last long before she got kicked out for heavy partying, among other things. The drama queen would return to TV in 2006 when she got her role on Mzansi in the SABC1 show's second season. This would also be shortlived as the show was not renewed for another season, but she got another role in the network's miniseries, After 9.
Subsequently, she appeared in some popular TV shows, including The Lab, Uzalo, eKasi: Our Stories, and Like Father Like Son, among many others. She has appeared in several other shows, but her roles have mostly been limited to a few episodes to single seasons. In 2014, Mbau started her reality TV series, Katch It With Khanyi, which gained massive followership on eKasi+, and it continued until 2016.
It was highly successful, adding unspecified amounts to her net worth. It also earned a South African Film and Television Awards nomination for the best talk show in 2015. She also hosted many more shows such as Reality Check, The Scoop, The Close Up, The South African Film and Television Awards, and The South African Music Awards. She was also a guest judge on Turn it Out – Street Battle.
While her overall salaries for each performance are not known, the only salary of hers that has been revealed happens to be for her first role in Muvhango, which is R80,000. More so, nothing about her contract with Etv for her reality show has been revealed.
Some films and TV shows she has been a part of include the following:
aYeYeCheck
CoasteKasi: Our Stories
I Am
Like Father Like Son
Muvhango
Mzansi
My Perfect Family
Mzansi Love – Kasi Love
Mzansi Love – Big City Love
Reality Check
Scandal
Skwizas
Strictly Come Dancing
The Close Up
The Comedy Central Roast
The Lab
The South African Film and Television Awards
The South African Music Awards
Tropika Island of Treasure – Thailand
Turn it Out – Street Battle
Katch It With Khanyi
Ashes to Ashes
Isithembiso
Uzalo
The Scoop
She Had A Radio Gig and Music Career That Have Increased Her Figures
Yet another thing that added to Khanyi Mbau's net Worth is her radio gigs. She had a show on Metro FM,  Whose show is it anyway, which ran from July 2016 until the end of the year. Even though she hosted it together with big names like Somizi Mhlongo and Ntombi Ngcobo, it did not impress a lot of people.
She revealed that it was not her first radio gig, neither did she believe it was going to be her last, despite the trolling that followed her last attempt. In 2020, she stated that she was looking for another radio opportunity, even if not for the money. Her earlier show got aired nationally, but what she made from this, as it is with most of her other earnings, has not been revealed.
She might not be recognized among the biggest voices in South African music, but the granddaughter of Mr. Babes Mbau, once a Saxophonist, has also set her feet in the music scene. She has released some songs, including Ubusuku Bonke, which has gained close to a quarter-million views on YouTube. That said, this is not her strongest source of income, but it still turns in a little.
Khanyi Mbau's Net Worth Is Also Topped By Her Own Gin 
The controversial South African media personality and actress has also seen her fortune going even higher thanks to her brand of gin, which she calls I AM Khanyi Millenial Shimmer Gin. She announced the launch of the drink in November 2018, before hitting the markets the following month.
Khanyi stated that the gin was designed to match her person and personality. Although some attacked her for the choice of name, most praised her for the gold and pink packaging of the drink. From the concept, to design, and selection of flavor, Khanyi stated that she was fully involved in all the processes.
Khanyi Mbau revealed that she chose to go the route of gin because it is a beautiful beverage on one hand, and she believes it to be a wise investment since the gin market is booming in the country. Over a couple of years since she started the spirit drink, she has held on to the market, and the gin currently sells for over R400. It has not been revealed what this adds to Khanyi Mbau's net worth.
Her Endorsement Deals Have Kept Her Smiling To The Bank
The actress, media personality, and social media star have strong followership on social media, with over 2.4 million followers on Instagram and more than 1.2 million likes on Facebook. With this, she has become a toast to many brands who are always looking for influencers with great followership to promote their brands.
Looking at her Instagram, she seems to be promoting Castle Life, Fake People Clothing brand, The Harvest Table products, Pretty Lee Lashes, and other makeup kits. In 2017, she was offered a deal as an African face of Slimatone. This is among the major sources of her income, but the exact numbers she has made from each deal is not known.
She Has An Enviable Car Collection
The queen of bling, as she is fondly called, has a good number of cars to show for her hard work through the years, among other luxury items. Among the cars she has is a 2014 Mercedes-Benz ML 63 AMG, as well as a 2015 Porsche 911 Carrera GTS PDK 911, both of which have been valued at around R1.5-million each. She obtained the cars from Standard Bank and was meant to be making payment in an installment of R28,000 monthly.
In September 2020, the bank made a move through the courts to have the cars revoked for failure of the celebrity to keep up with the payments. According to court documents, the bank wants the installment sale agreement canceled, and the two cars returned after she went a month in arrears for the Porsche and a few months for the Benz.
The Porsche, which was yellow in color, was more of a reminisce of her early days of painting the town red in her Lamborghini, which was also yellow in color. She also has two more Porsche cars, a red one and a navy blue one, which the once alleged gold-digger celebrated as it was the first car she bought for herself. All previous cars she had before that were bought for her by men.
All the known cars in Khanyi Mbau's garage include:
Blue Porsche GTS- R800,000
2014 Mercedes-Benz ML 63 AMG- R1.5 million
2015 Porsche 911 Carrera GTS PDK 911- R1.5 million
Red Porsche GTS- R800,000
Range Rover Vogue- R2.5 million
BMW X5- R1.3 million
Mbau Has Also Recorded Some Losses
Khanyi Mbau has seen her numbers going high through the years thanks to her wise business investments and hard work, but the tides have not favored her at all turns as she has also seen her fortune drop due to some decisions that were not all good, and some things beyond her control.
As mentioned, she found herself at loggerheads with Standard Bank in 2020, after she failed to pay for the two cars she got, forcing the bank to repossess the properties. These were losses to her since she had already started making the payments in installments before she relaxed on the way.
More so, with the coming of COVID-19, she revealed that she felt the brunt of the pandemic in the financial sense, most especially with the ban of alcohol in the country. This had affected the sale of her gin both in online stores and offline locations. Because of this, she described the year as one of loss and no recovery for herself and her daughter.