Jacob Zuma reportedly has about 11 cars, including a Lamborghini Aventador, a Land Rover Discovery, a Range Rover Sport, an Audi A6, and an Audi Q7. The former president also owns three palatial houses in his hometown Nkandla and in the choicest locations in Dubai and Johannesburg.
The Nkandla-born politician's magnificent property portfolio is worth millions of rands. His cars also reflect his stature as one of the richest elder statesmen from KwaZulu-Natal. Each of his properties boasts incredible amenities for him to enjoy in his retirement.
Jacob Zuma Owns Three Expansive Mansions
The former president of South Africa has 3 magnificent houses in Dubai, Johannesburg, and Nkandla.
Jacob Zuma's Alleged Dubai House 
According to reports, the infamous Indian-South African family, the Guptas, gave Jacob Zuma the opulent mansion as a retirement present in the year 2015. Unverified sources estimate the worth of the house to be R330 million.
Former president of Zimbabwe, the late Robert Mugabe, owns an apartment close to where Zuma's Dubai residence is rumored to be situated, precisely at Lailak Street in Emirates Hills.
The palatial building boasts 13 bathrooms, ten bedrooms, and nine reception spaces, all of which are embellished with marble, gold, and other luxury features.
In addition, the property has a sizable swimming pool outside and a parking lot that can fit at least eleven cars. Zuma denied being the owner of the said property.
Zuma's Johannesburg Mansion
Jacob purchased his Johannesburg property in 2005 for a staggering R3.6 million under the auspices of Hola Recruitment & Selection Services, a business connected to the former president.
The location of the property is the Forest Townhouse, an affluent neighborhood in Joburg. According to a 2018 report, the house had an R6.5 million asking price when it was put up for sale. Uncertainty surrounds the eventual sale of the property.
Nkandla Homestead
This is Zuma's country home, which is located on Nxamalala Farm in the rural area of Nkandla, KwaZulu-Natal, where he was born and raised. The building's architecture is in the Rondavel style and it is situated on 3.83 hectares of land.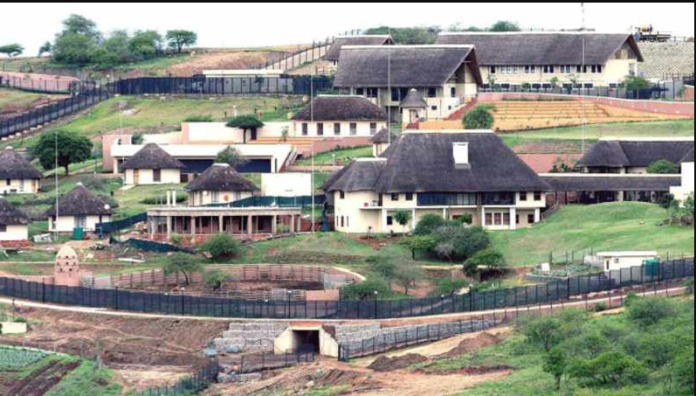 Minenhle Makhanya of the Minenhle Makhanya Architects firm began work on the homestead's construction on August 29, 2009. The structure has a swimming pool, a private military hospital, a parking lot, a helipad, a marquee area, and houses for families. It also has a chicken run, visitor's center, and kraals for cattle.
The Nkandla homestead contains houses for Jacob Zuma's wives Sizakele Khumalo, Nompumelelo Ntuli, and Thobeka Mabhija. These four-bedroom apartments all have thatched roofs, his-and-hers bathrooms, walk-in closets, and a study.
The presidential mansion is valued at $246,000,000.
The Expansion of Zuma's Nkandla's House Prompted Public Outcry and Backlash
There was a public outcry and complaints made to the Public Protector after revelations about how much public money was spent on Zuma's country residence between 2011 and 2012.
Investigations revealed that the previous head of state had in fact abused public resources when renovating his home. The compound's security modifications cost a staggering R246 million, and the use of public monies to pay for them drew intense media attention and political criticism.
The former president was found to have unfairly benefited from these advances in a report by the Public Protector, and the Constitutional Court later determined that his disregard for the report constituted a violation of the country's Constitution.
It was discovered that several of the state-funded upgrades went above President Zuma's security requirements. A cow kraal, a tented area, a swimming pool (technically a fire pool), and new homes for his family members were among them.
The amphitheater, cattle kraal, chicken run, visitors' center, and swimming pool are the house's five primary renovation elements.
Public Protector Madonsela's Findings on Zuma's Nkandla Upgrade
According to Public Protector Thuli Madonsela's final report, "Secure in Comfort," released on March 19, 2014, Jacob Zuma had unjustifiably benefitted from the R246 million spent on improvements to his Nkandla house.
She also mentioned that should the Minister of Public Works grant approval, the Ministerial Handbook had a cap on security spending of R100,000. She continued by saying that because the President owns his home in Nkandla outright, he would only be given R100,000 to cover security costs. Thus, it was determined that the President's actions were against the Ministerial Handbook.
The Constitutional Court ruled unanimously on March 31, 2016, that the Public Protector's report is legally binding, and that Zuma and the National Assembly failed to uphold it.
The National Treasury was therefore mandated by the court to determine the amount that Jacob Zuma must repay, and the former president was given 45 days to comply after the National Treasury's report was approved by the court.
Jacob Zuma Eventually Repaid the Money in 2016
In the end, Jacob Zuma issued an apology for using taxpayer funds to upgrade his private home. In accordance with the Constitutional Court's ruling, the former president paid the state back for the non-security upgrades, which the National Treasury valued at R7.81 million, in September 2016.
Zuma used a R7.8 million loan from VBS Mutual Bank to pay back the debt. In August 2018, he allegedly stopped making bond payments. The former president was later ordered to repay the bond by the Pietermaritzburg High Court in August 2022.
Jacob Zuma's Cars 
The former South African president's personal luxury cars are estimated to be about 11 in number. While this number is yet to be verified, it's no surprise that the former head of state has some of the world's best brands of exotic cars in his garage. Zuma has impeccable taste in cars.
Of all the cars Jacob Zuma owns, it is difficult to discern the particular one he always prefers to drive. Here are some of the cars the Nkandla-born public figure reportedly owns:
Lamborghini Aventador
This sophisticated car was once driven by one of Zuma's nephews. It has an average price tag of 441 dollars. It has a top speed of 17.5 mph and a 0.60 mph speed. The car is powered by a 690 bhp V12 3.5 liter engine.
Lamborghini Aventador spec/features
ARAI Mileage: 7.69 kmpl
Fuel Type: Petrol
Engine Displacement (cc): 6498
No. of cylinder: 12
Seating Capacity: 2
Transmission Type: Automatic
Fuel Tank Capacity: 90.0
Body Type: Coupe
Land Rover Discovery
This car was reportedly gifted to the former president by one of his wives. It was bought at a whopping 14,000 dollars.
Land Rover Discover Spec/Features
Fuel Capacity / Gas Tank Size: 23.5
Steering Type: Rack-Pinion
Engine Type and Required Fuel: Intercooled Turbo Gas/Electric I-6
Displacement (liters/cubic inches): 3.0 L/183
Fuel System: Gasoline Direct Injection
Maximum Horsepower @ RPM: 355 @ 5500
Maximum Torque @ RPM: 369 @ 1750
Power Fuel Flap Locking Type
Remote Keyless Entry w/Integrated Key Transmitter, 4 Door Curb/Courtesy, Illuminated Entry, Illuminated Ignition Switch, and Panic Button
Remote Releases -Inc: Proximity Cargo Access
HomeLink Garage Door Transmitter
Range Rover Sport
Yet another gift from one of his wives, Zuma's car collection boasts a colorful Range Rover Sport. This car is designed to give users a premium driving experience on the road.
Range Rover Spec/Features
Maximum speed km/h (mph): 213 (132)
Acceleration (secs) 0-100 km/h (0-60mph): 6,4 (6,1)
Combined WLTP EV Range km (miles: 62 (39)
Tank capacity (liters approx.): 57
Maximum front/rear headroom with a standard roof (mm): 989/973
Maximum front/rear headroom with a panoramic roof (mm): 1.013/997
The Audi A6
The former president reportedly owns an Audi A6 as well. This car comes in at a 42,000 dollars price.
Audi A6 spec/features
ARAI Mileage:14.11 kmpl
Fuel Type: Petrol
Engine Displacement (cc): 1984
No. of cylinder: 4
Max Power (bhp@rpm): 241.3bhp@5000-6500rpm
Max Torque (nm@rpm): 370Nm@1600-4500rpm
Seating Capacity: 5
Transmission Type: Automatic
Boot Space (Litres): 560
Fuel Tank Capacity: 73.0
Body Type: Sedan
Audi Q7 
This exotic car stands out for its muscular exterior and is worth 65,000 dollars.
Audi Q7 specification/features
Transmission Description: Automatic w/OD
Number of Transmission Speeds: 8
Range, city/highway (miles): 427.50 / 562.50
EPA Fuel Economy, combined/city/highway (mpg): 21 / 19 / 25
Fuel Capacity / Gas Tank Size: 22.5
Brake Type: 4-Wheel Disc
Anti-Lock-Braking System: 4-Wheel
Front Brake Rotors, diameter x thickness (inches): 13.8
Rear Brake Rotors, diameter x thickness (inches): 13
Other Luxury Cars Belonging to the Zuma Family are Estimated at About 8.6 Million Rand
The South African police authority confirmed in 2016 that Jacob Zuma had spent close to 8.6 million rands alone on luxury cars for his four wives at a time the country's economy was struggling to meet growth targets.
Then Police Minister Nathi Nhleko, while answering the Democratic Alliance (DA)'s parliamentary question admitted that the police had paid for a total of 11 cars for Zuma's wives out of the police budget between 2013 and early 2016.
The cars include:
Four Range Rovers (which were bought in 2013 for $60,000 each).
Three Audi A6s (which were bought in March 2016 for $50,000 each).
Two Audi Q7s (which were bought in March 2016 for $40,000).
Two Land Rover Discovery (which were bought in 2014 for $40,000 each).
The revelation led to a public outcry and serious backlash from opposition parties and concerned citizens.
The Former National Leader Still Travels in a Convoy
Even though he is rarely seen traveling throughout the nation, the former president still travels in motorcades, just not as frequently. However, it is unknown how many vehicles are in his convoy. Also unknown is if the vehicles in his convoy are the same as those in his presidential motorcade.
One of the most recent occasions he was last observed in a convoy was the evening he turned himself to the police under the State's command. Zuma was taken in a long procession to the police station after leaving his residence in Nkandla.
Since Jacob Zuma resigned from the prestigious position of South Africa's highest leadership post, it has been a difficult time for him.
Zuma was found guilty of contempt in 2021 for neglecting to appear before a commission looking into corruption allegations that marred his time as the country's government from 2009 to 2018.
Does Jacob Zuma Drive Himself?
Jacob Zuma is unlikely to drive personally unless he chooses to do so for personal reasons. Being a past president still gives him access to benefits like state protection that are exclusively available to those who have held such posts.