Jackie Phamotse (born March 3, 1989) is a 34-year-old South African author, social activist, businesswoman, and philanthropist known for books such as Bare: The Blesser's Game, and Shattered Innocence.
Jackie Phamotse is one woman who has helped to bring issues affecting women and kids to the forefront of society's consciousness in various ways. She champions a course she believes has been neglected by society for a long time and she is excited her hard work is paying off.
The writer basically uses her fame to raise awareness about the way women and kids are being treated, especially when it has to do with their mental health and other sensitive areas. She strongly kicks against inhumane deeds such as rape and human trafficking of women and kids. She is considered a voice for the voiceless. Phamotse is a top-notch writer, activist, entrepreneur, and philanthropist.
Summary of Jackie Phamotse's Biography
Full name: Jackie Phamotse
Gender: Female
Date of birth: March 3, 1989
Place of birth: South Africa
Jackie Phamotse's Age: 34 years old
Ethnicity: African
Nationality: South African
Zodiac Sign: Pisces
Occupation: Author, social activist, businesswoman, philanthropist
Famous for: Her books Bare: The Blesser's Game and Shattered Innocence.
Jackie Phamotse's Instagram: jackie_phamotse
Twitter: @JackiePhamotse
Jackie Phamotse Was Born In 1989
Jackie Phamotse's parents gave birth to her on the 3rd of March 1989 in South Africa. She was raised together with her five siblings, whose identities and whereabouts are yet to be publicized. Not only that, the award-winning author is yet to fully share information about her childhood and family background with her fans.
The names of her parents are not known and not much is known about the kind of relationship she had with them before she found fame. In one of her books, Jackie wrote that she had an unpleasant childhood and troubled upbringing.
She revealed that her father was a military man who treated them badly, especially her mom, until the time she passed away. At some point, her mother couldn't bear the pains and she decided to walk away from the marriage.
Jackie's mother, unfortunately, died after she separated from her husband. Her painful death led the writer to move to the city of Johannesburg to start life and make ends meet.
Jackie Phamotse's Education Made Her A Degree Holder
Jackie Phamotse completed all her basic education levels in South Africa. The names of the schools she attended are still under the radar at the time of writing this piece. The multi-talented writer holds a bachelor's degree in Communication. She hasn't mentioned the institution she graduated from and the year she completed her studies.
The author mentioned on her website that she also studied law but she did not reveal the name of the institution she attended, the year she was admitted, and other sensitive information.
It is not exactly how she was able to make it through school, considering her background and the way her father treated them. She, however, wrote that she worked as a waitress before fame and that it was her experiences at that point that helped shape her into the woman she is today.
The Inspiration Behind Her Blesser Game Book
Phamotse's books largely reflect the kind of experiences she passed through as a young girl. One of them – Bare – particularly chronicles her life and times in Sandton and Johannesburg and what she passed through while working as a waitress.
It also brought to light her struggling days and the time she almost became homeless after her mother's passing. Most importantly, she detailed how a well-known politician who served during the regime of former president Jacob Zuma forcefully had carnal knowledge of her.
Jackie was also gang-raped and it was such a painful and devastating experience. All these and more are detailed in her book and they form the basis of her activism against rape and other vices against women and children.
She Does So Many Things For A Living
Besides writing, Jackie Phamotse is an inspirational speaker. She delivered her first professional talk in the year 2012 and has since graced several stages with thought-provoking and unique content. She has had conversations with people of different calibers and handled classes as well.
Phamotse struggled with low self-esteem and self-validation as a young girl. She, however, began to rescue herself and become the woman she wants to be by going into fitness. She would later launch the THICK FIT movement, which, according to her, has saved her life several times.
She started by training and jogging and subsequently added weight-lifting to her workout list. Jackie's friend named Lita Lewis also played a vital role in the establishment of the THICK FIT movement. Lewis is an American fitness guru.
While working out, Jackie Phomotse finds time to pray and meditate. Her workout sessions also afford her time to reflect on certain aspects of her time and comfort herself over the manner of pains she has been through, including her rape case, pains of losing her loved ones, especially her mom, long-term partner, and babies.
Jackie doesn't train alone; she works out with a number of women who she helps solve some of their personal problems such as depression. A successful businesswoman, Phamotse is the brand strategist at MoFaya Energy Drink, which is owned by DJ Sbu. Jackie reportedly has shares in the company.
She Has Written Over Five Powerful Books
It is not known exactly when Phamotse's writing career began but she has written five books. Each of them chronicles much of the author's life and experiences and were all well-received by critics and her fans alike.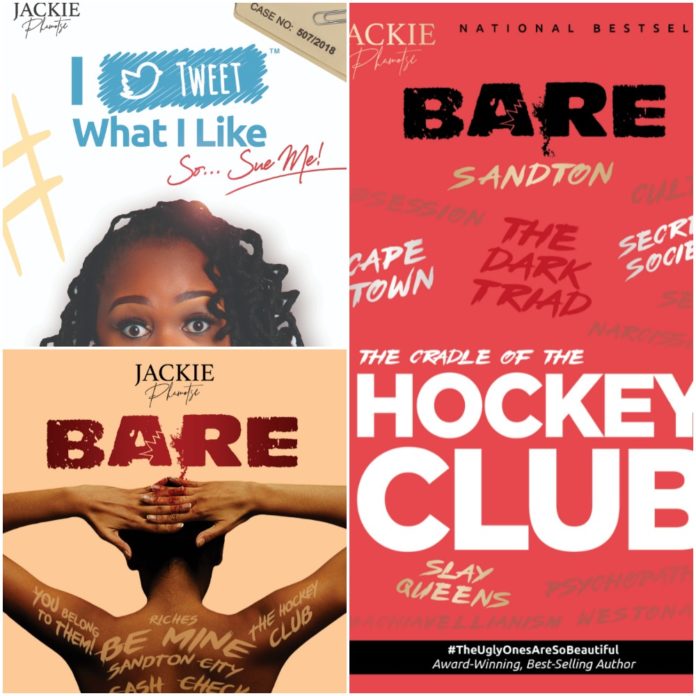 Each of her books passes across powerful messages to readers and can be described as inspiring. Their publication, no doubt, boosted her writing profile but her third and fourth books are considered the most successful of all. Both of them are national bestsellers.
Jackie Phamotse's books are listed below:
Shattered Innocence (released in 2014)
Bare: The Blesser's Game (released in 2017)
Bare: The Cradle of the Hockey Club (released in 2017)
I Tweet What I Like (released in 2019)
Bare III: Ego (released 2019)
Liwa (released in 2021)
Jackie Phamotse Has Done So Well For Herself
Phamotse is one of South Africa's respected writers. She has won many hearts and praise of critics and readers through her books, which reflects her experiences and firm stance against inhumane acts against women and children.
The Sandon-based writer also owns a publishing and consulting brand called Phamotse and Co. She publishes her book through her company and they also offer services to interested clients.
At 34, it is fair enough to say that she has done so well for herself. She may not be the best writer but she has surpassed most of her contemporaries. She is proof that one can overcome life's challenges and make their dream come true.