Thomas Gumede (born 6 February 1986; Age: 37 Years Old) is an award-winning South African actor, television host, producer, comedian, director, and entrepreneur best known for his roles in A Place Called Home, Bay Of Plenty, and Kedibone. He is also popular as actress Zola Nombona's boyfriend. 
Thomas is one of the most outstanding young and vibrant entertainers in the South African entertainment industry. The young man is currently enjoying the best moments of his life with his lovely son and baby mama and it's a feeling, according to him, that is literally out of the world.
While some prefer following the tradition of getting hitched before having a baby, Gumede has no problem having a baby before walking a woman down the aisle. He is enjoying every bit of fatherhood, including the adorable moments he spends and bonds with his bundle of joy. The actor has made many people believe that indeed, nothing brings so much joy as having a child of your own and watching them grow.
Summary Of Thomas Gumede's Biography
Full Name: Thomas Gumede
Gender: Male
Date Of Birth: 6 February 1986
DJ Sbu's Age: 37 Years Old
Nationality: South African
Zodiac Sign: Aquarius
Sexual Orientation: Straight
Religion: Christian/Traditional Beliefs
Marital Status: Stable relationship with his partner
Thomas Gumede's Children: 1 (Son- Cebelihle Gumede)
Thomas Gumede's Height In Inches: 65 inches
Thomas Gumede's Height In Centimeters: 165.1 centimeters
Thomas Gumede's Net Worth: $ 1 million – $ 8 million
Famous For: A Place Called Home, Bay Of Plenty, Mandela: Long Walk to Freedom, Single Guys, Ayanda, Back of the Moon
Does Thomas Gumede have tattoos: Yes
Thomas Gumede 's Instagram: @thomasgumede
Thomas Gumede's Twitter: @ThomasGumede
Thomas Gumede Kept His Relationship With Zola Secret Until In Mid-2020
A lot is still not known about the couple's love journey, including the exact period and the place it all began. Neither the actor nor his sweetheart has come out to share where they met and how long they dated before their relationship became known to the public.
In a nutshell, Thomas Gumede and the mother of his son kept their relationship under wraps for months until mid-2020 when it became known that they were welcoming a child together. The two are one of South Africa's most beloved couples and it's quite amazing.
Zola Nombona's Pregnancy Announcement Was Quite Touching
Gumede's baby mama, Zola, made her pregnancy announcement in the month of February 2020. She spiced it up by rendering a powerful isiXhosa poem to her unborn baby which touched the hearts of many South Africans.
Zola's pregnancy announcement was met with joy and excitement by her fans and colleagues alike. They all congratulated her and wished her safe delivery in due time. However, one thing the actress shied away from doing during the announcement was mentioning the name of the father of her child. She kept people in the dark about it until when she felt it was the right time to introduce the man who made her a mother.
The Birth Of Their Son Changed Their Lives For Better
My 1st birthday as a father. Even through tough times, we still have a lot to be grateful for. This year is going to be great! Thank you to all who support me, I am nothing without ya'll! I never imagined being 35 years old, it seemed so far fetched when in my teens😂 pic.twitter.com/jDzcoWuiHl

— Thomas Gumede (@ThomasGumede) February 6, 2021
The birth of Thomas and Zola Nombona's son really changed their lives for the better and it's quite obvious. The first-time parents seem to be closer now than before since they welcomed their bundle of joy. Going by the pictures they often share on their individual Instagram accounts, we could tell that they are excited to be blessed with a son and surely head over heels in love with their adorable child.
Zola has, on several occasions, written a heart-melting tribute to the father of her child, including on Father's Day in June 2020, when she thanked him for showing them love and surrounding their baby with laughter and tons of jokes.
In October 2020, Thomas left his fans gushing over his lovely family when he posted a picture of his son and also thanked his sweetheart for giving him a treasure. Indeed, the arrival of their son seems to have strengthened their love and the bond that exists between them.
Most people have been dying to know if Thomas has plans of making Zola his wife in the future or not but the Tell Me Sweet Something actor hasn't revealed his intention towards the actress in that regard while Zola seems to be more focused on her career and raising her kid than making marriage plans.
What Is The Name Of Thomas Gumede's Son?
His name is Cebelihle. He was born in the month of May 2020 in South Africa. Not much is known about the little boy except the fact that his parents are celebrities. Gumede and his baby mama don't often share their son's pictures but when they do, he always looks adorable.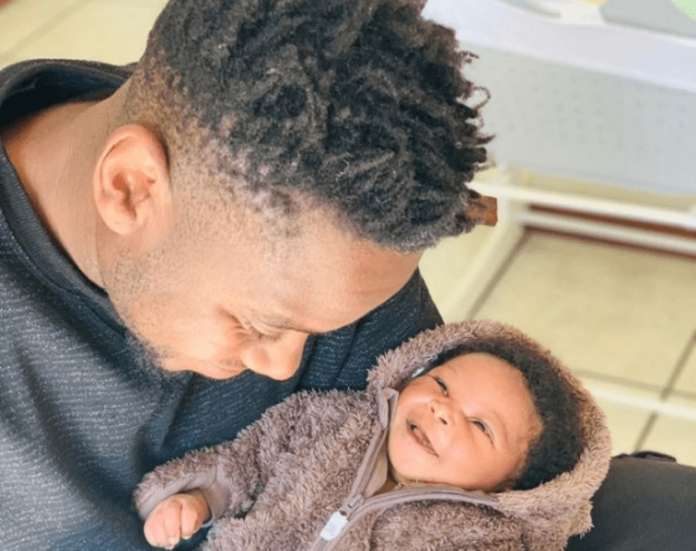 Thomas Gumede was the first to share information about Cebelihle's existence and his relationship with Zola with the world. He simply posted images of their prenatal scans in May 2020 with Nombona's name on them, which prompted their fans to start celebrating their union on social media. Nombona later confirmed their relationship via her Father's Day celebration tribute to Thomas.
Thomas Gumede's Name Rings A Bell In The Entertainment World
Thomas Gumede is an A-list actor, director, and TV host with an intimidating profile. He started out quite early and has remained consistent for years. He began showing a keen interest in the media world as a teenager and later enrolled in the South African School of Motion Picture Medium and Live Performance AFDA after his high school studies.
Gumede began his career by appearing in a commercial for Volkswagen Passat, after which he eventually got into acting fully. He also performed live comedy gigs at several television shows and was greatly admired for his great sense of humor and outstanding performance. The 99% Zulu Comedy Show in Durban is one of the prominent shows he has performed at as a stand-up comedian while David Kau is one of South Africa's premier stand-up comedians he has shared the stage with.
Tonight on LoveBack at 8pm, this lady is a special case yazi, you don't wanna miss it!! #LoveBack #PAP pic.twitter.com/1vH9R1JRAI

— Thomas Gumede (@ThomasGumede) April 6, 2021
The KwaZulu-Natal-born actor is a force to reckon with in the entertainment industry, having starred in a good number of critically acclaimed projects and worked with respected filmmakers and actors.
Some of the TV works he's been part of include but not limited to the SABC 1 Drama series, A Place Called Home (2006-2009), Mandela: Long Walk To Freedom (alongside actor Idris Elba), SABC1 drama series Bay of Plenty (2007-2008), Gothia Caper, Mthunzini.com, Backstage, Home Affairs, and Soul City.
Thomas Gumede is best known for his outstanding performance in Mandela: Long Walk To Freedom. The project earned him international recognition, as well as more acting gigs.
He Has Hosted Several TV Shows
Gumede stands out among South African TV hosts. In fact, he is considered the best among his equals, having won the hearts of a good number of viewers and TV personalities through his flawless hosting skills.
Thomas has been part of several reality TV shows, all of which were rated highly. The following are some of the shows he took part in as a host – SABC's 1 Bay of Plenty (which was shot in Durban North and the South beach. He hosted the show for a year until 2008), the reality comedy show So You Think You're Funny (Between November 2008 and January 2009), Ridiculousness Africa (alongside Boity Thulo and Basketmouth), the reality show Forever Young (alongside Lungile Radu and Siyabobonga Ngwekazi), the Vuzu docu-reality series Top Shayela (as a replacement for Siyabonga Radebe), as well as the Mzansi Magic reality TV show Love Back (2016).
Thomas Gumede Has Built a Robust Profile in the Entertainment Industry
Gumede, who won the Golden Horn Award for Best Actor in a TV Drama at the South African Film and Television Awards in 2009 and the Golden Horn Award for Best Actor in a TV Comedy at the South African Film and Television Awards in 2015, acted in the South African box office feature film, Tell Me Sweet Something.
As a director, he has a couple of high-profile works under his best. The Mzanzi Magic drama, Abomama, is one project he worked on as a director and executive producer. The KwaZulu-Natal native is also the director and co-director of Parental Advisory Production company, which he launched in the year 2011 alongside three other directors known as Lungile Radu, Siyabonga Ngwekazi, and Simphiwe Mhlongo. The company is the creator of the hit reality shows Forever Young and MoLove.
Some of the celebrities he has worked with over the years include Nokuthula Ledwaba, Joyce Skefu, Unati Guma, Khanyi Mbau, among others.