The Capitec banking app is one of the easiest apps to use. The Capitec bank's brainchild was designed to make banking simpler, less cumbersome, convenient, and more friendly. Since its establishment in 2001, the bank has risen to become the second-largest financial institution in South Africa. The Capitec banking app is just one out of numerous digital features they have come up with.
The Capitec Bank app serves both individuals and businesses. It contains a whole of user-friendly features that banking an amazing experience. To enjoy their banking app services, you need to some less-cumbersome steps to make that happen.
Do I Go To The Bank To Activate My Capitec App?
Yes, you need to. According to Capitec, you need to visit their bank nearest to you with your phone to activate their app successfully. At this point, it is imperative to distinguish between a registered user and an activated user.
A registered client is someone who has registered for Remote Banking in the branch (signed an agreement and chosen a temporary PIN) but has not yet activated the app (Opened the app, entered their details), while an activated user is someone who has registered for Remote Banking, has successfully gone through the activation steps and is making use of the app.
Step-by-Step Procedures To Activate Your Capitec App
Activating your banking app with Capitec takes little or no effort. It can be done on your phone with ease and quickly too. Here are the processes you would follow to get your app and activate it as well.
1. You need to get Global One
Global One is simply a centralized transactional account that gives customers access to banking, insurance, saving, and credit. In essence, it offers you the convenience of having insurance, a transaction account, personalized credit, and 4 savings plans that are absolutely free. All these are merged into one account.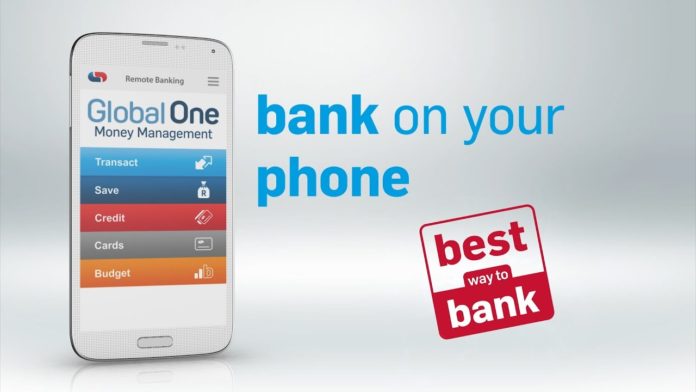 To open a Global One, you need the following Identification documents:
Original proof of residential address
three-month bank statement
latest salary slip
With Global One, you can pay your abilities using your Debit or Credit Card. You are offered easy cellphone, internet, and app banking; charged zero purchase fees internationally when you pay for products and services using your card, and low ATM withdrawal fees.
Step 2: Verify your phone and email
These particular procedures must be done at any Capitec bank nearest to you. Your phone and email must be verified for authentication. Ensure that you have a valid email address and a cellphone that works perfectly fine.
Step 3: You will receive an SMS
Once your phone has been verified, they will send you an SMS containing a link to download their banking app.
Step 4: Installation and activation
Once you successfully download the Capitec banking app from the google play store (if you are an Android user), the next thing you would do will be to install it on the same phone that they verified.
Once the installation is successful, all you need to do is to activate the app. A message will be displayed at the end of the activation process, confirming that the app has been activated. You can then start using the app.
Note the following:
If you do not see the app available for download, it could mean that your phone does not support the bank's new app. In this case, you would need to continue using their old app, so long as it is already installed and activated on your phone.
You need data or access to WiFi to download the app.
You need, at least, a valid email and an internet-friendly phone that supports the app to activate the app successfully.
There's Also A Case Where You Don't Need To Go To The Bank
Capitec Bank says you don't have to visit a branch to re-install their banking app on your existing phone or activate it on a new phone if your email address is verified on your Capitec banking profile.
As you already know, your verified email address is needed for authentication purposes. So, if it has already been verified, all you need to do is download the app from the app store and follow the prompts that will enable you to activate their banking app.
Here's what to do if you have not updated or verified your email address
Tap the menu in the right top corner on my home screen.
Select my profile.
Update your email address.
Follow the prompts to complete the activation.
Everything You Need To Know About The Old And New Capitec App
Capitec recently launched a new app that makes banking easier and more convenient to use. With it, you can pay people and accounts, make immediate payments, get account balances and email-stamped statements, and many other things. There's no difference between the two except that the new one is a better version due to upgrades.
Some of the new functionality on the new app include:
Change and arrange your Favorites.
Track your spend
Biometric login
Tap to pay
Here are some facts you need to know:
You can go ahead to delete the old app after activating the new one.
You don't need to choose a new Remote Banking Pin when activating the new app.
If you are an existing user of their app, you can download and activate the new app once you meet the requirements.
Your old app will stop working once you activate the new one.
If you don't have the old app and your phone doesn't support the new app, you can register for Mobile Banking (USSD) or Internet banking by visiting your nearest branch.
You are at liberty to choose either the new or old Capitec banking app. However, to utilize their services and maximize digital banking to its fullest, you need to get their new app.
Can I Activate The Capitec App on Any Phone?
You need to visit any Capitec bank nearest to you to find out if you can move the app from your phone to a different one after activating it. For the records, you can't use the app on more than one phone simultaneously. Only you can access your accounts on the cellphone on which you activated the app. This helps keep your money safe and for security reasons.
Here Are Phones That Can Use The App
The following phones are compatible with the app.
1. Any Android phone running version 5.0 and higher.
2. Any Apple phone running version iOS 9.0 and higher
3. Huawei phones running Huawei Mobile Services and EMUI 10
Note the following:
Cell C, Vodacom, and MTN subscribers with Android, Blackberry 10, and iOS devices pay zero data fees when using the Capitec banking app.
You can find out your phone's operating system version in your phone's Settings.
Tablet devices are not supported at this stage.
You Can Do The Following With The Capitec App
You can conveniently carry out the following tasks if you have the Capitec banking app on your phone.
Personalize your home screen: With this option, you can see all your accounts and balances at a glance.
Use biometrics: You can use this to sign in and authenticate with fingerprint or facial recognition (i.e., if your phone supports this).
Activate your virtual card: It's free, safe, and easy to load for all your app, online, and scan to pay transactions.
Manage contactless card transactions: You can turn your card's tap to pay function on and off with this service.
Customize your favorites: This option allows you to set up shortcuts on your home and sign-in screens for one-tap access to the features you use the most.
You'll save: Beneficiary payments can be made at a fraction of the branch cost.
Track your spending: This one allows you to get a quick overview of how you're spending your money with categories such as communication, transport, food.
Plan and manage your budget: With this, you can control your money and track your spending.
Added security: This allows you to guard each of your transactions with your Remote PIN. Do not never share your pin with anyone.
Note the following:
The Capitec banking app is free to download as there's no monthly subscription.
If you are an MTN, Vodacom, Telkom Mobile, and Cell C user, you don't pay any data charges when you use their app.
Some Frequently Asked Questions
1. Why do I not see the new app in my app store?
Answer: If you are an existing app user and you do not see the new app available for download on your phone, it could mean that your cell phone does not support the new app.
2. Will I lose any functionality in moving from the old to the new app?
Answer: No, all the functionality that you could do on the old app is very much available in the new app.
3. Will I lose beneficiaries when switching over to the new Capitec banking app?
Answer: Not at all. You will see all of the beneficiaries you created on the old app and Internet banking.
4. Can I use the app offline for banking?
Answer: No, but you can use it to access your accounts on the Internet.