The University of Johannesburg, popularly known as UJ, which was established on the 1st of January 2005, is no doubt one of the largest residential universities in South Africa. The institution came into existence due to the successful merger of the Soweto and East Rand campuses of Vista University, the Rand Afrikaans University (RAU) and the Technikon Witwatersrand (TWR). It currently has over 50,000 students, with eight faculties and over ninety departments. It also has four campuses spread across Johannesburg.
Since its inception, the University of Johannesburg has transformed into a very large institution. With over 50,000 students, the school boasts of more than 3000 international students, coming from over 80 countries around the world. Hence, UJ has become one of the largest contact universities in South Africa, out of the 26 pubic universities that make up the country's higher education system. For anyone seeking to join this prestigious university, check out the UJ application guidelines, faculties, and courses, as well as their contact details below.
The University of Johannesburg Application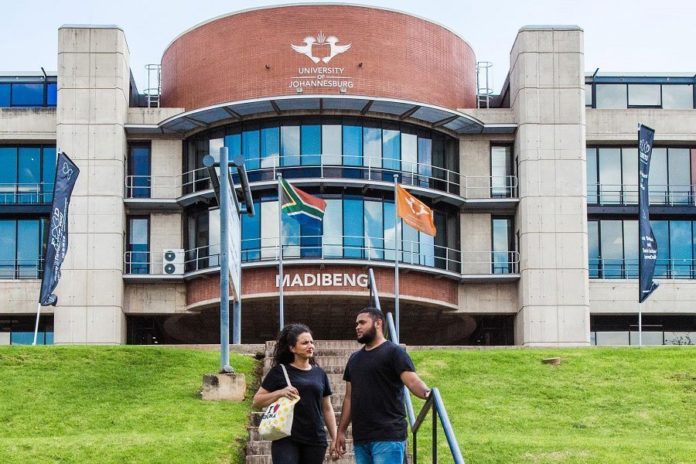 The University of Johannesburg has two different methods of application. There is an online application service; some courses such as the Short Learning Programmes can only be applied via its online portal. There is also the offline application method, where you'll need to fill a hard copy form.
 Online Application
If you have previously applied and have a UJ student number, please call the UJ Call Centre (011 559 4555) to ensure that your cell number and email address are captured in the student database. This will ensure you receive a PIN number to complete the online application process.
First-Time applicants must follow the steps below to apply online:
Step 1: Go to www.uj.ac.za/Apply and click on 'Apply'.
Step 2: From the drop-down menu click on 'Academic Application' and select the program of your choice.
Step 3: Select First-Time Applicant. Then, read the instructions and scroll down and click 'I Accept'. Click next to proceed to the online application.
Step 4: Complete your biographical information, which will lead you to receive a student number.
NB: No application fee will be charged for online applications.
Please keep an eye on the UJ webpage to see if there are any changes to the instructions for applying online. The University will inform you, in writing, should your application be successful
Offline Application
For the offline application, the individual will need to download a hard copy of the UJ application form online. The form should be filled carefully to avoid errors.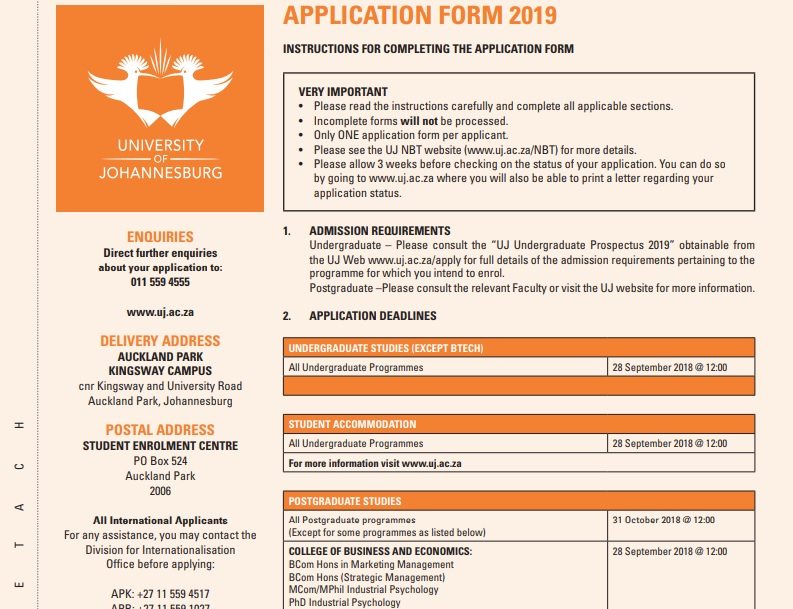 After filling the form, the next step is to make payment of R200 to the University of Johannesburg either as a bank deposit or by electronic payment. After this, you can then proceed with the teller to the Student Enrollment Center, to submit the form. You will now wait for an email or SMS from the institution regarding your application.
University Of Johannesburg Faculties and Courses
UJ offers various courses, from short courses to undergraduate and postgraduate options. The university makes sure that there is always a place for professionals to add to their knowledge and skills; hence, giving them an upper hand in their place of work and career.
For an applicant to be considered for selection for a programme, he/she is required to comply with the programme's minimum admission criteria. These criteria are based on either the National Senior Certificate or the National Certificate (Vocational (NCV). That being said, it is noteworthy that the university has a total of 8 faculties. and they are listed with their departments below.
1. Art, Design, and Architecture
Here are the departments found in this faculty
Department of Industrial Design
Department of Architecture
Department of Fashion Design
Department of Graphic Design
Department of Interior Design
Department of Jewellery Design and Manufacture
Department of Multimedia
Department of Visual Arts
2. Education
​Department of

Childhood Education

Department of Education and Curriculum Studies
Department of Education Leadership and Management
Department of Educational Psychology
Department of Science and Technology Education
3. Humanities
4. Law
5. Engineering and the Built Environment
Department of Aircraft Maintenance and Engineering
Department of Chemical Engineering
Department of Civil Engineering Science
Department of Civil Engineering Technology
Department of Construction Management and Quantity Surveying
Department of Electrical and Electronic Engineering Science
Department of Electrical and Electronic Engineering Technology
Department of Metallurgy
Department of Mechanical & Industrial Engineering Technology
Department of Mechanical Engineering Science
Department of Mine Surveying
Department of Mining Engineering
Department of Quality and Operations Management
Department of Town and Regional Planning
6. Health Sciences
Department of Biomedical Technology
Department of Chiropractic
Department of Emergency Medical Care
Department of Environmental Health
Department of Homeopathy
Department of Human Anatomy and Physiology
Department of Medical Imaging and Radiation (Radiography)
Department of Nursing
Department of Optometry
Department of Podiatry
Department of Somatology
Department of Sport and Movement Studies
7. Science
The Departments include;
Academy of Computer Science and Software Engineering
Applied Chemistry
Applied Physics and Engineering Mathematics
Biochemistry
Biotechnology and Food Technology
Botany and Plant Biotechnology
Chemistry
Geography, Environmental Management & Energy Studies
Geology
Physics
Pure and Applied Mathematics
Statistics
Zoology
8. College of Business and Economics
The college placed at the heart of the commercial haven of Johannesburg was derived from the former Faculty of Economic and Financial Sciences. It was formed for the purpose of expanding management education in the country. Found in this college are a number of business-related schools with departments under them.
Johannesburg Business School
Department of Business Management
Department of Finance and Investment Management
Department of Industrial Psychology and People Management
Department of Transport and Supply Chain Management
School of Accounting
Department of Accountancy
Department of Commercial Accounting
School of Consumer Intelligence and Information Systems
Department of Applied Information Systems
Department of Information and Knowledge Management
Department of Marketing Management
School of Economics
Here, you find Economics And Econometrics which contains the following centers:
Centre for Competition, Regulation and Economic Development (CCRED)
Centre for Local Economic Development (CENLED)
DST-NRF South African Research Chair in Industrial Development
Research Centre for Public and Environmental Economics (PEERC)
School of Public Management, Governance, and Public Policy
Department of Public Management and Governance
School of Leadership
School of Tourism and Hospitality
Programmes in Tourism Management and Hospitality Management
Programme in Food and Beverage Operations
Hospitality Operations
University Of Johannesburg Campuses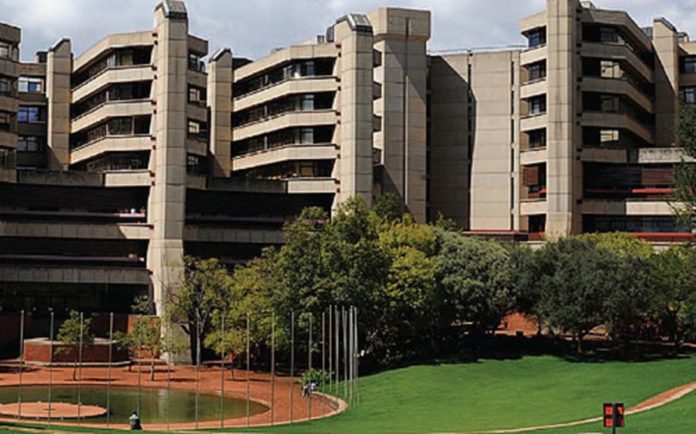 The Auckland Park Bunting Road Campus
The Auckland Park Kingsway Campus
The Doornfontein Campus, and
The Soweto Campus
See Also: 11 Most Expensive Schools In South Africa
UJ Contact Details
Tel: +27 11 559 4555
Email: mylife@uj.ac.za
Auckland Park Bunting Road Campus
Address: CRN Bunting Road $ Annet Road, Auckland Park.
Auckland Park Kingsway Campus
Address: Corner Kingsway and University Road, Auckland Park.
Address: CRN Siemert & Beit Streets Doornfontein
Address: 326 Chris Hani Road (Old Potch Road), PIMVILLE