Bontle Modiselle and her sweetheart, Priddy Ugly, are proof that age is just a number when it comes to celebrity relationships. Over the years, they have proved that it is more than normal and acceptable for the man to be the junior in a relationship and love will still lead the way. Though the pair's difference in age has been a subject of interest among their fans, the fact that they have been going strong together for over a decade makes people believe they were actually meant for each other.
Bontle Modiselle apparently found her match in Priddy Ugly, and the two are excited they found each other. The love that exists between them is stronger than their age difference, and they are willing to do much more to keep it going. The lovebirds share an amazing love story, one that has conquered age gap relationship trolls and the world's perception of women dating older men.
Bontle Modiselle And Priddy Ugly's Age Difference Is Of Minor Importance
Bontle and her sweetheart are just two years apart, unlike some prominent people who are over ten years older than their companions, talking about the likes of Emmanuel Macron & Brigitte Trogneux (21 years age gap), Catherine Zeta-Jones & Michael Douglas (25 years age gap), and even Donald Trump & Melania Trump (24 years age gap).
While Bontle is 32 years, her longtime sweetheart is 31 years, making the former two years younger than the latter. As mentioned earlier, the couple has no problem with their age differences; it is not an issue for them and has never been. The two have bonded so well over the years that it's too late to question the strength of their love.
Regardless of how critics see these lovebirds, some people still believe that they are still of the same age range. Love is blind for Bontle and Priddy, and age is nothing but a state of mind. The lovebirds have stayed by each other's side for more than a decade and counting. If nothing changes in the nearest future, it's going to be an exciting and happy ending for them.
The daughter of Grace and Percy Modiselle, Bontle was born in the city of Soweto, Johannesburg on October 7, 1990. She studies Corporate Communications at the University of Johannesburg and has since carved a niche for herself as a TV presenter, actress, model, dancer, singer, radio personality, and choreographer.
Priddy's Life Began In Angola 31 Years Ago 
Priddy, originally born Ricardo Moloi, is an Angolan citizen by birth. He was born there on April 2, 1992, by an Angolan mother (Santa Maria Dumingez) and a South African father (Lebone Moloi). He left Angola shortly after his birth to a city in Gauteng called Meadowlands, where his parents raised him in and later at Kempton Park. Ricardo began doing exploits at his young age, and today, he is a successful rapper with numerous songs under his belt.
Their Love Story Began Many Years Ago, Long Before They Rose To Stardom
2009 was the year Bontle Modiselle and Priddy Ugly met in South Africa. Ricardo was in his mid-teens at that time and had lost his girlfriend, Lerato, to the cold hands of death when fate brought the actress his way. In a YouTube video shared on their joint channel, the rapper recounted that he heard about Bontle as a high school student and eventually got to see her for the first time while watching an episode of Jika Majika with his younger sister at their grandmother's house in Soweto.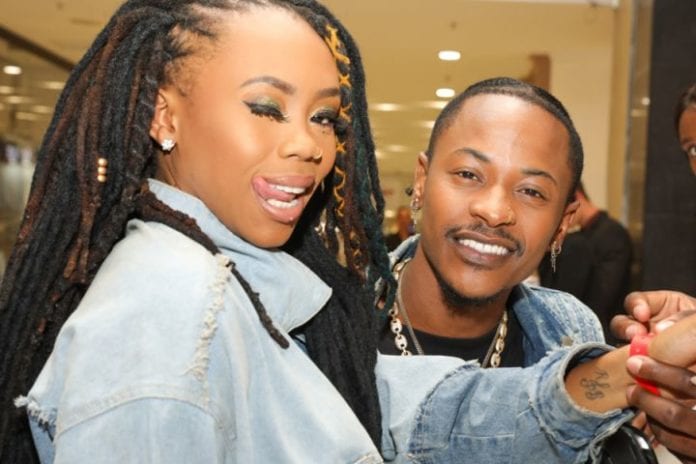 Moloi added that he met her at an event called Masters of Rhythm but didn't approach or ask for her number. Of course, he knew Bontle would be attending the same event. After attending numerous hip-hop events with the hope of meeting Modiselle again, it happened that she didn't show up so Priddy Ugly met one of her friends who agreed to give him her Mxit number.
The two later connected and became good friends. According to Bontle, she and her dance teammates used to admire Ricardo from a distance but lacked the courage to approach him. She admitted that she knew about the rapper in her dancing days, even though he first saw her. The actress said she was scared of going closer to him because she thought they were not of the same class.
Bontle, however, took the bull by the horn by asking Priddy Ugly out after her boyfriend dumped her on her birthday. It's been over 10 years that the two found love in each other's arms, and they are still going strong. Their love has continued to grow strong, and it's so amazing.
Bontle Modiselle and Priddy Ugly Got Married in 2019
Bontle Modiselle and Priddy Ugly sealed their love for each other by getting married traditionally in the presence of their families and loved ones on September 28, 2019. Their beautiful African-inspired wedding took place just three days after they shared their plans to settle down as husband and wife.
According to DRUM Magazine, the rapper paid for his wife's lobola in February 2018, after proposing to Bontle in 2015. The couple has never been in the news for having issues with each other or with other people, including the media.
https://www.instagram.com/p/B3RedQqHhaE/?utm_source=ig_embed
It is not known if the couple has plans of having a church wedding or not.
The Couple Has A Daughter
Bontle Modiselle and Priddy share a lovely daughter named Afrika Bonita Lerato Moloi. She was born on November 29, 2019, as revealed by the actress. Afrika's face was unveiled to the world for the first in August 2020, eight months after she was born.
In the post, her parents shared no reason why they blurred her face and left her out of pictures for many months, but we understand it has something to do with the way celebrities face public scrutiny over their personal life and everything they do.
Afrika's picture was greeted with positive and lovely responses, with many people confessing that she is indeed beautiful like her mother.
Does Bontle Modiselle Live with Priddy Ugly?
Yes. Bontle Modiselle and her beau are sheltering in the same apartment. However, the exact city they reside in the country is yet to be revealed by the celebrity couple.
The pair is also raising their daughter in the same apartment. Besides that, they share a lot of things on their joint YouTube channel from their home.