Anele Zondo (born 24th September 1994) is a 29 year-old South African actress, media personality, and model best known for her role as Faith in the 1Magic soapie, The River.
Anele Ney-de-bae, as she is fondly called, began her career journey at a very young age. Most, if not all, of her dreams, have come to fruition and her journey to prominence has served as an inspiration to a lot of people, especially those aspiring for a career in the entertainment business.
Summary of Anele Zondo's Biography
Full Name: Anele Zondo
Nickname: Ney The Bae
Gender: Female
Date of Birth: 24th September 1994
Anele Zondo's Age: 29 years old
Ethnicity: Black
Nationality: South African
Zodiac Sign: Scorpio
Sexual Orientation: Straight
Religion: Christian
Education: Boston Media House, Johannesburg
Marital Status: Dating
Anele Zondo's Boyfriend: Lebo Gunguluza
Anele Zondo's Height in Inches: 4 Feet 9 Inches
Anele Zondo's Height in Centimetres: 152 cm
Anele Zondo's Net worth: $250,000
Famous for: Her role as Faith in The River
Anele Zondo's Instagram: anele_zondo
Anele Zondo is a Fast-rising South African Entertainer
Anele Zondo is an actress, model, and presenter with a fast-growing career. She won viewers' hearts following scene-stealing performances on the South African soap opera The River, for which she became a favorite.
Whether Zondo is modeling, acting, or presenting a program, she usually leaves her audience craving for more. She may not be the most famous face in the entertainment industry but you would be seeing her now more often than before – thanks to the big shows she is presently anchoring.
Not much is known about her modeling career as she is yet to publicly share how and when her journey as a model began. Zondo reportedly works with the modeling agency Legends.
Anele has starred in a couple of South African productions, wherein she flawlessly delivered her roles and made us fall in love with her acting talent. She is also making waves as a presenter and it feels good to know that she was actually born for it.
She Was Born In The Early 1990s
Anele Zondo was born on the 24th of September 1994 in Newcastle, KwaZulu-Natal province. She grew up in Newcastle, where she was raised alongside her three older sisters.
Anele's parents are both scholars – her father is a respected principal while her mother is a school teacher. Both of them have excelled in their endeavors over the years and are also proud of their kids.
Information on biographies and whereabouts of the presenter's sisters is difficult to come by. However, we believe they are doing great just like their sister. One of them has a catering company called MaZondo Food And Beverage Solutions where the actress worked before fame. Her name is Nonkululeko Zondo Masinga.
Anele received her elementary and secondary school education in the country. Sadly, the names of the schools she graduated from are yet to be publicly named.
Zondo was admitted into Boston Media House after her matriculation to study Media Studies. She obtained a Media Studies diploma from the Sandton-based institution after her studies. It is believed that her course of study influenced her decision to fully start up a career in the media sector and that it really helped her rise to stardom.
Anele Zondo Did Various Jobs Before Fame
Anele tried her hands on a couple of jobs before fame. She, whoever, confessed that she didn't feel satisfied with these jobs because she knew from a young age that she was born for the camera and walking the red carpet.
As mentioned earlier, the actress worked at her older sister's catering company for some time before she left the company for the entertainment industry. According to her, she was MaZondo Food and Beverage Solutions' delivery girl, driver, receptionist, and PA.
She, however, left the company to fulfill her childhood dream of becoming an entertainment star. MaZondo company offers private catering, corporate catering, canteen services, events catering, mobile kitchen services, mobile services, menu planning, and design to its clients.
Today, she is happy and grateful for the decisive step she took back then. Through her numerous roles, she has met and worked with notable names in the entertainment industry and has been to places.
The KwaZulu-Natal Native Debuted As An Actress In 2016
Anele Zondo launched her acting career in 2016. Her first acting job was a recurring role of a receptionist in the Mzansi Magic drama series, It's Complicated. Precisely, she was featured in episode 5 of the second season of the series, which aired on 6th November 2016.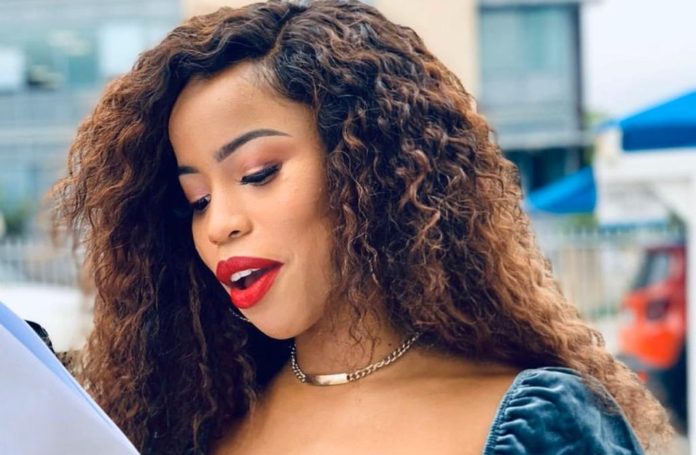 Saints and Sinners was the next project she participated in as an actress. Though a cameo role, Zondo literally did an amazing job in the Mzansi Magic drama. She appeared in Season 3, Episode 11, which aired on 19 March 2017.
SA has some real Gems 💎 pic.twitter.com/Ol7XPq59KI

— YTYKM (@neythebae_sa) September 5, 2020
Besides the foregoing, she has also appeared on the 1Magic soapie, The River, wherein she portrayed the fictional character Faith. She joined other actors right from the first episode of the project which aired on 29 January 2018. Anele Zondo later returned to the soapie to continue her role in season 2 the following year.
She shared the filming set with fast-rising hunky actor Lunga Mofokeng (Andile) as his girlfriend before he discovered his sexuality. Zondo is hopeful that she would grow her acting career to an enviable height in no distant time. She looks forward to scoring more juicy gigs and working with veteran actors in the industry to become a better version of herself as an actress.
The Fast-rising Entertainer Has Recorded Some Commendable Achievements Within A Short Period
Anele Zondo, in all fairness, has done well for herself ever since she broke into the mainstream. She has made some commendable achievements that her contemporaries can only dream of.
Though Zondo, at some point in her career, was scoring small roles. Things, however, began to fall in the right places for her after she won a spot as the co-host of the popular music program, Massive Music. She did the job for just two years but it was a lifetime experience for her as the job gave her career the needed boost and also connected her to prominent people in the industry.
Currently, Anele Zondo is the presenter of one of the most-watched shows in the country,  One Mic. The show airs on SABC and is considered as Africa's biggest rap battle with over three million viewers. She was 24 years when she bagged the juicy role.
The KwaZulu-born entertainer recently revealed that she has plans of diversifying her career so she could have more channels of income. She is looking at working both in front and behind the camera and investing her best to grow her brand.