Themba Ntuli is a Zimbabwean-born actor who rose to immense fame through his role in the South African television show, Rhythm City. The son of Kenneth and Nokuthula Ntuli, he is a household name in the entertainment industry primarily because of his distinctive style of acting and then due to his petite body, small voice, and height. Ntuli recently took the world by surprise when he announced his wedding to one of the curviest women in the country, Hope Masilo.
The duo's love story is quite interesting; one that has inspired a lot of people, especially those finding it difficult to hook up with people they feel they are 'better' than in one or many ways. Since the couple tied the knot, their marital relationship has continued to blossom in all ramifications.
Themba Ntuli And Hope Masilo's Love Journey Began In 2008
Themba Ntuli and Masilo have one thing in common – their love for God and church activities. It was their passion for their church program that brought them together. The actor and his wife had their first interaction on one of the social media platforms, Facebook to be precise. Masilo is said to have sent the actor a message asking him certain questions about a youth program he was part of in church.
The duo reconnected at an event three years later and became more serious with their friendship. The actor eventually decided to seek her marriage after he discovered that Hope was the right woman for him.
The two exchanged their marital vows after 11 years in the presence of their friends and families at EnGedi – The Oasis – a luxurious venue in Muldersdrift, west of Johannesburg, in March 2019.
Before their marriage, the actor had a difficult time finding true love. Most of the girls he approached for friendship turned him down because of his size. But Ntuli remained unfazed and even embraced himself the more. Today, he considers himself the luckiest man on earth, having won the heart of one of the most beautiful women in South Africa.
A Couple Of Incidents Convinced The Actor That Hope Was The Right Woman For Him
Finding true love is hard, and it's even harder when you are a full-grown man with the face of a 12-year-old. Themba's search for the right woman was not an easy one. At some point, he was uncertain about what the future holds for him as regards marriage. He had low confidence in his appearance and even concluded that no woman would agree to marry him.
When the actor asked Hope out, he was not sure if she would accept him into her life because of his size and height. But to his surprise, Masilo told him that she saw nothing wrong with him. Apparently, she knew what she wanted in a man and when the opportunity came, she didn't keep the actor waiting.
Also, during the period the two were dating, Themba was informed by his doctor that his facility has a solution to his growth hormone deficiency. The actor was so excited that he couldn't hide it from his then-girlfriend. To his surprise, Masilo discouraged him from undergoing any form of growth hormone augmentation because she loves him just the way he is.
It was at this point that the actor became convinced that he has met the woman he would spend the rest of his life with. The couple's marriage, ever since their journey as husband and wife began, hasn't been plagued by any form of scandal. There hasn't been any disturbing report about their union neither have they made headlines for wrong reasons.
Themba Ntuli and Hope Masilo's Wedding Was One Of South Africa's Favorite Nuptials In 2019
Themba's wedding became a subject of interest the moment the public became aware of the event. Not only that it trended on social media for days, but it also drew the attention of people outside the shores of the country.
The actor's big day was well celebrated, and he was shown great support from his colleagues in the entertainment industry. In addition to other prominent South Africans who were present on that day, some of the entertainment stars who graced the occasion include but are not limited to Ofentse Mwase, Lebo MphahleleZethu Dlomo, and Tinah Mnumzana.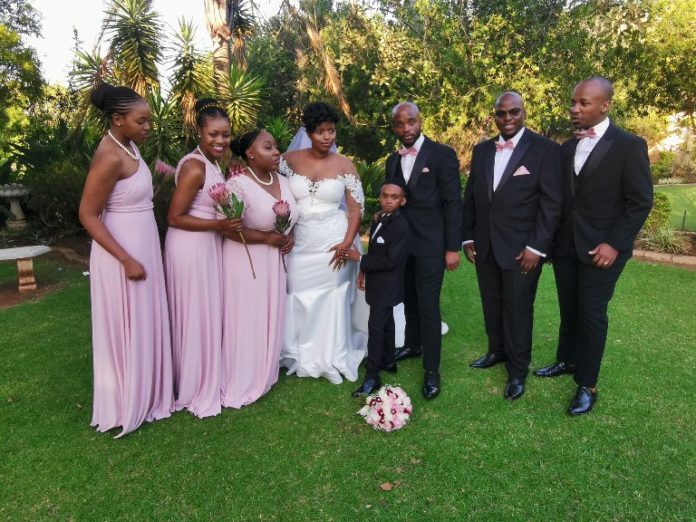 Some of his colleagues and fans also took social media platforms to share his wedding pictures after the occasion. They congratulated the comedian and his wife for the success of the wedding and proving to the world that love conquers all.
Themba Ntuli, a 27years old Zimbabwean marries the love of her life. #UpdatesWithRuki pic.twitter.com/jquXv5tgGe

— MintTV (@MintTVLive) March 15, 2019
Their Marriage Was Welcomed With Great Excitement 
As dazzling as Themba Ntuli and Hope Masilo has been all this while, it is their love story that has touched the hearts of millions of people, especially his fans. The pair's meeting, which eventually blossomed into a beautiful relationship, is a daily inspiration and proof that unconditional love truly exists.
When the news of their marriage broke, it was greeted with great excitement. The couple was not criticized in any way for finding each other suitable for marriage. In fact, many people praised Hope for loving the actor the way he is and making so many people believe in love again.
The 120 cm tall Rhythm City actor is living his best life with the wife of his youth. They've been spotted at some places in the country looking so excited and adorable together. The two have not given birth to their own children yet.
Themba Ntuli's Wife Is Much Younger Than Many Think
The age gap between Themba Ntuli and his beautiful wife is not as big as many people assume or speculate. Hope, no doubt, is taller and looks older than her husband, but she is just one year older than him. At the time of their wedding in March 2019, Ntuli was 27 years old while Masilo was 28 years old. The exact day and month they were born are not open to public scrutiny.
The couple's age difference has been a subject of debate ever since their wedding pictures went viral. While most people believe she is much older than the Zimbabwean-born entertainer, at least judging by her looks, others simply think otherwise. Neither the actor nor his wife has commented about their age. It appears it is the last thing they would want to talk about in their relationship.