George Lebese is a South African international footballer who has an estimated net worth of between $1 million – $5 million as of this writing. Although the exact amount he receives as salary is not known, there's no doubt that it's a lot. Meanwhile, Lebese is undeniably a lover of automobiles and with his income, he's able to afford the best of them. He is sometimes seen cruising around town in his Mercedes-Benz AMG C43 Coupe
Born on February 3, 1989, George Lebese grew up in the heartbeat of Mamelodi where he developed a great interest in football. The 1.73 meters tall footballer began his career quite early. He played for two clubs in his early career life before he eventually launched his professional career in the early 2000s.
Lebese stands out among his peers for several reasons. He is energetic, calculative, and has some special football skills that are quite unique. Outside of the football pitch, George has a lot of followers on social media and fans as well. He holds the record as one of the highest earners in the South African Football League.
George Lebese's Bio and Profile Summary
Date of birth: February 3, 1989
Birthplace: Mamelodi, South Africa
Occupation: Football player
Height: 1.73 meters
Foot: Left Position: Forward – Left winger
Other positions: Right winger and second striker
Net Worth: $1 million – $5 million
Clubs George Lebese Has Played For Since The Beginning Of His Career
He is widely known as one of the South African professional footballers who have played for topflight teams in the South African League. Before he became a professional footballer, he spent his youthful days in two clubs – Jusben and Khona Lapho.
Arcadia Shepherds
His senior career kicked off in the year 2007 when he joined Arcadia, Pretoria-based soccer club, Arcadia Shepherds. He left the club the following year.
Kaizer Chiefs, Mamelodi Sundowns, and Supersport United
In the same 2008, George Lebese successfully joined the South African professional football club Kaizer Chiefs. He made a total of 147 appearances and scored 22 goals for the side. Lebese made 10 appearances and scored two goals for Sundowns between 2017-2019 and later in 2019, he moved to Supersports on loan. He made just 10 appearances for the Atterridgeville, Pretoria-based club with no goal record. George was released by Supersports in 2019.
Colorado Springs Switchbacks
The South African footballer's next move was to the American football side, Colorado Springs Switchbacks. The 2020 season saw him net in 2 goals in 16 appearances for the club. George Lebese played as a Left Wing Forward (LWF), Central Forward (CF), and Right-Wing Forward (RWF) at all the clubs he has played for.
International Career
The Mamelodi native honorably got his first call-up to the South African national team Bafana Bafana in the month of November 2011. He subsequently made his international appearance for South Africa in a game against Ivory Coast on the 11th of November 2011.
How Much Did Lebese Receive As Salary At His Different Clubs?
George Lebese is a talented and respected player, as mentioned earlier. As a player with great value, it is natural for clubs to pay a huge sum of money just to keep him by their side. The exact amount Lebese was paid monthly as a footballer for Arcadia Shepherds, Sundowns, SuperSport United, Colorado Springs Switchbacks was quite huge and befitting.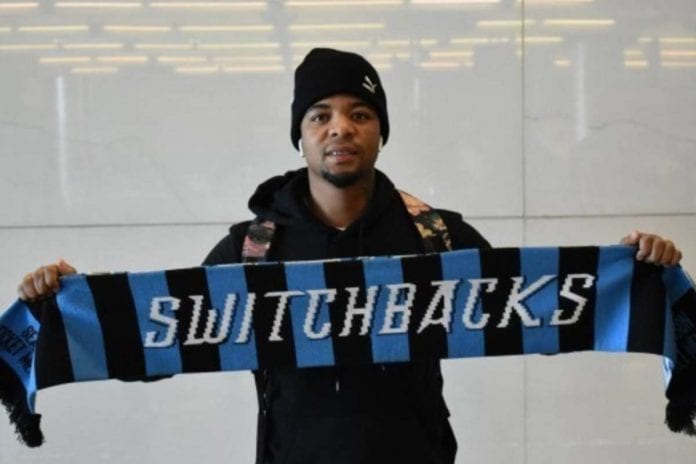 Records show that his transfer from Kaizer Chiefs to Sundowns was €240k while his market value then was €600k. The exact figure he was paid before he joined and subsequently left Kaizer Chiefs are yet to be publicized for public scrutiny.
George Lebese's Transfer History In Summary
Season
Date
Left
Joined
Market Value
Fee
 
20/21
Mar 20, 2021
Switchbacks FC
Without Club
€250Th.
–
19/20
Dec 19, 2019
Without Club
Switchbacks FC
€250Th.
–
19/20
Sep 2, 2019
Sundowns
Without Club
€250Th.
–
18/19
Jun 30, 2019
SuperSport Utd.
Sundowns
€250Th.
End of loan
18/19
Jan 31, 2019
Sundowns
SuperSport Utd.
€250Th.
loan transfer
17/18
Aug 10, 2017
Kaizer Chiefs
Sundowns
€600Th.
€240Th.
08/09
Jul 1, 2008
Arcadia
Kaizer Chiefs
–
?
07/08
Jul 1, 2007
Unknown
Arcadia
–
?
Total transfer fees :
€240Th.
The Real Reason George Lebese Left Colorado Spring Switchbacks
Leaving the American side was one of the toughest decisions George Lebese ever made in his career. It was never really planned as the South African footballer was forced to discontinue his services to Spring Switchback after months of waiting for something better.
⚽️💫❤️🌍 pic.twitter.com/oUurU2rYXF

— GL_17 (@GeorgeLebese) August 30, 2020
He announced that in March 2021, he had ended his ties with the club by mutual consent due to a ban imposed on travelers from South Africa by the American government following the discovery of a new coronavirus variant.
— GL_17 (@GeorgeLebese) March 20, 2021
The former Kaizer Chiefs and Mamelodi Sundowns midfielder decided to terminate his contract with the Switchbacks after he was stranded in Gauteng while the USL Championship side was already undergoing pre-season training for the upcoming season. Lebese ended his contract with the side just four months after he extended his deal with them by another year.
Which Club Is He Signed To Now?
For now, he is a free agent as hasn't been linked to any club. A return to the Premier Soccer League, however, might not be ruled out. Being a free agent, the left-winger is now free to join any team of his choice.
From what we garnered, most soccer lovers are already eager to see which PSL teams would first make the move for the Mamelodi-born football star.
George Lebese's Net Worth
Despite his unplanned and abrupt exit from the USL Championship side Spring Switchbacks, Lebese remains one of the finest footballers in South Africa. He has done so well for himself, especially during his days in Kaizer Chiefs, where he made the most impact and also established his name as one of the brilliant football stars.
In addition to this, he s believed to have built his net worth through salaries and other engagements. In 2023, his net worth is estimated to range between $1 million and $5 million.
George Lebese's Life Outside The Pitch Is Quite Befitting
Not much is known about Lebese's life off the pitch. However, it is a known fact that he lives a luxurious lifestyle, one that befits his status and also matches up to his position as one of the highest-paid players in the South African Football League.
As a result of their very busy schedules, not many footballers have time to savor the fun that comes with social media trends, partake in tasking challenges, join the debate about current societal issues, or even have fun with their loved ones but Lebese's case is different.
He is a very popular personality on social media and has over 200,000 followers on Instagram on his handle, gl___17. The South African soccer player is one of the few football celebrities in the league who is active and interactive with his fans. He is sometimes seen hanging out with his fellow teammates in some of his video clips.
Fancy Cars Occupy Lebese's Garage
Lebese is undeniably a lover of automobiles. He is sometimes seen cruising around town in his Mercedes-Benz AMG C43 Coupe, which is estimated to be around R700,000. He sometimes shares videos of himself chilling with friends and teammates on his Instagram page.
Lebese is not the type that shows off his cars like some of his peers. However, it is believed that the footballer has more than one car. We'll keep you posted once he unveils his other cars.
Features of His Benz Car
Name/Model: Mercedes-Benz AMG C43 Coupe
Price: Around R700,000
Dynamically distinctive in appearance
sophisticated cockpit
AMG 4.0-litre V8 bi-turbo engine
extremely sporty