One of the highlights of any traditional wedding in Africa is the wedding attire of the couples. And just like the celebrated white wedding gowns in Christain Church weddings, traditional wedding dresses require weeks, if not months of planning, after all, it is once in a lifetime occasion. Zulu traditional wedding dresses are known for their bright and vibrant colors. From the headpiece (the inkehli), to the isicwaya that covers the chest, down to the skirt (the isidwaba), a tale is woven of a happy bride venturing into the next phase of her life. The grooms aren't left out as well, as the unique beads and headpiece worn by the groom are a unique representation of their heritage.
Zulu traditional wedding dresses come with a lot of accessories; beaded necklaces and bracelets, earrings, fanciful patterned leg/arm beads, as well as the 'Assegai' which is a small knife that symbolizes the bride's virginity. Designers and brides are also incorporating different materials like classic African prints, textured nets, and laces in the dress designs to give them a modern touch, that not only accentuates their beauty but also embodies the spirit of the Zulu traditions.
Zulu Traditional Wedding Dresses For A Bride
Nowadays, Zulu traditional wedding dresses come in various styles and colors; from the traditional leather skirt (the isidwaba) and the isicwaya to the modern dresses of satin, African/leopard prints, floral skirts, etc. However, the distinct designs and motifs unique to Zulu dresses are ever-present. Here are some of these beautiful wedding dresses; for Umembeso.
1. Long and Fluffy Scarlet Red Zulu Traditional Wedding Dress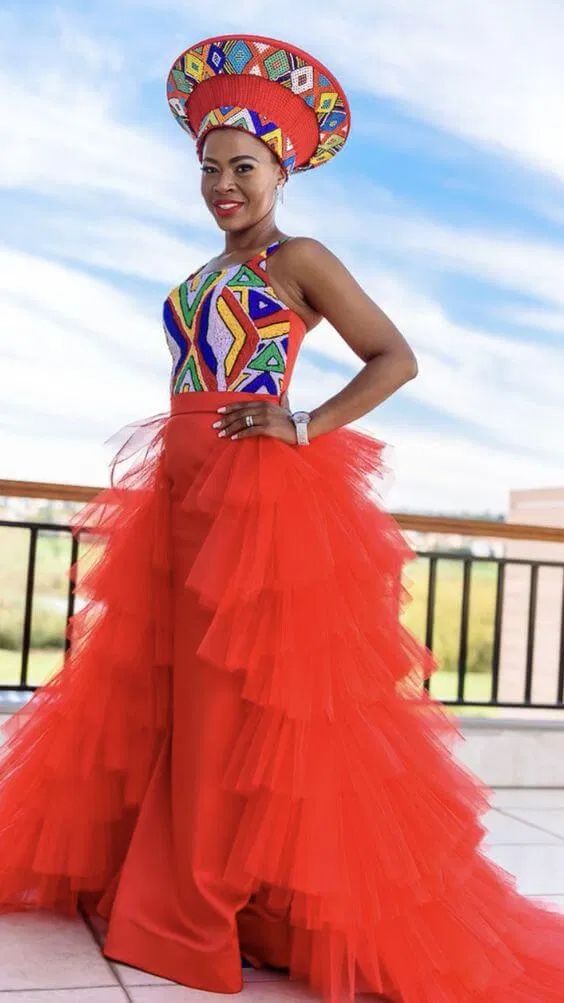 Red is truly a bold color and nothing emphasizes this more than this beautiful Zulu wedding gown in scarlet red. The long gown is complete with a set of textured fringed trains running down on both sides and at the back of the dress. The top and the inkehli have their distinct beautifully designed beadwork. This style is simply bold and classy. With its elaborate eye-catching design, it is worn with scanty accessories. The beautiful beadwork and the long train are enough to make this design memorable.
2. Leopard Skin Zulu Traditional Wedding Dress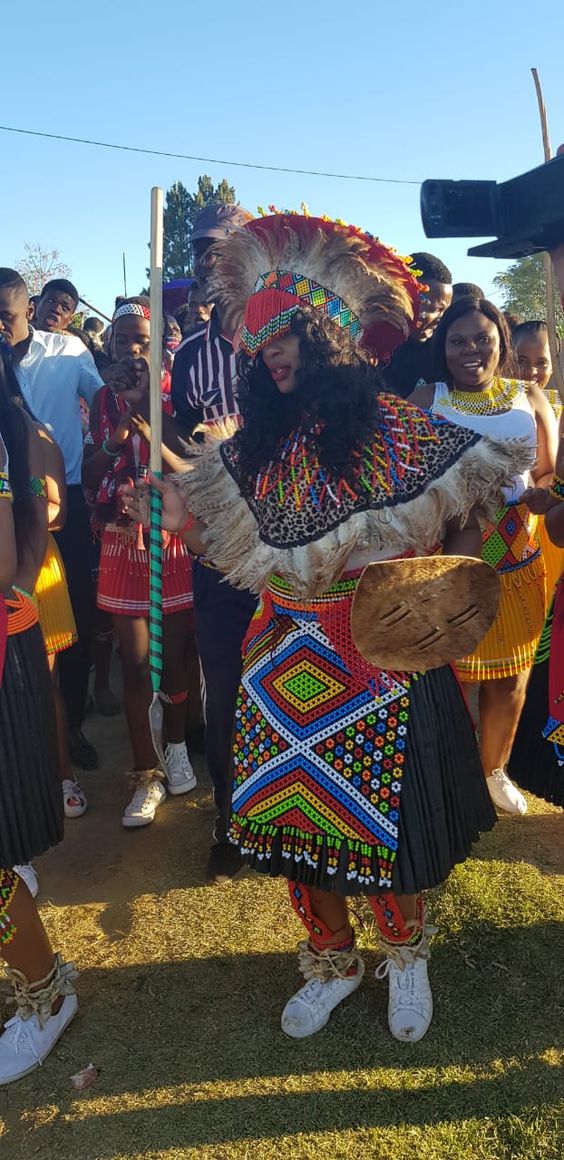 A switch from the modern designs is this fully traditional Zulu wedding dress, complete with leopard skin and an inkehli with feathers. The intricate red inkehli is surrounded with feathers, with a beaded band at the base and a beautiful red-themed veil that fans the bride's face. Her leopard-skin cape has a simple bead design on it. The bulk of the beadwork is in the apron, which is worn over a pleated skirt. This beadwork itself has a set pattern of different color combinations. Accessorized with a long Assegai, a shield, and leg beads, this look is complete in a wholesome way.
This style is for brides who want to go all the way out with a Zulu traditional wedding dress, and are comfortable with the fully covered style. There is no denying that this style is beautiful to look at; it encompasses the spirit of a Zulu bride.
3. Regal Green Zulu Wedding Dress
Here is another chic design for a Zulu bride. This close-fitting emerald green dress is truly regal and classy. The headpiece is uniquely different but modeled after the traditional inkehli. It consists of a headwrap, spiked crown, and some dangling pendants, with two long ones running down to the shoulders. The sleeves of the gown are tightly knitted in a design that imitates the 'cold shoulder' design. The dress itself, in emerald green, is silky, fitted, and finished off with a beaded waistband and a textured train. This style can also be accessorized with bangles and a decent necklace. It is truly a chic design for a chic bride.
4. Sky Blue Themed Zulu Traditional Wedding Dress
A sky blue inkehli with a beaded veil, a long-sleeved top, and a pleated blue skirt completes this light look. The color of the base material is quite light, but that is where the beauty of this look comes in, as the accompanying accessories shine forth in their bold colors. The plain inkehli is finished off at the base with light beadwork that ends in a veil that beautifully fans the bride's face.
Her beautiful earrings, in the same color as her headpiece, imitates the design of her neckpiece. The neckpiece against the white background of the bride's white top truly stands out. The red color of the necklace is vibrant and the design is bold; a perfect blend of red and sky blue. Finally, the waist bead, worn over the blue skirt follows the traditional blend of colors. A uniquely patterned handpiece is a finishing touch to this soft and enticing look.
5. Zulu Bride With Unique Headpiece/Patterned Inkehli
This bride's unique headpiece and intricate apron truly set her aside from the typical look. Her inkehli, with a patterned line, is crowned with a pale gold flowery design, with a beaded band and veil at the base. A white top and a net of beaded cape cover the upper body. Her black skirt is adorned by an intricate design of a beaded apron. The headpiece and apron are the centerpieces of this style as attention is naturally drawn to them. Here, simple black and white attire are made elegant by these two items. Furthermore, the bridesmaids' dresses complement the bride's attire with their green and white, less elaborate yet beautiful style.
6. Yellow and GreenTraditional Zulu Wedding Dress
This is a simple fitted green dress, with a yellow upper design and a simple but bold inkehli. The combination of the cold green gown and warm yellow finishing and accessories create a balanced blend of colors. The beaded detail on her veil is interesting as well. Some bangles are used as accessories. This look is preferable when toned down with little to no accessory. The look is very mature and trendy and it matches the groom's simple outfit too.
7. Red Satin Traditional Zulu Wedding Dress With Leopard Print Bib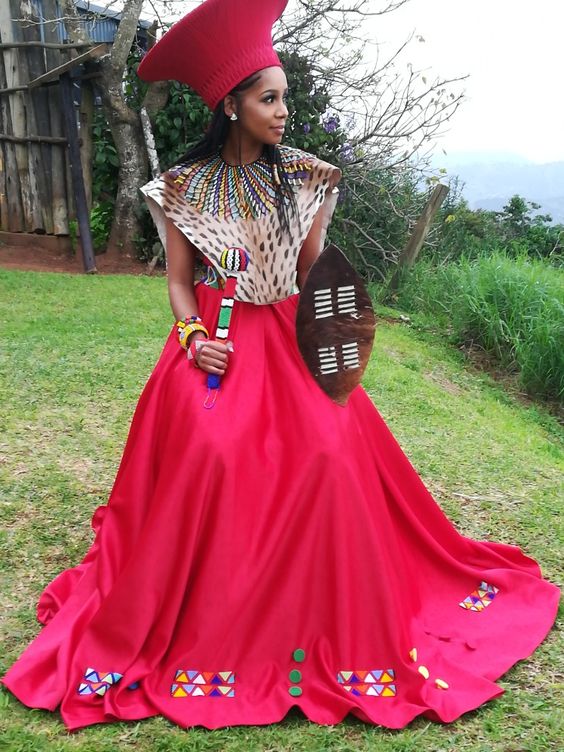 This design is quite simple, however, the bright red color really makes this Zulu wedding dress stand out. The full-length gown follows an A-line cut, with some patterns and buttons to decorate the hem. A beaded waistband snatches up the gown at the waist. Her inkehli is plain but bold and her leopard bid, which covers the whole chest, is decorated with some beads at the top. A simple silver earring, colorful bangles, leather shield, and her 'Assegai' complete this simple but bold look.
8. Pink inkehli Zulu Wedding Attire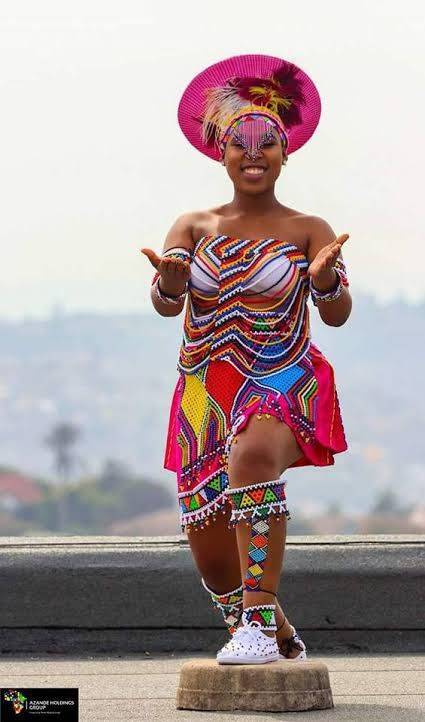 Here is one colorful Zulu Bride! A lot of beadwork can be seen here; the less intricate one being on her headpiece. The pink inkehli is adorned with feathers, a beaded base, and a beautiful pink veil. Apart from the white tube across the chest, her chest is covered in beadwork that straps across her chest and has a centerpiece that runs down the center. Single lines of colorfully stringed beads runoff from the center pattern to the chest band, covering her upper region. Her pink skirt is covered in front with a heavily beaded apron. Leg beads, arm beads, and bangles complete this cheerful look.
9. Red Traditional Zulu Wedding Dress with Beautiful Bodybead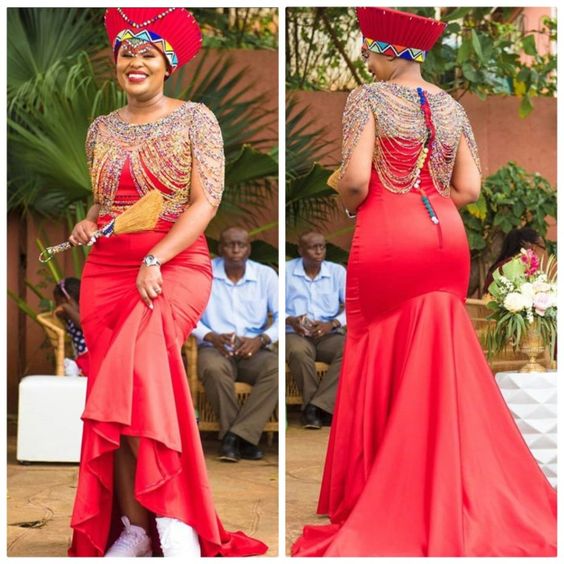 This red fishtail gown is really great for showing off the bride's curves. Although the gown is basically plain, the style of the dress is the beauty of this outfit. Not to be outdone, the bride complements this design with some beautiful body beads that flank the upper body. Her red inkehli is complete with a beaded base and a detailed veil.
10. Modern White Beaded Zulu Wedding Dress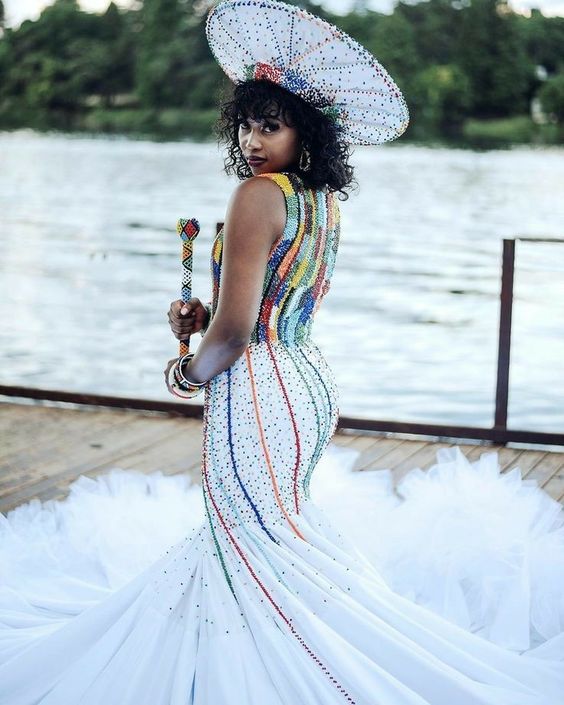 For a classy and vibrant look, this dress is the way to go. The details on this dress are on another level. First, the inkehli has a wider circumference and is dotted with different colors of tiny beads that gather fully at the base. The bride's top is covered completely in one armor of beads that fans all the way down her white gown. The gown extends down to form a gorgeous cloud of white fishtailed look. The look is completed with hoop beaded earrings and some bangles. This design perfectly blends the Zulu elements into a western-style wedding dress; a modern take on Zulu traditional wedding dresses.
11. Fully Fringed Zulu Wedding Dress
This beautiful pink Zulu wedding dress has a lot of fringes. It is sown as a half-cut gown with a beaded midsection. While the off-shoulder top is sown with colored bands, the lower part, and the sleeves are all fringes. The bride is accessorized with big bold golden earrings and a lot of bangles. Traditional wedding dresses rarely come with so many fringes designs but this bride does have her own personal style, which she managed to pull off successfully.
Zulu Umembeso Attire
The Zulu people who are known to be rich in cultural heritage, also have a ceremony called the Umembeso which is a ritual performed for girls of marriageable age. The Umembeso part of the ceremony comes after the lobola has been paid. This gift-giving ceremony takes place in the bride's home, where the groom presents gifts to the bride's parents and family. So how do brides kit up for this once-in-a-lifetime event? The typical Umembeso Zulu traditional attire is the eye-catching wear that comes in 4 different unique colors, while the bride's hair is left to hover around her chest. The bridesmaid also stands out wearing dresses with different touchy colors. 
12. White and Black Umembeso Traditional Attire
You might think that the simple colors of black and white would be uninteresting, after all, Zulu wedding attires are known for their bright colors. A look at this couple's attire will convince you otherwise. It is simple yet elegant; a perfect blend of traditional and modern concepts. The white beadwork stands out against the black background and since the gown is fitted, it accentuates the bride's curves. Her neckpiece is equally interesting, it sits comfortably around her neck. Her style matches effortlessly with that of the groom, who is wearing a traditional headpiece.
This attire is perfect for couples who want simple yet eye-catching attire. It is obviously less stressful to wear and accessorize. This is one attire the couple gets to keep with them after the ceremonies, unlike the elaborate ones that are mostly hired.
13. White and Gold Umembeso Attire
If you love the classical white gowns typical of western weddings, not to worry, this style got out covered. With a stepped long gown with colorful trims and a golden headpiece, as well as beautiful frontal beadwork, this attire for the bride is a joy to behold. The pairing of white and gold balances out, giving a flashy yet simple look. The bride isn't adorned with extra accessories as the look is already a complete design. The groom's attire is simple and matches the bride's look effortlessly. This look is mainly for couples who want something simple and a blend of modern and traditional elements.
14. All White Umembeso Attire with Simple Beadwork
This bride's dress is a simple off-shoulder white gown with some beadwork below the waist. The beadwork is very simple; a broad one down the middle and several strings hooping across the hips from the front to the back. The same colors are used for her headpiece and 'Assegai'. The groom matches this with his white top and the traditional headpiece. This look is quite simple, modern, and relaxing. There are still rooms for additional accessories if the bride so chooses; for example, a neckpiece or a bib, as well as arm beads. It all depends on the bride's taste.
15. Royal Blue Umembeso Wedding Attire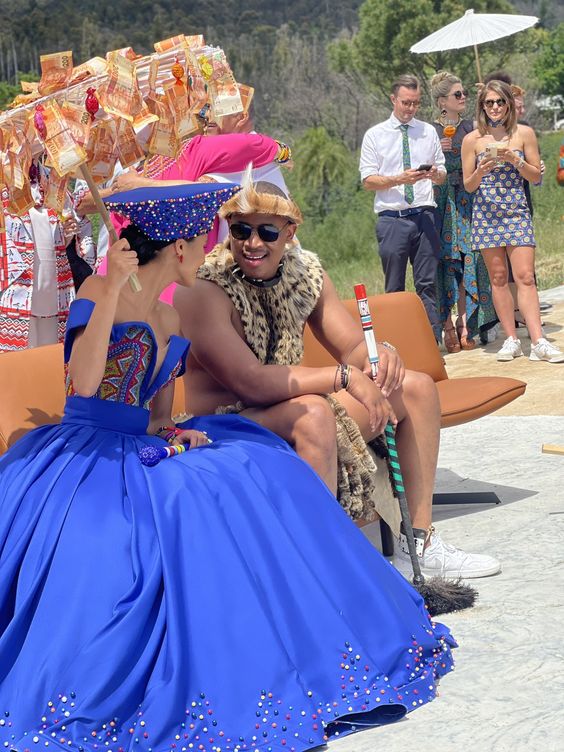 This lovely blue attire is just majestic, from the off-shoulder that flaunts the neckline to the beaded top and full flowy bottom. It is a blend of the traditional modern wedding dress and elements of the Zulu traditional attire. The headpiece, the 'Assegai', and the bangles complete the assemblage. The headpiece is particularly intriguing; the colorful beads crafted all around it blend well with its royal blue background. Since it is Umembeso, her umbrella for monetary gifts isn't to be forgotten.
Although the neck is bare here, a necklace or bib can also be used if the bride so chooses. It'll depend on the taste. Here, the bride went for a more simple and elegant look, if you notice, the bottom part of the gown is quite plain except for the beads adorning the fringes. The royal blue color however covers for this plainness, as the color itself is striking.
16. White Umembeso Traditional Attire
The bride is in a complete set of Umembeso traditional attire; her headpiece matches her beaded apron, while her leopard skin bib and 'bags of pebbles' tied to her ankles give off a more traditional vibe. On her arms and legs are beaded accessories. Her groom matches her outfit with simple white attire and beads. Although this design may seem elaborate, it isn't too fanciful to stand off from the groom's simple attire.
17. Blue Umembeso Traditional Dress
Although this dress still follows the typical route, it has a layered sense to the style. The blue is relaxing against the white backdrop and the motifs on the bedwork are beautifully patterned. The design of the cape draped over the white top is intricate and matches that of the headpiece and veil. The apron, which is draped over a patterned blue skirt, isn't fully beaded.
18. A Delicate Umembeso Attire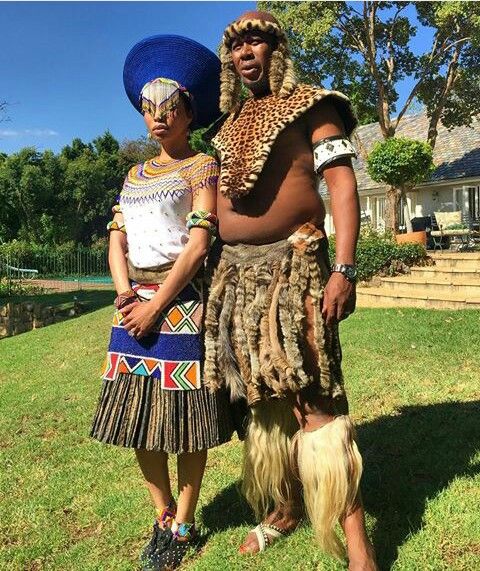 This wedding attire is subtle and eye-catching. The veil, in particular, sits beautifully on the bride's forehead, while she is adorned in other subtle colors, chiefly, blue and white. A simple colorful cape is dropped over a white top, while the off-black skirt has a beautiful apron of bold blue and other beaded motifs in front. Her lovely arm bangles complete this look. She also has a pair of dangling earrings and leg beads. Notice how the color of her skirt matches the groom's attire. The off-black color is quite rare among Zulu brides but can be blended well with the right design.
Bridesmaid Zulu Traditional Dresses
The Zulu bridesmaid traditional dresses also come in classy. Some are seen in tops like skin to hide the breast, with skirts made from leather, and capes with headbands to match the combination. The designs are not necessarily made of the same colors. Also included in the attire are beaded belts with white sneakers as footwear. For the bridesmaid, looking good is part of their many duties in a Zulu wedding. Their attire might be a simpler version of the bride's attire or it can be entirely different both in color and style. Either way, there is no denying that the boisterous bridesmaids add to the joyous atmosphere of Zulu weddings.
19. Matching Yellow Bridesmaids Zulu Traditional Dresses
The bridesmaids here match their attire with the vibrant yellow of the bride. With the absence of the headpiece (the inkehli) and yellow cape, they are just as eye-catching as they should be. A colorful headband adorns their head with a beaded veil. The cape is worn over a white top and a yellow patterned skirt is worn with a beaded belt. The assemblage is finished off with hand and leg beads.
20. All White Bridesmaid Zulu Traditional Attire
Even in all white, bridesmaid dresses can still be appealing. The bridesmaids' style here is clearly different from that of the bride. The touch of bold red is absent, however, their colorful headband, cape, beaded belt, and leg beads did justice to their attire. With just a white covering and a white patterned skirt with colorful hems, complete with white canvas, these bridesmaids are ready for the day. Simple yet not dull.
21. Patterned Zulu Bridesmaid Dress in Yellow
Here's a simple bridesmaid's dress in yellow. A beaded top and a simple full textured yellow skirt, accessories with beaded necklaces, bangles, and a beaded purse. This is as simple as it gets. Earrings, leg beads, a headband are all additional accessories that could be added to this look. This simple yellow bridesmaid dress is quite impressive without being too much.
22. Black And White Zulu Wedding Bridesmaids Attire
A combination of black and white for a bridesmaid's dress is totally a great idea, especially when going for a more mature look. Here the bridesmaids mirror off the bride's look, with black singlets and white patterned skirts. A black and white headband with a single beaded veil crowns the head. Followed by a simple black and white beaded cape. The apron worn over the skirt has a simple motif which is the centerpiece of the design. This look is completed off with bangles and arm beads, as well as earrings.
23. Green and White Zulu Bridesmaid Dresses
A green and white-themed style is endearing for a bridesmaids assemblage. This style starts off with a beaded headpiece, complete with a veil. A simple beaded bib worn over white tops and a patterned green skirt with yellow and red finishing at the base. A waistband with a mini apron beautifies the waist. Finally, bangles and leg beads are used to accessorize this look.
24. Red And White Zulu Bridesmaids Wedding Dress
Colors can all be switched up, as can be seen in this bridesmaid dress of red top and white skirts. The conventional white top is missing here, in its place red tops with some beads are paired up with white fluffy textured skirts. With colorful headbands, capes, and belts, these bridesmaids are all kitted up for the day. This switch up with the colors would definitely go with varying color combinations, as it tickles the designer's fancy.
25. Navy Blue Zulu Bridesmaids Attire
The attractive piece in this assemblage would be the fluffy skirts of the bridesmaids. The navy blue skirt evokes a deep and settled tone. Although this outfit is simple, with a white top and blue skirt, the waistband, neckpiece, and headbands with veil bring everything together. This design speaks of comfort and can be accessorized according to taste with matching earrings, bangles, and leg beads.
Going through these 25 Zulu Traditional wedding dresses, one thing that stands out is the variety of options available to brides, including the different designs, colors, beadwork, etc. We also notice how easy it is to combine traditional styles with modern designs. Zulu brides are definitely not short of options for their big day! These styles are just a glimpse of the rich and vibrant Zulu culture.
Conclusion
Zulu traditional wedding dresses are typically very colorful, with captivating attractions. They use a combination of stylishly designed headpieces and charming accessories to match. In addition, the garments are made of materials that are distinctively unique, with some fascinating traditional meanings.
Though it's very common to see a Zulu bride use animal skin to make her Isicwaya and Isidwaba, modern Zulu traditional brides prefer to use other materials to create theirs.