Pretoria is filled with a number of nice picnic spots for small gatherings, including natural reserves where you can find a variety of animal and plant species. The fact is, choosing a venue will not be easy because so many spots in Pretoria are organized to suit the preference of a wide range of visitors.
All of these spots may serve as places for small gatherings but they all have their uniqueness and these are things you should check out before choosing a venue as they are features that would make you prefer a venue to another. To help you choose a location that best suits your preference, we have carefully put together a detailed list of the 10 best picnic spots in Pretoria. In this post, you will get to know the location, features, and every other relevant detail of these venues for small gatherings.
What Makes A Perfect Picnic Spot?
We have already established the fact that Pretoria is home to a good number of nice picnic spots which could make it a bit difficult to choose a place seeing that most venues have great features and things to attract visitors. But beyond the good-looking environments, there are basic things to also look out for when choosing a picnic spot.
Firstly when choosing a picnic spot, it is advisable that you 'go green'. This means that you should always look out for a place surrounded by green plants and trees as you would be served well if you can have your picnic under a large tree that will serve as a shade for you and your companions. This way you all get to enjoy the natural breeze while you eat and chat.
Also, getting a venue where you can have a waterfall serving as a backdrop, makes the environment so calm and if it's a picnic for couples, it also makes the environment more romantic. Lastly, you should go for a picnic spot in an urban city that is vibrant, this way, you are sure to meet a lot of people and see a lot of side attractions. With these factors in mind, we have carefully selected 10 picnic spots in Pretoria that we think you should consider. These venues include:
1. Groenkloof Nature Reserve
Location: Christina De Wit Ave, Road, Pretoria, 0027, South Africa
Opening Hours: 5.30 am – 7 pm
Entrance Fee: Adults (18+); R38 | School children (7-17 years old); R22 | 0 – 6 years: R11
Discounts For: Pensioners and Disabled (60+); R22
Highlights: Variety of plant and animal species | Two picnic areas
Groenkloof Nature Reserve is not just one of the best picnic spots in South Africa, it is also recognized internationally as the oldest game sanctuary in Africa. It was announced as a game sanctuary on the 25th of February 1895. This nature reserve is a perfect place for a picnic, seeing that it is home to so many beautiful native trees like puzzle bush, velvet, wild pear, mountain karee, and a host of others. These trees can serve as a perfect shade from the sun while you and your loved ones have fun eating and chatting.
Groenkloof Nature Reserve which is located at the Southern entrance of Pretoria is also home to animal species like giraffes, blue wildebeest, hook-thorn, and ostrich. So, when you are not sitting down or eating, you can go around to feed your eyes with the activities of the animals, as well as the beauty of nature. This reserve has two different picnic areas called Mashupeng and Meriting. They also provide lapas for rent to visitors who plan to have an evening get-together.
2. Bronkhorstspruit Dam Nature Reserve
Location: Off the R42, Unnamed road, Bronkhorstspruit
Opening Hours: Summer: 7 am – 6 pm | Winter: 7 am – 5 pm
Entrance Fee: Adult: R22 | Children: R11
Discounts For: Pensioners: R11
Highlights: Dam, swimming pool, different animal species
Bronkhorstspruit Dam Nature Reserve is another beautiful nature reserve where you and your loved ones can have the best time. It shares a lot of similarities with Groenkloof Nature Reserve but is unique in the sense that it has a dam where boating, as well as fishing activities, can be carried out. The reserve is also home to about 200 different bird species, some of which include: Northern Black Korhaan, African Fish-Eagle, Blacksmith Lapwing, Yellow-billed Duck, Reed Warblers, and a lot more. So, while having a picnic, you can take a walk around to see the birds.
If you are also someone who enjoys fishing, keep in mind that fishing activities are also allowed at the dam, so you can plan to go along with your bait and hook. The reserve is also home to several restaurants, a swimming pool, and camping sites. So, even if you don't wish to take food or small chops with you, you can always buy some from the restaurant and when the day becomes too hot, swimming will be a great idea. For a more memorable experience, you and your friends can camp along the shores of the dam.
3. Rietvlei Nature Reserve
Location: 14 Game Reserve Ave, Rietvallei 377-Jr, Pretoria, 0181, South Africa
Opening Hours: Winter: 6 am – 6 pm | Summer. 6 am – 5 pm
Entrance Fee: Adults: R59 | 7-17 years old: R32 | 2-6 years: R1q
Discounts For: Pensioners (60+),  Disabled: R32
Highlights: Exotic trees that can serve as shade | Variety of bird and animal species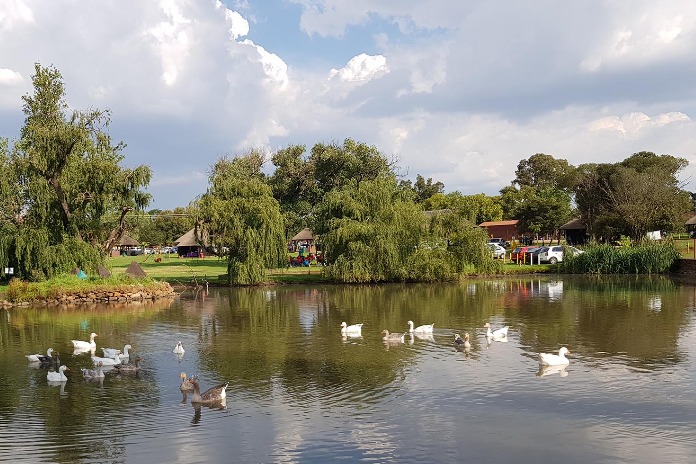 Rietvlei Nature Reserve is another great picnic spot located in Southern Pretoria. The nature reserve which was established as far back as 1929 occupies 4,000 hectares of land, and just like other nature reserves, it is also home to trees, birds, and mammals. It is also a perfect picnic spot because it has exotic trees like Edgewood, white stinkwood, blue guarri, honey-scented protea, and many others.
You can also find bird species like the African palm-swift, fork-tailed drongo, southern red bishop, and over 30 others. For mammals, you can find hippopotamus, red hartebeest, grey duiker, leopard, and of course so many others. What better picnic idea can it be than choosing a spot where aside from eating and chatting with friends, you can also enjoy the beauty of nature. Though this particular nature reserve is under threat as a result of its location due to human population expansion, it's nonetheless one of the best picnic spots in Pretoria.
4. Springbok Park
Location: Grosvenor St, Hatfield
Opening Hours: Always open
Entrance Fee: Free
Discounts For: Free for all
Highlights: Beautiful flowers and cycads
Springbok Park gets its name from the three Spingboks leaping over the entrance. Despite being an old and indigenous park that dates as far back as 1960, it has made it to our list of 10 picnic spots in Pretoria, due to the regular maintenance and renovations that are carried out in the facility. The walk paths in this park are beautified with colorful flowers and cycads. When you visit this picnic venue and take note of some outdoor wedding photos, you will observe that it is one of the popular locations in Pretoria for wedding pictures.
Close to the park, you can find Dros Restaurant where you can purchase delicious fast food. And if you are privileged to visit in the time of year when oranges blossom, then you may be opportune to see the sea orange as they blossom over the hill.
Of all the picnic spots on this list, Springbok Park is unique in the sense that the entrance is free and it is open all hours of the day. Albeit, it is advised that visitors vacate the premises before it becomes dark to avoid unforeseen danger.
5. Rooihuiskraal Historical Terrain
Location: Rooihuiskraal Road (nearest corner is Theuns van Niekerk Street), Rooihuiskraal North
Opening Hours: 8 am – 11 pm
Entrance Fee: Adults: R35 | 7-12 years old: R22 | 0-6 years old: R14
Discounts For: Pensioners (60+), Disabled: R22
Highlights: Picnic and Braais facilities
Rooihuiskraal Historical Terrain is a very significant place in history because of its use in the first Anglo-Boer war. Today, however, it is no longer known for its association with war, but it is now an amazing venue where families and their loved ones can hang out. Visitors can have a nice time feeding and play with the animals as long as they observe all relevant safety precautions.
Aside from the animals on show at the Rooihuiskraal Historical Terrain, it is also a great braai and picnic spot because of the top-notch facilities made available, such as the picnic lawn, picnic tables, and benches. Some trees serve as shades for those who are having picnic time. For the best experience, it is advised that you visit in the afternoon and also around the evening when the temperature is cooler.
If you intend to visit for a picnic on a busy day like Saturday, you should consider coming on time as it may be difficult to find shade when there are so many people. To save yourself the stress, you can also plan your picnic for a less busy day like Sunday.
6. Hennops Hiking Trail/Picnic Spot
Location: Hennops Hiking Trail & Picnic Spot, Hadeda Camp
Opening Hours: 8 am – 5 pm
Entrance Fee: Adults: R80
Discounts For: Schoolchildren: R40
Highlights: Famous suspension bridge | Hennops River | Swimming Pool | ablution facilities
If you are someone who watches a lot of South African movies you may have taken note of the famous suspension bridge that has become a regular feature of most movies. Did you know that this bridge is located at the Hennops Picnic Spot? Taking nice pictures around this famous bridge that you could display on social media is enough reason for choosing the Hennops as your preferred picnic spot.
If the famous bridge is not enough to convince you about choosing Hennops Picnic Spot, then the fact that it's located close to the Hennops River and is also home to two swimming pools, braais, and ablution facilities should convince you. You should keep in mind that shops and restaurants are not available at the facilities, so you may have to come with everything you will be needing as there will be no place to purchase anything. It is also noteworthy to add that music and pets are not allowed at Hennops Picnic Spot.
7. Nkwe Pleasure Resort
Location: Nkwe Road, Tierpoort
Opening Hours: 8 am – 6 pm
Entrance Fee: Adult: R60
Discounts For: Children (below 10): R20
Highlights: 5 shaded rondavels | waterfall | truck shop
The location of Nkwe Pleasure Resort makes it a great picnic spot not just for people in Pretoria but also for those in East Rand and Johannesburg. The fully equipped reserve is about an hour's drive from Johannesburg, 50km from East Rand, and a short distance from the city of Pretoria. The picnic spot is fully equipped with 5 shaded rondavels as well as convenient braais and ablution facilities that are well maintained to ensure that customers get the best experience.
While having a nice time around the picnic spot, if you do not feel like walking around, you can just sit and enjoy the beautiful view of the waterfall as it falls into the rock pool. Also, if coming along with snacks may be a bit of a stress for you, you can just schedule your visit on a weekend, seeing that the truck shop is usually loaded with cool drinks, snacks, and practically everything you need to have a nice time.
Though the venue is safe, parents who come along with their children are advised to ensure that they keep an eye on them to ensure that they are engaging in safe picnic practices, as well as safe from harm or danger that may come from a third party. Visitors are also expected to keep in mind that music and animals are not allowed here, so you may have to keep your pets and music box at home.
8. Magnolia Dell Park
Location: Queen Wilhelmina Drive and University Road, Bailey's Muckleneuk, Pretoria, 0002
Opening Hours: 24/7
Entrance Fee: Free
Discounts For: Free for all
Highlights: Magnolia flowers
Magnolia Dell Park is also one of those parks that has an affiliation with war, as it was a location where the apartheid-era chemical and biological warfare expert, Wouter Basson was arrested in 1997. But nature and the good management team of Magnolia Dell have changed the identity of this place.
Today, this park is now home to high trees,  beautiful and well-scented flowers called magnolia flowers. These flowers have a way of beautifying the environment. While coming for a picnic at this park, you don't necessarily have to worry about coming along with food because you can buy really tasty meals from the famous Huckleberry's Restaurant located inside the Magnolia Dell.
For a more memorable experience, you may want to consider visiting on days when an event has been scheduled, like on the first Sunday of every month when Magnolia Flea Market takes place. Other events you can look out for include the Moonlight Market.
9. Pretoria National Botanical Garden
Location: 2 Cussonia Ave, Brummeria, Pretoria, South Africa
Opening Hours: Monday to Sunday 8 am – 6 pm
Entrance Fee: Adults: R37 | Students: R23
Discounts For: Senior citizens in South Africa/ Scholars: R15
Highlights: Variety of plant and flowers species
As the name implies, Pretoria National Botanical Garden is home to a variety of plants and flowers. All year round, there are a variety of flowers that beautify the entire environment, including the walk paths. As you would expect, these flowers don't just add beauty, they also give the whole place a nice scent.
This botanical garden is a good place to bring your spouse or romantic partner for a picnic as the entire environment is set to enable a loving atmosphere for lovebirds to have a great time. To add to the atmosphere of calm and peace the flowers gives, the on-site waterfalls are also attractive, seeing that it serves as a great background for pictures.
This venue may be everything needed for a romantic picnic, but it is not just for couples, it is also a great place to visit with your children and friends.
10. Rhino and Lion Nature Reserve
Location: 520 Kromdraai Rd, Kromdraai, Krugersdorp, 1739, South Africa
Opening Hours: Tuesday to Friday – 8 am–5 pm; Saturdays and Sundays – 8 am-6 pm
Entrance Fee: Adults – R190 | Kids (4-17 years) – R120 | Pensioners – R120
Discounts For: N/A
Highlights: Wildlife
If what you want is a blend of a perfect picnic spot and a zoo, then Rhino and Lion Nature Reserve is one of the best options. It is not the only picnic spot on this list that houses animals, but it is one of the best when it comes to a picnic spot where you can also find wild animals. As a result of this feature, there is practically no dull moment at this venue because if you are not sitting, eating, or going around to feed your eyes on the beauty of nature, you can be having a memorable time observing the wild animals.
Though you can also find bird species in this park, it is majorly home to Rhinos and big cats like cheetahs, lions, and tigers. Irrespective of the day you visit, you can have access to see these animals, but for the best experience, you should visit during the weekend, seeing that the lions and the cheetahs are usually fed on weekends and you may be opportune to see them devour the animal that will be sent into their cage as prey.
Weekdays are also a good option, seeing that professional snake trainers perform live snake displays almost every weekday. This location is fully equipped with braai facilities and a kiosk where you can purchase snacks, so you don't have to worry about coming for a picnic without snacks as you can purchase from the available kiosk.
Here Are Some Notable Mentions of Picnic Spots in Pretoria
These picnic spots did not make it to our top 10 but they are spots that you can also consider:
Venning Park
Venning Park is another amazing picnic spot in Pretoria, South Africa. Located in Arcadia, the park is named after former Municipal Parks Director of the city, John Harold Venning. It also boasts of a tea garden – the Heavenly Rose Café – within the park and a submerged garden to the west of the park in the middle. Another notable fact is that the park occupies a three-hectare landmass which is beatified with rose gardens to the east of it and a date palm-lined path. This creates a beautiful ambiance for picnics livers and should be considered a great picnic spot.
Jan Cilliers Park
Situated in Groenkloof, Pretoria, the 4.5-hectare Jan Cilliers Park is another perfect picnic spot. It was designed by Harry Bruins-Lich, a one-time director of parks in Pretoria in the 1960s. The Jan Cilliers Park offers scenic views of the city and the Union Buildings and has a stream with miniature waterfalls connecting two dams. Another beautiful feature of the park that will make it any picnic lover's delight is the lawns which are interspersed with rockeries, trees, and shrubs.
Burgers Park
Burgers Park is one of the oldest parks in Pretoria as it was founded in the 1870s. Initially established as a botanical garden, the park has been declared a South African National Monument. It sits on a 4-acre landmass and is located in the center of the city of Pretoria, South Africa. It is named after one of the presidents of South Africa, Thomas François Burgers.
Wonderboom Nature Reserve
Another amazing picnic spot in Pretoria is the Wonderboom Nature Reserve. The name "Wonderboom" comes from a species of wild fig trees – Ficus Salicifolia – which can be found in the reserve. The tree, which is known as the Wonderboom in general parlance, is said to be more than a thousand years old and is so large that it could give shade to over 1000 persons at the same time. The tree has reproduced its kind and today there are three other sister fig trees surrounding the original tree.
The Wonderboom Nature Reserve is located to the north of Tshwane and it sits on a massive 200-hectare landmass. It has a hiking trail and lapas that can be booked. Entrance to the reserve Is closed by 5 pm daily and bookings should be made two weeks in advance of your proposed picnic date.
Fountains Valley Resort
Also worthy of notable mention is the Fountains Valley Resort. Located at the southern entrance to Pretoria, this recreational resort is bothered by the historic ruins of the house of Lucas Cornelius Bronkhorst. It has amazing recreational facilities that its users would enjoy. You would find in the reserve swimming pools, a playground for kids, barbecue spots, lapas, a caravan park, among other exciting features. Besides the man-made features, there are bodies of flowing water in the reserve, particularly, the Apies River flows through the resort.
A Recap of the Top 10 Picnic Spots in Pretoria
Groenkloof Nature Reserve
Bronkhorstspruit Dam Nature Reserve
Rietvlei Nature Reserve
Springbok Park
Rooihuiskraal Historical Terrain
Hennops Picnic Spot
Nkwe Pleasure Resort
Magnolia Dell Park
Pretoria National Botanical Garden
Rhino and Lion Nature Reserve
Notable Mentions
Venning Park
Jan Cilliers Park
Burgers Park
Wonderboom Nature Reserve
Fountains Valley Resort