Port Elizabeth, a city in Eastern Cape Province, South Africa, is home to so many amazing wedding venues which makes it difficult for couples to choose just one to go with. In this post, we have gathered all that you need to know about the 10 best wedding venues in Port Elizabeth and other services they offer aside from providing you with a venue. Note that you should be very tactical in choosing because your wedding venue goes a long way in telling the kind of guest you may attract. Also, accessibility is also something that should top your list while you set out to choose your wedding venue.
What Makes An Amazing Wedding Venue?
One way to be sure you are choosing the right venue for your wedding is knowing what makes a venue amazing. We have already established the fact that wedding venues are easy to find in Port Elizabeth. What you should also know is that with the competition for the best wedding venue, each venue management is doing all they can to stay at the top of their game. So, although it may be easy for you to find wedding venues in Port Elizabeth, the difficulty will be in choosing just one.
To save you from this stress, check out the basic things that make a wedding venue amazing.
What you want: The first thing to put into consideration when choosing a wedding venue is what you want: How many guests are you looking forward to? What kind of meals should be served? Do you want a DJ or a live band? Providing honest answers to these questions is relevant in choosing a venue because most venues provide some of these services and you want to go for a venue that best suits your needs.
Location: You don't want to choose a location that is difficult to find or get to, a good wedding venue will have a good access road and will also be easy to identify. A good location is an important consideration because you don't want to stress your guests with confusing directions to your wedding venue.
Venue Environment: Whether we like it or not, pictures are an integral part of any event, weddings inclusive. So, you want to go for a location with a nice and serene environment where both you and your guests can take pictures in a beautiful environment. This may sound trivial but we bet that you would not want your beautiful day to be anything less than you have dreamt about.
With all these factors in mind, we carefully selected 10 wedding venues in Port Elizabeth which we consider really amazing for a glamorous wedding ceremony.
Beautiful Wedding Venues In Port Elizabeth
1. Andante Country Wedding & Event Venue
Address: 46 Draaifontein Rd, Murray Park AH, Gqeberha, 6018, South Africa
Type: Indoor
Capacity: N/A
Highlights: Decorated wedding venue with other bonuses
Bonus: Licensed bar, accommodation, catering service, and lots more
Andante Venue is one of the best places in Port Elizabeth for your wedding if you want luxury and a blend of nature. The beautifully decorated wedding reception hall is just enough to embody all the classes you want your wedding to have. Aside from the fact that its aesthetics are a great sight to behold, the large hall is also big enough to accommodate a good number of guests.
Another reason why this venue is just perfect is the fact that aside from the wedding hall, the couple and guests also have access to accommodation and a licensed bar. The location of this wedding venue also makes it a good wedding spot, seeing that it is comfortably sited at the heart of picturesque estate Brooksdale.
Couples do not have to worry about contracting a separate caterer as catering services are also available at the venue. So if you are planning to wed in Port Elizabeth, the Andante venue would be a great idea for a wedding venue.
2. Running Waters Exclusive Venue
Address: Kragga Kamma Rd, Theescombe, Gqeberha, 6070, South Africa
Type: Indoor
Capacity: 70 – 450 guests
Highlights: Skilled workers who are ready to give their all to make your day a success.
Bonus: Decoration, Catering, Chapel
Going through the pictures on the official website of Running Waters Exclusive Venue, you would be convinced that it is also one of the best wedding venues in Port Elizabeth. The reception hall decorations are carefully done to suit the preference of the couple. The venue also has one of the best ushering and catering services with top-class workers who are willing to give their best for your event to be memorable.
The exquisite event halls are big enough to accommodate about 70 to 450 guests without taking up the space where the couples and their well-wishers can dance. Aside from the available catering service and quality decoration, there are also furnished rooms where the bride and groom can change dresses and also spend a night or two. There is also a chapel at the venue that can accommodate up to 208 guests at a time.
3. Palm Villa Wedding and Conference Venue
Address: Plot NR.27 Draaifontein Road, Greenbushes, Port Elizabeth, 6011
Type: Indoor
Capacity: N/A
Highlights: Six hectares of land that contains all you need for that amazing wedding you envisage.
Bonus: Swimming pool, Accommodation, Gym
If you want a spot where both you and your guests can have the best experience then this is another wedding venue in Port Elizabeth you should consider. The six hectares of land are beautifully decorated with flowers and other green plants which don't just make the place beautiful but healthy to stay in as well. The beautiful ambiance of the natural environment makes it a good venue for lovers of nature.
Like most of the other venues on this list, this one also has other side attractions like accommodation, a swimming pool, a gym, etc. They have also ensured that those who lodge in the accommodation have no dull moments.
4. Elizabeth Place
Address: 14, 20 Pickering St, Newton Park, Gqeberha, 6045, South Africa
Type: Indoor
Capacity: 220 guests
Highlights: Each event has an event planner who ensures that there is a smooth flow of activities
Bonus: Fitness center, Restaurant, Pharmacy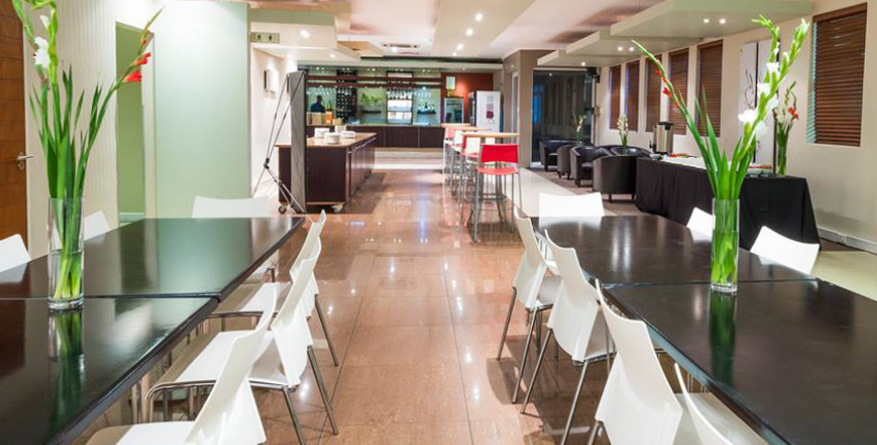 Elizabeth Place does not only provide a beautiful environment that suits the preference of the couple, but they also assign wedding planners to each event to ensure that every detail is taken into consideration and also control vendors.
This way, the couple can focus on enjoying their event, knowing fully well that their wedding venue has someone who is in charge of everything. This alone is enough reason why Elizabeth Place is one of the most amazing wedding venues in Port Elizabeth. This venue is also home to a fitness center, restaurant, and pharmacy.
For that carefully planned and coordinated wedding where you and your guests are deeply comfortable around the beautiful environment where "pictures for the gram" can be taken, Elizabeth Place is a great venue that has a blend of it all.
5. Ukuphupha – Wedding, Conference & Special Events Venue
Address: Plot 1962, Kragga Kamma Road, Gqeberha, 6070, South Africa
Type: Hall
Capacity: 300
Highlights: Top Notch Venue and catering service
Bonus: Catering service
Ukuphupha prides itself as that event center that makes your beautiful wedding dreams become a reality. They also take pride in the fact that the venue is a one-stop hub where you can get everything you need to make your wedding a memorable day for both yourselves and your guests.
Being just 15 minutes away from the airport makes it a nice event venue as guests who just came into the city for the wedding can easily locate it. The semi-private beach and the beautiful garden in the environment make it a nice place for weddings pictures for both couples and guests.
If you opt for this venue, you won't have to worry about going to a church for the marriage blessing/church service and joining before coming to your reception hall, because the venue has a chapel which would cater for the church service and then a reception hall with a capacity of 300. If you prefer to have your wedding in a place where nature can be felt then the outside thatched chapel will be a great idea.
When you choose Ukuphupha, you also don't have to worry about catering because they have an awesome catering service that would customize the menu to suit your preference.
6. The Plantation Wedding Venue
Address: 424A Sardinia Bay Rd, Lovemore Park, Port Elizabeth, 6000
Type: Hall
Capacity: 10 – 200 guests
Highlights: Affordable wedding venue
Bonus: Bridal Suite, Accommodation, Catering service
The Plantation takes pride of place as one of the best wedding venues, not just in Port Elizabeth but in South Africa at large. With all the amazing wedding offers they have, you will be close to being convinced, even without giving them a try. This venue is equipped with an on-site chapel, a ballroom, a bridal suite, and accommodation, coupled with a reception venue that can accommodate about 200 guests.
Couples don't have to worry about the quality of food their guests will be served as the venue boasts an award-winning catering service. To see to it that your big day is a success, they also offer in-house wedding planning services. Before you think that affording this place may not be possible for you, it is also important to note that they have different wedding packages, tailored to fit the need and budgets of clients.
7. La Colline
Address: Plot 151 Montmedy Road, Theescombe 6070 Port Elizabeth, South Africa
Type: Hall
Capacity: 130 – 150 guests
Highlights: Beautiful wedding hall that can accommodate as many as 150 people.
Bonus: Wedding Decor, Chapel
It is an undeniable fact that the beautiful bride and her handsome groom are not the only ones who make their wedding a memorable one for the guests. In as much as they are the major point of attraction, other details like the venue, decoration, meals served, and a host of other factors also play a major role in making the day memorable for everyone and this is where La Colline comes in.
Being one of Port Elizabeth's awesome wedding venues, the venue consist is a 130-capacity hall with extra space to serve as the dance floor, but if you have up to 150 guests, there may not be a dance floor. The reception venue can be arranged with a 10-seater round table or a 12-seater rectangular table covered with white or cream Brocade linen. This venue also provides wedding decor with some of the most classy decor materials. The venue is also home to a 130-guest capacity chapel.
8. The Boma
Address: 424 Sardinia Bay Rd, Lovemore Park, Port Elizabeth, 6000
Type: Garden
Capacity: 140 guests
Highlights: Natural wedding location
Bonus: Bar, Wedding packages to suit the couple's budget
Weddings don't have to be done in the conventional way of staying in an enclosed hall where the ventilation and ambiance are man-made, you can also exchange vows and entertain your guests under trees that have been beautifully trimmed into canopies. If your desire is to wed in an environment where the presence of nature can be felt with ease then The Boma should be one of your options and it is located in the coastal forest of Port Elizabeth.
Nature is not the only benefit you get from choosing this venue, the beautiful courtyard, bar, buffet, and bonfire should also be part of your reasons. The different wedding packages are designed to meet the couple's needs and budget. Their packages contain all that is required for a successful wedding, from a wedding planner to food and drinks, preparation, and organization.
9. African Sky's Venue
Address: 120 Nassau Ave, Theescombe, Port Elizabeth, 6070, South Africa
Type: Outdoor
Capacity: 120 guests
Highlights: Nature and beauty at its peak
African Sky's Venue is definitely one of the most amazing places in Port Elizabeth where you have a beautiful wedding. It is just as amazing as every other venue on this list, and what makes it a nice place to consider for your wedding is that while tying the knot with your loved one, both of you, as well as your guests, can also enjoy the freshness of nature.
The wedding venue is beautified with gardens intersected by lakes that have become home to swans. The wedding arena is capable of accommodating as many as 120 guests which makes it a perfect venue for your small but well-planned beautiful wedding.
10. La Cigale Exclusive Country Estate and Wedding; Conference & Function Venue
Address: Link Road and Seaview Road, Lovemore Park, Port Elizabeth-Chelsea Conservancy – Eastern Cape, 6018, South Africa
Type: Indoor
Capacity: 120 guests
Highlights: Amazing wedding venue that provides affordable wedding packages.
Bonus: Wifi, Accommodation
La Cigale Exclusive Country Estate and Wedding; Conference and Function Venues as the name implies is not just a perfect venue for weddings but for other types of events as well. But when it comes to being your wedding event plug, they pride themselves in the ability to give attention to details which accounts for why their event hall, which has a capacity of accommodating 120 guests, is decorated with the customers' interest and budget in mind. Just like the Running Water wedding venue, this venue also has a chapel in it.
La Cigale Exclusive Venue has proven that customer satisfaction is indeed their priority, seeing that they also have various picnic spots that are surrounded by indigenous forests. There is also accommodation for guests and a fully equipped kitchen that contains all that will be required to keep their guests comfortable throughout their stay. With customer comfort as their main focus, guests who lodge in their accommodation will also have free DStv access and WiFi as well.