Shallon Ndaba (born 1988) is a beautiful South African lady who became famous due to her relationship with popular model-turned-actress Sophie Ndaba. She is the actress' adopted daughter, and they share an unbreakable bond that lasted for many years.
Shallon is known to be outspoken, brave, and supportive. She has been a great support system in her family to the extent that many people find it difficult to believe that she is not Sophie's biological daughter.

Summary of Shallon Ndaba's Biography 
Full name: Shallon Ndaba
Gender: Female
Date of birth: 1988
Shallon Ndaba's Age: 35 Years Old

Ethnicity: African
Nationality: South Africa
Shallon Ndaba's Parents: Tiny Mphasane (mother), Sophie Ndaba- biological aunt
Siblings: Foster sister Rudo and brother Lwandle
Famous for: The daughter of Generations actress Sophie Ndaba
Shallon Ndaba's Instagram: thesihlendaba
Shallon Ndaba Was Born In 1988
Shallon Ndaba is the adopted daughter of South African multiple award-winning actress Sophie Ndaba. Her biological mother's name is Tiny Mphasane, while her father's name is not publicly known. She was born in 1988, but the particular date and month she was born are unknown. Unfortunately, the identity and current whereabouts of her biological father, her relationship with him, and detailed information on her biological parents' background are not available for public consumption.
Being someone who cherishes her privacy, Shallon doesn't speak about her family and personal life in public. She hasn't shared detailed information about her biological parents with the public, and it appears she is not in a hurry to do so. More so, she doesn't crave the spotlight like most famous ladies, and her decision to stay far away from the public eye is also felt on social media. She doesn't show up all the time, and it's clear she channels her time and energy into other meaningful things.
She Was Raised By Her Aunt After Her Mother's Death
Shallon Ndaba is proof that one can become successful even outside one's original home and that family means everything regardless of some people's different perceptions about it. This beautiful young lady, as mentioned earlier, is the adopted daughter of Sophie. The latter picked her up after she lost her mother at a young age.
Shallon's mother, Tiny Mphasane, is the sister of Sophie. So, when Tiny died more than two decades ago, she decided to take her daughter home and make her her own daughter. At that time, Sophie, who has tied the knot thrice, was married to veteran South African actor and director Themba Ndaba.
Following her adoption, Shallon picked up Themba's surname 'Ndaba' as her surname. It's been years since Sophie and Themba divorced, but Shallon still bears her former foster father's surname. The young lady owes her rise to stardom to her foster mother's popularity. Both of them are very close and share a beautiful mother-daughter unbreakable relationship. Shallon has been a huge blessing and support system to Sophie. She has been there for her both in good and tough times, including the period she was battling with failed marriages and the time her illness started.
Sophie is a diabetic patient and has been battling with the ailment for many years. Part of the reason she lives and takes up roles in some projects in the industry is her family's love and care. Her kids have all shown her so much love, and she considers herself lucky to have them in her life. Sophie's sickness hasn't been an easy one for her family, though. There have been several reports on her health status, some of which turned out to be false reports.
Sometime in 2018, news broke out that the actress has passed away, but it later turned out to be false. Shallon was one of those who came out to condemn and refute the report. No one knows exactly what led to Shallon's biological mother's death and if her biological father has been part of her life all these years.
Her Occupation Or Profession Is Currently Under The Radar
Many things are still unknown about Shallon Ndaba apart from her relationship with Sophie's family. Raised in a comfortable family, she had a memorable childhood. The actress, who took her as her own daughter, made sure she never lacked anything. Shallon completed her basic educational levels in the country, but the schools she attended are not publicly known. Information about her qualifications and what she does for a living is also unknown.
We, however, believe that the young lady is doing just great career-wise. It is not clear if her parents influenced her career choice in any way. Unlike most people connected to well-known personalities, Shallon has decided to step away from her foster parents' shadows and make a name for herself through hard work. She is not the dramatic type and has never made headlines for any scandal or drama. She holds everything about her family very dear to her, including their decision not to speak about certain aspects of their lives and family.
Shallon Ndaba Has No Known Biological Siblings
It is unclear if Tiny Mphasane gave Shallon any sibling as she has never mentioned it, neither has anyone showed up as her biological sibling. She is assumed to be an only child, which could be a major reason Sophie Ndaba adopted her in the first place.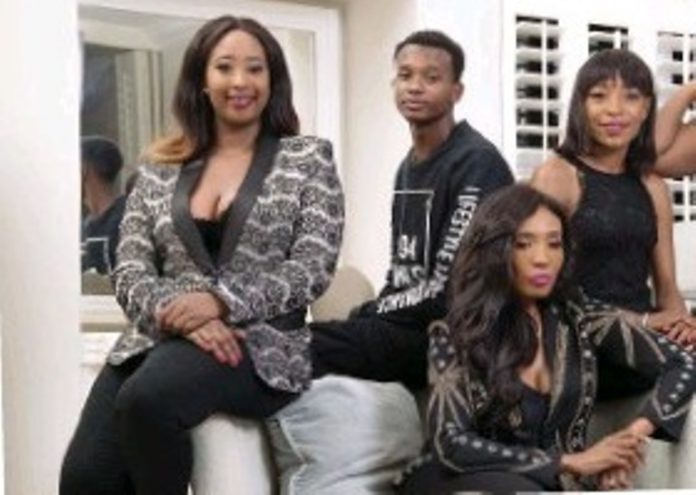 Nevertheless, Shallon had people she had fun with as a young girl. They are a huge blessing to her and have been part of her life for years. Sophie Ndaba's two children are more than siblings to her. The love they share among themselves is heart-melting, and she considers them the best thing that has ever happened to her.  Let's meet the duo.
Rudo Ndaba
Rudo is the biological daughter of Sophie Ndaba and the eldest among her two kids. Born on August 19, 1990, she is two years younger than Shallon. The actress had her with her ex-husband Themba Ndaba. Sophie had Rudo at the age of 18; at a time, she was trying to figure out her life as a young girl. Raising her was not an easy task, but she was able to put in her best while working on becoming relevant in her generation.
It was two years after Rudi was born that Sophie launched her modeling career. Sophie and Themba's daughter is a university graduate. She is her mother's confidant and great support system. She has stood with her in her worst and best moments. They share a special bond that has lasted for years.
Lwandle Ndaba 
Lwandle also came from Sophie's relationship with Themba. He was born on 6th November 1999. According to his mother, he was born prematurely but has now grown into an amazing young man. He is a singer and an aspiring rapper. It is unclear if he relates well with his father following his parents' divorce. But he has a good relationship with Shallon.