Tebogo Thobejane underwent cosmetic surgery (liposuction) at 31 and has been vocal about her amazing body transformation, including a fuller backside, tinier waist, and curvy hips. 
The businesswoman is best known as an Instagram influencer and model due to her gorgeous hourglass-shaped body and sensual Instagram postings. Theobejane has always been open about her plastic surgery experience and was recently inspired to start up a YouTube channel that educated young girls about plastic surgery.
When Did Tebogo Thobejane do plastic surgery?
Tebogo Thobejane went under the knife in the year 2014. She hasn't mentioned the exact month and date. However, she was 31 years old when she went for plastic surgery. She admitted that she did liposuction after she had her baby.
The former Muvhango star revealed that she had excess fat in her belly after childbirth, and so she decided to put it to good use by extracting the fats and injecting them into her butts and hip.
The influencer described her body augmentation as her own personal gift to herself on her 31st birthday. She has, however, remained tight-lipped about the identity of the father of his son since then.
With the way the social media influencer is open and forthcoming about plastic surgery, one would think she has done multiple surgeries. While she has yet to personally confirm if she has gone under the knife more than once, liposuction is the only publicly known body modification she has undergone.
Being a public figure and someone with a keen interest in the plastic surgery business, it wouldn't come as a big surprise if she decided to work more on her body until she reached what the average person would call perfection – a dream body like that of the Hollywood social media stars.
A Look at Tebogo Thobejane Before Surgery 
Tebogo Thobejane's before-surgery pictures are quite scarce on the internet, including her Instagram page. Nevertheless, it is easy to notice that she really had an amazing body transformation after undergoing plastic surgery in 2014.
As it is common among women who went under the knife, the socialite had a less banging body before the surgery. She has since been flaunting a fuller backside and very curvy hips after undergoing the process. She seems to have also put in some work on her stomach, as she has a flat stomach that can easily make someone believe she has never given birth.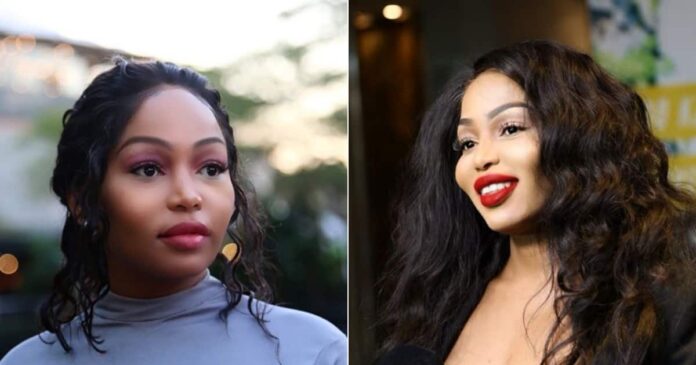 Besides her hip and butt, Tebogo has had a great deal of transformation generally over the years. From her skin to her hair to her wardrobe, a lot has really changed in the life of the actress and podcaster.
The Instagram Influencer has Never Been Shy About Talking about How She Achieved her 'Killer' Body
Tebogo is one social media influencer who is so confident about her body and how she became a hottie. She has always maintained in recent interviews that women should not be made to feel bad because they do not have a certain shape of body.
Again, she emphasized the need to A-list celebrities who have gone under the knife to lift, tweak, or add filers to their bodies to open up publicly about their transformation in order not to deceive young girls into thinking that such 'killer' bodies are only achieved through hitting the gym or working out regularly.
An honest Thobejane said she would continue to be forthcoming and candid with people about her body regardless of what some people feel about plastic surgery. She recently launched a podcast called City Girls, and she aims to educate young girls about the plastic surgery business on the platform and interview industry slay queens.