Mihlali Ndamase was born on November 29, 1996, and is currently 26 years old. She does not put out information about her personal life in the public space and as a result, it is not known if she is dating anyone now.
Mihlali Ndamase is one of South Africa's brightest light in the beauty and fashion industry. As a brand influencer and Instagram personality, she has become a source of inspiration to millions of young people who look up to her as a role model. Having begun from a humble background, the make-up guru has grown to become one of the richest influencers around, with Hopper HQ naming her on Instagram's Rich List for the first time in 2019.
She has shown great interest in fashion and beauty, including skincare. This has seen her work with global skincare and beauty brands such as Aldo, Urban Decay, NYX Professional Makeup, MAC Cosmetics, and Benefit Cosmetics, to mention a few. Despite her father's death when she was 12, she has risen like a Phoenix to reach heights that were previously only imagined.
Quick Profile of Mihlali Ndamase
Full name: Mihlali Ndamase
Date of Birth: November 29, 1996
Age: 26 Years Old
Nationality: South African
Occupation: Brand Strategist, Beauty Content Creator, Social Media Influencer
Relationship Status: N/A
Mihlali Ndamase Celebrates Her Birthday On November 29
The social media sensation celebrates her birthday, which she tags "NdamaseDay" on November 29 every year. She marks the day with fun-filled celebrations in the company of friends. In 2018, she had her birthday celebration in Phuket, Thailand, and posted pictures of her adventure with her friends on her Instagram handle. Dubai had the honor of hosting the 2019 version of NdamaseDay, and in 2020, the occasion of her 24th birthday was hosted in her country home of South Africa at the Ethos Restaurant in Sandton. The dates' consistency proves Mihlali Ndamase was born on November 29, 1996, making the celebrity make-up artist 26 years old.
The YouTube and Instagram personality was born in Kokstad, KwaZulu-Natal. She was raised by her parents but lost her father at 12 after he committed suicide. Growing up with her mother and grandmother, she picked up her passion for the fashion and beauty industry from the latter, a local fashion designer. Her interest in show business saw her pick up her first modeling gig when she was only fourteen, which gave her a taste of popularity at an early age.
She obtained her high school education at a boarding school in Pietermaritzburg, after which she proceeded to the University of Witwatersrand, where she intended to obtain a regular degree. However, her interest in beauty and fashion made her drop out from the University of Wits to attend an institution tailored to her aspirations. She registered at the Leaders In The Science of Fashion (LISOF) located in Gauteng, where she majored as a beautician and received her certification as a make-up artist. To also enhance her knowledge of fashion, Ndamase enrolled at Vega school, the private tertiary education institution, to obtain a Bachelor of Arts degree in Strategic Brand Communications.
She Gained Country-Wide Fame At The Age Of 18
A career that began for her with a modeling gig as a teenager has spiraled into brand influencing on social media, make-up artistry, vlogging, content creation, and a shot at superstardom. Today, Mihlali Ndamase ranks as one of the most successful brand influencers in South Africa, a journey she started in 2014 when she first created her Instagram profile and YouTube channel. She had always had a passion for beauty and fashion from age 14 and was mentored through YouTube videos of American beauty bloggers like Nicole Guerriero. Even though it was not a popular niche in the country, she knew it was something she wanted to do.
The co-founder of Siyasizana Foundation started her career on Instagram, where she interacted with her small fanbase as she discussed make-up. Her YouTube channel only came alive in 2016 when fans asked her how she did her makeup. She did a review of L'Oréal foundation (which was her first video – on the 15th of February, 2016), and when the video went viral, she was contacted by the brand for a meeting – and the rest is history. She has grown her career and was listed on Hopper HQ's Global Instagram's Rich List in 2019 (135th) and 2020 (195th). Mihlali Ndamase has over 1.3 million followers on Instagram alone with over 300,000 subscribers on her YouTube channel, where she has over 140 videos with over 20 million views.
Mihlali Ndamase's Current Relationship Status Is Unknown
The Instagram influencer has not put out stories about her personal life in the public space. She is never forthcoming with information about her love life as she prefers to run her personal life on a low. During an interview last year with TshisaLIVE, she was asked about the details of her love life, and she struggled while trying to give what she felt was the best answer. According to Mihlali, it is a card she prefers to hold to her chest as the public holds you by whatever you let them know. So while she tries and fails in her relationship life, she would like to learn her lessons in solitude with the public gifting her their opinions.
She Is Said To have Dated Major League's DJ Banele Mbere, Even Though She Denied It
Despite her stance, fans of celebrities are always eager to know who their celebrities are involved with, and in this time of social media, things are bound to be snuffed out. Most times, you can never be too careful no matter how hard you try. For Ndamase, it is an open secret on social media that she was at one time romantically involved with DJ Banele Mbere, who is one-half of the Major League DJz duo.
Even though she wasn't very vocal about the relationship and her significant other – he granted an interview where he claimed he had given the YouTube sensation a promise ring.
However, when it seemed that the relationship boat had been rocked, she described her continued association with DJ Banele Mbere as a rumor and said the streets are filled with lies about her. She also denied the supposed relationship with the Major League DJ in response to a fan on Twitter who asked her about the DJ.
uDJ? zange ndajola noDJ mna. https://t.co/i2oaVYpneI

— Mihlali 'Hot Topic' Ndamase 🤍 (@mihlalii_n) August 16, 2019
In translation; "A DJ? I've never dated a DJ."
The streets lie mntakabawo

— Mihlali 'Hot Topic' Ndamase 🤍 (@mihlalii_n) August 16, 2019
However, since the internet does not forget, a fan went to the DJ's Twitter account and dug up a 2017 picture of them (Ndamase and Mbere). She may have done well to delete traces of their relationship, but the Major League DJ obviously did not.
@mihlalii_n is that u

— nkosazane (@Nosipho_Mphoh) July 25, 2017
Yes 💕

— Mihlali 'Hot Topic' Ndamase 🤍 (@mihlalii_n) July 25, 2017
In 2020, the couple sparked speculations of a reconciliation when they were spotted in an event. The event was hosted by Bonang Matheba and had many other celebrities in attendance, including Mihlali Ndamase and DJ Banele Mbere. The coincidence of their attendance would have been enough to send tongues wagging, but they also served some hot poses to suggest that they were cool. The DJ first tweeted pictures of them at the party, which she retweeted "Sebahle."
Why ningajoli wena no Major? pic.twitter.com/uqqTH0nm3b

— YT: Banele Shezi (@BaneleSidney) October 22, 2020
As expected, fans flooded her timeline to find out the situation of things between them, and in response, she tweeted, "Please rest."
Mihlali Ndamase Raised A Storm When She Suggested She Was Dating Lewis Hamilton
In 2019, there were speculations that the YouTube vlogger was in a romantic relationship with high-flying Formula 1 superstar Lewis Hamilton. This was fueled by no other than Mihlali Ndamase herself. During the Singapore Grand Prix in 2019, Mihlali, who claimed to be in Singapore at the time (with Lewis Hamilton), uploaded several pictures of the British F1 driver on her Instagram stories which insinuated that they were an item.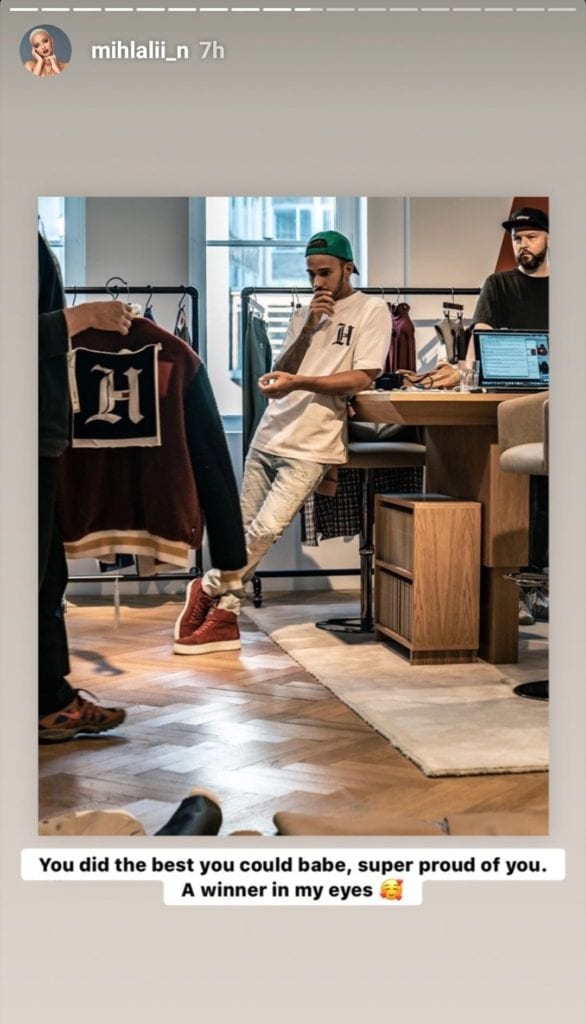 A second picture in which she was nude in a bathtub credited Lewis Hamilton as the photographer.
When everyone got excited about the fact that the South African celebrity has caught a big fish in her romantic net and the conversation had begun in earnest, she came out to nip the rumors on the bud by saying she and Lewis Hamilton are "just friends." That did not stop them from trending on social media, as several fans had their own version of what was unraveling. While some thought Mihlali Ndamase was clout-chasing with her post, some others thought she was a fan of the star trying to cheer him on – because he had a bad run in the tournament.
Having broken several hearts with the revelation that she was not dating the FI superstar, she tweeted;
"This is what happens when you're super concerned about people's business, you feed into everything that's thrown your direction. Lesson: stop asking questions that don't concern you and enjoy the content you're given."