Since playing their first match in 1906, the South Africa national soccer team, better known by the moniker Bafana Bafana, has come a long way, experienced many changes, and distinguished itself in many ways. The team successfully got diversified at the end of the paralytic system of apartheid that had the football world shun them and has made huge leaps since then. Their most significant feat yet happened at the 1996 AFCON, where they dominated the group stage of the competition and came out on top of their group rivals, shot two goals past Tunisia's goalkeeper in a tight final at the FNB stadium before 80,000 spectators to lift their first-ever major piece of silverware.
On what would be their AFCON debut, the Bafana Bafana squad of 1996 made history that South Africans cannot forget in a hurry. Coupled with their subsequent successes in the football world, Bafana Bafana went on to be ranked No.16 globally by FIFA that same year. Let's take a close look at the current lives of the masterminds behind the 1996 Bafana Bafana victory.
Complete Bafana Bafana Squad of 1996 
Andre Arendse
Age at The Time: 28
Current Age:

56 years old

Position Played: Goalkeeper
Jersey Number: 1
Clubs Played for: Vasco Da Gama, Cape Town spurs, Santos, Fulham, Oxford United, Mamelodi Sundowns, Supersport United, Bidvest.
Current Status: Retired & Coaching (goalkeeper coach for Bidvest Wits)
Andre Arendse's football career started with the domestic club Cape Town Spurs in the mid-'90s. His performance here led to the call for his debut performance with the national team in the 1995 international match against Zambia. Being a solid shot-stopper, Andre would go ahead to concede as low as two goals throughout the 1996 AFCON competition. When we talk about the 1996 Bafana Bafana triumph, his sublime keeping skills cannot be overlooked.
The AFCON success opened to him the gates of the international club scene as he went on to sign for the English side Fulham FC in the summer of 1997. He later found his way to Oxford United, which is also an English club. His football career would then go on for 13 more years until his retirement in 2009 following his PSL championship win as a goalkeeper for Supersport United. Since retirement, he has been with a few PSL clubs as part of the technical team. More recently, he scored a spot as a goalkeeper coach for Bidvest wits and a co-presenter for Supersport.
Fun Fact: 
Did you know that Andre Arendse is the oldest player to appear in a PSL match?
In May 2013, at 46 years of age, Andre returned as an emergency goalkeeper for Bidvest wits due to injuries to the club's goalkeeper. He made PSL history as the oldest player, surpassing Bruce Grobbelaar's previous record.
Mark Fish
Age at The Time: 21
Current Age:

49 years old

Position Played: Defense (Center back)
Jersey Number: 5
Clubs Played for: Arcadia shepherds, Jomo Cosmos, Orlando Pirates, Lazio, Bolton Wanderers, Charlton Athletic, and Ipswich Town.
Current Status: Retired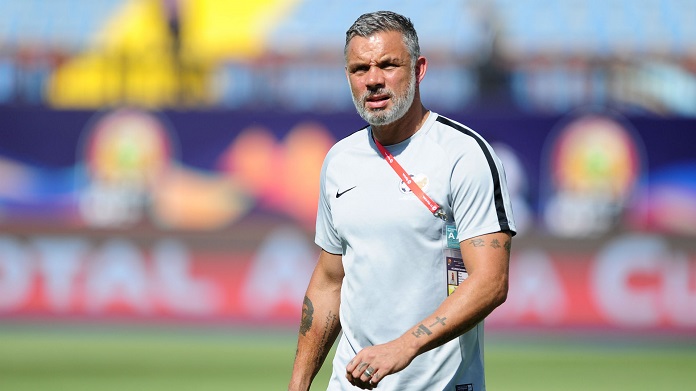 Mark Fish, whose professional football career began with Jomo Cosmos in 1991, was a defender. Next, he joined Orlando Pirates, from where he found his way to the National team and debuted in a friendly match against Mexico on 6 October 1993. Fish's defensive exploits bestowed a crown of relevance on him as a core part of the Bafana Bafana squad of 1996 that redeemed South Africa after their readmission into FIFA. With the win, he got a shoo-in to the overall team of the tournament.
Fish's career soared, and he went international afterward, making his mark for nine years on clubs like Lazio in Italy, Bolton Wanderers in England, and Charlton Athletic. He officially retired from international football in 2004 and club football in 2005 due to a severe injury. After his retirement, Fish worked closely with the Bafana Bafana technical team, but the departure of Stuart Baxter in 2019 had him vacate the position. Fish, an ANC member with the Lilliesfarm branch, is involved in charity works and grassroots development programs that host several youth tournaments worldwide.
Fun Fact: 
Did you know that Mark Fish returned to football after his retirement?
In 2007, Fish returned to football on a six-month contract with his first professional club Jomo Cosmos. However, he never actually played an official game because the injuries that led to his initial retirement made him unfit to play.
Lucas Radebe
Age at the Time: 26
Current Age:

54 years

Position Played: Defense (Centre Back)
Jersey Number: 4
Clubs Played for: Diepkloof Wolf Wanderers, Birds, Kaizer Chiefs Juniors, Kaizer Chiefs, and Leeds United
Current Status: Retired
Radebe's professional career as a footballer began in 1989 when he was recruited by Kaizer Chiefs as a goalkeeper. There, he eventually switched his play position first to central midfield and finally settled on central defense. His club career picked up in earnest when he was signed by the English side, Leeds United, as a center back. At first, he did not get much playtime because he did not see eye to eye with the Leeds coach at the time. However, his impressive performance at the club soon saw him become the captain until he sustained injuries that kept him away for two years.
On the international scene, Lucas Radebe debuted For the SA national team in their first international match against Cameroon in 1992. With his excellent form as a Central back, there was no doubt that he played a vital role in the Bafana Bafana squad of 1996 victory against Tunisia. After the Afcon win, Radebe was appointed captain of the national team in the 1998 and 2002 World Cups. By 2004, Radebe was voted 54th in the top 100 great South Africans for his many achievements in soccer.
Radebe's career ended almost a decade after the iconic 96′ win as he retired from football and hung his boots after the 2005 season. Upon retirement, he was a well-sought-after sports pundit and plied his trade with a few sports platforms. In 2009, he was announced as an ambassador to the English Football Association, and by 2012, he scored a position with the South African National Side as a team manager. He also plays a role as a part of the South African football association's technical committee. He currently runs the Lucas Radebe Management Company and holds an annual youth knockout tournament in memory of his late mother.
Fun Fact: 
Did you know that Radebe's move to Leeds United was unanticipated?
Two years before the iconic 96′ victory, Radebe and the late Philemon Masinga moved to Leeds United. However, the team only agreed to carry Radebe along to please Masinga. Radebe turned out to be the more valuable investment.
Sizwe Motaung
Age at the Time: 26
Current Age:

53 years old

Position Played: Defense (Right Back)
Jersey Number: 2
Clubs Played For: Chippa's Dynamos, Duran Leeds United, Jomo Cosmos, Mamelodi Sundowns, St. Gallen, CD Tenerife, Kaizer Chiefs, Orlando Pirates
Current Status: Deceased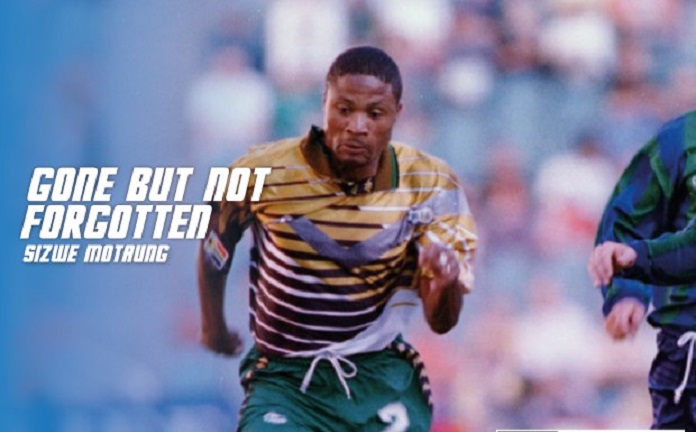 The late Sizwe started his career with Jomo Cosmos in 1991 and was with the club for two seasons until 1993. Next, he joined the Mamelodi Sundowns and had a very eventful season that saw the club finish second on the log behind Orlando Pirates while also winning the BP Top Eight trophy for the 1994/95 season. Like most of the other players in the Bafana Bafana Squad of 1996, Motaung started his international career in 1992 when he debuted for the SA national team in the World Cup and Africa cup of nations qualifiers.
Motaung's vital role in the victory of the Bafana Bafana Squad of 1996 cannot be overemphasized as he displayed breathtaking defensive capabilities that earned him a place in the debate for the best right-backs Bafana Bafana has ever produced as well as ignite the fire of interest in international clubs. The Swiss top division side FC St. Gallen ended up victorious in the race for his signature as he put pen to paper with the club at the beginning of the 1996/1997 season.
Motaung's post-1996 career spanned over five years and included other clubs like Spanish La Liga side CD Tenerife, Kaizer Chiefs, and Orlando Pirates. His high rising career would eventually come to an untimely end on 16 August 2001 when the star died from HIV/AIDS-related complications at the young age of 31.
Fun Fact: 
Motaung is one of a few players who have played for All three of SA's big clubs: Sundowns, Chiefs, and Pirates. He is also one of a few South Africans to have played in the Spanish top division.
Neil Tovey
Age at the Time: 33
Current Age:

61 years old

Position Played: Defense (Left Back)
Jersey Number: 9
Clubs Played for: Juventus Durban, Durban City, AmaZulu, and Kaizer chiefs
Current Status: Coaching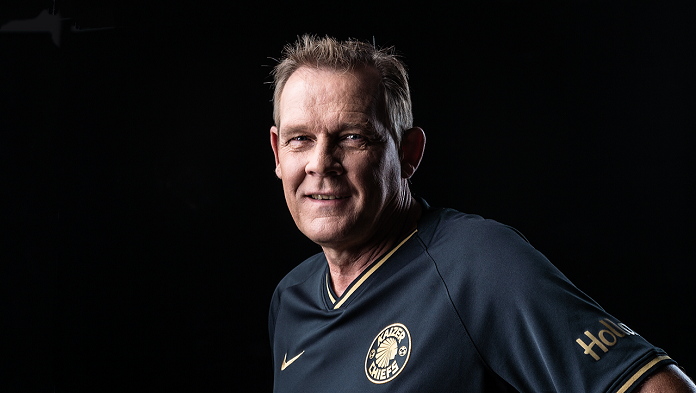 On the left flank of the defense, Bafana Bafana positioned their skipper, Neil Tovey.
Having aspired to a career in the medical field, Tovey would, at age 17, make a big change and opt for a football career instead. He started with training sessions from his older brother and moved on to Juventus Durban Junior under Clive Barker until his club signing with Durban City in 1981. After 176 appearances in 1986, he was listed for transfer to AmaZulu, where he gave Kaizer Chiefs the worst defeat of the club since inception. He would later join Kaizer Chiefs and helped them to many victories.
Tovey was appointed captain of the Bafana Bafana squad of 1996, having previously joined the national team in 1992. He proved to be a leader of great substance on the pitch for the team. His leadership skills were exceptional and reflected in his post-football coaching career. His skills, coupled with other feats like being the only Bafana Bafana skipper in history to lead the national team to an AFCON victory, gained him a lot of recognition in the South African football world. Three more years of active playing after the 1996 win would see him retire from football on 9 June 1999.
Moving on, Tovey ventured into coaching and managing clubs such as Mamelodi Sundowns, Kaizer Chiefs, Hellenic, Mpumalanga Black Aces, and Thanda Royal Zulu. In 2015, he was appointed as South African technical director, a position which he held for five years from 2015 to 2020. In 2018, He was rewarded with the order of Ikhamanga in Silver by President Cyril Ramphosa for his selfless service of many years to the national team, which he captained 29 times. Since the expiration of his contract with SAFA, he has kept busy running his business but is open to coaching again when the right opportunity comes along.
Fun Fact: 
With 634 caps, Tovey holds the record for the most appearance in the national soccer league.
John Moshoeu
Age at the Time: 30
Position Played: Midfielder (Left Middle)
Jersey Number: 10
Clubs Played for: Blue whales, Kaizer chiefs, Gençlerbirligi, Kocaelispor, Fenerbahçe, Bursaspor, Kaizer chiefs, Amazulu.
Current Status: Deceased (Died at 50)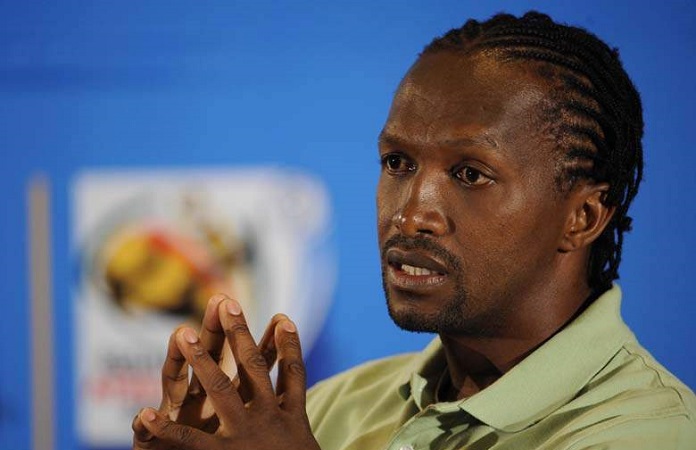 Covering the left side of the attacking midfield for the Bafana Bafana squad of 1996 was the late John Moshoeu. Moshoeu's very eventful career in football kicked off in 1987 with local side Giant Blackpool. He debuted his International career on 10 January 1993 after recovering from a broken leg injury and being sidelined for six months. As a crucial part of the 96's victorious squad, Moshoeu came out as the second top scorer of the tournament in a tie with teammate Mark William.
Subsequently, Afcon 96 would prove to be a vital point of his career as the late player had several other opportunities to play for South Africa in major leagues, including the 1998 FIFA World Cup. His last match for the National team happened six years later in a game against Nigeria on the 31st of match 2004. Moshoeu enjoyed a wide range of success on the club scene from the local to the international level and even with the Turkish Giants, Fernabache.
With 152 club goals and 8 national goals to his name, John Moshoeu officially hung his boots in 2008. He launched his managing career in 2010 on a player-coach basis with the local side Alexandra United which he co-owned with Brian Baloyi. On 21 April 2015, Moshoeu lost his life to a long battle with stomach cancer at the morning side hospital.
Fun Fact:
At 38, John Moshoeu set a record as the oldest player to represent South Africa in a match against Nigeria.
Eric Tinkler
Age at the Time: 31
Current Age:

53 years old

Position Played: Midfield (Right Middle)
Jersey Number: 21
Clubs Played for: Wits University, Vitoria, Cagliari, Barnsley, Caldas, Bidvest Wits.
Current Status: Retired and Coaching
On the right flank of the middle was positioned Eric Tinkler, who started his career at age 20 with the South African club at Wits University and made his international debut in 1994. With his unique style of play, Tinkler and his entourage in the middle created a superb link between Bafana Bafana's attack and defense. Post-1996 AFCON, Tinkler continued to appear on the National squad and played for many other clubs both locally and internationally.
Having earned 45 caps on the international scene 6 years later, Tinkler retired from international football. He also had 303 caps on the club scene in 2007 when he officially retired from football. He launched his coaching career in 2013 and has coached some top PSL clubs, including Orlando Pirates and SuperSport United. Following his departure from Maritzburg United in November 2020, he's currently with Cape Town city. At the age of 53, it appears as if the former midfielder is on his way to becoming a highly successful coach if you would not count him as one already.
Helman Mkhalele
Age at The Time: 26
Current Age:

53 years old

Position Played: Midfielder
Jersey Number: 19
Clubs Played for: Orlando Pirates, Kayserispor, Ankaragücü, Göztepe, Malatyaspor, Jomo Cosmos
Current Status:  Retired and Coaching
There is a widespread belief that we become what we are surrounded by, and that's exactly how it happened for Mkhalele. He was born into a family of footballers; Helman Mkhalele and his brothers, Sydney Mkhelele and Lazarus Mkhelele, all toed the same career path. His brothers played in the NPSL. Helman made his debut in 1990 when he signed his first contract as a professional footballer for Jomo Cosmos and later with the Orlando Pirates.
After making his international debut on 26 November 1994 against Ghana, he rose to become a regular player on the South African national football team. Coming on into the AFCON final in the 51st minute, Mkhalele's presence in the middle changed the flow of the midfield, and South Africa broke the deadlock 22 minutes later. Coupled with the AFCON triumph exposure, Mkhalele made a name for himself in Turkey, having moved there shortly after the 1996 Africa Cup of Nations.
He played for five more years for Bafana Bafana before his International retirement in 2001. Seven years later, in 2008, he officially retired from professional football. After retirement, Mkhalele got a job as a facilitator at KBC Health and Safety Company. He owns a furniture business and acquired a teacher's diploma at the Soweto College, even though he has never practiced as a teacher. He is the current Assistant coach for the South African National Team.
Fun Fact: 
Did you know that Helman Mkhalele has a town named after him?
The Mkhelele township (also called Evaton West) in Evaton is named after the former footballer. It is located in the south of Johannesburg.
Doctor Khumalo
Age at The Time: 28
Current Age:

56 years old

Position Played: Midfield (Central Middle)
Jersey Number: 15
Clubs Played for: Moroka Swallows, Kaizer Chiefs, Ferro Carril Oeste, Columbus Crew
Current Status: Retired and Coaching
Khumalo started his football career in 1984 with the Swallows Reserves, from where he moved to Kaizer Chiefs' junior team under the watchful eyes of his father, who was a renowned player back in the 1970s and early 1980s. In 1992, Khumalo was invited to be a part of the South African national squad for its first official international match against Cameroon. He converted a penalty from the spot and sealed a 1-0 win for South Africa. His excellent form earned him a place in the Bafana Bafana squad of 1996.
With his display of tactical range in the middle, he made massive contributions to the squad's success, which earned him a degree of prominence on the South African football scene. He went so far as to be named on the 62nd spot in the 2004 list of 100 Great South Africans. Five years after the AFCON dominance, he retired from international football, and in 2004 after a 17-year-long career at Kaizer Chiefs, he retired as a player-coach of the club.
Khumalo once stated that he aims to become a soccer administrator. Since 2004, he has been a sports commentator, presenter and was named the national coach of the South African Under-17 team. He tried his hands on acting, making his debut in the movie Themba, a German/South African production, where he played his real-life self.
Fun Fact:
In 1992, Khumalo was voted African footballer of the year.
Linda Buthelezi
Age at the Time: 26
Current Age:

54

Position Played: Midfield (Central midfield)
Jersey Number: 8
Clubs Played for: Jomo Cosmos, Kaizer Chiefs, Karabükspor, Orlando Pirate, Mamelodi Sundowns, SuperSport United
Current Status: Retired
Standing in the heart of the midfield was Buthelezi, who made a name for himself while playing at Jomo Cosmos. After two years with the national first division club, he became one of the most promising midfielders and had big South African clubs in a scuffle for his signature. Moving on, he joined the Soweto giants, Kaizer Chiefs, in 1991. His club career saw him cover other clubs like Mamelodi Sundowns, Orlando Pirates, Karabükspor, and SuperSport United.
Buthelezi joined the national squad in 1994 and was vital to the Bafana 96 victory. He commanded the midfield with his hard tackling style that stopped opposition attacks in their tracks. More so, he had top-notch killer passes from his slick feet that helped Bafana Bafana to the finish line. The 1996 AFCON triumph helped him cement his place as a player to reckon with in the South African football scene.
However, his international career lasted for only one more year as he retired in 1997. Two years later, he officially said goodbye to professional football and ventured into business. Since then, he has equally devoted time to developing initiatives to help young people excel in football.
Fun Fact:
Linda Buthelezi is one of the few Bafana Bafana players to play for South Africa's big three, Mamelodi Sundowns, Orlando Pirates, and Kaizer chiefs.
Shaun Bartlett
Age at The Time: 23
Current Age:

50 years old

Position Played: Attacker (Centre Forward)
Jersey Number: 17
Clubs Played for: Norway Parks, Vasco Da Gama, Colorado Rapids, MetroStars, Cape Town Spurs, FC Zürich, Charlton Athletic, Kaizer Chiefs, Bloemfontein Celtic
Current Status: Retired and Coaching
Shaun Bartlett was standing in the attack for the Bafana Bafana squad of 1996. His love for football was fanned to life during his time with his home church team in Cape Flats, where he was raised. He started his professional career with Cape Town Spurs through MLS club Colorado Rapids from where he was traded to the MetroStars. He would eventually sign a £2 million deal with Charlton Athletic in 2001, which lasted until they released him in 2006.
Bartlett made his international debut under Coach Clive Barker in a friendly against Lesotho on 26 April 1995. He made it to the AFCON squad for 96, where he put a goal past Ghana in the group stage and went as far as helping SA win the trophy. He represented the national team many more times, netting 28 goals in 74 appearances that had him named Second all-time leading scorer for the nation. This includes his 2 Goals during the 1998 FIFA World Cup.
He played at the National level for nine more years before his International retirement in 2005. Four years later, in 2009, with 422 caps and 129 goals for all clubs, he retired from club football. In 2012, the retired striker got an appointment as assistant coach of the Golden Arrows. He has worked as a coach at the University of Pretoria and with Kaizer Chiefs in recent years. He is now an assistant to Owen Da Gama at TS Galaxy.
Fun Fact:
Shaun Bartlett won the BBC goal of the season in 2000/2001.
Mark Williams
Age at The Time: 29
Current Age:

57 years old

Position Played: Attacker (Winger)
Jersey Number: 11
Clubs Played for: Clarewood AFC, Jomo Cosmos, Mamelodi Sundowns, Hellenic FC, Cape Town Spurs, RWD Molenbeek, Wolverhampton Wanderers, Corinthians, Kaizer chiefs F.C, Guangdong Hongyuan FC, Qiánwei Huándäo, Shanghai Zhongyuan Hulli, Qingdao Hademen, Maroka swallows and Brunei.
Current Status: Retired
At the young age of 12, Mark Williams played for the youth club Clarewood AFC before making his professional debut at Jomo Cosmos in 1988. He joined the national team barely four years later in 1992 and made the Bafana Bafana squad of 1996. He came into the match after over an hour of play as a substitute in the 73rd minute and became the hero of 1996 final when he thrust the first goal past Tunisia's goalkeeper. Three minutes later, he slammed another into Tunisia's net, thereby sealing the victory for Bafana Bafana.
He tied with fellow South African player John Moshoeu as the second-highest goal scorer of the tournament with four goals each and one goal behind Zambia's Kalusha Bwalya. Williams is predominantly remembered for handing over the 1996 AFCON to South Africa with his swift brace.
Seven years later, he retired from professional football. He worked as a striker coach for SuperSport United before switching his focus to mainly analyzing football on SuperSport Tv. In 2021, he wrote a book detailing his journey to football stardom titled "From gangster to soccer legend."
Fun Fact:
Mark Williams scored a total of 23 goals for the national team before his retirement.
Philemon Masinga
Age at The Time: 26
Position Played: Attacker (Centre Forward)
Jersey Number: 6
Clubs Played for: Kaizer Chiefs, Jomo Cosmos, Mamelodi Sundowns, Leeds United, St.Gallen, Salernitana, Bari, Al-Wahda
Current Status: Deceased (Died at 50)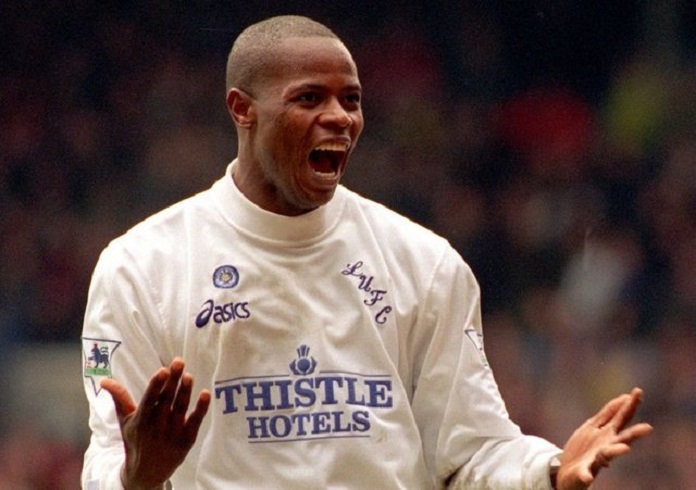 Having left school at 14, Masinga started his youth football career with local side Kaizer Chiefs and made his official club debut in 1990 for Jomo Cosmos. Two years later, the striker's international debut would follow in July 1992 against Cameroon. Philemon Masinga would then march to represent the Bafana Bafana's front line in the 1996 AfCON as one of their strikers. At the group stage, Masinga proved his relevance to the squad as he put a goal past the Indomitable Lions of Cameroon's keeper in their 3 nil win. He was a physically formidable forward that mounted a lot of pressure on defenders, and at other times when he wasn't the Goalscorer, his name would not be missing from the goal build-up.
With his AFCON performance, Masinga earned himself a more solid spot in the national squad. He also represented the nation in the 1998 AFCON and the 1998 FIFA World Cup qualifiers, where his decisive goal against the Republic of Congo would seal South Africa's place in the 1998 FIFA World Cup. He was with the English club Leeds United before the 1996 Glory, but winning the AFCON shot him to prominence in the international club.  Masinga played for clubs such as St.Gallen in Switzerland, Bari (Italy), and Wahda FC in the United Arab Emirates.
Six years after the Bafana 96 victory, in 2002, Masinga said goodbye to the football pitch and retired. In 2006, the retired star briefly coached PJ stars, a now-defunct third-division South African club. Philemon' Chippa' Masinga died in January 2019 after a long battle with cancer. He did a lot of ambassadorship with various companies before he passed away.
Fun Fact:
Did you know that Philemon Masinga is the first South African to be sent off in an international match?
In an African cup of nations qualifier against Zambia, Masinga became the first-ever South African to be sent off in an international match.
Clive Barker
Age at The Time: 52
Current Age:

79 years

Position Played: Coach
Current Status: Coaching
Like a flock of sheep without a shepherd would go astray, so also would a football team without a proper manager hardly succeed. At the head of the Bafana Bafana squad of 1996 was Clive Barker in the position of the coach. The renowned coach started his career as a player for Durban city before moving to Durban United. However, his career was cut short by a knee injury he suffered at age 17, forcing him into premature retirement.
He started as a manager in the 70s with local South African clubs, made a good impact, and earned the good name that saw him take over as manager of the South African National football team in 1994 after the team was reinstated into FIFA. He led the team to their only AFCON title with their 1996 victory after beating Tunisia by 2 goals to nil in the final match. The historic win got him a lot of decorations as a coach.
However, he quit his job in 1997 due to the team's poor performance at the confederations cup. He had a stint as a local television commentator during the 2010 World Cup but has largely remained in management since. Barker is still coaching to date.
Fun Fact:
Clive Barker's coaching career has seen him manage well over 20 football clubs.
Recap of the Bafana Bafana Squad of 1996
Andre Arendse – Goalkeeper
Mark Fish – Centre Back
Lucas Radebe – Centre Back
Sizwe Motaung – Right Back
Neil Tovey – Left Back
John Moshoeu – Midfielder (Left middle)
Eric Tinkler – Midfield (Right Middle)
Helman Mkhalele – Midfielder
Doctor Khumalo – Midfielder
Linda Buthelezi – Central Midfielder
Shaun Bartlett – Centre Forward
Mark Williams – Winger
Philemon Masinga – Centre Forward
Clive Barker – Coach