Zunaid Moti is a South African business mogul, controversial personality, and media personality. He became popular due to his lavish lifestyle and his many businesses situated all over South Africa. Zunaid has been the owner of the Moti Group for many years and has earned millions from the thriving business and his career in general.
Beyond being a popular name and face in South Africa, Zunaid has another side of himself that he closely guards, and that is his family. The Business mogul is married, and even though his triumphs and travails in the business world get enough attention, his family life has been of great interest.
Summary of Zunaid Moti's Biography
Full name:

Zunaid Abbas Moti

Nickname:

Zunaid Moti

Gender:

Male

Year of birth:

1974

Zunaid Moti's Age: 49

 years old

Ethnicity:

Mixed

Nationality:

South Africa

Sexual Orientation:

Straight

Religion:

Islam

Marital Status:

Married

Education:

St Albans College

Zunaid Moti's Parents:

Abbas Aboo Baker Moti

Siblings:

One sister

Zunaid Moti's Height in Inches: 

5 Feet 9 inches

Zunaid Moti's Height in Centimetres:

175.2 cm

Zunaid Moti's Weight:

75kg

Famous for:

Moti Group
Zunaid Moti Is a Native of Makopane, South Africa
Zunaid Moti was born in 1974 and is a native of Makopane, South Africa. He was not born into affluence as his family struggled, and he worked hard as a child to cater to his family's needs the much as he could. However, his father owned a colossal dealership business in Makopane, although it's unclear why that didn't impact their lives while growing up.
Zunaid was engaged in several activities, such as cleaning his school bus during the weekend to earn extra cash for his family and paying his and his sister's school fees. He attended a local school for his primary and secondary studies and then proceeded to St. Alban's College in Pretoria, South Africa, and entered the business scene upon his graduation.
He Ventured Into Business With the Quest to Become Wealthy
Zunaid has always dreamt big, even as he was still little. He started manifesting a desire to become very rich when he indicated in his elementary school essay about what he would do when he becomes a millionaire. He then wrote a prophetic write-up about what his PA will write for him. Zunaid may have failed the test with that essay, but he started aiming toward that goal ever since.
From the early days, even while he was still in school, Zunaid had a mentor that guided him in the business scene, and through his advice and sheer determination, he could sell shares that earned him more than R40 million. Seeing the success of his first efforts in business inspired him to persevere the more and even aim higher as he had a target and started engaging in business more often when he left school.
He Established the Moti Group and Now Has Business Stakes in Various Sectors
He established Future Seal, a company that offers waterproofing services to commercial buildings. He later sold the company and established filling stations, which formed part of his business conglomerate. The business brought him a lot of success, and he never looked back after that and chased after more cash flows.
Moti was seen the next few months appearing at Future Fin, a company that provides funding for luxury rides such as cars, private jets, and yachts. Zunaid Moti later became the Chairman of the Abalengani Group, which introduced him to the real estate scene and saw him construct the luxury golf estate in Nondela.
His businesses and investments continued to expand as Pharmaceuticals, fertilizer companies, Chrome mining, and Fuel distribution all became part of the Moti Group, which included other chains of businesses in Zimbabwe. He was reported as saying that his Chrome mining business was a profitable one. He made his first mega million at the ripe age of 22 years.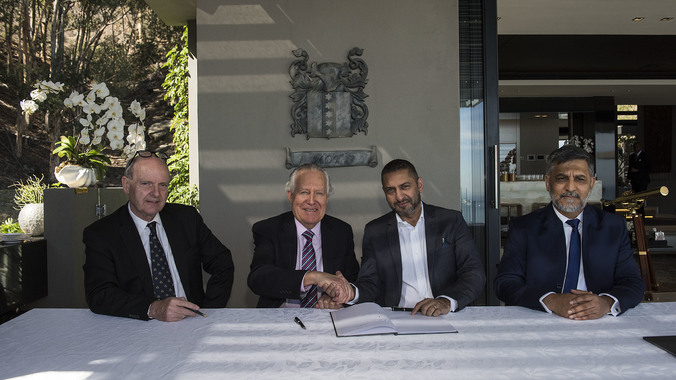 Controversies That Have Trailed Zunaid Moti's Success in Business and His Personality
Zunaid Moti is the Executive Chairman of the Moti Group, a company that has been existing for the past two decades, and he has lots of shares in many other businesses making him part-owner in other companies. Zunaid has over 204 companies that deal in jewelry, mining, consultancy, and others.
However, he seems not to have a clean record as he has been involved in some questionable crime cases in the past. In 2010, Zunaid's Abalengani group had a deal with Eildoug investments concerning a property deal. Investigations later revealed that the property was sold illegally without the authorization of the Johannesburg Property Company.
He Was Indicted in a Robbery Case in 2018
In August 2018, he was indicted in a case of robbery and fraud and had a red notice issued against him for defrauding Alibek Isaaev. He was shortly arrested for that crime in Germany. Zunaid was also accused of stealing a pink Diamond worth R500 million during his arrest. He was charged to court and consequently imprisoned for 5 months.
In 2022, Zunaid and his business partners were accused of attacking Naeem Cassim, a famous businessman. They were later charged to court, although records may have revealed that they settled the matter out of court.
There were also additional reports of Zunaid's Abelengani group making a fraud deal with Investec to the tune of R1.5 billion in 2009 so that they could save the business from debt. There were very few details about the case, but it did not go to court.
Zunaid Moti's Wife and Children
Zunaid is currently married, although the identity of his wife is unknown. He also has a biological sister that he has meticulously left her identity from the public for good reasons. There are no records on whether Zunaid Moti has children or not, as he has hidden that from the public.
Zunaid Moti may have become popular in the eyes of the media, but he is known to be someone that values his family and has always kept them private and protected. The billionaire has mentioned on numerous occasions how he loves and treasures his family and will go to lengths to protect them.