Tlhopie Motsepe (born 12th June 1989, Age: 34 years old) is a South African businessperson best known as the eldest son of Patrice Motsepe, the South African billionaire and owner of Rainbow Mining (the 12th largest gold mining company globally).
All markers point to the fact that the influential billionaire whose figure casts a massive shadow across Africa and indeed across a very significant part of the world is getting set to take a backseat in the day-to-day operations of his empire and is slowly but steadily preparing his first-born son, Tlhopie Motsepe, to take over the mantle from him.
Indeed, the young man has already had his first taste of the work that awaits him sooner than later as he has already been handed a part of his father's empire to oversee. Patrice Motsepe was the owner and president of Mamelodi Sundowns FC, aka The Brazilians, after he had bought over the club in 2004. However, as a result of his foray into football politics, which saw him eventually emerge as the Chairman of the Confederation of African Football (CAF), Patrice Motsepe had to give up control of the club in the interest of fairness and non-bias as per the guidelines, which guide executives and officials of the CAF. Due to this, Tlhopie Motsepe took over the running of the club, replacing his father as Managing Director.

Biography and Profile Summary of Tlhopie Motsepe
Full name: Tlhopane Motsepe
Age: 34 years old
Date of birth: 12th June 1989
Nationality: South African
Career: Businessman
Parents: Patrice Tlhopane Motsepe and Dr. Precious Moloi
Siblings: Kgosi Motsepe, Kabelo Motsepe
Instagram: @tlhopie_ Motsepe
Very Little Is Known About The Early Life Of Tlhopie Motsepe
Tlhopane Butana Chane Motsepe was born to Patrice Tlhopane Motsepe and his wife, Precious Moloi Motsepe, on 12th June 1989. He has two younger brothers, Kgosi Motsepe-his immediate younger brother, and Kabelo Motsepe, the last child of the Motsepe family. However, there is minimal public information on the family of Motsepe, which is probably due to the family policy, which is to keep their private lives, personal lives, and relationships away from the public domain as much as possible.
In line with the Motsepe family policy of privacy, none of Tlhopie Motsepe's academic records or academic history can be found readily available in any public domain, making it difficult to accurately pinpoint his level of education, certifications he possesses as well as the educational institutions he has attended. However, it is safe to assume that the children of one of South Africa's wealthiest billionaires are all well-educated.
Tlhopie Motsepe's Career Progress And How He Became Mamelodi Sundowns' Chairman
Almost always and across different people, a father's success has a way of translating to his child. Consequently, it is understandable when we see Tlhopie following a career road map very similar to his father's as Tlhopie is already reportedly in the thick of corporate business, handling negotiations and signing massive and economy-defining deals regularly.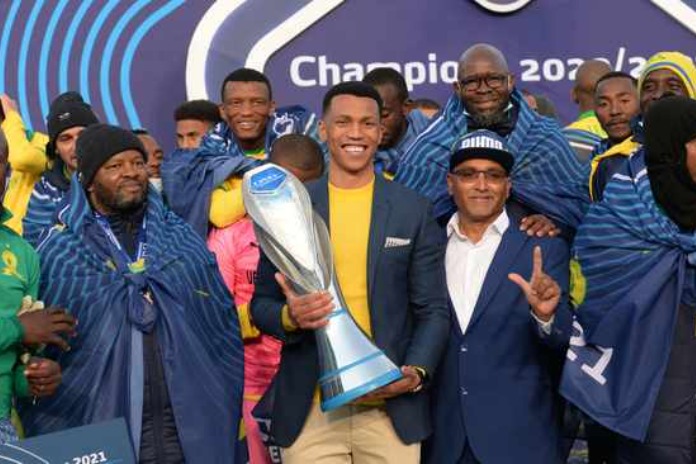 Tlhopie Motsepe is reported to have collaborated with some youth entrepreneurs such as Rudi van der Westhuizen, Brent Peterson, and Tariq Yusuf. They established the solar energy company ePower Holdings, founded primarily to handle the electricity demands of smaller communities who have found themselves alienated from the national power grid. They achieve this by supplying the communities with renewable green energy for their daily activities, giving a more reliable and much needed alternative to candles, gas, paraffin, etc. ePower has stamped its mark on South Africa's energy sector with its selfless contribution to developing small communities and making their lives better.
While his father, Patrice Motsepe's love for the South African sports industry and his commitment and contribution to it, is known by all, the business tycoon is also an entrepreneur in the South African sports industry as he is the owner of the famous Mzansi football club, Mamelodi Sundowns. The South African billionaire initially bought a 51 percent stake in the club in 2004 before buying what was left soon after to become the club's president and sole owner.
In the progress of time, Tlhopie Motsepe joined the club's management which prepared him for his ultimate transition into the role of Club Managing Director. Before long, when there was a need for Mamelodi Sundowns to have a new man in charge due to Patrice Motsepe's CAF appointment, the young man Tlhopie Motsepe had proved to his father that he was ready. Today, Tlhopie Motsepe is in charge of the club and is steadily taking the club to new heights.
What We Know About Tlhopie Motsepe's Siblings
Kgosi Motsepe
Kgosi Motsepe is the second child of Mzansi billionaire Patrice Motsepe and his wife, Precious Moloi-Motsepe. With the infamous Motsepe family's privacy policy, very little detail of Kgosi Motsepe's life is publicly available. Not even Kgosi's date of birth is verifiable at this time, although there are unconfirmed reports that he was born sometime between the early to mid-1990s. This guesstimate is probably based on the lack of much age gap between Tlhopie and Kgosi when their pictures are closely observed.
Apparently, Patrice Motsepe's second son was named in honor of the billionaire's father, who is Kgosi's grandfather. Like Tlhopie, there is no available information on Kgosi's certifications, qualifications, or educational history. Record of what institutions he attended and what he studied is not readily available in the public space. Nothing is known about Kgosi's career path, and as such, we cannot certify that he is toeing the same path as his father and brother.
Kabelo Motsepe
Kabelo Motsepe is the last of Patrice and Precious Moloi-Motsepe's three sons. As earlier inferred, the Motsepe family is pretty big and intense on their privacy policy regarding their personal information. Like the lack of publicly available information on the educational background of his brothers, Kabelo's educational records are also unknown. Other details, including his date of birth, place of birth, early life, and professional career, are also not publicly available. As such, no verifiable update can be given yet, which is made even more mysterious because Kabelo seemingly has absolutely no social media presence.