Hugo Broos is the coach of the South Africa national football team aka Bafana Bafana. Before he became the team's manager on 5 May 2021. He had coached many other teams, including Club Brugge, Anderlecht, KRC Genk, Panserraikos, Trabzonspor, Zulte Waregem, and the national team of Cameroon. 
Not every football manager has what it takes to translate their ability into remarkable success. Some don't have substantial knowledge of the game and how to lead players competently to victory. In the case of Hugo Broos, his legendary coaching abilities have earned him so much respect from football bodies, players, and several management jobs with recognizable teams across the world.
Broos is one coach who loves working with younger players. He also believes that the best to bring out the best in each player is to work with them individually and discipline them when necessary. His career as a player was fantastic, while his coaching job has taken him to numerous regions.
Summary of Hugo Broos Biography
Full name: Hugo Henri Broos
Gender: Male
Date of birth: 10 April 1952
Place of birth: Humbeek, Grimbergen, Flemish Brabant, Belgium
Residence: Belgium
Hugo Broos's Age: 71 Years Old

Ethnicity: White
Nationality: Belgian
Zodiac Sign: Aries
Sexual Orientation: Straight
Occupation: Professional Soccer Manager, Professional Soccer Player (Retired)
Hugo Broos's Height in Inches: 5 ft 11 in
Hugo Broos's Height in Metres: 1.80 m
Hugo Broos's Weight: 76 kg
Build: Athletic
Eye Color: Blue
Hair Color: Gray
Distinctive Features: Toned physique, Short-cropped, center-parted hair, Clean-shaven look
Famous for: His coaching career
Hugo Broos Was Born And Raised In Belgium
Hugo Broos's life began on the 10th of April 1962 in Belgium. The football manager was particularly born in a small town called Humbeek in Grimbergen, Belgium. Though professionally known as Hugo Broos, his full name is Hugo Henri Broos. There is still much information about the football manager's background and personal life that is yet to be publicized.
Apart from the information provided above, the Belgian hasn't revealed further details about himself. We can, however, establish that he was raised in his hometown, where his career also started. Information on his marital status is under the radar as well as it's not known if he is married or not or in a relationship.
He Had An Outstanding Playing Career
Hugo Broos was one of the best central defenders of his time. He began his playing career in 1970 with the Anderlecht-based professional football club R.S.C. Anderlecht after he was discovered by a scout from RSC Anderlecht at the age of eighteen.
He represented the team in professional games for more than 10 years until 1983, when he left for the Brugge-based professional club, Club Brugge Koninklijke Voetbalvereniging. His time at Anderlecht saw him win numerous titles, including four Belgian Cups, three national championships, and three European trophies. He made 350 appearances for the team, scoring just one goal.
The retired professional footballer's stint at Brugge was nothing short of amazing though he only netted in one goal from 161 appearances for the team. He played for the team for five seasons, winning the Belgian Cup in 1986 and the championship in 1988 with his teammates. Hugo hung his boot in 1988, the same year his contract with Brugge came to an end.
He was part of the team that represented Belgium between 1974 and 1986, making 24 appearances for his country, including at the 1986 World Cup held in Mexico. In his career as a professional player, the Humbeek native won the Belgian Cup five times.
The list of the clubs he played for
R.S.C. Anderlecht (1970–1983)
Club Brugge (1983–1988)
Hugo Broos' Coaching Career Began In 1988
Hugo Henri Broos launched his coaching career the same year he ended his spell with Brugge football club. He got his first coaching job at the Belgian football club, R.W.D. Molenbeek (short for Racing White Daring Molenbeek). He invested his expertise in the team for three years, after which he went on to coach Club Brugge. He joined the club in 1991, winning the championship twice in 1992 and 1996 and the Belgian Cup in 1991, 1995, and 1996. His stint with the club came to an end in 1997.
Unfortunately, the worth of his contracts, including his salary and bonuses at both teams, are not open to public scrutiny right now. However, we do believe that it was substantial and befitting as well. After Broos' departure, his next stop was at Excelsior Mouscron, a Belgian club that is no longer in existence. He was with the club from 1997 to 2002. In 2002, he joined RSC Anderlecht, taking the team to the Champions League. He led them to victory in the 2003-2004 season championship, but they were unfortunately knocked from both the Belgian Cup and Champions League in the 2004-2005 season.
Following a couple of poor outings, Broos was sacked from Anderlecht in early 2005. Later that year, in June, the Belgian was hired by another Belgian professional club called KRC Genk. He called it quits during the 2007–08 season and started work with a Greece-based club, Panserraikos F.C, leaving the shores of his home country for the first time.
Hugo Broos spent one year with Panserraikos, after which he resigned following the club's unavoidable slip into relegation. Between 2009 and 2010, he worked as the coach of the Turkish sports club, Trabzonspor. His stint with the team ended exactly six months after he was hired on June 22, 2009. He coached the Belgian club Zulte Warege between 2010 and 2011 before joining the Abu Dhabi-based Al Jazira Club as an assistant coach.
Hugo Broos snagged his first job on African soil in 2014 when he was hired by the Algerian club JS Kabylie. Though it was a short-lived coaching contract, he won the attention of another Algerian club called NA Hussein Dey. After he left Kabyle, he was immediately hired by the latter, and he spent one year with them. He stepped down from his position as the manager in 2015.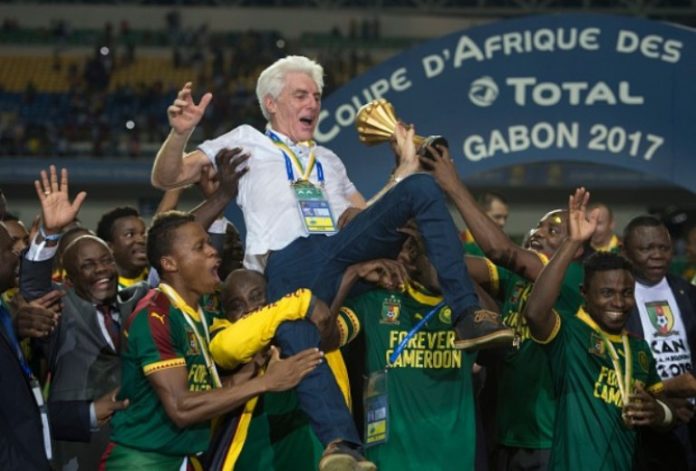 The Belgian coach was subsequently hired by Cameroon in 2016. He successfully led their national team to victory in the 2017 Africa Cup of Nations but was later sacked in February 2018. Broos returned to Belgium in 2018 to work as the sporting director of the professional club K.V. Oostende.
He stepped from the position in 2019 and became their caretaker in the same year. Hugo Broos was named the head coach of the South African national team Bafana Bafana in May 2021. There is no information on his salary structure and contract terms with all the teams he coached.
All the clubs the Belgian football manager has coached
R.W.D. Molenbeek (1988–1991)
Club Brugge (1991–1997)
Excelsior Mouscron (1997–2002)
R.S.C. Anderlecht (2003–2005)
K.R.C. Genk (2005–2008)
Panserraikos F.C. (2008–2009)
Trabzonspor (2009–2010)
Zulte Waregem (2010–2011)
Al Jazira Club (assistant) (2011–2012)
JS Kabylie (2014)
NA Hussein Dey (2014–2015)
Cameroon (2016–2017)
Oostende (sports director) (2018–2019)
Oostende (caretaker) (2019)
South Africa (2021– present)
The Belgian Was Unveiled As Bafana Bafana Manager In May 2021
Hugo Broos was appointed the manager of the South African national team Bafana Bafana in May 2021. He took over from Molefi Ntseki, who was sacked on March 31, 2021. Ntseki was Bafana's temporary manager in August 2019 before he was appointed the team's permanent manager later that year.
Fans of Bafana Bafana were excited about Hugo's appointment. However, as of July 2021, the Belgian coach hasn't been paid any dime because he hasn't fully taken his position on the bench as Bafana's coach. Reports have it that he traveled to his home country after his appointment to take his second covid-19 vaccination. Hugo Broos is said to have done some management work behind the scene before he traveled.