Skhumba Hlophe (August 31) is a South African comedian, radio presenter, actor known for his roles in the movies Taxi Ride and Trippin with Skhumba. He got married to his wife, Dibakiso Moloi, in 2011 but we do not know how old he was at that time because his year of birth is unknown.
It is always difficult to believe that comedy was not the original calling of Skhumba Hlophe, considering his talent and how he effortlessly evokes laughter in everything he is involved in. Hlophe's journey to greatness in the entertainment industry was not an easy one. He didn't start big like some people. His life changed after a couple of years into the game, and since then, he has never slowed down.
Skhumba inspires many people through his career journey and life story. The comedian is also loved for his openness and assertiveness on random issues and happenings in the country. However, one aspect of his personal life that he's yet to open up about is his actual age. Besides comedy, Hlophe makes extra cash through a couple of other well-paying jobs.
Summary of Skhumba Hlophe's Biography
Full name: Skhumba Hlophe
Nickname: Big Banger
Gender: Male
Date of birth: August 31
Place of Birth: Tembisa, North of Johannesburg, South Africa
Ethnicity: Black
Nationality: South African
Sexual Orientation: Straight
Marital Status: Married
Skhumba Hlophe's Wife: Dibakiso Moloi
Skhumba Hlophe's Children: Nikiwe, Ali-Bongwe, Sinakhokonke
Occupation: Comedian, Radio Host, Actor
Skhumba Hlophe's Net worth: $400000-$550000
Famous for: His roles in the movies Taxi Ride and Trippin with Skhumba
Skhumba Hlophe's Instagram: skhumba_official
Twitter: @skhumbi
Facebook: https://www.facebook.com/SkhumbaTheBigBanger/
Skhumba Hlophe's Name Rings A Bell In The Entertainment Industry
A list of South African celebrity comedians would be incomplete without Hlophe Skhumba. He is regarded as one of the greatest humourists of his time ever to grab the mic. He has been to so many places in the country, making people laugh through comedy and increasing his net worth.
The son of Queen Hlophe, Skhumba was raised in Tembisa near Kempton Park by his grandmother Qhamkile Hlophe in her four-bedroom apartment. The 'Big Banger,' as he is popularly known, was not the best kid in his class, neither was he the dumbest. He was rather his class clown who made everyone laugh but was very unserious with his studies.
Skhumba failed grades over six times before he eventually matriculated at the age of 22. He hasn't spoken much about his family background and childhood. But we know he has two sisters named Nomsa Hlophe and Thuli Hlophe.
Before Fame, He Worked At SAPS For More Than A Decade
After Hlophe finished his high school education, there was no hope of him furthering his education. First, his mother was just a worker at a dry cleaner shop and was not buoyant enough to send him to the university. The comedian also admitted that he was not interested in studying anything at that time.
Hence, he hung around the township for two years before joining the South African Police Service. Skhumba was not actually a policeman. He was employed as a clerk, and he did the job for 13 years to raise some money for himself. He quit the job in 2016 to pursue a career in the entertainment industry.
Skhumba Hlophe Earned His Breakthrough After Tireless Efforts
It was not all rosy for the comedian when he launched his career. After several gigs as a budding comedian, Hlophe eventually got his first chance at a live performance after a friend convinced him to do a comedy show at Caprivi in Tembisa. Unfortunately, the show flopped as no one turned up to watch his performance. Unfazed by the blow, the Big Banger decided to work at the famous Bambatha Avenue Jazz Café in Centurion as a resident comedian.
He spent two years there and was earning R200. He was paid R100 the first time he took the stage. However, lines began to fall in pleasant places for him after some time, and his paycheque began to increase in digits. At a point, Hlophe Skumba was earning R8 000 per gig. He reportedly bought a microwave for his grandmother and a new TV for his mother and sisters with his first big paycheque.
Today, the comedian is one of the top-earning comedians in South Africa. Following his breakthrough performance at Monwabisi Grootboom's 99% Xhosa Comedy show in Port Elizabeth in 2010, his life has never remained the same. He has performed in numerous comedy events across the country, including Soweto Comedy Festival in 2012 and Stand Up Zulu festival in 2011 at Playhouse in Durban.
The Big Banger Has Equally Branched Out To Other Endeavors
Besides comedy, Hlophe Skhumba has other side hustles he makes money from. He is an actor and radio personality. He's been part of a couple of TV productions in the industry, including the SABC 1 sitcom Thandesi's Diary and Taxi Ride. The funnyman is best known for portraying Bheki Zulu's character (an overbearing mechanic father) in Thandesi's Diary.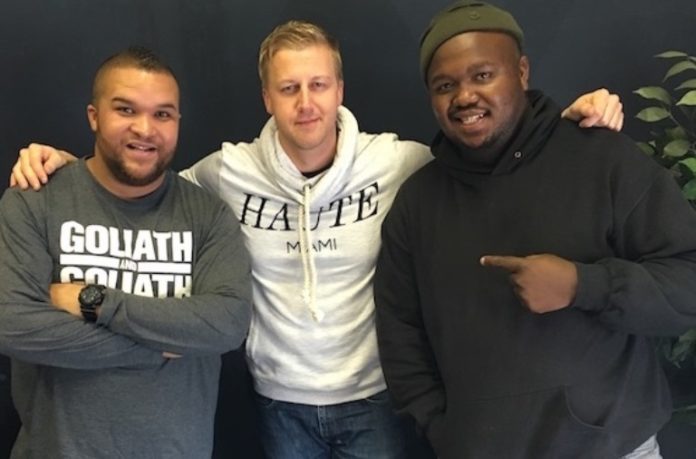 The comedian, in 2017, hosted the Throwback Thursday show on SABC 1, where he did a comic review of trending social media stories. He also co-hosted Change Down with Boity Thulo in the same year, and it was all shades of amazing.
Hlophe Skhumba recently started a dynamic breakfast radio show with radio personality Thomas "Bad Boy T" Msengana. The program, titled Good Friday, airs on Kaya FM every Friday morning from 6 am to 9 am. The duo basically funnily dissects politics in South Africa and life in general on the show.
The humourist has his own company called Big Banger Productions and Entertainment. It was established in 2013 and had been doing great since then. Though the comedian's net worth is not known yet, it's clear that he has achieved so much fortune and fame through his career. He is quite successful regardless of the number of years he has been around and his age too.
Skhumba Hlophe Has Been In A Thriving Marital Relationship For Years
If there is one person Hlophe Skhumba adores and has an amazing relationship with, it is his beautiful wife, Dibakiso Hlophe. The couple loves each other so much that it is easy to tell from afar that they are truly meant for each other.
Unfortunately, details about Mrs. Hlophe's background are missing in the picture. Neither she nor her husband has really taken time to fully tell their fans more about her personal life and background. However, Dibakiso wrote on her Instagram bio that she is a great personality, 'crazy like her husband' and the 'co-founder of the big banger productions and entertainment.
While the age he married his wife is unknown, the two tied the knot in 2011, but other relevant information about their marriage is under the radar. The couple has not been involved in any form of scandal; instead, they have shown great love and made a commendable commitment towards their relationship.
The Comedian Has Three Children From Different Relationships
Hlophe Skumba is currently a father of three. Before now, he had four kids, but one (his first child) died when she was a few weeks old. She was named Samkelo and would have turned 15 years in 2021.
The comedian's oldest child, Nikiwe, was born in the year 2007, while Ali-Bongwe and Sinakhokonke were born in 2011 and 2018, respectively. Nikiwe came from Skumba's intimate relationship with another woman whose identity is not known yet. He had his younger kids with his wife, Dibakiso. They all live together in their beautiful mansion alongside their dog, uBrown Dash. Mr. Hlophe loves his kids as much as he loves his wife. They are the reason he works hard, and it's so good to know that his efforts are really paying off.