Pabi Cooper (born 4th March 2001; Age: 22 year-old) is a South African Amapiano singer, dancer, and social media influencer best known for her hit single, Isphithiphithi.
Cooper has been linked to fellow South African singer Benny Afroe. The two keep a low profile on their relationship and rarely show affection for each other publicly. However, they worked together on a musical project, and it was nothing short of amazing.
Summary of Pabi Cooper's Bio

Full name: Paballo Basetsana Mothapo
Nickname: Pabi Cooper
Gender: Female
Date of birth: March 4, 2001
Pabi Cooper's Age: 22 years old
Ethnicity: Black
Nationality: South African
Zodiac Sign: Pisces
Sexual Orientation: Straight
Religion: Christianity
Marital Status: Single
Pabi Cooper's Boyfriend: Benny Afroe
Pabi Cooper's Height in Inches: 5 feet 7 Inches
Famous for: Her song Isphithiphithi
Pabi Cooper's Instagram: cooper_pabi
Twitter: @cooper_pabi
How Old is Pabi Cooper?
South African Amapiano singer Pabi Cooper is 22 years old. She was born on the 4th of March in a village called Soshanguve in Pretoria, Gauteng province. She hasn't publicly opened up about her parents, siblings, and the kind of family she was born into.
She was raised in Soshanguve, where she developed an unfathomable passion for football. In fact, she spent most of her formative days on the street playing football with other kids. The singer loved keeping goals because she disliked running around.
Cooper was a problematic child who had to change schools a few times. Her mother was, on several occasions, invited to her school due to her bad behavior. She eventually made up her mind to turn a new leaf after she got enrolled at Prestige College in Hammanskraal, from where she matriculated.
The Isphithiphithi crooner is not studying at any of the universities in the country, and it's not clear if she intends to further her education.
She Began Her Career as a Dancer
The Soshanguve native started her journey to stardom as a dancer, after which her path crossed with many South African Amapiano artists who, in turn, linked her to notable music producers and artists. These people greatly helped in molding her music career and fine-tuning her skills.
On how she became a music sensation, the singer simply recorded two songs which she forwarded to South African artist Dadda, who went ahead to set up a gig for her with the sensational DJ and kwaito artist Mthokozisi Khathi (professionally known as DJ Tira).
She was eventually invited to Durban by DJ Tira, after which both of them started on her songs. Pabi mentioned that the hardest part was convincing her mother that her deal with DJ Tira was legit.
Cooper's life changed after DJ Tira went live, and her songs immediately went viral with so many positive reviews and feedback. According to her, she didn't expect that her songs would become favorites since she was a newbie in the industry.
Pabi is currently not doing badly in the industry, having worked with several artists and performed in many African countries and abroad. Some of the countries she has entertained crowds with her sultry voice include Kenya, Dubai, Zimbabwe, Tanzania, and the UK.
She is best known for her hit track "Isphithiphithi," which has currently pulled in more than 9 million YouTube views. The fast-rising artist, who has since gone platinum, released a single titled "Do It Right" with her boyfriend, Benny Afroe, in 2021.
She recently dropped a single track titled: "Banyana Ke Bafana," which featured Amapiano big shots Nobantu Vilakazi, Ch'cco, Focalistic, and Luudadeejay.
The Artist Owns a Record Label
Pabi Cooper is the owner of the South African record label Cooper Ent. She produced her song Banyana ke Bafana under her record label. The song managed to get a platinum plaque.
Apart from her musical endeavors, she also makes extra cash through brand influencing. She is known to have promoted the elite products Shield and Sprite drink.
A football fanatic, she is a sports presenter with a keen interest in refereeing. She has plans to get involved in African football as a match official in the future. Cooper is a fan of the local football club, Orlando Pirates.
She also has other side hustles – she is an MC, event host, and sports presenter.
Pabi Cooper's Songs
Isphithiphithi
Thanda Kanjani
Uyangi'Jabulisa featuring Yumbs
Do It Right with Benny Afroe
Bambelela by DBN Gogo, Felo Le Tee, Pabi Cooper & Young Stunna
Felo Le Tee & DBN Gogo – Yasho ft. Young Stunna & Pabi Copper
Banyana Ke Bafana
Pabi Cooper Has One Industry Award Under Her Belt
The Amapiano sensation won her first award in the year 2021 as the Best Newcomer in the Amapiano awards. She was also the African Social Entertainment Awards nominee under the Best Newcomer category but lost the award to another artist. With the way Cooper's career is flourishing, she definitely stands a chance of winning more awards in the future.
Who is Pabi Cooper's Girlfriend or Boyfriend?
Pabi Cooper's sexuality has been a topic of interest lately. The "Do It Right" singer is not gay, as she hasn't been reported to be in any relationship with people of her own gender. The Amapiano star is dating fellow artist Benny Afro.
Unfortunately, there is no available record of when exactly they started dating and how long they've been together. The public figured out that Benny and Pabi were more than colleagues after the former posted a picture of himself with Cooper looking loved up.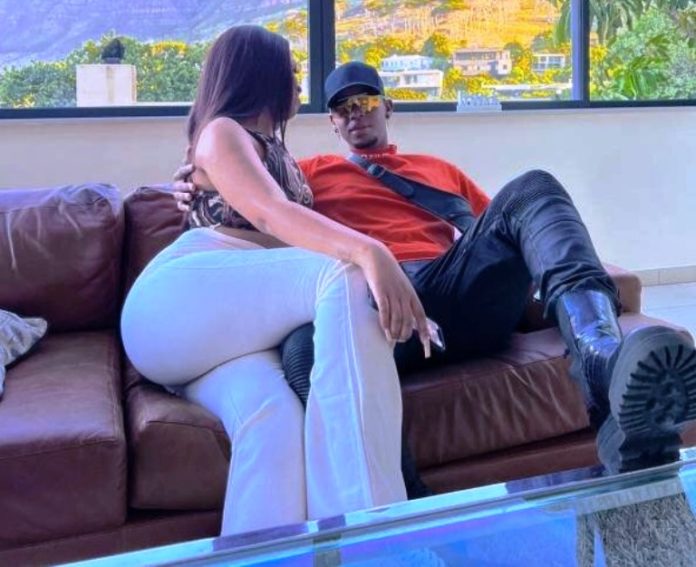 The Soshanguve-born singer and her bae keep a low profile on their relationship, which it difficult to keep a tab on it. However, it is widely believed that the two started dating sometime around September 2021, shortly after their music collaboration.
In November 2021, Pabi indirectly made people believe that she and Benny had parted ways after sharing a Tik Tok video advising girls to stay away from men because they are toxic. She also shared other posts that insinuated that Benny broke their bond.
Their fans were taken aback in early February 2022 when Cooper announced the release of her new song featuring Benny Afroe, which left the public wondering if they ever broke up or reconciled.
Pabi's beau, who holds a degree in music from AFDA, is a multi-instrumentalist whose music began at the age of 13.