Nompilo Gwala (born July 1, 1987; Age: 36 years old) is a South African actress and model best known for playing the character Nandi in Rhythm City, the e.tv soapie. She became a fan favorite through her stellar performance on the soapie, and since then, she has remained in the public eye.
Besides Rhythm City, she has also appeared in local projects such as Inkaba, Saints and Sinners, and Isidingo. She has worked with a couple of brands in the country as a model. The television star is reportedly married to the man of her dreams.
Summary of Nompilo Gwala's Biography 
Full name: Nompilo Gwala
Gender: Female
Date of birth: July 1, 1987
Nompilo Gwala's Age: 

36 years

Nationality: South African
Zodiac Sign: Cancer
Sexual Orientation: Straight
Marital Status: Married
Nompilo Gwala's Net worth: $1.5 million
Famous for: Portraying Nandi Ngobese on Rhythm City
Nompilo Gwala's Instagram: nompilogwala
How Old Is Nompilo Gwala Now?
Nompilo Gwala is 36 years old currently. The Rhythm City actress is the daughter of Mr. and Mrs. Gwala, who gave birth to her on July 1, 1987. She has yet to share her parents' full names, occupations, and whereabouts.
Also, it is unknown if she has siblings or not. Nompilo is apparently the most famous person in her family as no member of her family is publicly known. There is no record of her childhood and early life. Also, the names of the academic institutions she had her elementary, high school, and tertiary education levels are not public knowledge.
Gwala went through some traumatic experiences before adulthood. She once shared in an interview that she was a victim of rape. She has been raped twice – first at the age of six by someone she knows and then at the age of 18 by her boyfriend. This experience impacted her as a young girl, and she was severally bullied and abused by her schoolmates.
One of the most memorable days in the actress' life was when she met the late Nelson Mandela at 17. That has been the only time she has ever been starstruck.
Where Is Nompilo Gwala From?
The actress hails from Pretoria, in Gauteng province, South Africa. She was supposedly raised in her birthplace until the time she left for her university education. Although her current location is unknown, she is believed to have left home for good to pursue her dream in the entertainment industry.
What Roles Has She Had Since She Left The TV Series Rhythm City?
Nompilo has starred in several other projects since she appeared in Rhythm City. Isidingo, Inkaba, and Saints and Sinners are the titles of other TV series she has taken part in.
Gwala began her career as a model. She is said to have worked for the local brand SunGodess as a model and has also graced the pages of local and international magazines such as Truelove, Oprah Magazine, Glamour, and ELLE.
The actress bagged her first acting gig due to her modeling background. Her role was as a fashion designer called Nothando Khumalo in the Mzansi Magic telenovela Inkaba. She made appearances in the series from 2012 to 2013.
She joined other actors on the SABC3 soapie Isidingo in October 2013 as the fictional character Amuhle. Following a succeeding performance, she bagged another role in the Mzansi Magic family drama Saints and Sinners the following year. She left the drama series two years later, being 2016, after playing Phindi Khumalo.
The actress mentioned that her role as Phindi in Saints and Sinners is a reflection of the traumatic rape experience she went through as a young girl. She added that she considered the show a viable tool through which people can learn about the subject.
She is best known for her role as Nandi in the e.tv soapie drama Rhythm City. She executed her role so well that she won thousands of viewers to her side by the tie she left the show. Not only that, the popularity she gained on the show helped to boost her career and opened up more acting opportunities.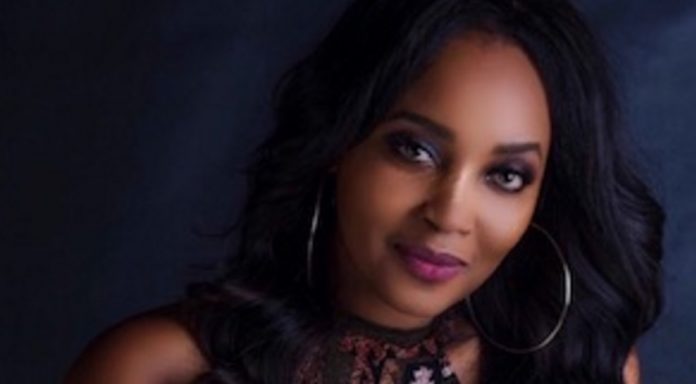 As mentioned earlier, Rhythm City remains her most prominent TV role. Though a fast-rising actress, Gwala has surpassed many people's expectations, and there's no sign yet she is leaving the entertainment circle anytime soon.
Nompilo's most documented work is Santana, wherein she portrayed the fictional character Thandi. The film, which Netflix released in the year 2020, was critical acclaim. Once more, the project also paved more ways for her in the industry.
The Pretoria-born actress is yet to be nominated in the industry for any award. However, she stands a chance of winning several awards in the future if she continues to impress local TV content lovers.
Gwala has no known theatre or plays credits. However, here is the list of the TV works she has featured in:
• Isidingo
• Inkaba
• Saints and Sinners
• Santana
• Rhythm City
The Actress Is Reportedly Married To The Man Of Her Dream
Rhythm City actress Nompilo Gwala is a married woman. Although it is difficult to tell much about her marriage, available information has it that she married the man of her dream and that she has a daughter who is in her teens.
Unfortunately, there is no reliable information about her heartthrob, how they met, how long they dated before marriage, and when exactly they tied the knot. The actress has successfully kept these aspects of her personal life away from her fans.
There is also no information about her daughter, including her identity, whereabouts, and what she does. It is not also clear if her daughter has plans to follow in her footstep as a model and actress.
Talking about the men she has dated in the past, there is no record of the men she has been with all her life. In fact, we can't tell if she has dated any man in the past because she hasn't mentioned anything relating to her love life before fame. Going by the way she has been building her career, you could tell she would be a dutiful wife and a fantastic mother at home.