Nelson Makamo (born 1982) is a 41-year-old South African artist based in Johannesburg. He is best known for his charcoal and oil paintings that set right decades of images that have depicted African children in destitute.
One of the highly skillful and talented young South Africans capable of simulating imaginations creatively from the brain to visible artistic works is Nelson Makamo, an extraordinary artist whose paintings and artistic works have been showcased in great nations of the world and still blazing the trail.
Nelson Makamo's artworks have been displayed in group and solo exhibitions in many art galleries in South Africa and other continents, such as Europe, Asia, North America, and Australia. He has showcased his works in group and solo exhibitions in South Africa, Italy, America, France, Germany, The Netherlands, and The United Kingdom. Let's get to know more about the life of the talented artist, his career, and his achievements.

Nelson Makamo's Profile Summary
Full name: Nelson Makamoage
Gender: Female
Date of birth: 1982
Place of Birth: Modimolle, Limpopo
Nelson Makamo's Age: 41 years old
Ethnicity: African
Nationality: South African
Education: Modimolle High School, Joburg's Artistic Proof Studio
Occupation: Artist, painter
Famous for: His charcoal and oil paintings that set right decades of images that have depicted African children in destitute
Nelson Makamo's Instagram: nelsonmakamo
Twitter: @nelsonmakamo
Nelson Makamo was Born 41 Years Ago in Modimolle, Limpopo

Born 41 years ago (1982) in the ancient rural community of Modimolle in the Limpopo province of South Africa, but his birth details like the day he was born and the month are not yet publicly known. Nelson Makamo is indeed an inspiration and a role model when it comes to artistic drawings and paintings in the South African space. Nelson Makamo was also reported to have grown up in the same township he was born in, as he had his high school education in the town by attending Modimolle High School. It is hard to tell whether he attended university or not as no verifiable information exists about this.
Nelson Makamo has always had a strong passion for crafting and painting right from his childhood, and he had always allowed himself to be driven by the passion he had for artistic works. This is evident in some of his works displayed in local exhibitions in his town (Modimolle). His paintings have been shown at the Waterberg, and of course, the popular National Limpopo Art Exhibition at various times.
He Studied at Joburg's Artistic Proof Studio from 2003 to 2005
In taking a step forward and advancing his career, Nelson Makamo decided to relocate to Johannesburg in 2003 to join the Artistic Proof Studio. This institution gives young artists the platform and immeasurable opportunity to learn and develop their in-built talent, ability, and potential to become professional artists and printmakers. As a gifted artist with inborn talent, soon after Nelson joined the institution in 2003, he was part of the Student and Staff Artist Proof Studio Exhibition, Wits Substation Gallery, Johannesburg, South Africa Print Marathon, Boston, USA.
Being an exceptionally brilliant student, driven by a passion for what he chose as a career, Nelson Makamo was awarded a bursary by Johnson and Johnson International in 2005. Later, in the same year, he also won a scholarship awarded to him by Pinpoint One Human Resources. At the end of his two-year program at the institution (Artistic Proof Studio) in 2005, Nelson Makamo graduated successfully and obtained his Artistic Proof Studio Certificate in Advanced Professional Printmaking.
The certificate Nelson Makamo obtained soon began to reshape him and his career as a printmaker, such that the skills he acquired helped and equipped him for the art of professional printmaking and the business aspect of printmaking. Having got a better hand on how to run printmaking as a business, Nelson Makamo launched fully into the art as a professional and began to produce amazing works of both local and international standards.
What Influences Nelson Makamo's Artistic Works?
Artists all over the world draw inspiration for their creative works from different sources. For some, it could be from relatable things, while for other artists, their source of inspiration could be from abstract things. For Nelson Makamo, the story is not any different as he draws his inspiration mainly from the experiences he has had in life; these are children, family, and his environment.
The South African Child
With his inspiration built around the innocence and calm nature of a typical South African child, particularly the children in rural areas, Nelson Makamo acknowledges that these children symbolize the epitome of peace and harmony everyone craves for in life. This concept has put his artwork in the limelight and become what art lovers want.
Family Relationships
As an individual who values family relationships and unions, Nelson Makamo also draws motivations from this source. He revealed this during an interview he granted a local South African Newspaper. According to him in the interview, when there are family gatherings, he always builds messages to sketch as artistic illustrations because there are always things to connect to for a creative workflow.
His Environment
Again, not straying too far away from his roots and the events that formed stories for his early life, Nelson's switching of environments has got a key impact on his emerging artwork. In his statement, he explained that the movement and back and forth shift from rural to urban settings together have brought about lots of influences on his works as a printmaker, as these journeys evolve in a matter of short time, just like prints.
Based on this unprecedented circumstance, he has been able to figure out distinctively and scour some of the horridness migrant laborers go through to switch over and settle for a better life in the city. Also, he has been able to have a clearer understanding of the mythical concept about what accomplishment in the city portends and the price many people have to pay to be successful.
In the light of this, Nelson's works are perceived as the output of a repeatedly migratory life and well accepted and appreciated both locally and internationally by art lovers. The real story of his numerous journeys between his rural life and the big, ever-scuttling metropolis of Johannesburg, which is a city that is formidable and sophisticated, a city that has sustained its edge since its inception.
Nelson Makamo's Group Exhibitions
Over the years, Nelson Makamo has been able to work with some of the best and notable artists and printmakers in South Africa and beyond, and the products of their joint work have proven an extreme level of professionalism and high-class artistic touch. One of his well-known group exhibitions (Ten Years of Printing of David Krut Printing Studio in 2006) with other popular South African artists, including David Koloane, Deborah Bell, William Kentridge, and Colbert Mashile, was tagged a phenomenal exhibition.
His other Group Exhibitions Include
2017 – Salon Zurcher Africa Art Fair Zurcher Gallery, New York, USA.
2017 – No Commission Dean Collection Berlin Germany Kraftwerk Rummelsburg
2016 – Post-it, Constitution Hill, Group Exhibition, Johannesburg South Africa
2015 – 1:54 Contemporary African Art Fair, CIRCA Gallery Booth London UK
2014 – FNB Joburg Art Fair Everard Read Gallery Booth, Johannesburg, South Africa
2013 – Art Angels, Ellerman House Charity auctions
2012 – Figuring Difference curated by Andrew Lamprecht, Salon 91, Cape Town 21 year celebration of the Artist Proof Studios at the Johannesburg art gallery.
2010 – Young Contemporaries, Galerie Nikki Diana Marquardt, Paris France My City, Arts on Main, Johannesburg.
2009 – City Link, Gallery 23, Amsterdam, Netherlands, Gallery on the Square, Sandton, Johannesburg.
2007 – Cultural and Business Art Exhibition, Somma Lombardo, Italy Making Identity, The Thompson Gallery, Johannesburg.
2010 – Ten Years of Printmaking, David Krut Print Studios, Johannesburg Student and Staff Artists Proof Studio Exhibition, Gallery on the Square, Johannesburg
2003 – Student and staff Artists Proof Studio Exhibition, Wits Substation Gallery Marathon RAU Art Gallery, Johannesburg Print Marathon, Boston (USA).
Nelson Makamo's Solo Exhibitions
Nelson has exhibited some of his finest works in many art exhibitions in South Africa and other countries around the globe. His first solo exhibition ever (which was tagged walk with me) was carried out at the Obert Contemporary Gallery in Melrose Arch, Johannesburg.
Some of These Exhibitions Include
2017 – I Am The Soul of Azania Gallery of African Art GAFRA London England
2016 – Dipolelo Exhibition, Paris France
2014 – Everard Read Cape Town
2014 – Everard Read Johannesburg
2013 – Salon 91 Cape Town
2011 – Museum Africa Johannesburg
2021 – Movement, Factory Gallery
2009 – Sharing Realities 11, African Study Center, Leiden, Netherlands; Walk with Me, UTS Gallery, Edinburgh, Scotland; A Place I Call Home, Gallery on the Square, Johannesburg.
2008 – Moving into Light, KZNSA Gallery, Durban, Rearing Realities, Gallery Izarte, Zutphen, Netherlands
2005 – Walk with Me, Obert Contemporary Art Gallery, Johannesburg
Recognitions He has Earned for His Works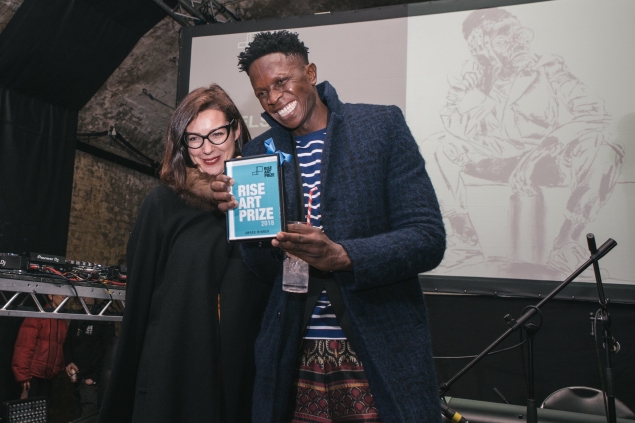 The Rise Art Prize 2018 Drawing Award.
Nelson's work has once made a cover of the Time Magazine in 2019.
In 2019, the talented artist was invited as a visiting scholar of the prestigious Radcliffe Institute for Advanced Studies at Harvard University, where he lectured about the future of Art in Africa.
Nelson also received a Vanguard Award from the Harvard African Students Association in honor of his good works in the world of art.
How Expensive are His Paintings?
Many of Nelson Makamo's artworks have been offered for auction several times in different exhibitions around the globe, which has made a huge income for the talented artist. These artworks have their prices in different ranges based on their size and medium. The price varies from $223 to $27,303. Some of these works were bought by notable people, celebrities, art lovers, and corporations.
Indeed, Nelson Makamo's artworks have been highly appreciated by art lovers, celebrities, organizations, and schools worldwide. Also, with the aid of social media, he has been able to get his works across to many people in all parts of the world and keeps expanding his fan base every day. Among his biggest fans are Oprah Winfrey and Ava Duvernay.
Nelson Makamo Has Accumulated a Huge Net Worth
Nelson Makamo's net worth is unknown, as the value of his business and properties have not been valued and verified to really know his net worth. Meanwhile, one can guess from his previous earnings through his works and other deals with some notable companies that he is a big boy in the business, and he has done well for himself in the art industry in South Africa. He has undoubtedly accumulated a fortune and is currently living his best life.
Not quite long, Nelson Makamo got himself a unique, brand new Porsche 911 Carrera Coupé, which was fully personalized like no other in the world. The luxurious car has a base price of US$99,200, confirming that the artist is living large and doing great financially. There's no doubt that Nelson's paintings and various artworks have been known around the globe, and he's made a great impact by motivating the young ones and presented the true nature of an African child to the rest of the world through his paintings.
Nelson Makamo's Art and their Portrayal of African Children
As earlier mentioned, Nelson draws inspiration for his art from African children, especially children in his Limpopo hometown, particularly those in the rural neighborhoods. He has been able to project the peace and harmony these children in rural areas exude to drive home the need for people to seek this internal peace and harmony children effortlessly showcase. Hence, he is seeking to project joy with his colorful depiction of the African child. Over the years, he has drawn countless works themed on the African child or African children and seems not to be relenting in doing so.
Through his paintings, Nelson has also drawn global attention to the plight of Limpopo children and African children in general, especially regarding the hardship these children in rural areas face. In 2018, he delved a bit into painting women from his hometown some of his works at the 2018 Johannesburg Art Fair as he paid homage to South African women and some of the challenges they face daily.
In 2019, he took up what still stands out as one of his biggest projects so far, which is the painting of a cover for TIME Magazine. According to him, he knew that a fairly simple image of a child's face would be apt to introduce his work to the world, but even though he was already a professional artist at the time, the task felt like a debut for him. In the end, he came out with a final piece he named "Vision of a limitless future."